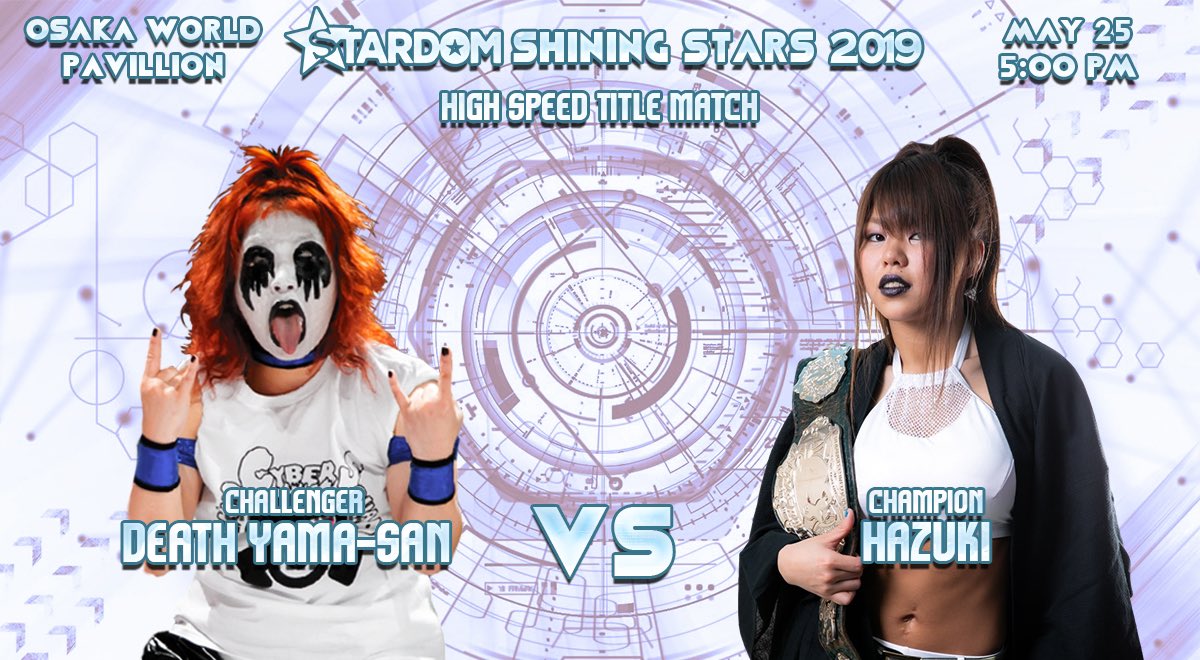 Stardom's second show from the 25th saw our extreme metal saviour Death Yama-san going after the High Speed title. Could she add another piece of silverware to Tokyo Cyber Squad's haul? Time to find out.
Natsuko Tora defeated Saya Iida
Iida may have only made her debut in January, but she has a history with Natsuko Tora. That first match was against Tora before and ended with Iida joining her in JAN where they'd team semi-regularly. However, since the unit's disintegration, Natusko has discovered a bad attitude, and it's safe to say that she's not the kindly mentor she once was.
That was on full display in this match-up as Tora treated Iida with barely disguised contempt, shrugging off her blows before taking control. It wasn't enough that she was beating Iida, she wanted to humiliate her too, grabbing her by the hair and making it clear she thought little of the rookie.
Iida did get a chance to scare her former sensei. A flurry of Dropkicks had Natsuko on the backfoot before Saya ditched all subtlety and started raining elbows down on her former teammate. It wasn't the prettiest of wrestling performances, but you bought that this meant something to Iida and that Tora's dismissal of her hurt. At the moment, Saya Iida is below Natsuko Tora, but the next time they return to this story, that might not be the case.
Verdict: Three Stars
Andras Miyagi defeated Leo Onozaki
It might sound unlikely, but since being welcomed as an official member of the Stardom roster and finding her voice, Andras has somehow got more wild. Her wrestling has taken on an unhinged quality, and poor Onozaki was her latest victim.
Leo was given the usual hope spots and impressed in them, but this was all about Miyagi as she eventually yanked the ref in front of Onozaki, booted her in the face and got the win by submission. It was a simple enhancement match that gave some rookie some in-ring time, no complaints.
Verdict: Two And A Half Stars
Queen's Quest (Bea Priestley and Momo Watanabe) defeated Oedo Tai (Kagetsu and Natsu Sumire)
I'm not sure teaming Bea up with Momo is doing her any good. Priestley is a first-time champion while Watanabe is a superstar. You could argue that putting Bea in the ring with her adds to her legitimacy, but you could also point out that it diminishes her. Even little things like Watanabe cutting the entirety of their pre-match promo paints the champ as being behind her faction leader in the pecking order. It's hard to care about Bea Priestley while Momo Watanabe is around.
Where Priestley was able to stand out was in the wrestling as the best bit of this match came via her and Kagetsu. For the most part, this was a pretty straightforward tag with no-one pushing themselves beyond what you'd expect of them so that small slice of those two beating on each other was appreciated.
Of course, with the wrestlers involved, even going through the motions is going to be pretty good. For its spot on the card, this was everything it needed to be as Momo got the win by tapping out Natsu.
Verdict: Three And A Quarter Stars
Tokyo Cyber Squad (Hana Kimura, Jungle Kyona and Konami)
Watching Tokyo Cyber Squad become friends is delightful. Their pre-match promo was three mates pissing about, and it made me smile. How can you watch that and think that scripted wrestling promos are a good thing? Give me Stardom wrestlers being friends over anything put together by twenty people in a writer's room.
Anyway, I moaned about Bea's booking post-winning the belt, and I'm going to have to do the same for Arisa. For the second show in a row, she was part of a tag team match that put her on the losing side. Again, like Priestley, her performances aren't the problem, but it's all about perception, and this doesn't sell the idea of your new champion being a badass. She's being booked much the same way as she was before she won the belt.
Still, if you ignore that, this was a great match as TCS and STARS continue to have fantastic chemistry. I enjoy that it gives Hana the chance to heel it up as she kicked things off by dragging Kid into the crowd and tying her mask to part of the building. It was only her teammates coming to Kid's aid that prevented the count out, and Konami was then happy to join Hana in trying to steal away the youngster's identity.
On top of that, it was a fun, fast-paced bout that saw everyone getting a chance to shine. You had six talented wrestlers putting their foot down and going all out to entertain. Only a right grump wouldn't enjoy it.
Verdict: Three And Three Quarter Stars
Hazuki defeated Death Yama-san to retain the High Speed Title
Another five-minute (5.33 if we're exact) Hazuki title defence and another review where I'm probably going to say all the things I've said after the other Hazuki title defences. Oh well, it must be done.
The match was great. Hazuki and Death wrestled at a ridiculous pace that meant you kept your eyes pinned to the screen. As noted in my review of the afternoon show, I had no idea Death had this in her, but she was brilliant again. She was right there with Hazuki, and while some will find the gimmick stuff a bit silly, I love it. Combining wrestling with extreme metal is my bag.
I even liked Death trying to get the win by using a steel chair. It was something a bit different as Hazuki has generally faced people who wrestle like her, so having someone bend the rules gave her a new challenge. Yama-san not only proved her equal in the ring, but she was happy to cheat too.
The problem was, as always, that I wanted more of it. I want to see Hazuki work longer matches, fleshing out her stories and not just stealing wins with roll-ups. We've seen her do it before, so it's not like she's incapable and while I get that the High Speed is intended for Junior wrestling, it's not impossible to do that on a broader canvas – particularly if you are going to main-event with it. I liked this, but I wanted to love it.
Verdict: Three And A Half Stars
Afterwards, Hazuki called for her next challenger, and Kashima made her way onto the ring apron. She admitted that she'd lost twice today and people thought she was useless without Tam and Mayu (Natsu piped up to agree with that conclusion), but asked for a title shot anyway. Not the strongest challenge, Saki. In a nice twist, Hazuki agreed that Saki hadn't put her best foot forward, basically telling her to get stronger and then she'll consider granting her a shot. The champ then called Oedo Tai into the ring to close out the show.
Overall Show
My minor quibbles with a few of the decisions aside, this was another great watch. We had a hot opener, a frantic trios match and an enjoyable main event. Stardom is my favourite wrestling company right now, and as long as they keep doing stuff like this, it's a spot they are going to retain.
Watch Stardom: http://www.stardom-world.com/
If you enjoyed this review, please consider contributing to my Ko-fi, even the smallest amount is appreciated.