On January 6th, New Japan said goodbye to Jushin Thunder Liger. By wrestling at the Tokyo Dome on both the 4th and 5th Liger had made sure that during his thirty-five-year career (and he wasn't far off hitting thirty-six) he'd wrestled in five decades. According to Cagematch, those five decades included 4205 matches (and let's be honest, they'll have missed a few) 113 of which took place in 2019. During that time, he arguably redefined the role of the Junior Heavyweight, becoming a star recognisable to anyone who has ever shared even a passing interest in the world of pro-wrestling.
All of which is a powerful legacy. However, to restrict Liger to years and numbers feels wrong. Even to point to those numerous legendary feuds whether it be Naoki Sano or his final dance with Minoru Suzuki is to miss what made the man everything he is. Yes, he was an incredible wrestler, but he was also so much more than that as he became wrestling's personal Superman. A larger than life action hero who showed how it could (and should) be done.
For in an industry that has so often been defined by its egos, Liger appears to have none. It's an open secret that he has spent years battling to be pushed away from the spotlight, taking the fall in meaningless tag matches and practically begging to be dropped from the Super Juniors' line-up. Even at the end, he didn't exert any pull to get one final win, as the only person he beat in a singles match in his final year was TAKA Michinoku, a fellow veteran, on a Just Tap Out show. In fact, the last time he won a one on one encounter in New Japan was the summer of 2018, a victory against Rocky Romero on the infamous show booked by Kenny Omega in Florida. If you're looking for his final singles fall in Japan for his home company, you have to go back to his last Super Juniors appearance where he beat Taichi.
If you're looking for people Liger has put over, though, you will find plenty. From Will Ospreay to Taiji Ishimori to Scotty Davis in OTT, many have benefited from the Liger rub. You could perhaps argue that the defeats render said rub pointless, but Liger has also never lost his aura. That suit has its own power, a power that means that even at the age of fifty-five he could still be mistaken for being in the same shape he was in when he debuted as the character at the Tokyo Dome in 1989. (Although, the design was a bit better at his final appearance than at his first.) Usually, being handed an anime character would be the death bell of a wrestler's career being taken seriously (Tiger Mask aside), but Liger took it and made it powerful. He turned it into something so much more than a gimmick.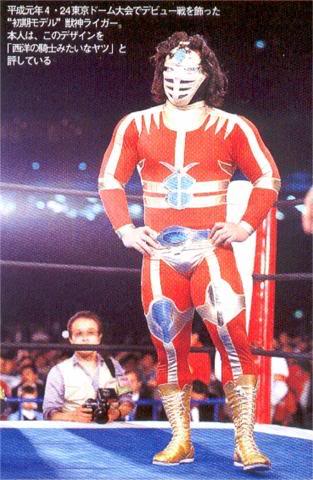 A considerable part of which came from his ability to emote. Clad in a full bodysuit with a mask covering his entire face, The Thunder God could have so easily become expressionless. Yet, somehow, he was anything but. Liger became the master of the small gesture, a man who could tell a story through the way he moved his hands or by a flick of his head. The classic example is the legendary Great Sasuke 'botch', where Liger dismisses him, mocking his rival before being caught off-guard. It's perfect storytelling and didn't require a glimpse of his face or a single second of him staring at his hands in disbelief. Liger could do the flashy, this is the man who invented the Shooting Star Press, but he was even better at the subtle.
And on top of that, he never took himself too seriously. Liger broke the mould, but he was also once involved in a spot that had Excalibur proclaim 'the legendary asshole of Jushin Liger'. If you've never seen it, it involves him marching a train of men around a PWG ring via his arse. It's, well, it's quite the sight and if you watch the rest of that clip it is followed by him engaging in the internet's favourite slow-motion wrestling. Like Minoru Suzuki, a man who I previously wrote one of these articles about, he understands that wrestling is inherently ridiculous and has zero problems with poking fun at it. He was as hilarious as he was innovative.
All of which explains why, on the day of his retirement, you saw only good things being said about Jushin Thunder Liger. In an industry where everyone has a dirty little secret, he appears to have none (please don't let that statement date badly). It is why we all cried when we saw him with his family in the ring, knowing that he was finally heading home and why we all laughed when he turned up at the first date of Fantastica Mania to do commentary, proving he couldn't stay away for even one tour. I said it in my New Year Dash review, but every young man or woman who straps on a pair of wrestling boots should try and have a little bit of the Thunder God in them. If they did, this mad industry would be a little bit better for it.
If you enjoyed my ramblings, then please consider contributing to my Ko-fi, even the smallest amount is appreciated.