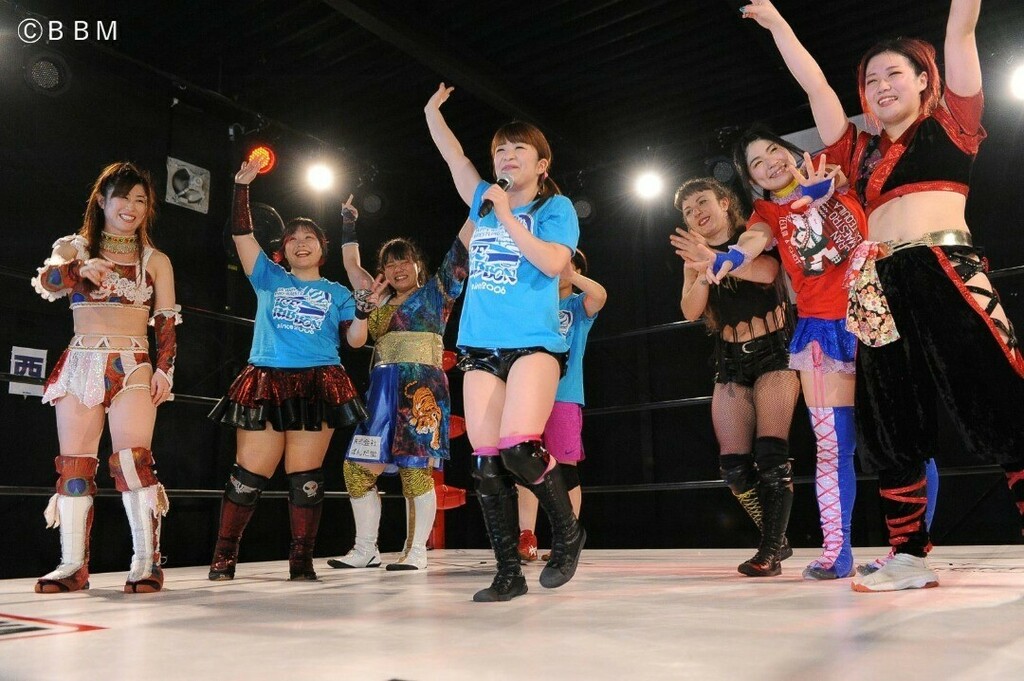 With lockdown lingering Ice Ribbon has made the decision to bring back P's Party. Now, as someone who only started watching Ice Ribbon at the start of the year, I have to admit that I don't have a clue what P's Party is. As best I can gather, it was a show based around highlighting Ice Ribbon's rookies (okay, I didn't really gather that, Yappy Tweeted it) which sounds like the perfect wrestling show! Can it live up to that expectation? Time to find out.
The wrestlers were all introduced, drawing a red or blue ball as they entered the ring to split them into teams. Next thing I knew a sports day had broken out as Yappy was doing push-ups with Tsukushi on her back, there was a tug of war and Uno was skipping.
Highlights included Yappy doing some impressive balance ball, em, balancing, Suzu showing off her Jerzy Dudek approach to goalkeeping and a refereeing dispute for the ages. I didn't have a clue why any of this was happening, but I did enjoy it. There will always be joy in watching wrestlers mess around with each other, gloating about wee victories and having fun.
Tsukushi and Maika Ozaki defeated Matsuyo Uno and Yappy
I think this match was my favourite Yappy performance yet. She's recently had her year anniversary (and posted some badass pictures on her Twitter of her twelve years ago) and seems to be coming on leaps and bounds. I'm ridiculously inspired by anyone brave enough to take up wrestling in their late-thirties and even more so when they turn out to be good.
In fact, this match was packed with favourites as Tsukushi and Uno are also sliding into that role. They had a good face-off with Uno highlighting just how small Tsukushi is. It's an easy thing to forget as her wiry prick energy gives off the impression she's at least ten feet tall.
It was all part of a match that fit nicely with the opening of the show by being a blast. They worked at a million miles an hour, firing from spot to spot and never giving you a chance to catch a breath. That probably means I won't remember the specifics in a week, but I also don't regret the time spent with it.
Verdict: All The Smiles
Tsukasa Fujimoto and Satsuki Totoro defeated Suzu Suzuki and Thekla
Suzu Suzuki is good at many things, but football isn't one of them. The ball that played a part in the pre-match shenanigans came out during her battle with Fujimoto, and she struggled to kick it in a straight line. They then repeated one of the races, Fujimoto getting revenge for Suzu beating her beforehand (although they were damn near neck and neck).
While Fujimoto and Suzu's inability to be anything apart from hyper-competitive took centre stage in this match (Suzu even responded to defeat by aggressively doing push-ups), Thekla and Totoro weren't innocent bystanders. They got a nice run out together, as Totoro is a great monster for wrestlers to try and chop down.
Much like the first match, this was a shitload of fun. The kind of action that relaxes me because I know it's going to deliver everything I want it to. Two thumbs up.
Verdict: Lovely Stuff
There was a fan vote after the main event. I've no idea what it was to determine, but everyone trying to convince people to vote for them was amusing, and Tsukushi won, so I'm down with it.
Overall Show
While Ice Ribbon's IW19 tournament shows have been fun, this felt like the perfect formula for the pandemic world. It was a light and breezy watch that flew by. I could happily watch another hundred of these, so fingers crossed they stick with it.
Watch Ice Ribbon on niconico: https://ch.nicovideo.jp/iceribbon
If you enjoyed this review, please consider contributing to my Ko-fi, even the smallest amount is appreciated.