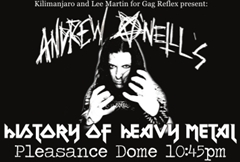 So the Edinburgh Fringe is in full swing and with my dissertation finally over I have been able to catch a couple of shows.  Unsurprisingly, Andrew O'Neill's History of Heavy Metal was one of the first that caught my eye.  Those of you who are regular attendees of Sonisphere and Download may be aware of O'Neill, as he has regularly appeared on the comedy stages of both due to his musical leanings.  Far from being a gimmick, O'Neill genuinely appears to live and breath heavy metal and because of that has put together this show, allowing him to talk about heavy metal to an audience that – assuming they have seen the name of the show – know what to expect.
On the night I turn up this appears to be very much the case, as there is a slight element of preaching to the choir. One or two aside, this is an audience made up of metalheads.  They know where O'Neill is coming from and because of that the stories he tells and the observations he make may hit harder than they would to a non lover of all things heavy.  However, there is enough here that I think it would be unfair to say this is a show specifically for metalheads.  O'Neill is discussing the history of the genre and in his stories he probably doesn't inform the members of the audience who have spent their lives listening to the bands he names about anything they don't know.  For a newcomer, it's may well be opening up a whole new world they were completely unaware of.
Of course, none of this would matter if the show wasn't also incredibly funny.  O'Neill is clearly passionate about heavy metal but, like all good metal fans, he is also aware of the ridiculousness of the genre.  He is self aware enough to poke fun at the thing he loves and clever enough to have the audience laughing along with him.  Meanwhile, the fact he comes on stage with a guitar strapped to him may cause some to worry, but his explorations of the riffs that made this genre what it is is well done and his seamless blending of classic songs with his own adapted lyrics is incredibly clever.  His opening salvo describing the creation of the universe is a particular highlight.
O'Neill has stumbled on something a little bit special with this show, as he talks about this subject that he has so much enthusiasm for it is hard not to be carried along with it, I love the music he was talking about and because of that I may have been slightly more susceptible to that than most, but I do genuinely believe that he has created a show that is funny, informative and has at the heart of it a good message.  Heavy metal fucking rules. So whether you are a metalhead or not I would suggest you go along for this particular slab of education, heavy metal style.