Mike Flanagan is quietly making a name for himself. Hush got a bit of internet buzz when it was released on Netflix in 2016, and while Before I Wake didn't pick up anywhere near the same momentum, there were hints of his growing talent. It was enough to convince Netflix to put faith in him and fund his passion project, Stephen King's Gerald's Game – a book he used to take to meetings just in case he could convince someone to let him make it.
On paper, it's a simple premise. Jessie (Carla Gugino) and Gerald (Bruce Greenwood) head off on a dirty weekend to rekindle the fires of their marriage. Unfortunately, when poor Jessie is handcuffed to the bed Gerald has a heart attack and leaves her trapped with her own thoughts, a hungry dog and a terrifying figure which she prays is just her imagination.
It's there that adapting this book hits a stumbling block. How do you make a woman handcuffed to a bed getting lost inside her own head cinematic? Her ranting and raving to herself could only keep you gripped for so long. Flanagan, therefore, made the decision to move the thoughts outside of her head. To give life to them in the forms of herself and her stricken husband.
This leaves Jessie tied to the bed being tortured by her own thoughts as the stress of the situation forces her to relive traumatic memories from her past. It gives Gugino one hell of an acting task as with her arms pinned to the bedposts she is forced to convey everything through her face. From the panic of the initial moment to the slow realisation that she might die like this. It's an incredible performance and one for which she deserves every inch of praise.
In fact, both leads are fantastic here. Greenwood pulls off an incredibly realistic heart attack before being brought back to dance around the bed, taunting and prodding as he unpeels all the mistakes Jessie has made in their marriage. He's sadistic and yet has a jolly streak to him. A twinkle in his eye. Meanwhile, Jessie's mind's version of herself is stern and angry, forcing her to push through this. Gugino is essentially playing two completely different roles. One broken and one strong.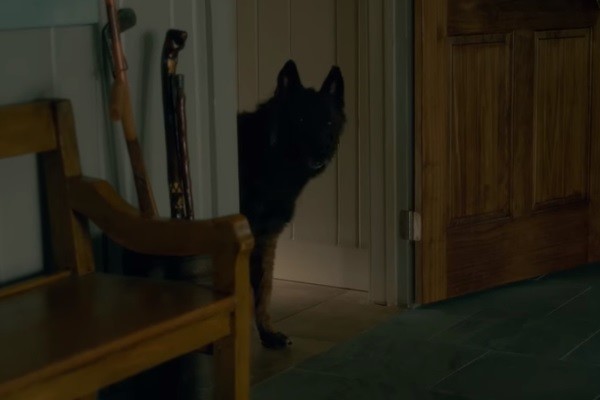 The flaws in the film come not from the performances, but from some minor plotting issues. There is a reliance on flashbacks in the final third which hurts the pace. The second you leave the bedroom and enter the past the tension is deflated, and even as they show horrific acts, you are not as locked in as you are in the present. Then there's the ending, while it is taking from King's book you wonder whether this would have been a good chance to tweak it. It answers one too many questions and while there is a shiver up your spine scare there, it removes too much mystery from the story.
Those flaws aside, Gerald's Game makes it two out of three for the King adaptations released this year. It's a tense watch and you feel like you are right alongside Jessie, strapped to that bed and helpless to whatever is stalking the house. It's further confirmation that Flanagan is a talent that could go a long way.
Verdict: Hall of Fame