It couldn't really be anyone else, could it?
Wrestling is subjective. I am sure you could make an argument for someone else being wrestler of the year. Kenny Omega? Pete Dunne? Even a Walter? Perhaps… em, Braun Strowman? But, here's the thing. You'd be wrong.
Because Kazuchika Okada didn't just have a good year, he had one of the greatest pro-wrestling years of all time. Starting at the Tokyo Dome with the now iconic six-star encounter with Omega he then went on to deliver match after match of insane quality.
It's not only the big ones either. We all know about Omega I, II and III and we've probably all seen Shibata. Here's a secret, though, the other matches were just as good. Minoru Suzuki, Tiger Mask W, Bad Luck Fale, Evil and he even got something great out of Cody. All of that's before you touch on a near perfect G1.
And in each of those fights, he adapted to his opponent. Against Fale, he was the vulnerable babyface, overpowered by a monster. Against Kojima in the G1, he was the arrogant champion, a man who saw the legend as beneath him. Not only was he excelling, he was doing it in a multitude of styles. The submission battle with Suzuki has nothing in common with his brawl with Evil. Christ, his three matches with Omega are all distinct from each other.
On top of all that, he's good for business. New Japan has been breaking attendance records all over the shop, and it's with Okada on top. While it's simplistic to point at the extraordinary early Dome numbers as being purely down to him, it would be ridiculous to say they're not at least partly thanks to the champion. The Rainmaker has got it all.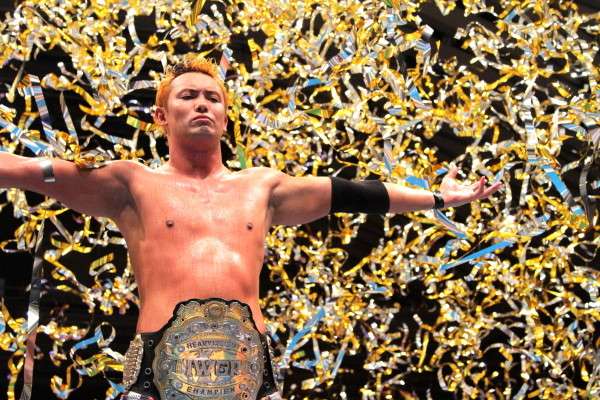 And the bastard has only recently turned thirty. Major injury aside, he's got a lot of his career in front of him. There is every chance that he could top himself. I can't imagine how you do it, but would you put it past him? He looks likely to take a backseat to Tetsuya Naito post-Wrestle Kingdom. However, we all know he'll be back. Perhaps even better for the rest.
Kazuchika Okada isn't just the best wrestler in the world right now. He is well on his way to being one of the best of all time. If he keeps up his current form, he'll certainly be in the equation. 2017 was Okada's year, and we should all be glad we got to witness it in person.