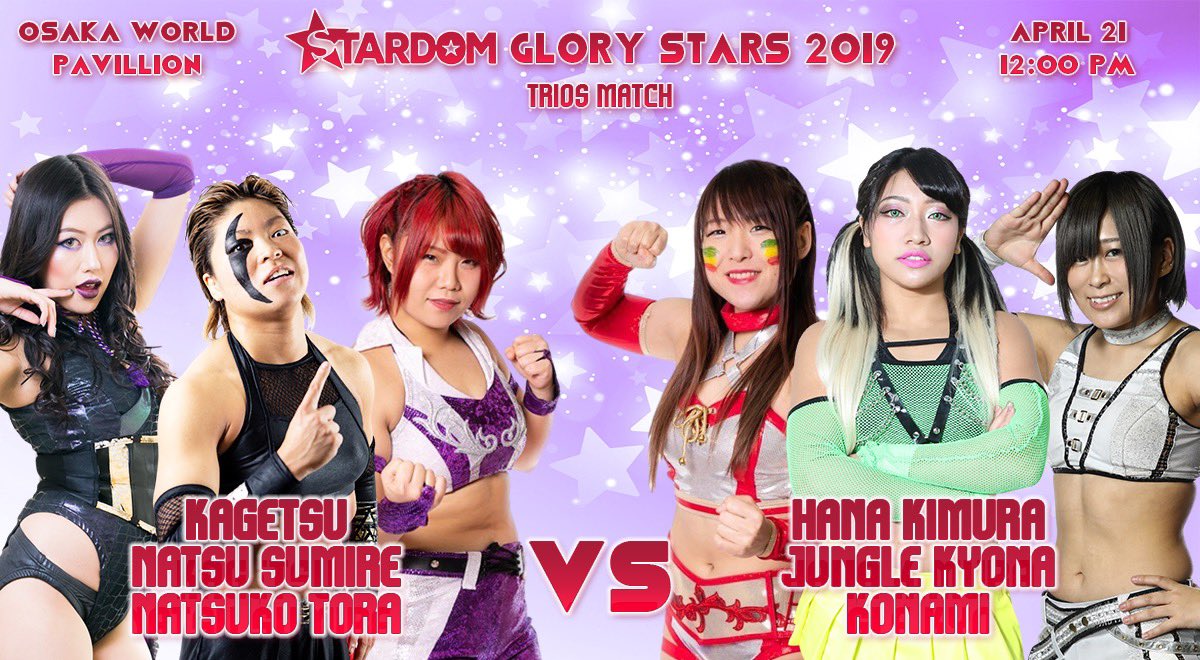 Stardom has mixed things up, and one glance at the card for this show suggests they are already reaping the benefits. Our main event has two old JAN pals facing off plus the debuting of Hana's new-look faction. Where will it lead? I guess it's time to find out.
Tam Nakano defeated Leo Onozaki
This match wasn't only Leo Onozaki's first as a member of Queen's Quest, but it was her birthday too. Happy birthday, Leo! Tam, meanwhile, has a new doll that she wants us all to buy. It is rather adorable.
The double occasion had Onozaki fired up to impress, raining elbows down on Nakano. She also locked on a Dragon Sleeper which, thanks to Nakano's flexibility, looked fucking sore. They could teach Sanada a thing or two. Sadly, despite that, Leo couldn't bring victory home to her new teammates. While she fought hard, it turned out that one Tam kick trumps a flurry of Onozaki elbows. Nakano's boot crashed into the side of Leo's head, and we were done. Still, this was one of the better Leo Onozaki performances I've seen so perhaps her Queen's Quest adventure will be the making of her.
Verdict: Two And Three Quarter Stars
Hazuki and Starlight Kid fought to a Double Pinfall
Starlight Kid lost a High Speed Title match to Hazuki in January, so this was her chance to earn herself a second opportunity.
She was determined to do so too as Kid went all out to try and put Hazuki away. These two have fantastic chemistry, working at pace, but also stiff, laying into strikes as they dash across the ring. Then there was the Boston Crab Starlight put Hazuki in where she seemed determined to have the champ kick herself in the head, one suspects that was not an enjoyable experience for her.
The final seconds saw them slip from pin to pin, with it looking like Hazuki was once again going to steal the victory. However, when the fall came about, it turned out both women's shoulders were on the mat rendering this a draw. One suspects we'll have to do it again and on the evidence presented here, I have no problem with that.
Verdict: Three And A Half Stars
Andras Miyagi defeated Rebel Kel
It feels like I'm continually putting Rebel Kel down at the moment, but her promo was utter nonsense. She was going on about sauce for some reason? I'm not quite sure what it had to do with Miyagi. Very confusing.
I'll make up for being mean by saying this was one of Rebel's better performances. Kel looked more comfortable wrestling Miyagi than she has others and I wonder whether their comparable heights played a part. She towers over most of the Stardom roster, so having someone who is at least of similar size might have made things easier for her.
It still wasn't perfect. Rebel needs to work on her offence, particularly her strikes, and you can't ignore the fact she looks clunky at times. However, Andras got a decent match out of her which suggests we shouldn't be writing her off yet.
Verdict: Three Stars
Queen's Quest (Momo Watanabe, AZM and Bea Priestley defeated STARS (Saki Kashima, Arisa Hoshiki and Saya Iida)
Iida was nervous ahead of her first match with STARS, and while her teammates tried to calm her down, Queen's Quest did not make things easy for them. They isolated Saya early on and went to work, bullying the rookie. Bea Priestley went as far as shoving her chewing gum in Iida's mouth which is just unhygienic.
When Arisa and Saki were able to enter the match, things evened up. Hoshiki, in particular, impressed, as she was seemingly determined to remove Momo's head with one of those kicks. It was a fun exchange, and while there was nothing you won't have seen before, there was enough about it to keep you engaged.
Eventually, Iida got back in, and we were back to where we started as she faced off with AZM. She gave the Queen's Quest youngster a scare or two, catching her with those flash pins, but it wasn't to be, an Armbar made sure she started her STAR's career with a loss. Still, she looked good in defeat, and there's plenty of time for her to make up for it.
Verdict: Three Stars
Tokyo Cyber Squad (Hana Kimura, Jungle Kyona and Konami) defeated Oedo Tai (Kagetsu, Natsu Sumire and Natsuko Tora)
Hana wandered away from her pre-match interview leaving Konami and Jungle to handle it. They seemed slightly bemused by both that and their new surroundings. Natsuko, meanwhile, is having none of those issues as she's slipped into Oedo Tai like she was there all along. Not only did she look at home during the promo, but she showed no sign of remembering her friendship with Jungle and has already started ordering Natsu around.
That confrontation between Jungle and Tora would form the early part of this match. Natsuko seemed determined to separate herself from Jungle as quickly as possible, attacking her at every opportunity and delivering a vicious series of slaps. Jungle, for her part, started by taking them, seemingly refusing to fight back. Eventually, though, she snapped. Suddenly, the former partners were forehead to forehead going at it. It was awesome.
Hana, meanwhile, is always up for kicking Oedo Tai in the head but seemed to be taking extra pleasure in it. She's relishing this new role and was sporting a fresh look to go with it. Throw in Kagetsu and Konami laying into each other with kicks, and this was a shitload of fun. It was all about establishing new dynamics, and there was enough there to suggest lots of enjoyment is set to be had.
Not that Natsu was having a good time. After an impressive back and forth with Konami she found herself locked in the Triangle Lancer, and we all know how that ends. Not that the bell ringing would stop Jungle and Tora, their fight continued on, and one suspects that while JAN is dead, there is work to be done before it's buried.
After the win Konami proudly proclaimed 'fuck you QQ', so Kimura already has an influence there. Jungle then got around to asking Hana, em, what is the name of the group? Pointing out that there are a lot of Japanese people in the so-called International Army. Kimura had this all planned out, though, and Rebel Kel showed up with the new name proudly proclaimed on a board. Say hi to Tokyo Cyber Squad with their slogan 'everyone is different. Everyone is good.' Hana is also demanding they all salute and shout 'yes, sir' when she says the name. Rebel picked it up a lot quicker than the other two, but they were getting there. I, for one, am happy to salute our new leader.
Verdict: Three And Three Quarter Stars
Overall Show
A solid showing from Stardom on what was the first part of a two-show day. There were a lot of new combinations or people representing units for the first time which was fun to see. Even if none of the matches will go down as instant classics, it shall be remembered as an iconic event for the creation of our new overloads, Tokyo Cyber Squad.
Watch Stardom: http://www.stardom-world.com/
If you enjoyed this review, please consider contributing to my Ko-fi, even the smallest amount is appreciated.