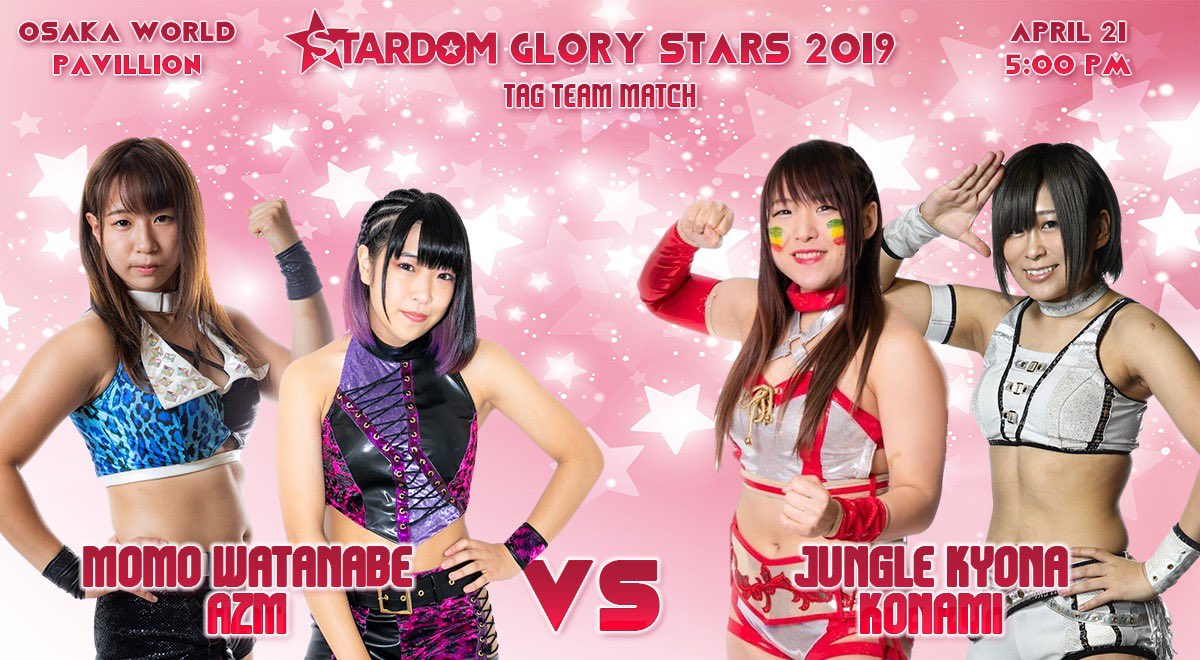 Stardom's second show from the 21st continued the theme of the day as they bed in their new look units. There were a lot of first-time tag teams on this card, and that had the potential to lead to all sorts of interesting dynamics. Oooh, how exciting.
Queen's Quest (Bea Priestley and Leo Onozaki) defeated STARS (Starlight Kid and Saya Iida)
Poor Saya still seemed very unsure about being part of STARS in her interview. Having to wrestle her old pal Leo didn't seem to be helping either. I imagine Mayu Iwatani's group to be a welcoming bunch, so I'm sure she'll settle in soon.
Or perhaps she'll take her frustration out on her former friend. For all her pre-match reticence, it didn't take long for Leo and Saya to start throwing elbows at each other, and it escalated from there. If anything, they seemed to be enjoying beating each other up. Poor Jungle Kyona, it can't be fun watching your former rookie proteges elbow each other in the head.
Interestingly, the rookies had a better showing than their more experienced teammates. Kid and Priestley seemed a step off when they got in the ring together. Whether it was one of those days or a chemistry issue between the two is hard to say, but everything they did had an air of awkwardness.
It was then capped off by the Bea's Curb Stomp looking like shit too. Still, it happens to the best of us, and it was a fine enough opener.
Verdict: Two Stars
Saki Kashima defeated Natsu Sumire by Disqualification
Like me, Natsu is somewhat enamoured with Kashima's entrance music, and she took that to its natural conclusion on this show by singing Saki to the ring. For some reason, Kashima wasn't touched by this loving tribute and interrupted the song with a Dropkick. That's just rude.
Perhaps unsurprisingly, this then turned into a comedy match. We had Natsu pulling every trick out of her book, and poor Daichi Murayama would take two headbutts to the balls. Although perhaps I should be extending my sympathy to Saki and Natsu, I'm not sure. That wouldn't be the end of his rough day either. Eventually, Sumire realised this wasn't going to plan and ended things by kicking Murayama down below before dishing out a whipping for Saki. An action that she might have regretted when Kashima chased her to the back in an attempt to gain revenge.
People's mileage will vary with a match like this. If (like me) you enjoy the comedy side of things then it will get the thumbs up. If you don't, save yourself the hassle, and skip it.
Verdict: Three Stars
Oedo Tai (Hazuki and Natsuko Tora) defeated STARS (Arisa Hoshiki and Tam Nakano)
Tam Nakano wandered away from her pre-match interview because she'd seen a shooting star… inside the building. She will do anything to avoid spending too long with Hoshiki.
Yet, Nakano and Hoshiki make a weirdly effective team. They beat each other up as much they do their opponents, but when they come together, it works. Also, Hoshiki looked like a fucking badass in this match. There was a moment where she wandered into the ring and started kicking the shit out of Hazuki which I loved. In the few months since I started watching Stardom, I feel like her confidence has exploded. She's gone from a reliable worker so someone who holds herself like a star.
Everyone came out of this one looking good actually as these women can be relied upon to deliver. Tora, in particular, is relishing her new role in Oedo Tai. That little bit of arrogance suits her and she put Tam away after Hazuki slammed the wooden board into her head. It was an ending that left Hoshiki unsatisfied, and she had to be dragged away from continuing her fight with Hazuki. The High Speed champ has a talent at getting under people's skin, doesn't she?
Verdict: Three And A Half Stars
Oedo Tai (Kagetsu and Andras Miyagi) defeated Tokyo Cyber Squad (Hana Kimura and Rebel Kel)
Show number two of the day had Hana feeling sleepy, and she gave a very languid interview. One gets the impression that she's been having all the fun since signing her contract and forming Tokyo Cyber Squad.
Sadly, all the fun in the world can't change the fact that Rebel Kel isn't good. I'm not going to hark on it because I've made my points before, but she was the clear weak link and spent far too long in the ring. She also really needs to stop talking mid-match. 'Is your back hurting?' is the worst smack talk ever.
Thankfully, she keeps being placed with decent wrestlers who stop the matches from becoming a total shit show. Kagetsu and Miyagi did a decent job of preventing this from falling apart, with Kagetsu eventually pinning Kel after the 450 Splash. It left us with an uneven contest that had its moments but was let down by its weaknesses.
Although Hana and Miyagi weren't done, going forehead to forehead post-match before Kimura out headbanged Miyagi to send her running to the back. That might be my spot of the year. We then had Bea coming down to challenge Kagetsu. She was speaking in broken English which is something I've noticed some wrestlers do when talking to Japanese talent. Does that help at all? Because it sounds patronising as hell. I'm willing to accept that it might, but it always makes me cringe. Especially as the part of Kagetsu's acceptance that was in English then sounded like she spoke the language better than Priestley. Anyway, that match is happening.
Verdict: Three Stars
Tokyo Cyber Squad (Konami and Jungle Kyona) defeated Queen's Quest (Momo Watanabe and AZM)
Konami has discovered a new passion in life. She loves nothing more than telling Queen's Quest to fuck off. It's beautiful how much enjoyment she gets from those words. Meanwhile, Jungle is trying very hard to be a badass, but couldn't help getting a bit excited and hugging an unimpressed Konami. I am well up for this team by the way, everything about it makes me feel good things.
AZM and Momo weren't a terrible match-up to settle in as a pairing either. This was a cracking contest where everyone played their role to perfection. Jungle Kyona is one of the best underdog babyfaces in wrestling, and QQ relished working her over. Konami, meanwhile, is blossoming away from that crowded unit. Teaming with Jungle she becomes the badass, dishing out kicks and transitioning into submissions out of nowhere. She's always been good, but now she's getting to stand out.
The finishing stretch was fantastic. AZM jumped up the turnbuckle before leaping off with a Crossbody only for Kyona to catch her out the air. She then tossed the lighter wrestler up and caught her in a Sleeper before spinning her around to make it all the more effective. After that, a simple Splash was all that was needed for the three.
Afterwards, both Konami and Jungle laid down their desire to win the Cinderella Tournament before Konami narrowed her 'fucking Queen's Quest' to 'fucking Momo Watanabe'. Jungle then cut a lovely promo where she said she still wants to be gentle and strong despite joining Tokyo Cyber Squad. Although, I still wouldn't say not to badass Jungle. Hana then insisted that Kyona close the show even getting the fans to chant for her. Maybe Jungle is rubbing off on her.
Verdict: Three And Three Quarter Stars
Overall Show
Another solid Stardom show which was elevated a bit by the main event. Tokyo Cyber Squad are still finding their feet as a unit, but there is more than enough to suggest they'll be a welcome addition to proceedings. Up next is the Cinderella Tournament, so it's time for the pretty dress.
Watch Stardom: http://www.stardom-world.com/
If you enjoyed this review, please consider contributing to my Ko-fi, even the smallest amount is appreciated.