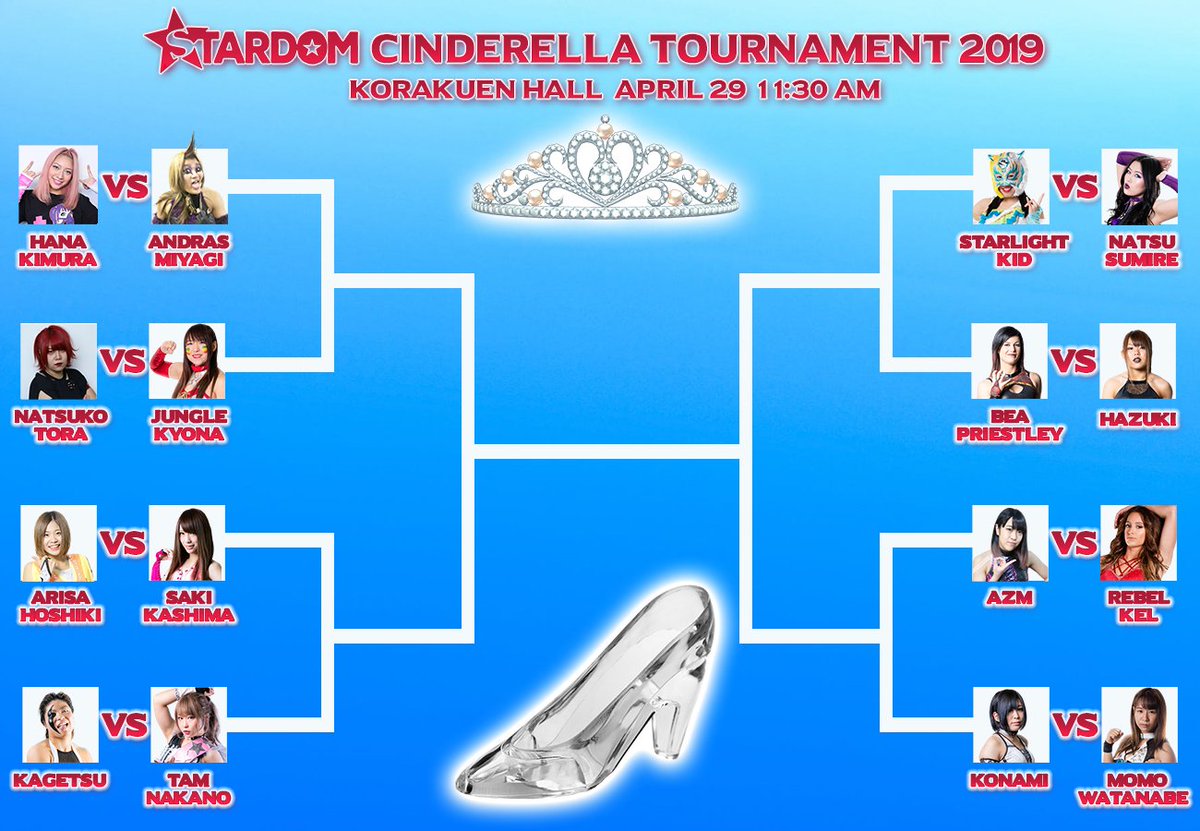 After a fantastically watchable first eight matches, I had high hopes for the second half of the Cinderella Tournament. We're going all the way to the final now, so let's see if they lived up to them.
Starlight Kid defeated Hazuki in the Cinderella Quarter Finals
It's kind of impossible to review this as Starlight Kid blitzed Hazuki from the start and ended up pushing her to the floor as she went for a springboard after (according to Cagematch) just over a minute. It was a fun blast, but they didn't have the time to get beyond that. I think it worked, though. Hazuki wasn't pinned, so she doesn't lose anything while Kid has already been set-up as a future challenger. No complaints (although, of course, I would love a longer match between the two).
Verdict: Two And A Half Stars
Konami defeated AZM in the Cinderella Quarter Finals
Stardom flew through these second-round matches. After Konami responded to AZM's refusal of a handshake with an old-fashioned two-fingered salute, AZM tried to catch her former partner off-guard with a burst of speed. For a while, it seemed to be working too, but she made the mistake of trying to tap Konami out. When AZM took it to the ground, her former friend had too much for her, and when the Triangle Lancer was locked on, this was over. That's two Queen's Quest members down for Konami. Again, I'd have loved to see more, but on a long show, I get why they're keeping these short.
In an amusing touch, Kagetsu turned up post-match desperately trying to check up on AZM while wearing an AZM shirt. The draft might be over, but she still wants her girl.
Verdict: Two And Three Quarter Stars
Natsuko Tora defeated Hana Kimura in the Quarter Finals
Early on, Tora made the mistake of setting Hana up in the ropes for Oedo Tai to pose with their boots in her face. It was partly a mistake because Hana went mental and started hitting her with chairs, but it was mainly a mistake because mini-Hana (Rina) came charging to the rescue. If the rookie is going to become a mini-badass too, I am all for it.
From there, Hana looked to be in control of this one. She was managing to survive Tora's bruising offence and even got her modified Octopus locked on, only for Natsuko to force the break. Unfortunately, Kimura then made a mistake. As Tora lay in the ropes, she went for a boot, giving Oedo Tai's newest recruit the chance to sneak out the way. A clunk on the head with the wooden board followed by a spear sent Kimura tumbling to the floor.
A fine match. It went a bit longer than the first two but was still short, and it never felt like Tora or Hana got up to speed thanks to the interference and brawling on the outside. Tora does continue to impress in her new role as Oedo Tai's bruiser, so I'm happy that she's going deep into the tournament.
Verdict: Two And A Half Stars
Arisa Hoshiki defeated Natsuko Tora in the Cinderella Semi-Finals
Hoshiki went straight into the semi-finals thanks to Tam Nakano and Kagetsu's draw, so she had it pretty easy up to this point. Tora, meanwhile, can't have had much time to recover from her brawl with Hana. I hope for her sake they at least had an interval between these matches.
Whether there was a break or not, Tora took control early on and went after Hoshiki's leg in an attempt to negate those kicks. It seemed to be an effective tactic too. She was able to out-power Hoshiki, taking control of the action and working her over. When she came crashing down with a Frog Splash, it felt like a matter of when not if.
Unfortunately for Tora, she didn't damage those legs enough. As she went for the Leg Drop that ended Jungle's tournament, Hoshiki rolled out the way and connected with one of those vicious kicks. A Powerslam followed by the Twisting Splash and she'd sealed her spot in the final.
Another short match that won't rack up the stars, but was entertaining while it was on. There is not much more to say, everything on this half of the show has been enjoyable without blowing the mind, and this was the same.
Verdict: Two And Three Quarter Stars
Konami defeated Starlight Kid in the Cinderella Semi-Final
Starlight Kid wrestled three matches in this tournament that combined went less than ten minutes bell to bell. That's impressive. Even more impressive is that they all still managed to be entertaining, including this one. The story was that Kid wanted it over and done with as fast as possible, but when she missed a Moonsault and ended up in the Triangle Lancer, well, she was the one that got dealt with quickly.
These matches have put Konami over strong as she looks like a total badass, tapping people out left, right and centre. Presumably, that's the goal, and if that's the case, they succeeded.
Verdict: Two And Three Quarter Stars
Arisa Hoshiki defeated Konami to win the Cinderella Tournament
At some point between the last match and this one, Konami found herself an awesome fluffy coat. She looked like a star making her way down to the ring while Hana and Jungle held open the ropes for her. A lovely example of how you don't need to win something to feel like you've taken a step-up. Sadly Hoshiki didn't have a cool hat or anything like that. Although she was about to win a dress, so perhaps that would have been too much.
If you're a fan of a stiff kick, then you're going to have a lot of fun with this one. Both Konami and Hoshiki throw a mean strike, and if they'd stood in the centre of the ring and kicked each other for ten minutes, I'd have probably gone home happy. They, perhaps thankfully, did a bit more than that, though. The match revolved around Hoshiki's leg which having been worked over earlier in the tournament presented itself as a perfect opportunity for Konami. When she wasn't kicking Arisa, she was stretching that injured leg out, twisting on it and looking to make her scream.
That put Hoshiki in the role of the battling babyface, desperately trying to stay on her feet long enough to put Konami away. She hit the Twisting Splash (which had worked for her all tournament), only for Konami to power out at the last second. Then, when she tried to follow up with her Brazilian Kick, her leg gave way, forcing her to readjust and giving Konami time to recover. A second later she was in the Triangle Lancer, and it was only the fact she came down next to the ropes that stopped that being the end.
The final minutes turned this whole thing around as it became Konami's turn to survive. After being forced to break the Lancer, she took too long to follow up, and Hoshiki delivered a V-Trigger style knee to the chin. Konami would once again kick out of the Splash, but the second Brazilian Kick found its target and Hoshiki is our winner.
Great final. It only went around ten minutes, but it worked to that time, developing a strong story and providing us with a fantastic battling performance from our winner. Even without fighting in the Quarter Final it felt like she went through a war to win this, and was still grasping her knee and struggling to stand after the bell. It probably sits second to Tam vs Kagetsu for the match of the tournament, but there is no shame in that.
Verdict: Three And Three Quarter Finals
When Hoshiki returned in her dress (I am not the person to review that, but she looked lovely, and I'm impressed at her ability to get in and out of the ring in it), she was presented with the trophy and tiara by Toni Storm. She then got on the mic and talked about finding her confidence since returning five months ago and even dropped the bombshell that she's been training with Tam. Kayfabe! Maybe it's a very aggressive training routine. Anyway, she went on to use her victory to call out Momo who took her time turning up but accepted the challenge before refusing to shake Arisa's hand. STARS then closed the shows with even Tam flashing a smile at her 'friend' winning.
Overall Show
Look, the star ratings on these matches aren't high, but that's mainly down to length. They are all worth a watch and were a lot of fun while they were happening. Stardom was running a show with fifteen matches on it. You weren't getting epics. The fact they had one time limit draw was impressive enough, and they came out the other end having elevated both Konami and Hoshiki. My first Cinderella Tournament was a load of fun, and I highly recommend taking the time to enjoy it.
Watch Stardom: http://www.stardom-world.com/
If you enjoyed this review, please consider contributing to my Ko-fi, even the smallest amount is appreciated.