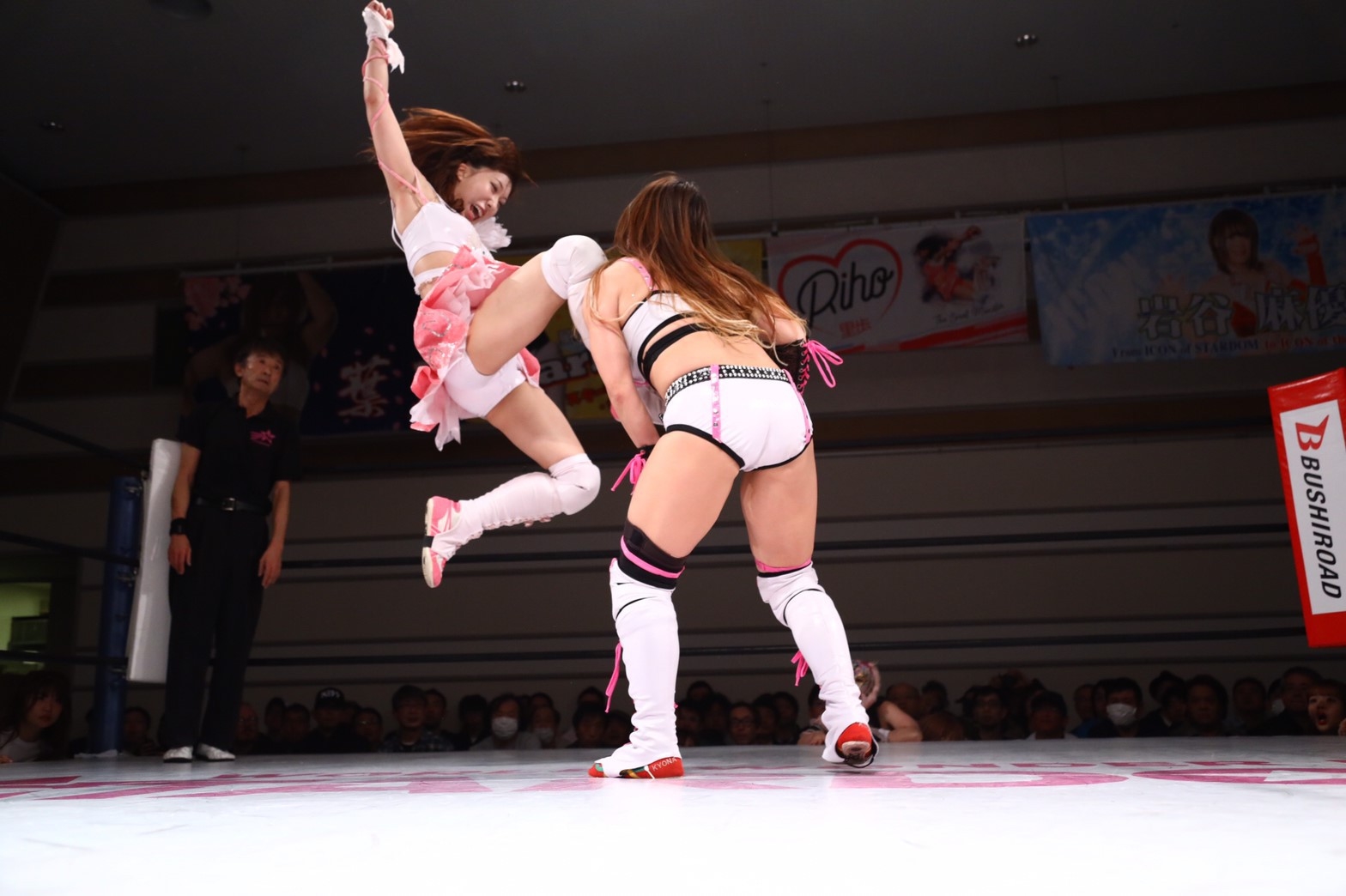 There wasn't much fanfare for this Yokohama Stardom show, but shit, it had a hell of a card. It continued the build to both Hazuki's retirement and the Christmas Eve show, but if they'd delivered this on a mid-year Korakuen, I doubt anyone would have complained.
Tag 3838 (Saya Iida and Saya Kamitani) and Itsuki Hoshino defeated Tokyo Cyber Squad (Rina and Ruaka) and Hina
Ruaka, at the age of fifteen, has already been wrestling longer than Iida, Kamitani and Hoshino put together. In fact, if you're going by in-ring time alone, the kids lap the rookies.
Despite that, it was the rookies who got the better of a fun match-up. It wasn't perfect. I noticed Hoshino and Ruaka mucking up at one point (they weren't the centre of attention, so I couldn't tell what happened), but that rookie trio is far better than it has any right to be. Plus, Iida has turned into Kojima and started throwing chops, which I love. The big man himself was training at the Stardom Dojo recently, so fingers crossed he took her under his wing.
The cherry on the cake was Kamitani nailing the Running Shooting Star Press, as she finally seems to have got that one all figured out.
Verdict: Three Stars
Oedo Tai (Jamie Hayter, Natsuko Tora, Natsu Sumire and Session Moth Martina) defeated Queen's Quest (Momo Watanabe, AZM, Bea Priestley and Leo Onozaki)
Natsuko Tora is in that category of underrated wrestlers who are so underrated that no-one ever talks about them underrated. She carried the bulk of this match, spending a lot more time in the ring than anyone else from Oedo Tai and eating moves from both teams (it was accidental on the Oedo Tai side of things). She was at least given the win in reward, pinning Leo after a decent back and forth that recovered well from a botch.
Outside of that, this was about what you'd expect. Momo vs Natsuko was the highlight, but there other enjoyable bits and bobs including Natsu and Martina's usual comedy antics. Although, it would be nice to see Session Moth get serious in Stardom. She's come on leaps and bounds in the last couple of years but hasn't had a chance to show that on this tour. Still, I enjoyed it.
Verdict: Three Stars
Giulia defeated Saki Kashima
Giulia wanted to peel off Saki's ghost-white skin which I'm going to say might be a bit much. What did Kashima do to piss her off?
Overly violent or not, it's clear Stardom is putting her in the ring with people who can make her look good. Not that she seems to need help doing so. Giulia has a real violent streak to her wrestling, that I'm already enjoying a lot. The way she grabs people's hair or leans into her forearms makes her look like a vicious badass.
This was also a match in which they seemed determined to do a bit of everything, starting fast before moving into grappling and finally closing up with a slugfest. Giulia would survive one of Saki's signature flash pins before putting her away with a side Powerslam thing. One suspects it has a catchier name, though.
Verdict: Three And A Half Stars
Utami Hayashishita defeated Andras Miyagi
If you were excited for a big singles push for Andras coming out of her leaving Oedo Tai, then I have some bad news for you. It appears to be the exact opposite, as she's tumbling down the card. Having lost quite convincingly to Kagetsu, she followed up by giving Utami a nice win to continue her comeback from injury.
It wasn't a particularly good match either, losing my attention as they spent a lot of time doing not very much. The biggest problem with Andras leaving Oedo Tai might not be the lack of push, but the lack of tag matches she'll be able to do. She's better in small doses while even a short singles match shows her up.
Still, Utami got a nice win with a beautiful Bridging German. It's great to have her back.
Verdict: Two And A Half Stars
STARS (Mayu Iwatani, Arisa Hoshiki and Tam Nakano) defeated Tokyo Cyber Squad (Hana Kimura, Death Yama-san and Zoe Lucas)
Tam was incredibly excited about Mayu winning the Tokyo Sport Joshi MVP Award and wanted everyone (aka Arisa) to know how close they got during their trip to America.
We were in classic Stardom mid-card tag territory here as we got a fun if inessential match. The highlights were the brief Hana and Mayu interaction as well as Death being, well, Death. Arisa also got a chance to show Zoe how to throw a kick that looks like it hurts, so that was nice.
It was all perfectly enjoyable, but nothing you need to see.
Verdict: Three Stars
Kagetsu defeated Hazuki
Kagetsu is the benchmark by which Hazuki measures her career. In another life, the match in which she beat the person she calls her master would have been the moment where she reached that next level, proving herself worthy of being at the top. Sadly, it looks like we'll never get that moment.
But damn, is Hazuki going out by giving us one hell of a show. These two had a match earlier in the year that will be on my end of year list (expect that at some point in the next week), and I wasn't sure whether they'd be able to capture the same intensity in this one. Then Hazuki started dragging Kagetsu through the chairs at ringside, crashing through them and beating her with any that she could get her hands on. Any worries that they'd hold back were quickly forgotten.
And these two have that kind of chemistry that comes from being friends. Submissions are a little bit tighter, and strikes are that little bit stiffer because they can get away with it. They beat the shit out of each other, at one point clasping hands in the centre of the ring as the elbows came flying in. Watching it, you can't help be sad that we only got five years of Hazuki and not the long career that promised so much. But, as Kagetsu said in her post-match promo where she thanked Hazuki for being a wrestler, those years were wonderful.
Verdict: Four And A Quarter Stars
Tokyo Cyber Squad (Jungle Kyona and Konami) defeated STARS (Starlight Kid and Riho) to retain the Goddesses of Stardom Titles
In the build-up to this match Jungle suggested that Riho was carrying Starlight Kid through Tag League. It was a remark which pissed off the usually delightful Starlight and saw her enter the ring with a slight chip on her shoulder. Said chip might have ultimately been her downfall.
For Kid worked a lot of this match, constantly tagging in and seemingly desperate to prove herself. She was trading strikes with Jungle at points, being beaten back but refusing to die, delivering a vicious slap of her own. The youngster wanted to show she was Jungle's equal, and while she put in one hell of a performance, she didn't quite have enough.
Because at some point in the last few months Konami and Jungle have become a brilliant tag team. They have that telepathic bond, both in the exact right place they need to be at the exact right time. It was that which ultimately allowed them to cut Kid off as it appeared she was going for a top rope Moonsault (a move that, as Stardom's English Twitter pointed out, she has always hit from the second rope) to hit the Powerbomb Dropkick combo instead. From there, Konami would lock on her Final Lancer, paying Kid the tribute of tying her all up in knots to put her away. After the bell, she was distraught, Riho having to comfort her, but even without the victory, I think she proved they are far from a one woman team.
Verdict: Four And A Quarter Stars
Konami is getting weirder, and I like it. Her post-match promo was all over the place (in a good way), and she's developing a manic edge. We also got Priestley and Hayter making the next challenge, with Bea cutting one of her trademark awful promos. Seriously, let Hayter do the talking in the future, please.
Overall Show
I was about to claim this was merely an alright show, but then I scrolled back and fuck, it was better than alright, it was fantastic. Stardom quietly throwing out a Korakuen-worthy card a couple of weeks before they head to Korakuen. I've got no complaints about that.
Watch Stardom: http://www.stardom-world.com/
If you enjoyed this review, please consider contributing to my Ko-fi, even the smallest amount is appreciated.