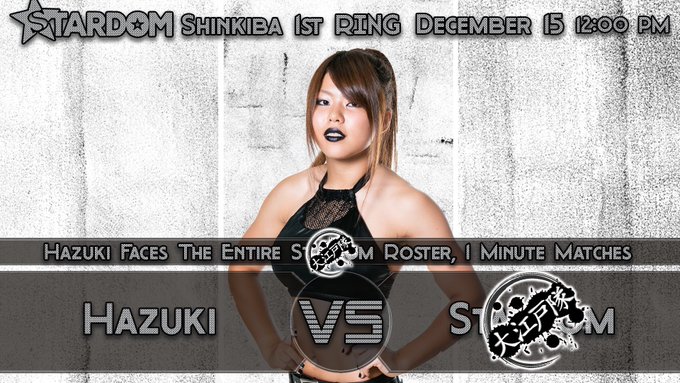 The build to Stardom's final Korakuen of the year has been almost perfect so far and with their last stop taking place in the comfortable surroundings of Shinkiba, let's see if they could nail the landing.
Natsuko Tora defeated Saya Iida and Leo Onozaki
We had ourselves a JAN reunion in what proved to be a fun little opener. Iida and Onozaki have a load of chemistry, and they dumped Natsuko to the outside so they could show it off in the opening minutes. I can't tell you how much I am down with Iida deciding just to start chopping the shit out of people. Embrace your junior powerhouse status, Saya. Of course, Natsuko would eventually return, overcome the rookie's efforts and get the win because that's how this shit works. It was an enjoyable journey, though.
Verdict: Three Stars
Saya Kamitani and Itsuki Hoshino defeated Rina and Hina
Hoshino is still a bit awkward on pre-match promos, but she didn't seem thrilled to be teaming with Kamitani. Are they already teasing friction between Stardom's rookies?
In the ring, this was everything you'd expect it to be. Rina and Hina got their little onslaughts, pushing the rookies back, but eventually, Saya and Itsuki combined to set Kamitani up for the Running Shooting Star Press (she nailed it again) and the three. While there is nothing you need to see here, it is always fun to see the youngsters do their thing.
Verdict: Two And Three Quarter Stars
Queen's Quest (Momo Watanabe, Utami Hayashishita, AZM and Bea Priestley) defeated Oedo Tai (Kagetsu, Jamie Hayter, Natsu Sumire and Session Moth Martina)
Unless you're new to Stardom, you have seen this match or one like it many times. Oedo Tai and Queen's Quest went out and had a frantic tag that started with comedy (elastic bands and Natsu) before breaking ending in chaos. Utami would hit a beautiful Stalling German for the win, and it was fun, but nothing you need to see.
Verdict: Two And Three Quarter Stars
Post-match, Maika from Just Tap Out turned-up to request Utami put the Future of Stardom title on the line on January 14th at Korakuen (they had a match scheduled before, but Utami got injured). She accepted before Maika refused to shake hands, a move Utami described as 'saucy'.
Giulia defeated Andras Miyagi
Another uneventful Andras match as she continues her tumble down the card. The best part was before the bell when she mucked around with Daichi, ripping the hair out of his legs. When they got going, it quickly slipped into rest holds and not much else.
I'm probably being a bit harsh as they did have a stiff strike exchange before Giulia twisted Andras up to tap her out. However, out of the three matches Giulia has had so far, this was easily the weakest. Meanwhile, Miyagi leaving Oedo Tai looks like a worse idea every day.
Verdict: Two And A Half Stars
Tokyo Cyber Squad (Konami, Hana Kimura, Jungle Kyona, Zoe Lucas and Ruaka) defeated STARS (Mayu Iwatani, Arisa Hoshiki, Tam Nakano, Saki Kashima and Starlight Kid)
That was a bit more like it. Stardom Elimination matches are always fun, and this wasn't the exception that proved the rule. The bell rang, and from there we got a constant stream of action, people sliding in and out of the ring as there wasn't a chance for those watching to get bored.
There were a few noteworthy moments, having made friends with Taguchi in New York Tam has started using a version of the Dodon while Starlight Kid once again went face to face with Jungle, continuing her attempts to prove herself. She'd ultimately fall to the Spinning Sleeper, but it was another impressive performance from Kid.
Finally, we got Konami being a fucking badass, setting up her title shot against Arisa by running through both members of DREAMSHiNE to get the win. As anyone who has been reading my Stardom reviews will know, I've loved Arisa's title reign, but I'd be down with Konami taking that belt.
Verdict: Three And A Half Stars
Hazuki fought Oedo Tai to a series of draws apart from Jamie Hayter who was cruel and beat her
Hazuki was supposed to be taking on the entire roster in one-minute matches, but she wanted it just to be Oedo Tai, and it was kind of perfect. This was just a group of friends going out and having fun one last time. Great wrestling? Nah, probably not, but everything it needed to be? Definitely.
Verdict: Five Stars
Hazuki defeated Itsuki Hoshino and Leo Onozaki, drew with Saya Iida and Saya Kamitani and lost to AZM in a series of matches
Hazuki might not have wanted to wrestle the entire roster, but it turns out that a lot of them wanted to wrestle her. The poor lass was exhausted, but that didn't stop a series of wrestlers demanding to face her, forcing her to drag herself to her feet for some fun sprints. The final opponent was AZM who came out and got the win before, in a lovely moment, bursting into tears, overcome with emotion. Again, this was perfect as one of Stardom's most selfless wrestlers finished up her time in Shinkiba by making the youngsters look fantastic.
Verdict: Five Stars
Hazuki hasn't shown much emotion throughout those whole thing, but in her post-match promo it seemed to hit her and she started crying while thanking Oedo Tai, and in particular Kagetsu, for making her the person she is. She then went onto challenge Natsuko to be her final opponent, a move that Tpra obviously accepted.
We did also have a Korakuen to build to, so Kagetsu called out Mayu and dished out some smack talk before their showdown, promising she wouldn't end 2019 with that belt. Mayu then (in a way that only Mayu could), promised to beat her, called her stupid and ran away. Never change, Mayu, never change.
Overall Show
An okay show with a perfect ending as Hazuki got her chance to shine one last time. Watch all that, it really is wonderful, but you can happily skip the rest.
Watch Stardom: http://www.stardom-world.com/
If you enjoyed this review, please consider contributing to my Ko-fi, even the smallest amount is appreciated.