Round two of my end of year round-up is my twenty favourite films of the year. Cinema is a weird one. If you are to believe certain corners of the internet then it's a dead artform, overrun by superheroes and the flogging of shite franchises. However, there is an incredible array of films being released every year, and with just a bit of effort, you can see them all! Here's the twenty that blew me away in 2019.
Quick note to say that this list is based off films that got a wide release (be that on streaming services or in cinemas) in the UK in 2019.
20. The Dead Don't Die (Directed by Jim Jarmusch)
The Dead Don't Die got a bit of a kicking on release, but I could have happily spent another couple of hours with these characters. The zombies took a back-seat to hanging out in a car with Bull Murray and Adam Driver, and who doesn't want to do that?
19. Tigers Are Not Afraid (Directed by Issa Lopez)
Sitting somewhere between City of God and Pan's Labyrinth, Tigers Are Not Afraid is dark, twisted and features horrors both supernatural and real. However, it also finds the heart in its core relationships, which makes it something more than a retread of familiar ground.
18. Rocketman (Directed by Dexter Fletcher)
After the embarrassment that was everyone pulling their pants down about Bohemian Rhapsody, Dexter Fletcher and Taron Edgerton came along to show us that musical biopics don't have to be shite. At times debauched and wild, at others heartbreaking and broken, Rocketman is a fantastical and yet very real look at the life of Elton John.
17. Ordinary Love (Directed by Lisa Barros D'Sa and Glenn Leyburn)
Everything you need to know about this film is in the title. It's love, of the ordinary kind. We follow two people trying to deal with life's ups and downs in a way that only people can. They can be cruel, and they can be loving, but they always feel alive and vital in a way that few films do.
16. The Favourite (Directed by Yorgos Lanthimos)
A start of year (and Oscar) favourite, Lanthamos took the period drama and ripped up the rulebook. The Favourite is an anarchic and punk look at the life of Queen Anne which instantly made every stuffy costume piece feel out of date and irrelevant. 
15. Instant Family (Directed by Sean Anders)
If you told me that the director of Daddy's Home was going to make another film with Mark Wahlberg and that I'd love it, I'd have laughed in your face. However, Instant Family is that rare broad strokes comedy that nails the characters. This tale of a couple trying to bond with their three foster children was based on Anders' own experience of that world, and it will fill your heart right up.
14. Knives Out (Directed by Rian Johnson)
There aren't many films on this list that are as fun as Knives Out. From Daniel Craig's ridiculous accent to the slowly unfurling plot, it is a riotously good time that picks you up and sweeps you along its wake. Wholly original? No, anyone with a love of Agatha Christie knows the score, but the execution is near-perfect.
13. Ready Or Not (Directed by Matt Bettinelli-Olpin and Tyler Gillet)
A film in which Samara Weaving gets her revenge of a group of old Tories (they're American, and their political opinions aren't stated, but they are) because they plan to ritualistically murder her to protect their wealth? How can you not love that?
12. Spider-Man: Far From Home (Directed by Jon Watts)
Jon Watts has done a fantastic job of nailing the tone of the Marvel Spider-Man films. Far From Home takes Spidey for a trip around Europe, but more importantly, it follows the coming of age high school blueprint the first laid out and does it just as well. Lovely stuff.
11. The Farewell (Directed by Lulu Wang)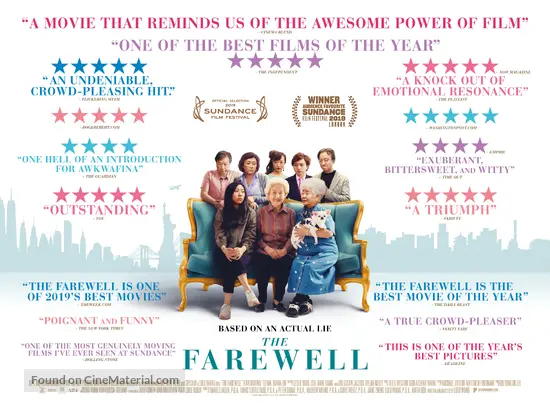 Akinfenwa is having a glorious few years, and The Farewell might be the cherry on top of them. She is wonderful as Billi. A young woman stuck between her familial home of China and her adopted one of the US, unable to truly fit into either culture. Through her, we dive into a film about family, which will make you laugh and cry, sometimes at the same time. Plus, the food on display is incredible. Don't watch it while hungry.
10. Marriage Story (Directed by Noah Baumbach)
We get a lot of films about relationships starting, but very few about them ending. Marriage Story captures a divorce that feels, and I think this is becoming a recurring theme on this list, real. It's at times spiteful and at others heartbreaking, but at the core of it is two people just trying to figure this shit out.
9. Us (Directed by Jordan Peel)
How do you follow Get Out? Easily seems to be the answer, at least if you're Jordan Peele. Us takes similar ideas of otherness and horror, but spreads them out on a much wider canvas, using the genre to dissect the world perfectly. I guess we now have to ask how he's going to follow Us?
8. Midsommar (Directed by Ari Aster)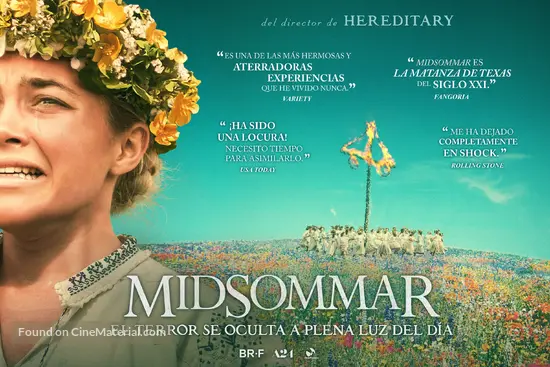 I liked but didn't love Ari Aster's first film, Hereditary. In fact, I rather feel like the film that everyone else saw in that is the one I saw in Midsommar. Set in the bright daylight of Northern Sweden, it is an unsettling and twisted ride that will leave you gripping your leg and unsure of what you've just seen. If Hereditary was the potential, then Midsommar is the realising of it.
7. mid90s (Directed by Jonah Hill)
Jonah Hill's directorial debut has that punk-rock, stoner, skater vibe down to a tee. To the extent that you've got to assume this story of a kid doing everything he can to fit in has come from somewhere inside of him. Clearly made on a shoestring, you can at times see the cracks, but that only plays into what he's created.
6. One Cut Of The Dead (Directed by Shin'ichirô Ueda)
If you've somehow managed to avoid hearing about the central premise of One Cut Of The Dead, then stop what you're doing and watch it. NOW! It's on Shudder, and it will reward every minute you put into it as it could well claim to be the most original film on this list. Give it your time, please.
5. Avengers: Endgame (Directed by Joe and Anthony Russo)
What more needs to be said? Hating the MCU has become cool, but what they achieved with this film is something special. Thankfully, I've never been particularly cool, so I'm happy to profess my love for it.
4. Little Women (Directed by Greta Gerwig)
Greta Gerwig blew me away with Lady Bird, but I was a bit worried when I heard her next film was to be Little Women. As someone who had never read the book, it seemed so safe, and unadventurous. Well, I was wrong because she did it again. This film is joy incarnate and has a story that is as relevant today as when it was written. I won't doubt Gerwig again.
3. Stan & Ollie (Directed by Jon S. Baird)
If you're looking for a family film to sit down and fall in love with, then step-forward Stan & Ollie. Set in the dying embers of the famous pairing's career, it's the story of two old friends, weighed down by a life of ups and downs and trying to figure out where they stand. With two wonderful central performances, it will leave you reaching for the tissues even as a massive smile refuses to leave your face.
2. Eighth Grade (Directed by Bo Burnham)
So many teens moves make being a teenager look like the greatest thing on the planet (a couple of them are on this list). Eighth Grade doesn't do that. It understands that it is fucking hard and comes with a whole world of difficulties. Bo Burnham made a coming of age film that is awkward and melancholy, and we don't see a lot of them.
1. Booksmart (Directed by Olivia Wilde)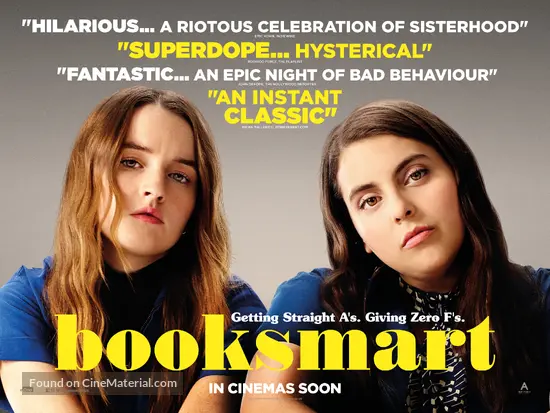 Can you tell that I'm a fan of coming of age films? Booksmart is another story based around a friendship, and it is already one of my favourite on-screen friendships of all time. Kaitlyn Dever and Beanie Feldstein are both brilliant, but the whole thing is a masterpiece. On her first time in the director's chair, Olivia Wilde doesn't so much smash it out the park as send it into motherfucking orbit. See this film!
If you enjoyed my ramblings, then please consider contributing to my Ko-fi, even the smallest amount is appreciated.