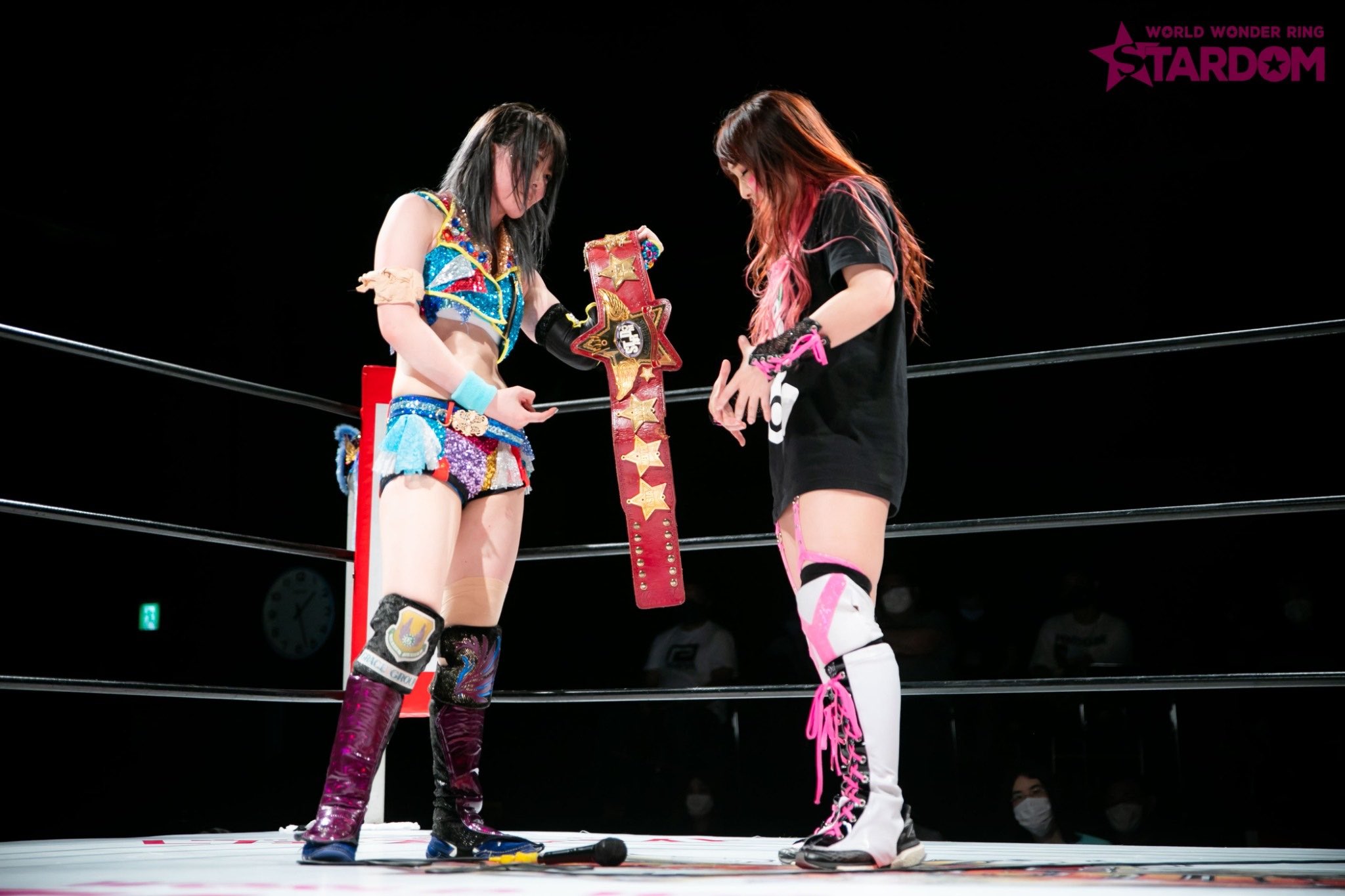 Show number two of Stardom's busy weekend and, once again, we had an unannounced card. It was their last stop before Korakuen, though, so they were going to have to sort something out.
Said lack of card meant we got unit promos. The highlights were Giulia being in denial about losing the day before, Jungle fanning down the rest of TCS and Tam's continued desire to beat-up Giulia (more on that later).
Hina defeated Rina
It's Hina vs Rina, a match that has happened a million times and, let's face it, will happen a million more if the twins stick around in wrestling.
Despite that, it's one I always enjoy. I'm sure I've said it before, but you can tell they've been beating each other up for their entire lives and have no issue adding a bit of sting to those judo throws. Wrestlers having total trust in each other is always a joy and Hina and Rina, naturally, have that.
Of course, it's not a perfect, smooth example of brilliant wrestling. If you want that, don't watch thirteen-year-old rookies. It's two young lasses continuing to figure this stuff out and getting pretty good at it. That's a thumbs up from me.
Verdict: Twin Magic
Jungle Kyona defeated Saya Iida
I love it when Iida and Jungle get in the ring together. They've had great chemistry going back to their JAN days while I don't think it's too much of a stretch to say that Iida seemed to take a lot from Jungle into her style.
There was certainly a sliver of the teacher-student dynamic in this one with Jungle inviting blows from Iida. However, while once Kyona would have shrugged those strikes off, now Iida's able to hurt her. There was a moment where she unleashed with a flurry of chops, Jungle's arms down at her side. Then, when Jungle charged away, looking to hit the ropes and pay Gori-chan back, her plan was foiled, Saya delivering another mighty blow and sending Kyona to the mat.
It was the set up for Giant Saya to dent Jungle, but ultimately fall short. While she forced Kyona to work for the victory, firing up a gear or two that she might not have expected to need, ultimately Jungle had too much, a Big Splash putting Iida away. Still, Saya made it clear afterwards she wanted to do this again, and judging by Jungle's reaction, she would be more than happy to.
Verdict: JAN Still Have It
Mayu Iwatani, Konami and Momo Watanabe fought to a time-limit draw
Poor Mayu found herself in a bit of a pickle in this one. It wasn't that Konami and Momo were on the same team, but they definitely had similar goals, mainly beating up the champ. While they would, at times, go after each other, they were much most inclined to expend their energy trying to take out Iwatani.
It made for a fun contest where Mayu was a fucking trooper. There wasn't much of this where she wasn't at the centre of the action, having her arm worked over by both opponents and a fair few vicious kicks delivered in her direction. Her selling was a bit inconsistent, but it's Mayu, so we're kind of used to that. On the whole, it was a hell of a performance.
They were also doing two things that are notoriously hard, putting together a three-way and a time limit draw. So, while there were moments where one wrestler vanished and a couple of silly spots (Mayu attempting a double Dragon Suplex as if that was something she was ever going to be able to do), the whole thing was done very well – round of applause.
Verdict: Poor, Mayu!
Afterwards, Mayu grabbed the mic and said she'd wanted to beat those two and challenge for the red belt. She then remembered she already has the red belt and changed that to defend it. Iwatani was nice enough to put Konami and Momo over but then pointed out there was someone she still had to face and called out Jungle, who accepted the challenge and set it up for the Nagoya show.
Honestly, I have complex feelings about this. I want Jungle to win the big one, I think everyone does, but having it happen now feels like it's always going to be associated with Hana and her death. On the flip side, booking Jungle to lose in her home-town, again, after saying she was going to win the belt for Hana would be, well, a mistake.
However, I have decided that I'm not going to overthink this shit. If Jungle is going to win the belt, I'm going to enjoy it and consider the consequences of that afterwards. 'Mon the Jungle!
Oedo Tai (Natsuko Tora, Saki Kashima and Natsu Sumire) defeated Queen's Quest (Utami Hayashishita, AZM and Saya Kamitani)
Having had a bit of a rough time recently, Stardom has finally started giving some love to Oedo Tai, going all out to establish this trio as formidable. They're not what you might call a work rate team, but I think they wrestle well together, Natsuko playing the bruiser to Saki and Natsu's sneakiness.
It's Natsuko who is benefiting from it the most. Everything about her at the moment screams badass, from her opening the match by bruising it out with Utami to the chain assisted Lariat that got the win. She's balancing well on that line where while she's cheating to win, you get the impression Tora does it because she wants to, not because she needs to.
It added to a match that while perhaps not an in-ring classic, played into the Oedo Tai story. They're being heated up ahead of this run of shows, and I hope that when we come out the other side of them, it doesn't prove to have been a for the moment thing.
Verdict: Oedo Get Some Shine
Donna del Mondo (Giulia, Jumbo and Maika) defeated STARS (Tam Nakano, Riho and Starlight Kid)
Jumbo is already proving a hell of a get for Stardom. Like most, I'd rather they didn't hoover up every available talent, but now she's there, she fits in brilliantly. Giving her Kid and Riho to abuse was a great way to highlight her size and power, making her look like a total killer.
Alongside being beaten up by Himeka, Kid continued her hot streak. She seems to have particularly good chemistry with the members of DDM, having some lovely interactions with Maika and Giulia. As I said in my review of the previous day, Stardom will be missing a trick if they don't make her a star.
Of course, the pairing that everyone was waiting for was Giulia and Tam. When they were unleashed, they would prove suitably violent, booting each other across the ring. Their battles aren't sparkly and perfectly executed, but instead feel like fights, two people doing everything they can to hurt each other. It's a feeling that makes Stardom dressing them up in bikinis and having them brawl in seedy back alleys all the more frustrating. They do not need that pervy bollocks.
Giulia would eventually manage to avoid Tam's incessant attempts to boot her in the head for long enough to put Kid away, gaining some sort of redemption after her defeat the day before.
Verdict: That's All Tam And Giulia Need
Giulia and Tam's argument didn't end at the bell, as they kept bickering afterwards. They both believe they've earned the chance to take that vacant white belt (Tam because Arisa promised her another match and Giulia because she won Cinderella). That brought out Natsuko who pointed out she hadn't had her shot yet. However, when Giulia proposed a three-way, Konami popped up, delivering the now immortal challenge 'I just think it might be better to include me and have a tournament'. When you put it that forcefully, how can anyone say no?
It turned out to be persuasive enough, as the tournament was booked before Giulia and Natsuko got into a wee scuffle. That Giulia doesn't get along with anyone, does she? She managed to convince them all to leave, allowing DDM to close the show in peace (although Maika and Jumbo did have to keep pointing out to her that she's no longer undefeated).
Overall Show
A tournament and a title challenger, Stardom sorted out the immediate future of the big belts in this one. It was also another good show with Jungle and Iida taking home my best bout award, but everything delivering to at least a certain extent. Stardom has come back pretty hot, now let's see if they can keep that going at Korakuen.
Watch Stardom: http://www.stardom-world.com/
If you enjoyed this review, please consider contributing to my Ko-fi, even the smallest amount is appreciated.