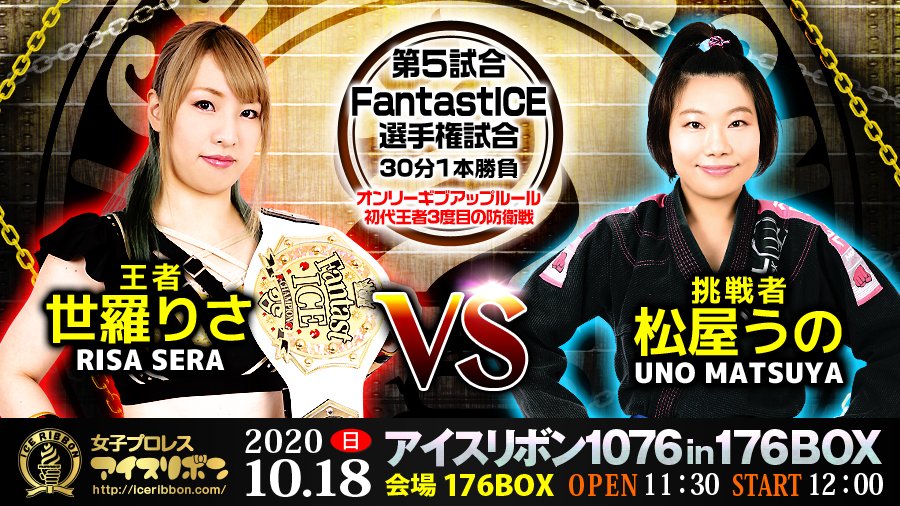 If Ice Ribbon dish up FantastICE matches, I will come. Whether Risa Sera is playing baseball or stabbing someone with something, it's going to be worth my time, so let's get to it.
Maya Yukihi defeated Tae Honma
Yuki has found herself somewhat out in the cold since losing her title. The end of Ice Ribbon's Yokohoma show saw everyone setting up matches apart from her, leading to her own alter-ego mocking her on Twitter. That's gotta sting.
Her lack of a dance partner might explain why she found herself in the opener. Although, as openers go, this one has to go down as a flex from Ice Ribbon. Tae vs Yukihi? Aye, why nae. As you'd expect, it was also a damn fine display of pro-wrestling, built on the simple story of one wrestler trying to drag the other to the ground and keep them there.
And Tae excels at leaping onto every available limb, twisting and pulling away. Yuki, meanwhile, did a fantastic job of selling both that damage and the frustration of being unable to escape. You could even argue she never truly did get away, the final twist coming when she managed to turn one of Tae's submissions into a pin before using the confusion from a frantic kick out to bundle her up and get the three.
I've no doubt that on a bigger stage, these two would blow this match away, but for the opener of a B-show? It was pretty perfect.
Verdict: Flex Away
Tsukasa Fujimoto and Hamuko Hoshi defeated Spring Meteor (Tsukushi and Ibuki Hoshi)
Dropkickers and family members collide! There was no way this was going to suck.
It was anchored by two pairings with at least semi-similar chemistry. Both Ham and Tsukka are veterans who delight in teasing their younger opponents. For Ham, it's taking the chance to embarrass her daughter, at one point trapping Ibuki in the corner and rubbing her belly in her face. Fujimoto, meanwhile, couldn't resist trying to stamp on Skoosh's fingers, giving her young partner a taste of her own medicine.
She would be unsuccessful in that plan, sadly, Tsukushi slipping out and showing Tsukka how it's done. Ibuki, meanwhile, managed to draw the serious side out of mum, getting her to stand and trade strikes. For all their attempts to act like Spring Meteor are beneath them, Ham and Fujimoto couldn't help being dragged into a fight.
The veterans would eventually pick up the win, Fujimoto joining in on the Ham Roll, to end an enjoyable tag.
Verdict: Load Of Fun
Tsukasa Fujimoto defeated Yuuki Mashiro
As Tsukka made her way to the back, she was waylaid by the Gacha King herself, Yuuki Mashiro. She fancied a match with the Ace because why the fuck not? After convincing Fujimoto to accept her challenge she then, in a stroke of genius, headed backstage, leaving Tsukka in the ring so she could make her entrance (complete with new theme) properly. I love her so much.
There was a moment in the match that followed where Yuuki, having been slammed on her own home-made title and just kicking out of the pin that followed, stood up and offered Fujimoto a test of strength. It was such a bizarre move that Tsukka didn't seem sure how to respond, batting away at the rookie's hand. Tests of strength generally come when two people are on an equal footing, not when you're being beaten up. For Yuuki, though, this shit makes sense. Why wouldn't she pull herself to her feet to offer the Ace the chance to find out who is stronger? The same way that her asking Fujimoto to move a bit so she can hit her Crossbody perfectly is a totally logical move.
That weirdness nearly saw her shock Fujimoto too, a handful of twos coming out of a series of roll-ups. Ultimately, though, Fujimoto kicked her into next week (Yuuki screaming as she realised what was coming) and put this plucky, arrogant wee rookie away. Still, the Gacha King will return!
Verdict: Genius
Rebel X Enemy (Rina Yamashita, Maika Ozaki and Ram Kaicho) defeated Frank Sisters (Hiragi Kurumi, Mochi Miyagi and Akane Fujita)
We've got our standard smush a couple of feuds together to preview some matches going on here, although it probably doesn't strictly count as a smush when it's two teams facing off. No awkwardness required.
However you want to describe it, one of those feuds is for the tag titles, and Ozaki continues to look awesome. I'm starting to think I couldn't have been paying attention when I was watching her before, as she's gone from someone I barely noticed to a show-stealer. She was given a big chunk of the match to work with and made good use of her time.
The final act was given to Ram and Fujita, the wee goth sneaking out with a win. It made for a solid wee tag, and while I can't pretend that it blew me away, I enjoyed it while it was on.
Verdict: Decent
Haruka Umesaki and Saori Anou defeated Suzu Suzuki and Yappy
I've watched a bunch of Haruka recently and come away incredibly impressed, so I'm really looking forward to her showdown with Suzu. She showed some attitude right from the start of this match, walking over Yappy on her way to tagging in Anou.
Her interactions with Suzu are where the main interest comes in, though, and I am very intrigued as to how that match will go down. They're two people who do their best work from underneath, but are evenly matched. At least that was the narrative we were given here as they couldn't be split, both women shining at times, but neither getting a clear advantage. It leaves the interesting question of how their match will be built, one which I'm looking forward to finding out the answer to.
As for the other two participants, Anou was more of a supporting player, but you can tell she's a star. The way she holds herself screams it. As for Yappy, she seems to get better every time I see her and continues to be the coolest person.
There was a slight flub on the finish, Haruka taking two attempts to get Yappy over, but she recovered and hit the move, so it wasn't an issue. This worked as a strong preview for what's to come, and with the champ and the challenger getting in each other's faces afterwards, I suspect the final product will be fantastic.
Verdict: Job Done
Risa Sera defeated Matsuya Uno in a Give Up Only Match to retain the FantastICE Title
Risa Sera was on commentary for this show and while she was stabbing Uno with what seemed to be a giant spikey spoon, she was garnering sympathy in the corner by showing off the wound she gave herself by doing so. She was definitely the victim in that scenario, especially when she left the same spoon stuck in Uno's head later in the match.
That set the theme of Sera introducing Uno to spikey things. There was a moment where she had her in a Rocking Chair, repeatedly bopping her head on a kendo stick wrapped in barbed wire. Uno tried to play her game, but was out-gunned, so she reverted to plan A, ripping the tape off Sera's shoulder and going to work on that. It made the match reminiscent of what Ice Ribbon was doing with Thekla's Underground Title, slotting it somewhere between grappling and hardcore.
In the end, that love of spikes would win out, a Crab on a board of bamboo skewers (Uno already had some stuck in her head) proving too much. Unsurprisingly, it was also a shitload of fun and further proof that Sera getting her hands on that FantastICE is one of 2020's rare joys. They're made for each other, and long may it continue.
Verdict: Spikes!
Keeping it is not going to be an easy task, though. After Sera passed on some words to Uno (who still had those skewers sticking out of her head), her next challenger made herself know, Maya Yukihi. Except this wasn't the Crystal Snow Yuki that usually appears in Ice Ribbon. Nope, Dark Snow Yuki was here, having presumably decided to take over. They'll be having a TLC match (although one with somewhat different rules) and I have no doubt that will rule. She closed out their chat by whipping Sera, choking her and shaking her hand, so we're in full chaotic evil territory here.
Overall Show
At this point, I'm not sure how I'd react to a bad Ice Ribbon show. It doesn't seem likely to happen anytime soon. From Yuuki's nonsense to Sera closing the show with her blood-stained board of spikes, this was yet another lovely time. Onto the next one!
Watch Ice Ribbon on niconico: https://ch.nicovideo.jp/iceribbon
If you enjoyed this review, please consider contributing to my Ko-fi, even the smallest amount is appreciated.