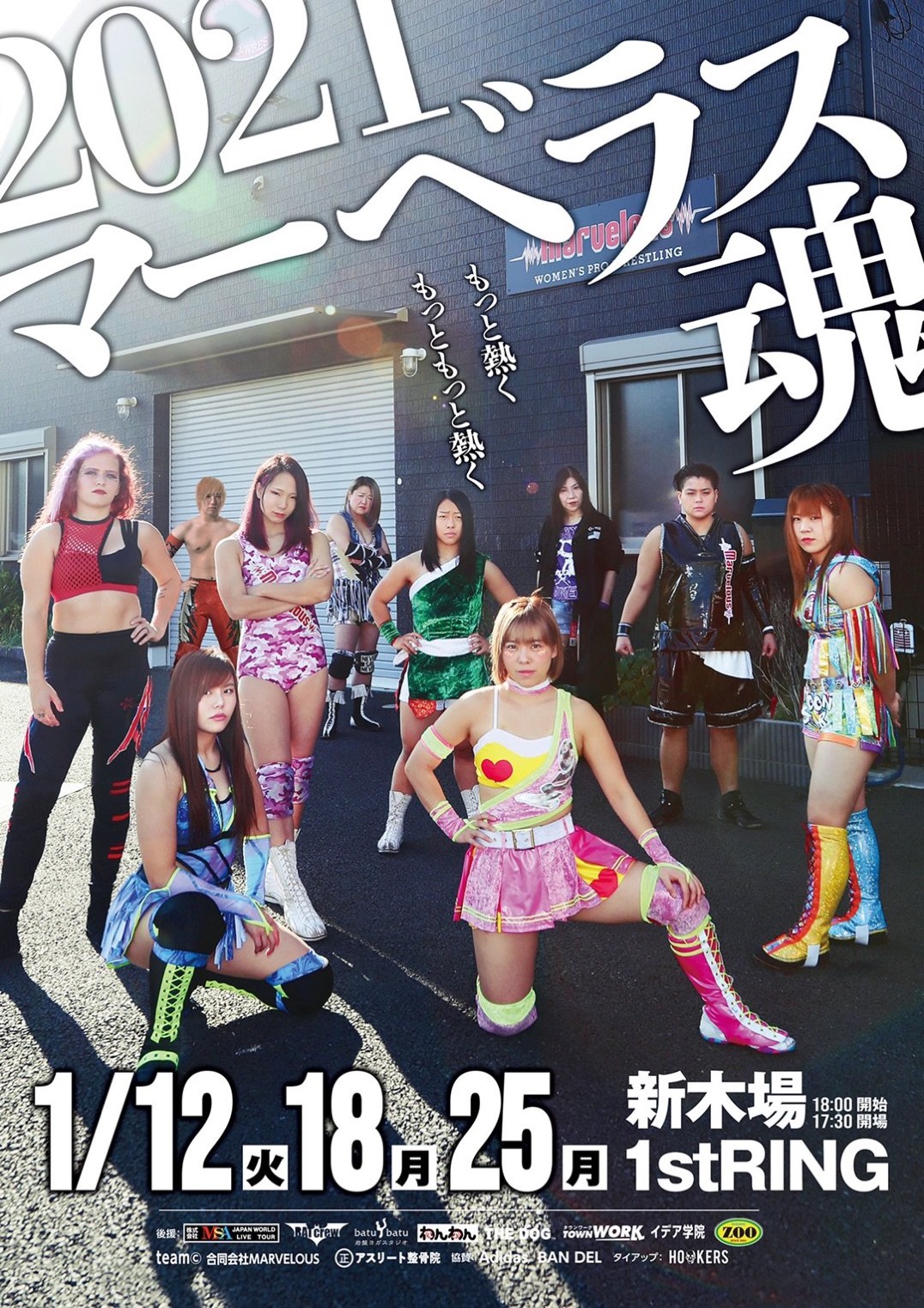 Marvelous finished up their trio of January shows with the big one. Yup, it's Stuart's birthday show. How nice of them to put on such an effort for me and if you want to join them in giving me a present, my Ko-Fi link is, as always, at the bottom of the review.
Okay, it's possible this wasn't entirely for my benefit, but lockdown birthdays suck, so I'm going to pretend it was.
Masha Slamovich defeated Mei Hoshizuki
There are few things more satisfying than a match where two very different wrestlers get a chance to work to their strengths. Parts of this saw Mei take off, running rings around Masha as she flew across the ring, ducking under attacks and opening up opportunities for herself. She looked more in control at full speed than most people do while our for a stroll.
Masha, meanwhile, wanted none of that. She was after a fight, dragging Mei in so they could slug it out and showing no qualms about bending the rules, delivering a well-timed poke to the eyes. While Mei wanted to scamper about the place, Masha wanted to stay close together, allowing her power to come to the fore as she took away Mei's speed away and gave herself the edge.
That's wrestling 101, but when it's done well, it's a delight, and this was a delight. It was a simple, well-worked performance, which made both of them look good. Sadly, I believe it was also Masha's last match before leaving Japan, but she went out strong, raising Mei's shoulder off the mat after a lariat and putting her away with a Piledriver. Fingers crossed that means she'll be back sooner rather than later.
Verdict: Sometimes, Simple Is Better
Leo Isaka defeated Bryan Ishizaka
According to Cagematch, Bryan Ishizaka has spent part of his career going by just Bryan, that classic Japanese name. It also has him down as having had barely any matches, which suggests he is working the indie scene that Cagematch doesn't keep up to date with. He had a title with him, so he's doing something, and they do list some Marvelous appearances back in 2019.
The match was another solid showing from Leo and pal (I just assume he's mates with all these guys). These bouts are never badly wrestled, and Leo always throws himself around, but, and I'm sorry to repeat myself, there is a lack of an emotional attachment. Bryan might be brilliant, but I have no reason to care, so a decent match isn't enough to lock me in. I watch it, nod my head and move on. When I sat down to write this review, I'd already forgotten who won, which tells you how long it's likely to live in my mind.
Verdict: Fine
Tomoko Watanabe and Itsuki Aoki defeated Sakura Regina Hirota and Maria
Maria might be twenty and only a few years younger than Aoki, but this match felt like a stroppy teen being forced into a day of fun by their parent and her weird friends. Maria was so unimpressed with her partner engaging in Aoki's rather loud pre-match handshake routine that she gave her a firm push with her boot, sending Sakura Regina Hirota flying across the ring. She also delivered a near-perfect death glare when Hirota attempted to aid her escape from a submission by running the ropes a few times before providing some enthusiastic clapping.
Thankfully, Hirota was nice enough to let Maria have some fun, the chance to boot both Aoki and Watanabe in the head drawing a couple of smiles from our emo child. She didn't even seem that bothered when one of those misfired and caught the Regina, a small apology being all she was willing to dish up. It all plays into this wonderful attitude that drips off Maria at every turn. You truly get the impression that she can not be arsed with a single one of these people, their only use being their role as bodies for her to beat up.
That dynamic would make this match for me, as it turned out to be a blast. Sadly, it would also lose Hirota and Maria the action, as Hirota's ambitious attempt to hit a Double Chokeslam didn't work and left Maria open to a beautiful Bridging German from Aoki. I'm not quite sure why Hirota's strength failed her, but she'll put it down to experience and come back all the stronger. Whether Maria forgives her is another matter entirely.
Verdict: Maria's Day Out
KAORU defeated Rin Kadokura
Rin kicked off her trial series against the person who suggested she start it, KAORU, and, much like Masha vs Mei, this match had a clear, simple story. Unlike that, this wasn't power vs speed, but veteran vs youngster.
It was also a match with an obvious turning point as KAORU responded to Rin hitting a series of Missile Dropkicks by grabbing that always present board and beating her round the head with it. More importantly, though, Rin refused to go down from it, hulking up and shouting in defiance as KAORU had to bring in crashing down repeatedly to get her to stay on the mat. It kicked off a final act that became all about Rin's defiance. KAORU unleashed both barrels on her, but she kept kicking out, refusing to die until she could literally move no more.
It made for a match that, to be honest, wasn't some incredible showing, but felt like an important starting block. Presumably, Marvelous have a plan for Rin's trial series, a journey they're about to take her on, and this was the first step in that. The veteran outplayed her, but she showed defiance throughout, setting the benchmark for what is to come. I'm looking forward to seeing how she plans to build on it.
Verdict: Laying Blocks
Mio Momono and Mikoto Shindo's match was interrupted by a wild Hibiki
This match, and what happened in it, is one of those rare occasions where being spoilt on the finish perhaps aided my enjoyment of it. Mio and Mikoto facing off in the main event could be one of the best matches of any year, and they certainly kicked things off like they were going all out. If I'd sat down to it live, hyped to see what they were going to do, only for it to be ripped away by Hibiki turning up, I'd have been disappointed.
That wasn't the case, though. Instead, I came in knowing where this was headed and was actually pleasantly surprised at the chunk of the match we did get. For the few minutes that Mio and Mikoto faced off, it became clear that they have a brilliant match in them. We'll just have to wait to see that because Marvelous had a story that they wanted to tell instead.
For, just as things were heating up, blonde Hibiki turned up with a loudspeaker and stormed the ring. Those at ringside leapt on her, pinning her to the ground while Masha amusingly claimed she'd lost her mind and demanded she shut the fuck up. Hibiki would eventually wriggle free of them, though, and, to put it bluntly, went off on one, insulting everyone in the ring, including calling Mei a moron (thanks to Dragon Moon on Twitter for sending me a translation), and putting the traidition behind GAEAISM on blast. The roster deserves a lot of credit for how they reacted to it, descending into shocked silence as they all stared at Hibiki in horror. Mio looked terrified, unsure of what to do as this person interrupted her match, broke all the rules and threw everything off balance in less that five minutes. It seems Marvelous is going all out to make her as big a heel as possible, and I am very intrigued to see how it goes.
It does mean that this was more an angle than a match, something that it isn't common in Japanese wrestling and certainly not in the main event (if this were WWE no-one would bat an eye). It will be interesting to see if it pays off for Marvelous or not, but (with the caveat that I've already provided above) I respect them for giving it a go, and I'm happy to watch it play out.
Verdict: Hibiki's Going Full Badass
In a nice touch, the show closed with the two veterans, Tomoko and KAORU taking control, KAORU talking to the fans and the two of them making their rounds, checking on the younger wrestlers. It's a tiny little thing, but it really sold the idea that they were all in shock and the more experienced heads had to step in.
Overall Show
Of the three Marvelous January shows, this was easily the weakest from an in-ring point of view. However, both the semi-main and the main event, were very clearly setting things up for the future, which is exciting. Time will tell how well this worked, but I'm certainly intrigued to see where they're going.
Marvelous have their own NicoNico channel where you can support them.
If you enjoyed this review, please consider contributing to my Ko-fi, even the smallest amount is appreciated.