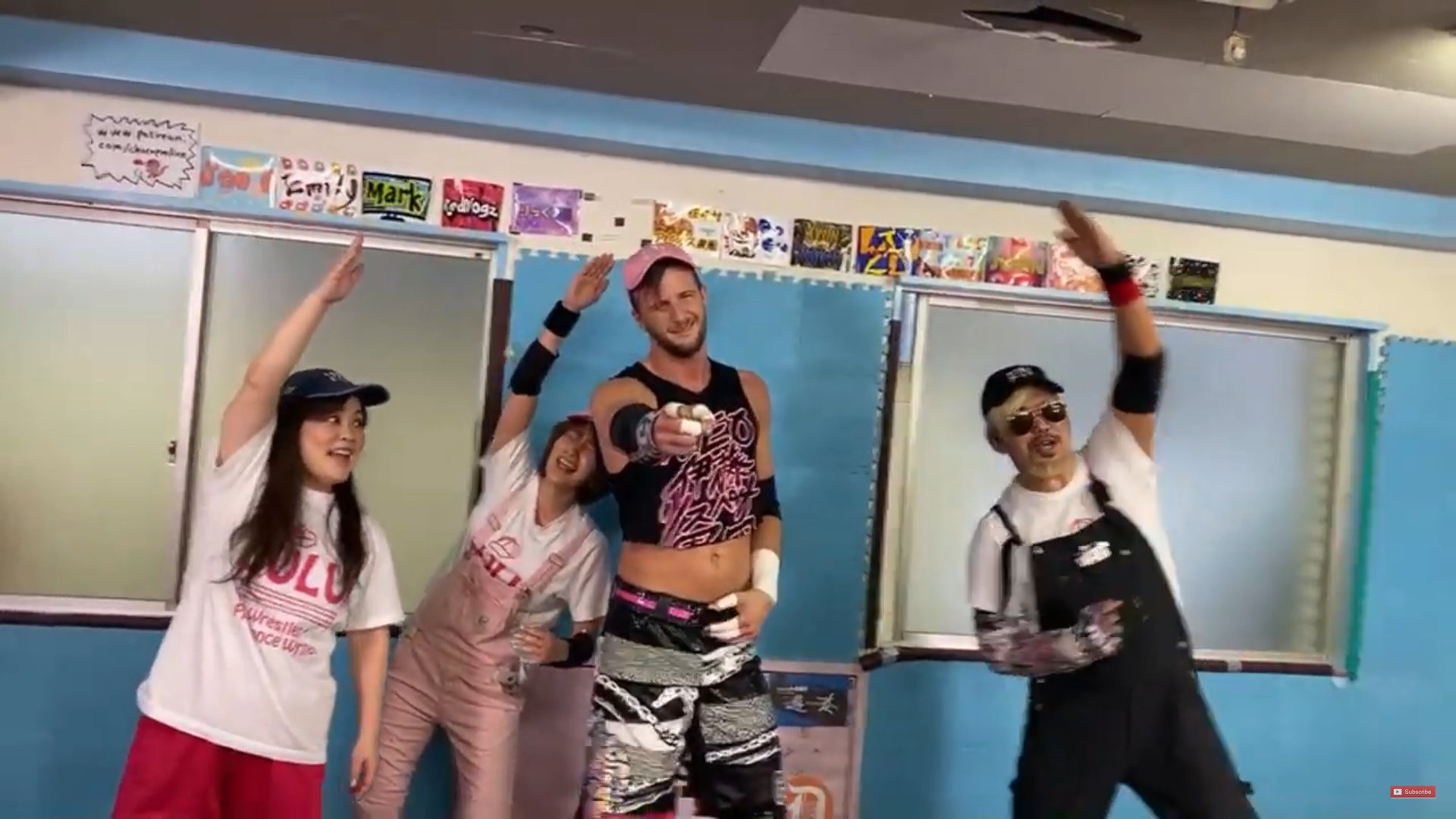 Lulu Pencil isn't strong, she certainly isn't a technical genius, and she isn't that fast. If you were to plug her stats into a wrestling game or put them on a Top Trump card, she'd be lucky to have anything sneak above a one. What she does have, though, is passion. Lulu Pencil cares more than anyone. But is caring enough?
When you strip everything away, that's been the question at the centre of Chris Brookes vs Lulu since day one. Their nine-month feud has seen them battle over hats and even team together, but that's ultimately all secondary. The real quandary comes from Lulu's belief that she can be a wrestler and her assertion that said belief is enough. Chris Brookes, on the other hand, is even more sure that it's not.
Part of why Chris believes that as strongly as he does, is because, for just a minute, Lulu convinced him. After seeing the lengths she would go to, he began to believe in her. He pulled on those long pink dungarees and stood by her side, declaring himself Chris Pencil. Brookes let himself get caught up in the Pencil Army, choosing to accept that maybe caring enough is, in fact, all you need. Then, when it all went wrong, he lashed out even harder, hating Lulu not just for her weakness but because she'd pulled out a side of him that he didn't want to show.
What makes all of this even more fascinating is that most of the time, Brookes would be right. You can't become a football player or a doctor because you care a lot. Passion will always play a part, but ultimately, you have to have talent. If you can't kick the ball or diagnose the disease, no one is going to give you a second chance because it's your dream. A statement that's true in most other wrestling companies too. In Gatoh Move, ChocoPro and, in particular, Darejyo, though? That rule is thrown out the window. Emi Sakura believes that wrestling should be open to everyone, a philosophy that gave Lulu her opportunity. Now Brookes is telling her she didn't deserve it. Not only that, he's accusing her of pulling those around her down to her level, turning legends like Emi Sakura and Minoru Fujita into jokes by asking them to pander to her weakness.
And so far, he's kind of right. For all the heart and spirit that Lulu Pencil has shown, for all that my favourite match of last year saw her give a performance I would rank amongst the greatest of all time, Lulu still hasn't won. Whether she's wrestling Chris, Sayaka or Trans AM Hiroshi, the result is the same. On top of that, Mino Pencil and Emi Pencil haven't won either. Whenever someone pulls on a pair of dungarees and wrestles in ChocoPro, they lose. It's as inevitable as Mei Suruga's janken defeats. So does that mean Brookes has a point? Is Lulu not a wrestler, but a joke that's gone on too long?
I don't think it's any surprise that my answer to that question is a resounding no, whether we're talking within kayfabe or not, but I do find that it's being asked extraordinary. Not only are ChocoPro running an epic feud to question whether Lulu Pencil is worthy, but it also, by association, questions whether Darejyo as a system works. Lulu is the figurehead of that 'everyone is welcome' approach, but Brookes' words could just as easily apply to the next trainee who walks into Chocolate Square. There can't have been many wrestling feuds that have brought an entire philosophy into question, as Chris is not only questioning Lulu but the world that Emi Sakura has built.
The brilliant six-person tag that was the latest chapter in this feud left Lulu with a lot of thinking to do as she walked off before the traditional ChocoPro janken tournament, declaring that while Chris might be right, that doesn't mean she's wrong. Where we go from there, I don't know. This feud has surprised and delighted me at every turn, so I am happy to sit back and follow along. What I do know, though, is that I'll believe in Lulu Pencil every step of the way.
Thanks to their No Pay Wall initiative, all Gatoh Move and ChocoPro content is available for free on Gatoh Move's YouTube: https://www.youtube.com/channel/UC2HtPsU4U7TNSv2mSbPkj0w
If you enjoyed this review, please consider contributing to my Ko-fi, even the smallest amount is appreciated.