In a world where recent surprises have tended to be a bit scary, Paddington was a shot of joy. That famous little bear was adapted for the modern world and it turned out that he was maybe what we all needed. Of course, such success could only mean one thing. A sequel. Suddenly, the worries were setting in. Could that magic be captured twice? Or would Paddington's beauty be twisted into a corporate cash cow?
Well, fear not. For once again Paul King has reached out and wrapped you in a lovely warm hug. Paddington 2 has all the joy and magic of the first and resists the temptation to tread a similar path or go outrageous and send him into space.
Instead, the film begins with Paddington setting out to buy his Aunt Lucy a birthday present. When Mr Gruber (Jim Broadbent) shows him a pop-up book of London, he thinks he's struck gold. Unfortunately, it's terribly costly, and Paddington has to get a job and get saving. This means that when it is subsequently stolen, suspicion falls on our furry friend and he ends up behind bars.
This time around King was joined on scriptwriting duty by Paul Farnaby and the two of them nail it. Whether it's the slapstick of Paddington getting a job at a barbershop or the emotional crescendo that this whole film builds to, they land right on the sweet-spot. It's never schmaltzy or cheap. They make you care about these characters.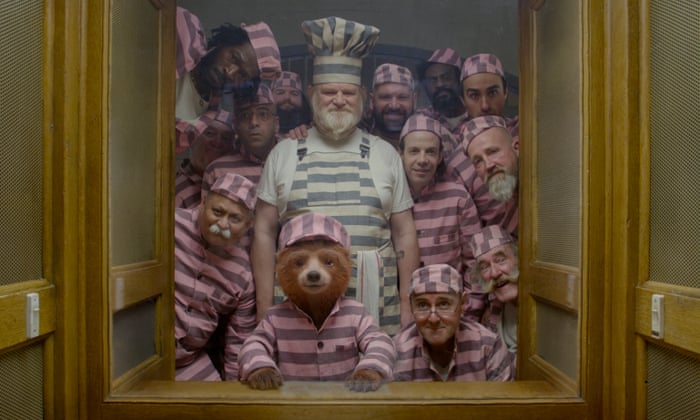 And what a cast of characters it is. The Browns are all back along with Julie Walters' Mrs Bird and Peter Calpaldi's Mr Curry. All perfectly cast and enthusing their roles with love. Joining them is a new motley crew of characters. We meet the Browns' neighbours (including Sanjeev Baskhar and Ben Miller) and see how Paddington – in a way reminiscent of It's a Wonderful Life – has changed all of their lives for the better. Plus, we have Brendan Gleeson's Knuckles McGinty the hardened criminal who looks out for Paddington in jail. Gleeson is having the time of his life and is a constant scene stealer. He only has to say the world marmalade to elicit giggles.
Elsewhere, Hugh Grant proves that he's incredibly good at playing washed-up actors. I wouldn't like to guess as to the reason for that, but with this and Florence Foster Jenkins his ability to poke fun at himself is seeing him engage in a late-career renaissance. The real star, though, is a man who never appears on the screen. Ben Wishaw's voice is Paddington. The innocence and love that he pours into simple statements is incredible. You don't have to write Paddington's emotions into the script, Wishaw's voice lets us know what he is feeling.
Paddington 2 should be prescribed to people having bad weeks or even those feeling a little bit grumpy. It's a film that takes pleasure in looking at the effect a single person can have on the lives of those around them. It's an unashamed piece of hopeful filmmaking that – at least on the surface – is completely lacking in cynicism. Life is tough, but with characters like Paddington, we can all be reminded to inject a bit of good into the world every now and then.
Verdict: Hall of Fame