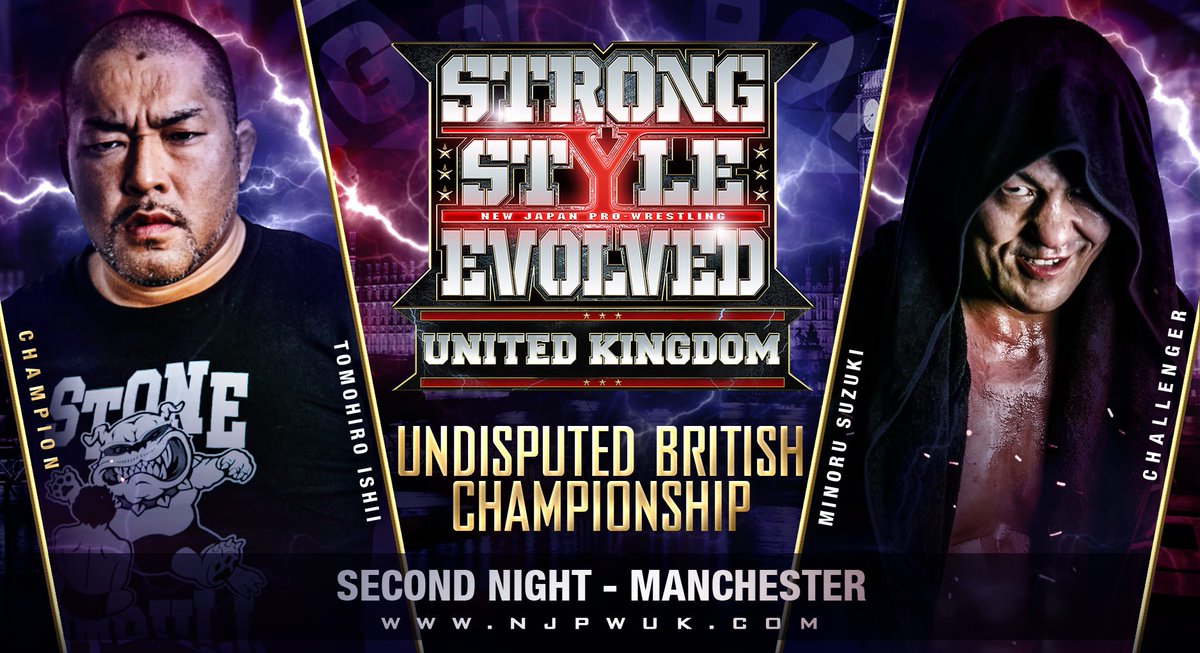 Night Two of Strong Style Evolved UK was when I rocked into town. So, expect this review to be a bit different. I'll be talking more about the experience of being there rather than the intricacies of what was happening in the ring because quite frankly I wasn't taking notes. It was one hell of a show, and I apologise in advance if I get over excited.
Great O-Kharn defeated Danny Duggan
O-Kharn had already started tweaking his gimmick. Rather than shambling to the ring like he did on the first night, he reverted to a normal, if slow, walk. The Super J-Cast pointed towards a figure in Chinese mythology (a Jiangshi) from which the character seems to be derived. It will be interesting to see if they emphasise or pull back on that in the future.
As for the in-ring, Duggan did alright in a rough spot, but people weren't there to see the Danny Duggans of the world. While I'm sure he's a talented lad, he was never going to generate more than polite applause on this card.
Things got a bit plodding at times as Oka was working to establish his monster credentials and Duggan struggled to get out from underneath him. While that's alright in these glorified squashes, The Dominator will need to show a bit more if he rises up the card and into high profile bouts.
Verdict: Two And A Half Stars
Yuji Nagata defeated Shota Umino
Shota Umino vs Yuji Nagata is second only to Toa Henare vs Tomohiro Ishii for my favourite feud of 2018. As they've told the same story, you can derive my taste in wrestling from that statement.
What I love about these two is that with every battle Shota Umino brings something a bit different to the table. He's slowly improving, and with it, he's introducing an angry streak to his wrestling. As he's standing there exchanging strikes with Nagata he doesn't look like a Young Lion, he looks like an equal of the legend.
Of course, we all know how it ends as Nagata survived Umino's stinging slaps to deliver a few of his own and get the victory. However, Umino is getting closer every time, and you know that someday, probably a few years into the future, the teacher shall be conquered. When that day comes, it will be a beautiful moment for those who have been watching this feud from the beginning.
Verdict: Three And A Quarter Stars
Suzuki-gun (El Desperado, Yoshinobu Kanemaru and Takashi Iizuka) defeated CHAOS (Toru Yano, YOSHI-HASHI and Gedo)
In my review of the Milton Keynes' show I spoke about how having seen one of these matches, I've seen them all. However, I now want to point out that while that rule holds true for watching at home, it's a different case when you're in the crowd.
Because when you're in that arena, Iizuka dragging Yano into the crowd and beating him with a steel chair is ten times more exciting because it's happening right in front of you. Yano's antics become fresh again because a couple of thousand people are roaring in laughter and even Gedo is a treat. It's still not wrestling excellence, but it is fun.
I shall continue to breeze past this matches when they're packing the mid-card of Road To shows or Kizuna Roads. However, if you do get a chance to see New Japan live, I would highly recommend sitting back and enjoying them. They are more fun than you might expect.
Verdict: Two Star Wrestling, Three and A Half Star Experience
WALTER defeated Yujiro Takahashi
What a weird ass match-up. I don't understand why you'd put WALTER on your card and then decide to have him wrestle Yujiro? Does NJPW management consider Takahashi a gatekeeper of sorts? Was this a glorified trial? They did use him to introduce Trent to the heavyweight division.
What it was, this was my first time seeing The Ring General live, so I had a lovely time. It didn't matter who he was facing, as long as he went out there and beat the hell out of them. They told a bit of a story as Takahashi attacked the legs and used some of his slimy tactics to get a bit of offence, but no one cared about that. It was all about WALTER committing a murder.
Which is what he did. The big bear destroyed the weird pimp guy, and I couldn't have been happier.
Verdict: Three And A Half Stars
Taichi defeated Will Ospreay
The bizarre combinations continue. Not only was this Taichi vs Will Ospreay, but it was also a Heavyweight vs a Junior which meant that, in his home country, Ospreay was losing to the Singing Bawbag.
Now, to be fair to all involved, he did lose via shenanigans. Taichi had no interest in going head to head with Will as he spent most of the match getting up to his antics. Thankfully, Will is exciting enough that you don't really need Taichi to do anything. It's just a pleasure to watch that young man do his thing. He was focusing more on the striking side of his offence, delivering some painful looking kicks. I might have felt sorry for another wrestler.
The finish saw Kanemaru plus the mic stand give Taichi an aid in his path to victory, so it wasn't made to look simple. NJPW seem to be tightening the gap between Heavyweights and Juniors. With a roster as out of this world as their's, that makes a lot of sense.
Verdict: Three And A Quarter Stars
David Starr defeated Tiger Mask, El Phantasmo and Taiji Ishimori to retain the British Cruiserweight Title
Starr was forced to put the belt on the line after losing to Tiger Mask the previous night.
The standout of this was, perhaps surprisingly, El Phantasmo. You could see that he'd pinpointed this as a big opportunity to get some eyes on him and he was taking risks that the other guys weren't. At one point, he walked the ropes before hitting a beautiful Moonsault to the floor. It's the kind of moment that will linger long in the memories of those who were there.
Elsewhere, Ishimori was, of course, brilliant because he always is. There's no denying that he has two or three more gear than he showed here, but you'd be churlish to complain. Bone Soldier Reborn gave everyone a taste, which was probably enough. Tiger, sadly, got a bit lost in the shuffle although he did hit a few signature moves to keep the fans happy.
Starr would come up the winner, though, using some scummy tactics to retain his belt. He would end things by pulling Tiger's mask down before rolling him up for the three. It was a bit of a dud ending to what up until that point was a damn good showing.
Verdict: Three And A Half Stars
Jay White defeated Kyle Fletcher
This was supposed to be Jay White vs Chris Brookes. Unfortunately, injury caused Brookes to pull out, so Fletcher stepped into his place. Then, much like Phantasmo, he proceeded to try and steal the show. He came close to pulling it off too.
These two had a fantastic fight. I'm baffled by people who don't see the star in Jay White. Every time you see him, it feels like he's that little more settled into the Switchblade character and I adore the way it has evolved. He's the pompous arsehole who thinks he's the best, flouncing around the ring and showing off to a crowd he sees as below him. That is until the switch goes off in his head, at which point he becomes a merciless killer, chopping at Fletcher's chest until it burst open.
The Aussie Arrow, meanwhile, took that beating and spat defiance in White's face. It was a star-making performance from the young man as he proved he has potential away from tag wrestling. Not only did he stand and snarl in White's face as he chopped him to shreds, but he also grabbed hold of his chances to push forward, showing off a fun moveset.
It all made it a bit devastating that the finish didn't seem to go to plan. Fletcher was making his way up top where I'm assuming the idea was for him to miss the move or for White to block it. Unfortunately, he slipped, and Jay reacted quickly, leaping up and hitting the Blade Runner before Kyle Fletcher could recover. It was an attempt to make it all look intentional (Knife Pervert followed up by pointing at his head, suggesting it was part of the plan), but no-one was fooled.
Still, this was a great match regardless of one botch and a shining example of why the future of wrestling is bright.
Verdict: Four Stars
Zack Sabre Jr defeated Kazuchika Okada
Oh yummy, yummy, yummy. It is near impossible to put into words how much fun I had watching this. From start to finish it was a special experience as two of my very favourite wrestlers went head to head right in front of me.
And you knew Okada was special the second he walked out. It doesn't matter what they are doing with him at the moment, that man is a goddamn superstar (not in the WWE sense either). The reaction he got was thunderous, and as he walked down the ramp, it felt like you were watching something incredible. He hadn't even started wrestling at that point!
Okada and ZSJ went on to continue the story that has followed these two throughout the year which is that Sabre causes Kazu all sorts of issues. He's like a wiggling snake that The Rainmaker can't get a hold of. Every time Okada starts building momentum and going into those signature sequences, Zack is there to cut him off.
Even with that story, I think most people there expected Okada to win. I went in thinking there was a chance Zack would get the victory to continue Kazu's post-Omega trouble, but as things went on, I thought I'd got it wrong. When Okada hit the Jumping Tombstone, I knew I had.
Except, I fucking hadn't. For once again, Zack had the answer, slipping out of the Rainmaker and into a European Clutch for the three to the delight of a crowd who had been chanting Okada's name all match. It was a moment of ecstasy that put to an end one of the best live wrestling experiences I've ever had. God, I wish I could do it all again.
Verdict: Four And A Half Stars
Minoru Suzuki defeated Tomohiro Ishii to win the British Heavyweight Title
The night wasn't even over! Somehow I had to calm myself down and focus on the main event. Wait, look at that main event, focusing was never going to be a problem.
Picture in your mind what you want a Suzuki vs Ishii main event to look like. Got it? Yea, that's what this was. Two hard bastards throwing everything they had at each other. It was Suzuki's evil guile against Ishii's hard-headed intensity. They weren't taking it easy because they were outside of Japan.
It is a perfect pairing too. Ishii sells his ass off for Minoru. Every submission he gets him in, every elbow that he throws, it all leaves a mark on the Stone Pitbull. As the match went on firing up was getting that little bit harder for Tomohiro while Suzuki was still the defiant King. In just as much pain but never willing to show it.
The final few minutes had the whole arena on the edge of their seats. Time after time Suzuki went for the Gotch Piledriver. The death move of New Japan which no-one kicks out of. Time after time, Ishii escaped by the skin of his teeth. Somehow finding something inside of him that allowed him to keep fighting. Except even the bravest of warriors has a limit. Eventually, the build-up of strikes was too much, the Sleepers just a bit too effective and he had no fight left. Suzuki dropped him on his head, and the title went to Suzuki-gun.
Fuck me, I love wrestling.
Verdict: Four And A Half Stars
Overall Show
Honestly, top to bottom, that's the best wrestling show I've ever been to. It's not even close. ICW ain't ever had a main event like that. Now we all just need to cross our fingers and hope that this was a big enough success that New Japan will be back next year. You can guarantee I'll travel down south once again if they are.
If you enjoyed this article, please consider contributing to my Ko-Fi by clicking here. Even the smallest donation is appreciated.