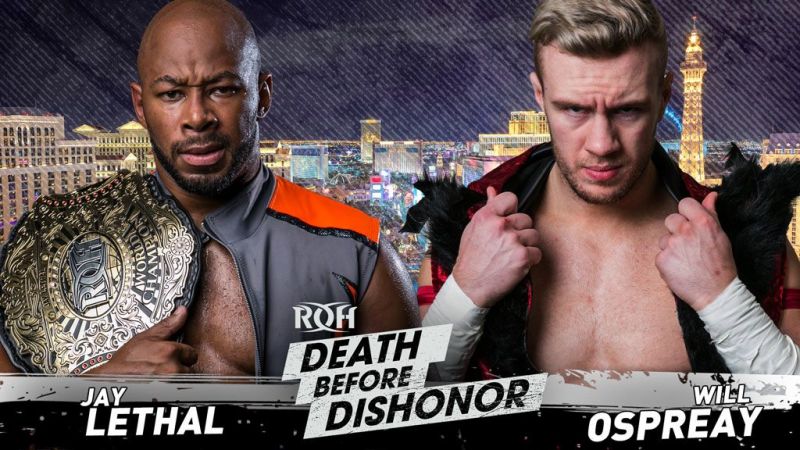 I've said this before, but ROH is in a weird ass place at the moment. Business-wise, they are at their peak. Drawing crowds that they couldn't have dreamed of previously. In the ring, though? You could argue it's at a low. While they have a lot of talent, a lot of it feels directionless as they bounce from feud to feud with no rhyme or reason. Will Death Before Dishonour be the same? Most definitely.
Kenny King defeated Jushin Thunder Liger
If you can start your show with Jushin Thunder Liger, you should start your show with Jushin Thunder Liger. With Kenny King slowly turning heel ROH showed some surprisingly astute booking by putting him against a beloved legend. It didn't matter that he was in his hometown, only a fool was going to cheer King over Liger.
The slow corrosion of Kenny's good guy tendencies was ingrained in this match. He was arrogant and vicious. Showboating when he got the chance and targeting Liger's back in an attempt to neutralise The Thunder God. There was nothing complicated about his wrestling, but it worked.
The damage done to Liger would prove decisive as the Thunder God ended up clutching at his back, unable to stand. King would give him a chance to recover or at least that's what it looked like he was doing. When Liger did make it to his feet, Kenny King offered his hand only to pull Jushin Thunder Liger in for a Spinebuster and the win.
This was a decent opener with King embracing his new character while it's always good to see Liger.
Verdict: Two And Three Quarter Stars
The Briscoe Brothers (Mark and Jay Briscoe) defeated The Addiction (Christopher Daniels and Kazarian)
The Briscoes have proven themselves to be horrible people. Because of that, I'm not going to be reviewing this match.
Verdict: Fuck The Briscoes
Sumie Sakai defeated Tenille Dashwood to retain the Women Of Honour Title
This result ruined a lot of people's predictions for the show. However, Tenille Dashwood has since come out to say that she'll be out for a while to get shoulder surgery, so with that in mind, it makes a lot more sense.
I think that knowledge also serves to improve the match as it was built around Dashwood's strapped shoulder. This was meant to be a more aggressive Sakai, someone who knew she was in with the best and wanted to prove that she deserved to be in that spot. It led to what was probably (I'd have to go back and check older reviews to be sure) the best Women's Title match I've seen in ROH so far.
Sadly, that's not a high bar to hurdle, so this was far from perfect. The crowd never seemed to fully invest in the action which robbed it of a big match feel. On top of that, there were a couple of sloppy moments. Nothing unforgivable, but enough to knock them out of their stride. Still, I enjoyed the story they told, and the final image of Sakai's Armbar causing Dashwood to pass out was great. It was a step in the right direction for the division.
Verdict: Three Stars
Punishment Martinez defeated Chris Sabin to retain the ROH TV Title
Chris Sabin clearly got stoned and came up with the ridiculous introduction he got Bobby Cruise to read for him. I don't watch ROH weekly, so I assume that's a reference to something he's doing? If not, it was incredibly random.
After that bemusing start, Sabin came out hot, looking to catch Punishment off-guard and take out his knee. Unfortunately, that was brought to a shuddering halt when Martinez plucked him out of the air off a Suicide Dive and introduced him to a Chokeslam.
That set up the to be expected story of the bout. Big man vs little man with Chris working fast and Punishment working strong. It is a tried and tested formula which they build a decent match around. There's also a lot of fun to be had in seeing how much better Martinez is nowadays. He's got the look, and while he's unlikely to ever be a super worker, he can go to the level where he should be a star in WWE if the rumours about him heading to Orlando are true.
A chair would be introduced with Sabin delivering a Tornado DDT onto it. It was a last ditch effort to get the win and proved insufficient. Punishment's power was too much as he brought Sabin South Of Heaven for the win.
After the bell, Martinez looked to continue the attack, before Jeff Cobb made his way down to distract him. Punishment would then pretend to leave the ring only to drive a chair into Cobb's back. Unfortunately for Martinez, Cobb no sold that and hit Tour Of The Islands. That should be a fun feud. Although, if you've watched the New Japan show from Sunday, the outcome has already been spoiled.
Verdict: Three And A Quarter Stars
Bully Ray and Silas Young defeated Colt Cabana and Flip Gordon
Bully Ray thinks he's wrestling last true heel. I would suggest that he's getting the wrong kind of heat. If you care about Bully Ray and pay to watch him lose, please comment below. I'd be fascinated to hear why.
This also seems like the right time to point out that this show is missing Colt Cabana on commentary. Caprice Coleman has taken his place, and he's awful. I love Colt, and he (rightly) still thinks of himself as a wrestler, but ROH need him sat next to Riccabonni because everyone else they put in that spot stinks.
That feeling will only increase if they continue to have in matches like this. It started off as an alright table match before overbooking took over. For some reason, Ian Riccabonni went down to help Colt only for him to be eliminated a few minutes later leaving Gordon by himself. Meanwhile, part of the arena seemingly couldn't see this because there was a table positioned in such a way that it blocked their view.
Sadly, that wasn't the end of the clusterfuck. Bully Ray and Silas Young ended up fighting after two moments of miscommunication. Then, Bully was eliminated followed by Flip hitting a 450 to put Silas through a table. Unfortunately, Todd Sinclair had taken a bump, so Bully dragged Silas out of the wreckage and replaced him with Flip. Turner was then stupid enough to call for the bell. Christ, what a mess.
To give this some credit, they successfully moved the focus of the feud over to Flip Gordon. He got a lot of sympathy in the two on one situation, and, while he's not my favourite wrestler, he is an ROH guy, so he's the right person to be getting that sympathy. Then again, it would be a lot better if it wasn't going to end with him facing Bully Ray. The feud continues.
Verdict: One Star
As Bully Ray gurned at the fans, the cameras took us backstage to see Tenille Dashwood apparently selling an attack on her shoulder. That's presumably going to play into writing her off ROH TV, but it feels a bit pointless? Surely you could give that credit to Sakai and put over her Armbar?
The Bullet Club (Hangman Page, Matt Jackson, Nick Jackson, Marty Scurll and Cody) defeated CHAOS (Kazuchika Okada, Tomohiro Ishii, Beretta, Chuckie T and Rocky Romero)
Nick Aldis sat in on commentary where he proved he's not a New Japan fan by suggesting that it wasn't a smart idea for Ishii to be trading forearms with Page early in the match. Ishii feeds off your puny forearms, boy. Also, I want that fight. They had hella good chemistry. Also, also, Aldis might be worse than Coleman.
In the ring, this is an easy one to review. It was great. There wasn't much in the way of a story, but it was a fantastic clusterfuck of exciting wrestling. You've got nine talented guys in there (and Cody, who is skilled in other ways) who all went out with the intention of entertaining. At one point, Ishii leapt off the top rope! How can you not love that?
Do you know what else I loved? How fantastic Rocky Romero was. He would end up taking the fall as he tapped out to the Chickenwing, but before that, he was given a fair few chances to impress. He's usually there to make SHO and YOH look good, so it was cool to see him putting himself over.
Elsewhere, Wide Tom was his usual excellent self, Matt and Nick continue to be the best wrestlers in the world when working this style and Beretta deserves a hell of a lot more praise than he gets for how good he is. This was fun wrestling. Sometimes that's all you need.
Verdict: Four Stars
Jay Lethal defeated Will Ospreay to retain the ROH World Title
If you're looking for a storyline to back-up this match, then look elsewhere. Ospreay hasn't appeared in ROH since December last year when he actually lost to Jay Lethal in a TV match. That's apparently not important, though. ROH didn't have a feud, so Lethal issued an open challenge which Will responded to. I wonder if they've finally realised the opportunity they missed when they had him signed to an actual contract?
A long build-up isn't always essential, though. Ospreay and Lethal were good enough to tell their own story between the bells, and they did a damn fine job at it. This was a different Will from the one who left ROH ten months ago. He's bulked up and changed his style. Lethal seemed shocked that he wasn't able to bully him and that the Aerial Assassin had added some sharp strikes to his game.
That change also played into the idea that Will had a point to prove. ROH might not be bothered about that previous defeat, but he was. Whether intentionally or not, they told the story of Will Ospreay proving to ROH that they had fucked up. That he should have been wrestling these main events throughout the entirety of his time with the company.
That determination to prove they were wrong led to Will bending the rules in his desperation to get the win. He chose not to clock Lethal in the head with the belt when he was given a chance but wasn't as considerate when he hit a Hiromu style Sunset Powerbomb off the apron onto a ladder. He'd then use the belt as a distraction, setting up an Oscutter which Lethal somehow managed to kick out of.
It would prove to be Ospreay's last roll of the dice. He went for Stormbreaker, but Jay battled out before reversing a Super Hurricanrana into a Splash Mountain. A Lethal Injection later and we were done.
For all my issues with the booking, this was a fantastic match. Will is one of the best wrestlers on the planet while Jay Lethal is always capable of turning it on. If ROH didn't regret wasting Ospreay before this, they definitely did by the end.
Verdict: Four And A Half Stars
Ospreay and Lethal shook hands afterwards as we seemed to be heading for the happy ending. Then, The Kingdom hit the ring and beat both men down before Jonathan Gresham tried to make the save. Suddenly, the newly shaved Matt Taven (who was supposed to be in Mexico) appeared with a purple version of the ROH Title to take out Lethal. ROH have found their story.
Overall Show
This was a horrifically average wrestling show until the final two bouts. Besides the tables fiasco, nothing was awful, but fuck me, it was a bit of a slog. Thankfully, the matches that weren't backed up by creative saved the day. Perhaps ROH's creative has it right? Who needs a build? Watch the two main events and skip the rest unless you're very bored.