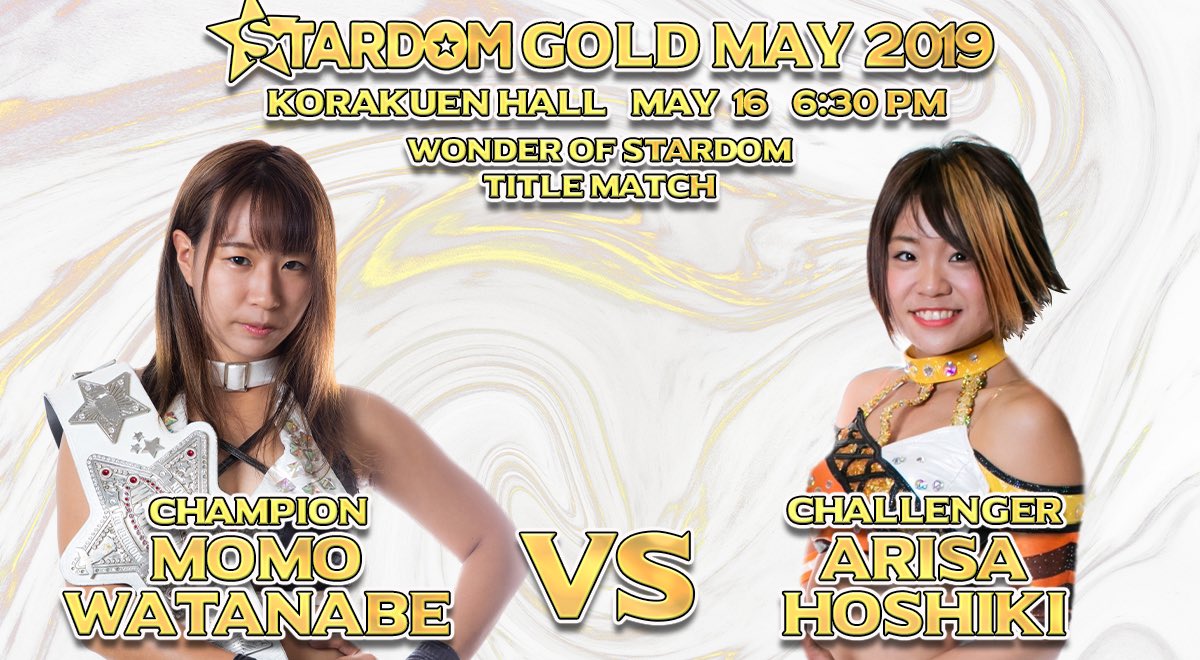 Before we get into my review of Stardom's latest trip to Korakuen, I want to talk about My Hobby, a series on Stardom World detailing wrestler's, well, hobbies. So far, it has followed Mayu Iwatani and Saki Kashima hanging out with Mayu's dog Pochi at a doggy day care, and it is the greatest thing that has ever existed. I was having a miserable day when I watched it, and it put an almost painful smile on my face. More videos of wrestlers having a good time with their pets, please. In fact, if Stardom wishes to ditch the wrestling business and transition into the wrestlers hanging out with pets business, I would probably be okay with it. Pochi is my Ace.
Anyway, let's get onto what we are actually here to talk about.
Oedo Tai (Andras Miyagi and Natsuko Tora) defeated Queen's Quest (Leo Onozaki and Hina) and STARS (Starlight Kid and Hanan) in a Three-Way-Tag-Battle
Andras Miyagi has found her voice and cut an aggressive pre-match promo until she got distracted by whatever Natsu was looking at on her phone. Meanwhile, Hanan and Starlight Kid talking about being busy in school blows my mind. I know how young they all are, but that stuff still catches me off-guard. Spending your day in class and your night wrestling is badass as hell. It makes my childhood of getting drunk in the park seem very dull.
Gosh, I have done a lot of talking with very little of it being about wrestling. This match started with the youngsters teamed up to take Oedo Tai out in the hopes of settling this between themselves. It was a tactic that worked for a while, with a nice enough back and forth, but eventually, the big bads recovered. Poor Onozaki ate a Tora Piledriver then a Miyagi slam before Natsuko finished her off with a Frog Splash. It doesn't get much more definitive than that.
It all added up to a pretty standard Stardom opener. The kids all looked good (although Starlight Kid is a step or two above the other three) before Oedo Tai got a nice tune-up win. Nothing you need to see, but probably not worth skipping either.
Verdict: Two And A Half Stars
Death Yama-san defeated Natsu Sumire and Saya Iida in a Three-Way-Battle
Death Yama-san is my spirit animal. Does that count as a review? Probably not.
This started amusingly as Iida and Natsu decided the best way to deal with Death was to ignore her. Sadly, the Reaper doesn't work that way, and she eventually found her way into the action. At that point, Iida and Natsu teamed up and take her down and, well, you can guess how that ended. Iida learnt to never trust Natsu Sumire.
Yama-san got the win by knocking Sumire off the top rope before rolling up Iida in what was an entertaining if inconsequential match-up. It was short enough that there is no point in skipping it unless you're really rushed.
Verdict: Two And A Half Stars
Toni Storm and Kagetsu fought to a time limit draw
Toni openly admitted in her pre-match promo that she doesn't lose any more. You could buy that as confidence, or you could see it as a reference to the fact that she appears to be contractually unable to do so. For the second time this tour she played out a time limit draw and while I haven't disliked her matches, it's hard to get too caught up in them when you know she is never taking the fall.
To be fair, you can't fault her effort, as she once again worked this like a main-event. They kicked things off slowly with both women showing off their grappling skills. I'm never quite sure what it is that turns dull mat-work into good, but this was better than many.
Even with that being entertaining, things really took off when they moved away from it. Kagetsu struck first, taking the fight to the outside and burying Storm in chairs. Then, back in the ring, Toni tried to get the submission victory. A Guillotine Choke and an STF both came close, but ultimately proved fruitless. It had become an even back and forth with neither women able to gain the advantage.
So, Kagetsu dived into our bag of tricks, spraying mist in Toni's direction only for Storm to dodge it, leaving the poor ref to take one for the team. Not that Kagetsu will have complained too much. She walked into a Strong Zero right after and was saved from being pinned by his blindness. Kagetsu then revealed that she had a baclk-up, and when Storm came off the top rope, the second spray caught her square in the face. A 450 Splash only got a two, but she hoisted Toni up for the Death Valley Driver hitting it only for the time limit to expire before she could make the pin.
Storm and Kagetsu managed to put on an entertaining match despite the reservations I outlined above. Apparently, some people have been down on Toni's current Stardom run, but outside of the Konami match, I've enjoyed it a lot. Oh well, perhaps I'll be alone in giving this the thumbs up too.
Verdict: Three And A Half Stars
Tokyo Cyber Squad (Hana Kimura, Jungle Kyona and Konami) defeated STARS (Mayu Iwatani, Tam Nakano and Saki Kashima) to win the Artist of Stardom Titles
Mayu Iwatani was not ready for this match. She was still out injured when Hana made the challenge, but Kimura gave her an ultimatum. Defend your belts or relinquish them. She wouldn't be Mayu Iwatani if she gave them up without a fight.
If Iwatani thought that display of bravery would earn her Tokyo Cyber Squad's respect, she was proven wrong. As she prepared to spin in the sea of streamers that flooded the ring pre-match, TCS struck. The first thing Kimura did? Drag Mayu to the outside, wrap her leg up in a Korakuen bannister and drive a chair into it. From there, Stardom's Icon was in trouble. That strapped up knee was a massive target and TCS were happy to aim at it.
Yet, Iwatani refused to step back. Saki and Tam were continually forced to come to her rescue, but she kept pulling herself up and climbing into the ring. She was desperate to fight, and it might have been to her team's detriment. Mayu would come off the top with a Stomp only for that leg to buckle underneath her or she'd take too long to climb the ropes for a Moonsault. Her stubborn desire to not let her teammates down might have ended up hurting them as she missed out on a couple of chances to take the win.
Not that it can be left squarely at her feet. I lost count of the number of pins that were broken by teammates flying into the ring at the last second. We know STARS are a good team, but it's remarkable how quickly Konami, Kimura and Jungle have bonded. You get the impression they are having a lot of fun together, and it's translating over to their in-ring performances. For a unit that seemed a bit of a mish-mash barely a month ago, they now look like a cohesive whole, working together to get the win.
And get the win they did. It was Kashima who got caught in the Triangle Lancer, and as I've said before, we know how that ends. In this case, it's with Tokyo Cyber Squad claiming their first titles. Afterwards, Hana would celebrate the victory by issuing a challenge to her old friends in Oedo Tai. She might be having fun in TCS, but she still has a score or two to settle with them. Konami then challenged Kagetsu for the upcoming Konami Homecoming show, so it looks like that war is kicking up a gear.
Anyway, this was a hella fun match. TCS are proving to be a fantastic addition to the workings of the company, and this was nearly an extended sprint as it never seemed to slow down. What made it, though, was the added story of Mayu's knee. In among all that chaos, it grounded the action in a narrative that prevented it from getting carried away. It was great wrestling, and I am delighted that our new overlords have their first belts. YES, SIR!
Verdict: Three And Three Quarter Stars
Bea Priestley defeated Hazuki to retain the World Of Stardom Title
Priestley was supposed to be wrestling Toni Storm on this show, but Vince and Paul weren't happy with that. Toni's loss is Hazuki's gain as she stepped in to challenge for the Red Belt.
Hazuki turned out to be an inspired choice too for she was fantastic in this match. She came charging out of the blocks, booting Bea in the face before following up with a dive to the outside. Every time she went on the offensive, this became must watch, and there was an awesome moment where she snapped, grabbing Priestley by the hair and throwing her around the ring. It made Hazuki looked vicious.
It's not that Priestley was bad either. She's not; she's just not on that level. Little moments like her popping up after a Hazuki onslaught as if nothing had happened took me out of the action. Bea is so close to being a great wrestler, but those moments hold her back. However, I have no doubt that moving out to Japan and going full-time with Stardom could be the thing to make that difference.
The finish saw Priestley hit the newly named Queen's Landing (previously known as the Japanese Ocean Cyclone Suplex, I'm sure Manami Toyota will be delighted to hear she's renamed it) for the three and complete her first defence. It was a solid start to her reign, and while I'm giving a lot of praise to Hazuki, it does take two to tango.
Verdict: Three And A Half Stars
Arisa Hoshiki defeated Momo Watanabe to win the Wonder of Stardom Title
Stardom does a fantastic job of making these Korakuen main-events feel like a big deal. From starting the entrances in the back to the pre-match photo, you can feel the excitement rise as we build to the bell.
All of which made it even more shocking when Hoshiki won as quickly and as convincingly as she did. Momo has made a habit of putting on tremendous epics, and while I'm not saying this was a bad match, an epic it was not. It didn't even make it to the thirteen-minute mark.
Still, a lot happened in those minutes. After a start that saw both women aiming for leg-based submissions, Momo decided she'd had enough of that and got down to what we all wanted to see, some kicking. Early on the champ was in control, using her extra power to dominate Arisa and stop her retaliating with kicks of her own.
It was only when Hoshiki hit a Powerslam on the floor that the action evened out and from there we went into a fantastic close. The kicks were coming thick and fast with Watanabe kicking out of Hoshiki's Twisting Splash and Arisa surviving Peach Sunrise by the luck of coming down within reach of the ropes. While they were throwing everything at each other, it all felt a bit soon. With another few minutes of build-up, it would have been incredible, but we were going home when I was just settling in.
Still, the finish was great as having survived Peach Sunrise Hoshiki fired up with two of those beautiful knees (it puts Kenny to shame) before a pair of Brazilian Kicks sent Momo to the floor. Watanabe's record would end at thirteen defences as one hell of a title reign came to a close.
And I have no qualms about that reign coming to an end. Hoshiki is on fire, and while it's a brave move to have her and Priestley as champions, I applaud it. I only wish this match had been given a little more room to breathe. An extra five minutes would have made all the difference and given it a chance to serve as a fitting send off to Momo Watanabe and an equally appropriate start for Arisa Hoshiki. Still, we're heading into a new era in Stardom, and it will be interesting to see what direction it takes.
Verdict: Three And Three Quarter Stars
In her post-match promo, Hoshiki got emotional before putting over Momo and declaring that this was only the beginning. She then called in the rest of the roster to close out the show but before they could make their way down Hazuki appeared, and they went face to face before being pulled apart as that feud is (excitingly) far from done. Poor Tam then had to be coaxed into the ring as she looked rather miserable about the situation, but even she managed a small smile when Hoshiki wheedled it out of her. Finally, our new champ was left in the ring to celebrate her victory.
Overall Show
A strong Korakuen from Stardom that didn't deliver one of the big standout matches we've often seen from them this year, but was consistently very good. With the two big belts changing hands recently we're entering a new era in the company and it will be interesting to see where that goes. One assumes that either Hoshiki or Priestley will turn out to be a transitional champion, but what do I know? Nothing, the answer is nothing.
Watch Stardom: http://www.stardom-world.com/
If you enjoyed this review, please consider contributing to my Ko-fi, even the smallest amount is appreciated.