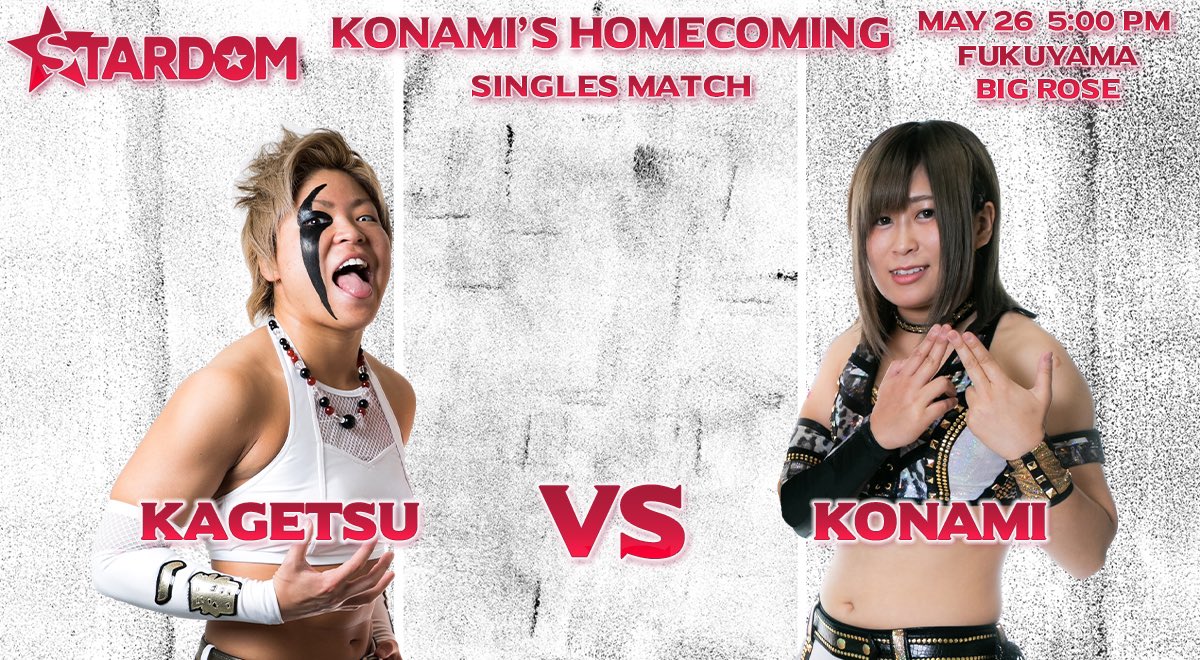 New Japan's insistence on having a million shows means I've fallen behind on Stardom, so it's time to catch up beginning with Konami's Homecoming. We opened the show with a video of Konami outside the venue, welcoming us and saying that she wanted to get the win with her Triangle Lancer. Makes sense.
Saki Kashima defeated Leo Onozaki
Kashima challenged Hazuki at the end of the previous show and received a rather rude response making this was the perfect time for her to start picking up wins.
Saki made relatively short work of Leo in a match laid out like your standard Stardom opener. She seemed to be upping the aggression, kicking Onozaki in the face and working over her arm before hitting Angel Wings for the three (which I'm sure she has another name for). It's also worth mentioning that I've been impressed with Leo recently. I wasn't sure about her when she returned from injury, but she's grown into someone you can rely on in these opening spots.
Verdict: Two And A Half Stars
Andras Miyagi defeated Saya Iida
Andras Miyagi terrifies me. I booked flights for my first trip to Japan recently (I am ridiculously excited) and will, of course, be trying to check out a Stardom show, but I think I'd take flight back in the other direction if Miyagi came anywhere near me. As Iida put it, 'she's unpredictable'. I'd have probably gone for unhinged, but I guess it's a similar idea.
Talking of unpredictable, of all the things I'd have predicted she'd do in this match, going out and grinding Iida into the mat for the opening minutes was not one of them. She started this off with some wrassling, using her size and power advantage to bully the rookie. It was even a bit of technical work that got the win as she cut off Iida's fiery comeback by pulling her into a flash pin and getting the three.
Since signing her contract, Miyagi has been running her way through the younger members of the Stardom roster and having good matches with them all. This wasn't the moment that changed.
Verdict: Three Stars
Queen's Quest (Momo Watanabe and Bea Priestley) defeated STARS (Arisa Hoshiki and Starlight Kid)
I've expressed my gripes about the way Priestley and Hoshiki have been booked post-title wins, so I won't bother going into that again. Needless to say, those problems continued here.
In the ring, poor Kid was given a rough time as she took the QQ heat section. She's small and flexible, so she can be thrown around and stretched while she's also near-impossible to hate, so you don't want those things to happen. It's a perfect combination of attributes for a young babyface to have.
When she tagged in, Hoshiki had solid interactions with both Queen's Quest members before Kid returned and ran through her offence before tapping out to a Watanabe choke. Like all the Momo and Bea tag matches this was a solid, well-worked affair despite my issues with the booking.
Verdict: Three And A Quarter Stars
Oedo Tai (Hazuki and Natsuko Tora) defeated Tokyo Cyber Squad (Hana Kimura and Jungle Kyona)
Jungle and Hana spent their pre-match promo saying lovely things about Konami, and I want to be friends with TCS. I also learnt that Konami has lots of dogs, a hedgehog, a snake and a fish, so I am forced to conclude that she's even cooler than I thought.
It hasn't taken Jungle long to adapt to Kimura's ways. It was Oedo Tai who attacked first, but when TCS took control, she had no problem fighting dirty. Kyona was dragging Hazuki around by her hair and throwing her into chairs. Meanwhile, Hana had a fan (of the air-shifting rather than the cheering variety) that she was using to slap Tora in the face.
Back in the ring, everyone worked this match with an added slice of intensity. Kimura brings it when she's in there with Oedo Tai while Jungle and Tora haven't seen eye to eye since the end of JAN. It led to a hard-hitting brawl in which they all seemed intent on laying into every strike. When you put four outstanding wrestlers together, it's no surprise to see them put on a hell of a match.
The finish saw Hazuki slip out of a Kyona Powerbomb and roll her up for the three. She then responded to Hana's demand that Oedo Tai challenge for the Artist belts by saying she's not interested as she and Natsuko want the Goddesses Titles instead. Hana blew that off, saying that she didn't care about those guys, it's Kagetsu, Miyagi and Sumire that she wants to face causing Andras to pop up on the apron and go face to face with Jungle.
Verdict: Three And Three Quarter Stars
Konami and Kagetsu fought to a time limit draw
Unsurprisingly, Konami got a good reaction for her entrance. Christ, imagine she hadn't? That would have been rough. She had her big match fluffy jacket on which it's always good to see. It's a badass look.
It's worth mentioning that I knew coming in that they were going the full thirty which adds an extra wrinkle to the challenge of getting the match over. Can you keep my attention when I know there is not going to be a winner?
Well, yes, yes they could. It started slow, with Konami and Kagetsu grappling for control and neither able to grab an advantage. Eventually, though, Kagetsu had enough of that and began her antics. There was water, there was Oedo Tai (although TCS came to the rescue) and there was everything else we've come to expect from her. It shifted this from an even wrestling contest into Konami working from underneath, and the fans reacted as Kagetsu tossed her into chairs.
That built to a scorching period as Konami battled back, attacking Kagetsu's leg and trying to even the playing field. The Oedo Tai leader is a fantastic heel, and she's the perfect person for someone like Konami to overcome, which makes it kind of fitting that she wasn't quite able to pull it off here. It feels like Konami is still laying the foundations of her elevation, and the day she goes from drawing with Kagetsu to beating her can be a huge moment down the line.
The final stretch was more of a final marathon. A large part of this match was these two going at it full throttle, throwing it all out there in the hope of getting a win. Konami launched herself from the top rope to the floor while Kagetsu's watery antics looked to have set her up for the victory only for the time to run out as she hit the 450 Splash.
These two did a fantastic job. Time-limit draws are fucking hard to pull off, but they went out and worked their arses off, putting in one hell of a shift. It might not have been for a title, but it felt like a big-time main event, and I liked it a lot.
Verdict: Four Stars
Konami cut the show closing promo as she spoke about her journey to get to this point and how it's not easy being a wrestler, but her goal is to win the Red Belt which she is not giving up on. She even went as far as calling out Bea and saying that the title will be wrapped around her waist in the future. That must have been weird for Priestley. I don't think she speaks any Japanese, so she was presumably pointed in the direction of the ring, stood there for a few seconds listening and then had to walk back. For all she knows, Konami was talking about what she wanted for dinner. Anyway, my nonsense aside, Hana instructed Fukuyama how to 'YES, SIR!' before Konami saw us home.
Overall Show
I love a show that gets better as it goes along. My star ratings for this go up with every match and seeing as I wouldn't say any of them were bad, that's a damn good sign. Kagetsu and Konami stole proceedings with a fantastic main-event, but the whole card was good. It's probably getting a bit boring reading me talk about how much I love Stardom, but it ain't changing.
Watch Stardom: http://www.stardom-world.com/
If you enjoyed this review, please consider contributing to my Ko-fi, even the smallest amount is appreciated.