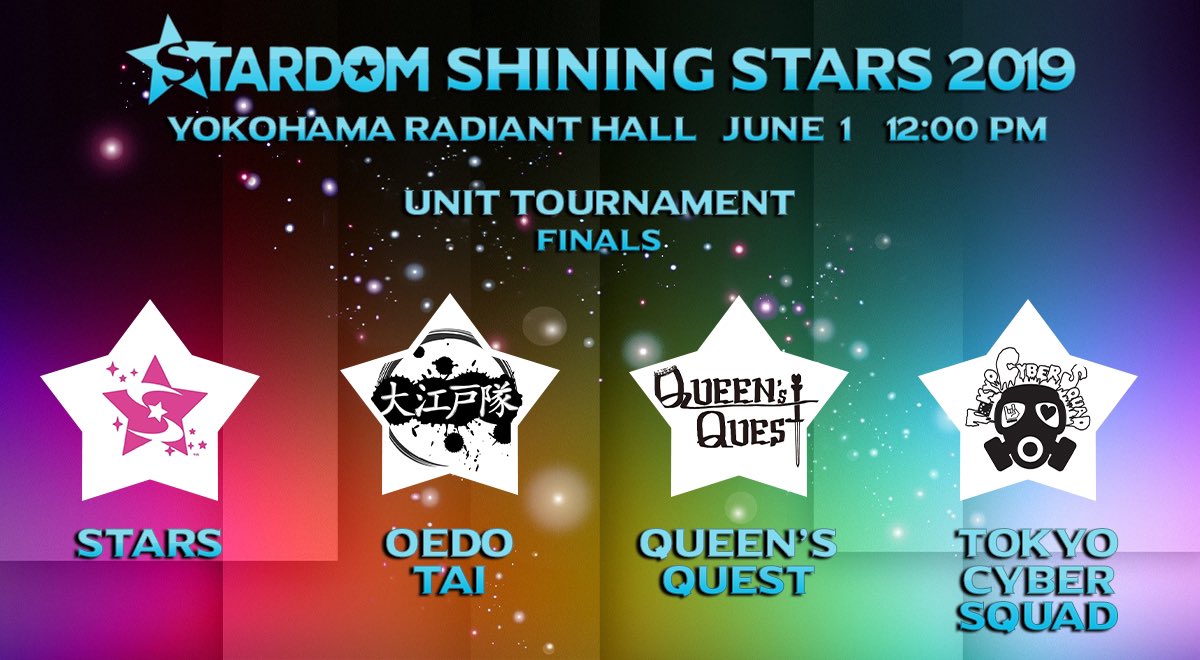 Stardom kicked off June in Yokohama and had put together a wee Unit's Tournament for our enjoyment. It's a simple knockout affair with both semi-finals and the final happening on this show, but still, it should be fun.
Natsu Sumire defeated Ruaka
Natsu was in a chatty mood. She seemed to be complaining about something, but it wasn't subtitled, so I'm not sure what. Kagetsu was getting involved too, shouting from the outside in her AZM top while Rina was unimpressed with the way they were treating her teammate.
That combined with Sumire once again convincing her opponent that the top turnbuckle is a dangerous place to be made this a fun little comedy match. I suspect it would be even more fun if you spoke Japanese, but I enjoyed it despite being (at best) limited in that department. Embrace the silliness and you'll be fine.
Verdict: Two And A Half Stars
Bobbi Tyler defeated Saya Iida
Bobbi's back! She's brought a title with her too. I think it's the IPW Title? According to Cagematch, she has three, but that seems the most likely. Well done her. It's nice to have a title.
You'd think such success would have put her in a good mood, but poor Iida was to discover that wasn't the case. Tyler went right at her, attacking her arm and making some terrifying noises. She sounded possessed. If she keeps that up and continues to kick people in the face, she'll be going next to the likes of Miyagi and Murder Grandpa on my list of wrestlers who terrify me.
Despite that, it wasn't a great match. It didn't blossom beyond being more than a squash and it looked a bit clunky as Tyler and Iida didn't seem to be on the same page. Both of these women will put on much better performances in the future.
Verdict: Two Stars
Oedo Tai (Kagetsu, Hazuki, Andras Miyagi and Natsuko Tora) defeated Queen's Quest (Momo Watanabe, Bea Priestley, Leo Onozaki and Hina) in the Unit Tournament Semi-Final
Oedo Tai sometimes get it into their head to go out and give the rookies a chance to shine, and I love it. In this one, Leo was firing up and take the fight to the Kagetsu, showing all the burning passion you want from someone in her position. Then, wee Rina ended out taking on the whole of Oedo Tai, proudly posing on top of them after stacking them up. It's a little thing, but it's a little thing that I appreciate.
Elsewhere, Momo and Hazuki had an awesome back and forth which even a slight botch from Hazuki (she slipped on a springboard) wasn't enough to take away from it. Watanabe had a fantastic showing. She's been great since she dropped the belt, but then she was great with the belt too. Momo Watanabe is just great full stop. Every time I see her in a tag match, I come out wanting to see her face off with every single person involved, and that says a lot.
Onozaki got another chance to shine in the closing stretch, standing her ground against Tora till Kagetsu smacked her in the back with a wooden board. This was the kind of match Stardom excels at, an all-action slice of tag chaos that gives everyone a chance to shine. All the thumbs are pointing upwards from me.
Verdict: Three And Three Quarter Stars
Tokyo Cyber Squad (Hana Kimura, Jungle Kyona, Konami and Death Yama-san) in the Unit Tournament Semi-Final defeated STARS (Arisa Hoshiki, Tam Nakano, Starlight Kid and Saki Kashima)
Hana is desperate to get her hands on Starlight Kid's mask. As STARS were posing on the ropes during their entrance, Kimura's hand came out of nowhere, reaching out towards it in an attempt to claw it off.
This match had a lot of things that I like.
Tokyo Cyber Squad continuing to be fantastic.
Tam refusing to make life easy for Arisa as there was a great moment where they hit a double-team move only for Tam to wander off afterwards, uninterested in continuing to work together.
Jungle and Nakano beating on each other. Damn, I want to see that match.
Death continuing her good form with Kid.
Unfortunately, it also continued Arisa's streak of losing every match since she won the belt (although, once again, she didn't take the fall) and didn't quite reach the heights of the other semi. However, it was still a good showing, and you'd be hard-pressed to complain.
Verdict: Three And A Half Stars
Tokyo Cyber Squad (Hana Kimura, Jungle Kyona, Konami and Death Yama-san) defeated Oedo Tai (Kagetsu, Andras Miyagi, Hazuki and Natsuko Tora)
Konami and Kagetsu kicked things off, having a wrestle as they continued the story they told at Konami's Homecoming that the two are evenly matched. Eventually, though, TCS decided they couldn't be arsed with that and charged across the ring, changing the mood of the action.
Considering TCS didn't even get a chance to nip backstage after their semi-final, they wrestled this at a ridiculous pace. Everyone did an excellent job of setting-up fun pairings as Death and Hazuki continued to have good chemistry while Miyagi and Jungle got to smack it out. I say it all the time, but these frantic multi-women main events that Stardom put on are always worth a watch.
The first time Konami got the Triangle Lancer on, Oedo Tai were quick off the mark, leaping into the ring and breaking it up. That interference seemed to have set them up for the win, but Konami kicked out of a vicious series of strikes from Tora followed by a Splash. She then grabbed opportunity number two, and that time there was no-one there to make the save.
Verdict: Three And A Half Stars
After sealing the victory Konami asked the very valid question of what this tournament was about? It turns out it wasn't really about anything, but they got a trophy, so that was nice. Stardom must spend a lot of money on trophies. They have an abundance of them. We then had the amusing moment where Jungle Kyona decided she'd much rather shout 'death' than 'yes, sir'. I don't blame her for that.
Overall Show
This was a middle of the road Stardom show which was still entertaining but didn't match up with their best. The tournament was a nice touch as it at least gave the multi-women tags a reason for existing, but not having a proper prize for the winners did make it seem like a slight waste of time. Still, you're not going to regret the time you spend watching it if you decide to.
Watch Stardom: http://www.stardom-world.com/
If you enjoyed this review, please consider contributing to my Ko-fi, even the smallest amount is appreciated.