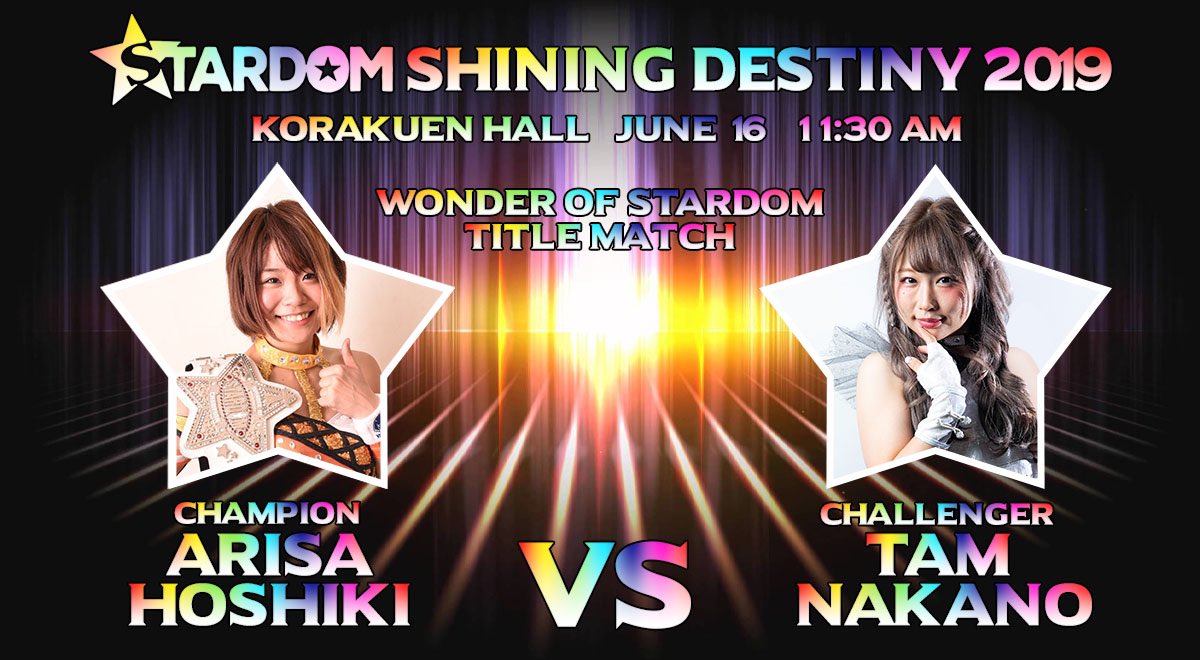 It's Korakuen time! I have been looking forward to this show for a while as Stardom finally gave us Tam vs Arisa and in the main event too. Recently, I've been a bit down on Stardom's booking, but the underlying story between those two quietly built to this moment for months, and it promised to be wonderful. Was it? Well, read on to find out.
Leo Onozaki defeated Hina
We opened with an inter-unit battle as Hina and Leo went head to head. You can't expect much from two people this young in their careers, and there were some awkward moments, but for what this was, I enjoyed it. It was an opportunity for two rookies to have a short, fun bout that gave Onozakia win. These wrestlers will grow with every opener they work, and that's the important thing.
Verdict: Two And Three Quarter Stars
Tokyo Cyber Squad (Death Yama-San, Bobbi Tyler and Ruaka) defeated STARS (Saki Kashima, Zoe Lucas and Saya Iida)
On paper, this looked a bit throwaway. You had Zoe Lucas and her three(!) titles turning up, but outside of that, it was a pretty classic Stardom undercard tag without much in the way of storyline support.
Then Zoe only went and betrayed STARS! How could she? They're so lovely. Then again, it was to join Tokyo Cyber Squad who are the coolest gang on the planet, so perhaps I can't blame her. She kicked Iida into a Death roll-up before Hana, Jungle and Konami came down and welcomed her into TCS.
Up until that point, the match had been alright. With the benefit of hindsight, it is a bit weird that Lucas was kicking Bobbi Tyler in the head when presumably they both knew what was coming, but I guess that's just wrestling.
Verdict: Two And A Half Stars
Queen's Quest (Bea Priestley and AZM) defeated STARS (Mayu Iwatani and Starlight Kid)
AZM and Starlight Kid are teenagers who could (if they choose to/are given the opportunity) wrestle each other for another twenty years and still only be in their thirties. With how good they are already, that's almost a frightening thought. I know a lot of Joshi wrestlers don't have long careers, but I'll keep watching them for that long if they choose to do it.
Elsewhere, Mayu has been working on some new tricks. She was leaping from rope to rope to hit Arm Drags and showing off some fancy skills before getting down to trading kicks to the face with Bea. Not to spend this entire article indulging in hyperbole but how many wrestlers in the world are better than her right now? It's not many.
Despite that, it was Priestley who picked up the win, surviving a Code Red after AZM accidentally kicked her in the face and putting Kid away with Queen's Landing. They weren't given a lot of time, but the time they did have was enough to deliver some perfect mid-card fodder.
Verdict: Three And A Quarter Stars
Tokyo Cyber Squad (Hana Kimura, Jungle Kyona and Konami) defeated Oedo Tai (Kagetsu, Andras Miyagi and Natsu Sumire) to retain the Artist of Stardom Titles
It was Miyagi's birthday, but sadly she was unable to get her hands on a shiny new title to celebrate. Hopefully, Oedo Tai got her a cake instead.
Tokyo Cyber Squad are achieving the, if not impossible, but ever so slightly improbable and getting me to care about a trio title. Much like the match that saw them win the Artist belts, this was all the wild fun. You had everything from Andras Miyagi hitting Tope Suicidas to Natsu Sumire pulling out an awesome Package Fisherman Brainbuster. It was a brilliant watch.
And, almost as importantly, it was rooted in a story. Mainly, Hana's determination to beat the shit out of Kagetsu. Those two had a couple of incredible stretches that mainly revolved around kicking each other in the face. Hana hates Oedo Tai, and there was no chance in hell she was going down to them. Her determination ran so deep that she managed to kick out of a Death Valley Driver and a 450 Splash before finally trapping Kagetsu's arm and a leg to force the submission. Frantic matches are great, but frantic matches that mean something are even better.
After the bell, Hana celebrated beating Oedo Tai before calling out for new challengers. It was Saki Kashima who answered that call, setting up STARS to try and take their titles back. I believe that match has been announced for Kashima's Homecoming on the 23rd.
Verdict: Four Stars
Queen's Quest (Momo Watanabe and Utami Hayashishita) defeated Oedo Tai (Hazuki and Natsuko Tora) to retain the Goddesses of Stardom Titles
Interestingly, what I said above can be twisted around to apply to this match. Oedo Tai and Queen's Quest had a frantic, back and forth Goddesses bout. However, it lacked a hook. Coming in, I assumed Utami's recent return from injury would be central to the story, but it was Momo who took the majority of the heat section. Then you had Miyagi on the outside, and while she did get a little bit involved, it was never enough for you to feel like QQ had to overcome it. In many ways, this was what you might have expected the Artists' showdown to be.
And that's not necessarily a criticism. You had four stunning wrestlers in the ring, and they put on a fantastic performance. Tora was particularly brilliant, playing the bruiser role to perfection. There was a moment when I was sure she'd won, despite knowing the result coming in. A trio of Splashes (where in-between the second and third one Hazuki hit a Brainbuster) followed by her Spinning Side Slam and a Leg Drop seemed destined to have a pinfall somewhere in there, but Momo weakly kicked out each time, defiantly fighting on. Both women deserve credit not only for setting up the near falls, but also not making it seem ridiculous when they weren't the finish.
Utami, meanwhile, was kept out of the action for long periods but impressed when she did slide in before murdering Hazuki with a German in the closing stretch. Speaking of Hazuki, well, we know what to expect from her at this point. She's brilliant, and even a couple of sloppy moments (there was a Rana that became more of a Body Scissors Takedown) didn't detract from her overall performance.
So yea, this wasn't a bad match, but to get to that next level, it needed a hook, and I don't think it found it. While Oedo Tai and Queen's Quest had a fun back and forth, there was nothing about it that means I'll remember it when we hit the end of the month.
Verdict: Three And Three Quarter Stars
After the match, Hana came out to challenge 'plain girl and injured girl'. It seemed like it was her and Bobbi staking their claim, but apparently, Jungle wasn't too impressed with that. She came out before Momo and Utami could answer and was followed by Konami who wanted in on the action too. Thankfully, this didn't lead to TCS falling out (my heart couldn't have taken that), but Jungle providing the sensible solution that Bobbi and Hana challenge first before Jungle and Konami take on the winners. Momo (rather graciously) decided she was alright with that.
Arisa Hoshiki defeated Tam Nakano to retain the Wonder of Stardom Title
Tam Nakano hates Arisa Hoshiki. In Tam's mind, Hoshiki is the one who stands between her and Mayu Iwatani. It doesn't matter that the champ always has a smile on her face and is seemingly beloved by everyone. If anything, that's the problem. Mayu shouldn't like her, Mayu should like Tam. Arisa can try all she wants to be Nakano's friend, it isn't happening.
And that conflict was played out right from the beginning. Early on, Hoshiki connected with a kick, causing Tam to crumple to the floor. Rather than pushing forward, though, Arisa stepped back. She allowed her stablemate to recover in the spirit of fair play. Nakano would not make the same mistake. When she gained an advantage, she grabbed it with two hands, driving forward and attacking Hoshiki's leg. It's easy to forget that the lass who wanders down to the ring with P-chan can be a cold badass when the time calls for it.
Except, in some ways, that might have been the mistake. For as Tam brought the fight to Hoshiki, we saw another side of the Red Belt holder. As she and Nakano battled on the top turnbuckle, Arisa connected with a thundering headbutt, turning to the brutal in her attempt to take her opponent out. She is one of the best, if not the best, strikers in wrestling right now, but even by her standards, she was laying into her blows, unleashing the months of tension that have been built up by Tam's anger.
And it led to a fucking war. There were numerous vicious Suplexes, some ferocious elbows and enough stiff kicks that I'm going to have a headache for a week so who knows how they feel. It was a stunning display of wrestling as both women dragged their bodies up time after time to throw something else at the other in a desperate attempt to prove who the better person was. However, it had to end, Hoshiki's kicks were just too much. Tam could get up no more.
After the bell, with tears flowing, Hoshiki reached out to Nakano, and Tam pulled her in, saying something to her and pressing their foreheads together. Eventually, they even shook hands with the caveat that Tam made it very clear that while that's 1-0, it's not the end. These two will wrestle again, but after all those months of tension built to this moment, you got the impression that for the first time Tam Nakano and Arisa Hoshiki were on the same page. Let's hope that in the future they can get there without kicking each other in the head. Then again, with how good this was, I'd be cool with that too – what a match.
Verdict: Four And A Half Stars
In her post-match promo, Hoshiki moved onto setting up her next defence calling out the one person on the roster who dislikes her more than Tam, Hazuki. It looks like that will be happening in Osaka next month, and it has the potential to be fucking fantastic.
Overall Show
Stardom delivered another standout Korakuen show with a main-event that will live long in the memory. I wouldn't skip any of it, but the last three matches are must-sees as some of the best wrestlers in the company brought it. Now, onto the next one!
Watch Stardom: http://www.stardom-world.com/
If you enjoyed this review, please consider contributing to my Ko-fi, even the smallest amount is appreciated.