Hiroshi Tanahashi vs Kazuchika Okada. It's the feud on which modern day New Japan was built. After The Ace dragged them out of the muck, The Rainmaker came along to challenge for his crown. Since then they've gone back and forth, battling for top spot as the company grew around them. Thirteen singles matches define their feud with nearly every single one held up as a classic. Sounds like fun, eh?
Match One: Hiroshi Tanahashi vs Kazuchika Okada at NJPW Circuit (31/1/10)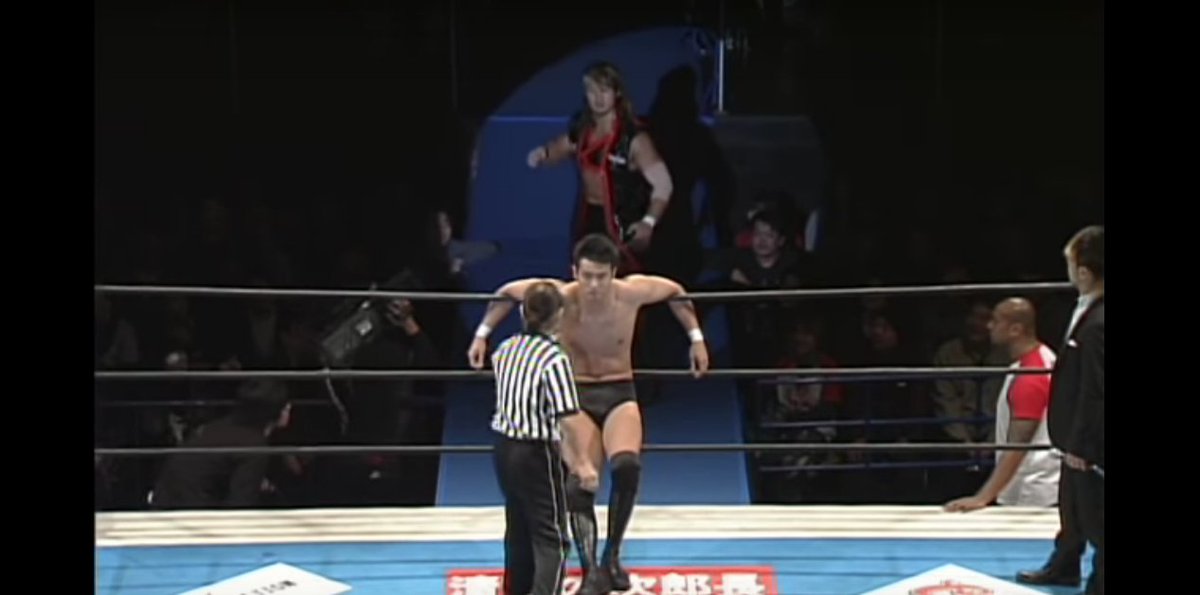 Who is that bright young thing dressed all in black? Why, it's Kazuchika Okada in what was his final New Japan match before he'd head to TNA for the run that killed that partnership. On the other side of the ring, Hiroshi Tanahashi, a man who had already picked up four IWGP Heavyweight Titles and was coming off beating NOAH's Go Shiozaki at the Dome in a match billed as Ace vs Ace. Weirdly, he'd also recently kicked off a feud with Toru Yano, a sentence that will baffle many a modern fan.
Truthfully, if you were to skip one of Okada and Tanahashi's singles matches, this is the one (particularly as it is not on NJPWWorld). The Young Lion vs the veteran is a New Japan staple, and they follow that formula to a tee making it an enjoyable if unremarkable spectacle. Tanahashi controls most of the action, schooling Okada on the mat and attacking his leg. Little Kazu refuses to go down without a fight, though. He's bursting with youthful fire, geeing himself up to take the battle to The Ace and prove himself worthy. With his Young Lion classmates at ringside (the sight of Taichi cheering on Okada gets a giggle) he will lose, but not without a fight.
What makes it interesting is that with the benefit of hindsight, you can almost see the kernels of what this feud will become. Okada and Tana have natural chemistry, bouncing off each other from the first bell. In fact, they're nailing it before that as Okada stands leaning on the ropes during Tanahashi's entrance, his back disrespectfully turned to the veteran. When he delivers his final flurry of slaps before being crushed with the High Fly Flow, you can convince yourself that if you'd watched this back in 2010, you'd have known what was to come.
Verdict: Three And A Half Stars
Okada's time in TNA was a disaster, so we don't have to go into that. While there, he did turn up in New Japan occasionally, most notably when he teamed with Hirooki Goto at Wrestle Kingdom V to take on NOAH representatives Takashi Sugiura and Yoshihiro Takayama. However, his real return was to be at Wrestle Kingdom VI when, just under two years after his farewell match, he faced his former Young Lion pal YOSHI-HASHI… and stunk the place out. Trust me, it was not a glorious homecoming as Okada won with what is still the worst Rainmaker ever committed to tape.
As Okada struggled both abroad and at home, Hiroshi Tanahashi's majesty only continued to grow. In the main event of that same show, he defeated Minoru Suzuki in a match which marked his 11th defence of the IWGP Heavyweight Title and broke Yuji Nagata's record. Tanahashi was on top of the world when Okada appeared in the ring to make his challenge and cause the Tokyo Dome to piss themselves laughing.
Which might sound like an exaggeration, but it's not far off. While The Dome didn't openly laugh at Okada, they did boo him. It was a dud moment, and even as someone who doesn't speak Japanese (it was long before New Japan bothered with subtitles), it's obvious that neither Tanahashi or the fans saw this young upstart as a worthy challenger. If Tomoyuki Oka was to return at this year's Wrestle Kingdom to challenge the winner of the main event he'd probably get a better reaction.
Match Two: Hiroshi Tanahashi (C) vs Kazuchika Okada for the IWGP Heavyweight Title at The New Beginning (12/2/12)
And yet, just over a month later Okada arrogantly strutted to the ring, and in that moment you understood what New Japan saw in him. At Wrestle Kingdom VI he looked awkward and unsure. At New Beginning, he looked like The Rainmaker. In the month between the Dome and this match he's found his feet, joining Shinsuke Nakamura's CHAOS and appointing Gedo to stand at his side. In contrast, The Ace looked like a man having fun. Sure, he got pinned in a random tag in the build-up, but this was the main event. Tanahashi didn't lose main events to people like Okada.
Or did he? As the action went on, it became apparent this was no wide-eyed rookie across the ring from him. The champ focused his attack on the leg of the youngster, hitting those famous Dragon Screw Leg Whips to set-up the Cloverleaf. Okada responded by going after Tanahashi's neck. He'd tried for a Tombstone early on and had it blocked, but the second attempt was successful, spiking Tana's head into the ring. The third would prove even more lethal, as after sidestepping a Rollin Senton from the apron he dropped Tanahashi head first on the floor. No-one was laughing now.
You all know how it ended. WWE love to talk about moments, but few they've created have the legendary status of this one. Thirty-nine days after shitting the bed at the Dome against YOSHI-FUCKING-HASHI, Okada pinned Tanahashi with a Rainmaker after blocking the double High Fly Flow. What was incredible was the decisive nature of it. After getting those knees up, he was never in trouble, running through his offence with ease. One thundering Lariat was all it took for the legendary title reign to die.
Okada and Tanahashi's first match is not their best, and I don't think anyone claims it as such. However, it set the framework for what was to come. Okada came in and caught Tanahashi off-guard, beating him fair and square in the middle of the ring and proving himself the better man on that day. Now it was up to The Ace to prove he was the better man overall.
Verdict: Four Stars
After he defeated Tanahashi, Okada was challenged by Naito and, in what was to become a recurring theme, beat him. Meanwhile, Tana entered the New Japan Cup, getting to the final where he lost to Hirooki Goto. That set Goto up with Okada who established another theme by beating him too.
At that point, Tanahashi must have decided the time for his rematch was now, and he set out his challenge. It marked a shift in status, as it was now Okada's turn to stand in the ring as the arrogant champion while a focused and humbled Tanahashi asked for his chance.
Match Three: Kazuchika Okada (C) vs Hiroshi Tanahashi for the IWGP Heavyweight Title at Dominion (16/6/12)
At New Beginning, everyone expected Tanahashi to retain, but at Dominion, Okada was no-longer the unproven rookie. He came in as champion, and the fans wanted their beloved Ace to put him back in his box.
To do so, Tanahashi returned to the tactic he'd used twice before, attacking the legs of Okada. The difference was that someone had now done half the work for him. Not only had Okada ate a bunch of Dragon Screws at New Beginning, but Naito had followed The Ace's lead and continued his work. The Rainmaker's knee had a big old target plastered on it, and Tanahashi was aiming true.
Tanahashi wasn't the only one who could repeat himself, though. Okada followed along, and continued his attack from New Beginning by focusing again on the neck. As you watch him did so, it is hard not to marvel at the ease in which he had slid into his role. It had been five month since the YOSHI-HASHI disaster and Okada already looked at home in the main event of Dominion.
Yet, for all that maturity, he still made a mistake. In the midst of an incredible closing stretch, Okada raises his knees to block a High Fly Flow. In the first match, he had rolled away, but this time he couldn't. He was forced to counter instead, and in doing so, he took the weight of Tanahashi on his aching legs. The injury prevented him from hitting a Tombstone and allowed Tanahashi to reverse into one of his own. That would prove the decisive moment as The Ace crashed down with High Fly Flow shortly after and regained his crown.
What a fucking match. While the first is good and the second great, this one is a level above. Tanahashi and Okada found their magic and, whisper it now, but it's a magic that's going to take them a long way. The Ace had his title back, and we're still only getting started.
Verdict: Four And Three Quarter Stars
It would be six months before Okada and Tanahashi met again. After this match, The Ace defended against first Togi Makabe and then Masato Tanaka. He'd then narrowly miss out on a place in the G1 Final (losing to Karl Anderson on the final day) before retaining his title against Marufuji, Suzuki and, em, Yujiro Takahashi? That left him as champion heading into Wrestle Kingdom (although there was a World Tag League with Captain New Japan before we got there, but let's not get into that) where guess-who was waiting.
For as Tanahashi was picking up wins against a smorgasbord of wrestling talent, Okada was recovering from his first title defeat. In the G1, he finished ahead of his faction leader Shinsuke Nakamura, earning himself a spot in the final against Karl Anderson. He was victorious in that match, becoming the youngest G1 Climax winner of all-time before declaring his intention to challenge the IWGP Champion at the Dome (a tradition that continues to this day). Before he got there, he was asked to defend his right to do so, beating Anderson and Hirooki Goto (again) to set-up round four.
Match Four: Hiroshi Tanahashi (C) vs Kazuchika Okada for the IWGP Heavyweight Title at Wrestle Kingdom VII
At Wrestle Kingdom VII, Okada and Tanahashi came down to the ramp in a big fuck-off elevator. At that moment, Okada killed off any remanent of the previous year's YOSHI-HASHI based disaster. Swathed in his magnificent Rainmaker cloak (I want one) he stood tall, glaring out over the crowd with the air of a man who owned everything in front of him. No-one would have dared to question this Okada's right to challenge for the title.
For their fourth meeting, there was a feeling of familiarity around proceedings. Okada and Tanahashi already knew each other inside out, so they were happy to start slow, waiting for an opening. It was Okada who found it, using something new (in the context of this feud) to set-up something old. A Hangman DDT out of the corner began his work on Tanahashi's neck, and away they went.
You'll never guess what Tanahashi did in return? Yup, he went right to that leg, working over the knee before hitting the High Fly Flow to the floor. In many ways, they were giving the fans the greatest hits of their year-long feud. Every spot seemed to be rooted in their history as they delivered a reminder of what they could do while laying the foundations for their latest encounter.
Their genius, though, comes from how they then built on those foundations. Like a band playing three fan favourites in a row so they can drop an obscure b-side for the hardcore, Tanahashi and Okada were building to something new. Yes, this was another match worked around the knee and neck, but it was also a match worked around how these men have grown. The real question here was who had learnt the most from their previous mistakes.
And the answer was The Ace. Both Okada and Tanahashi's biggest fault is their arrogance. When they are on top, they are prone to forgetting that anyone can touch them. Sometimes an air of invincibility is a blessing, but New Beginning had shown it could be a curse too, and Tanahashi knew that now. While Okada spent the year stepping forward into his role as The Rainmaker, Tanahashi had stepped back into his position as the fan's hero. He wrestled this match without a shred of arrogance, fighting with an Ace's heart and spirit. When Okada kicked out of the High Fly Flow, there was no bruising of his ego. Instead, he got on with it, continuing without a second's hesitation.
It built to a closing stretch that was, once again, fantastic. Unlike at Dominion, Okada managed to hit the Tombstone, but that was no longer enough to turn the tide. Tanahashi ducked the Rainmaker that followed before battling out of the second attempt and using Okada's favoured Tombstone against him. A High Fly Flow to a standing Kazu followed by one as he lay flat on his back saw The Ace retain and confirmed that the bastards had done it again.
The first Tanahashi vs Okada match at Wrestle Kingdom is an extraordinary match packed with everything you could want from your wrestling. A feud that had initially looked to be Okada's story had twisted round and ended with Tanahashi. The Ace had learned to control his arrogance and go back to who he was, and in doing so, he saw off the young pretender.
Verdict: Four And Three Quarter Stars
Weirdly, the rumours around Wrestle Kingdom suggested that Okada was heading to WWE (a theory that wasn't helped by him losing the match). How different would New Japan be if that had come to pass? Thankfully, he was going nowhere and Okada spent the first part of the year battling Suzuki-gun before going onto win the New Japan Cup, once again defeating Goto on his way to victory. Poor Hirooki. It was also in this period that he introduced his submission move, Red Ink, which was supposed to work as a secondary finisher. It has proved slightly more successful than YOSHI-HASHI's Butterfly Lock, so it's got that going for it.
As Okada learnt new tricks, Tanahashi had a fairly standard start to the year defeating Karl Anderson at New Beginning before having the semi-traditional Heavyweight champion vs Junior champion match with Prince Devitt at the Anniversary Show. All things said, there wasn't much in the way of excitement as we built to match five. By this time, Okada vs Tanahashi sold itself.
Match Five: Hiroshi Tanahashi (C) vs Kazuchika Okada for the IWGP Heavyweight Title at Invasion Attack (7/4/13)
You'd have been forgiven at the time for thinking that Wrestle Kingdom was the end of Tanahashi vs Okada. In some ways, it was. The first act of their epic war was done, and The Ace had vanquished the cocky young challenger by proving that while Okada could beat him on his worst day, the rest of the year still belonged to The Ace… or did it? Apparently, Okada wasn't ready to accept that conclusion, and at Invasion Attack 2013 he came back for his title.
In the opening act of this match, it's like the Dome defeat never happened. Okada picked up where he left off, going straight after Tanahashi's neck and strutting across the ring like he owned it. There was a moment where he attemped to bridge over Tana to add to a stretch, but it takes him a few attempts to pull it off, drawing laughs from the crowd. That small mistake could have thrown a lesser man off his stride, but when he finally managed it, it was with a cheeky grin on his face, before giving a thumbs-up to the camera. It's the work of a man entirely in control and confident in his abilities.
It was a confidence that forced Tanahashi to dig deep in response. In what has become a recurring theme, he attempted to turn the tide by taking a risk and going for the High Fly Flow to the floor. It proved to be a risk worth taking as he used it to propel his comeback. Unlike Okada, though, he wasn't continuing the attacks of old. Tanahashi transitioned from the leg to the arm, even adapting his famous Dragon Screws to do so. If Okada's arm wasn't working, that Rainmaker was going to be hard to hit.
And it's that work which changed the narrative of this match. After such a confident start, Okada started to struggle as even The Rainmaker Pose proved too much and his first attempt to lock on Red Ink was a total disaster. He was wrestling with one arm, and it opened him up to counters as Tanahashi slipped out of his Fireman Carry Neckbreaker into a Slingblade. In that moment, something kindled within The Ace, and he sensed his opportunity.
Sadly, even Tanahashi gets it wrong sometimes. With his story completed at The Dome, it started to become clear about halfway through this match that we were moving onto The Ballad of Okada. With his arm aching, Kazu turned to aggression and out of nowhere connected with a snap Rainmaker. The problem? He hit it a bit too hard, taking out his own arm in the process. That pain lead to hesitation, which in turn, gave Tanahashi time to recover, it takes more than that to kill an Ace.
From there they went into one of the greatest closing stretches of all time. Tanahashi desperately escaped the Red Ink before Okada got his knees up on a High Fly Flow. They danced between Tombstones and Rainmakers, Tanahashi looking to use that damaged arm to his advantage, but never managing to get the job done. His efforts would come shuddering to a halt when Okada spiked him on his head before removing it with a Rainmaker. The IWGP Heavyweight Title had returned to the hands of Kazuchika Okada.
In a feud widely considered one of the greatest of all time, this match is held up by many as their best. From start to finish, it is a wrestling masterclass as you could write books about the shifts in momentum and the way these two build to that fantastic climax. It's two wrestling geniuses going all out, and five bouts into their feud, they pulled off their best yet.
Verdict: Five Stars
The In-Between Three
Okada and Tanahashi's next match would be the first since Kazu was a Young Lion not to feature the IWGP Heavyweight Title. With it taking place at the G1, there wasn't much of a build-up, but I'll quickly fill you in on what happened in-between. Okada successfully defended his newly won title against Suzuki, Makabe and Prince Devitt while Tanahashi lost a number one contender match to Devitt (thanks to a still new Bullet Club) and won the CMLL Tag Titles with Jushin Liger after beating El Terrible and Tama Tonga. It's safe to say it wasn't the most interesting in-between period as I don't even have an appropriate link to put in the title. Oh well, onto the G1.
Match Six: Kazuchika Okada vs Hiroshi Tanahashi at the G1 Climax 23 (10/8/13)
Coming into this match, both Tanahashi and Okada were 1-3, an awful record for the IWGP Champion and The Ace (Okada had lost to Goto, Devitt and Makabe, Tanahashi to Devitt, Kojima and Ishii). They needed something to turn those disastrous starts around, and a battle with an old foe seemed like the perfect medicine.
Yet for all their strut and arrogance, there was a feeling in the opening minutes that these men were rattled. They took their time getting going, working through some holds with neither appearing willing to push themselves forward and onto the offensive. There was a nervousness to the way they were wrestling that we were (and are) not used to seeing from them. It's like they were as scared to lose as they were desperate to win.
It was Tanahashi who finally asserted his authority on the action, going after the arm despite his failure to get the victory at Invasion Attack with that same plan. In response, Okada reverted to type, hitting a Hangman DDT out of the corner and continuing his now well over year-long torture of Tanahashi's neck. He settled into making Tana's life hell, and you know he was enjoying himself.
From there, we did kind of get the greatest hits. Okada worked the neck and Tanahashi came back into the action with the High Fly Flow to the floor before switching his focus back to Okada's leg. After a slightly different opening, this is the first time it felt like Tanahashi and Okada were happy to settle into their formula and stick to it. Don't get me wrong, it was still outstanding wrestling, but there was a period where Okada and Tanahashi were giving us all the things we'd seen before.
Thankfully, that proved to be in service of another outstanding closing stretch. Around the twenty minute mark, that fear of defeat vanished, and both men came out swinging. The rest of the match didn't matter at that point because when Okada and Tanahashi hit the last ten minutes, they were going home strong. We got Okada's hand hovering above the mat, inches from tapping out to a Cloverleaf. Then, Tanahashi responded to a Tombstone by hitting a Rainmaker of his own followed by a Styles Clash only for Okada to get his knees up on the High Fly Flow. You could almost taste their desperation and as the clock ticked down it boiled over, Okada threw everything he had into a Rainmaker only for Tanahashi to collapse to his knees, Okada's arm whistling over his head. Intentional or not, it saved The Ace as the bell rang and a draw was declared.
Okada and Tanahashi's first G1 meeting is a great wrestling match with an outstanding finish. Truthfully, the build to that climax felt like a bit of rehash, but it's a rehash of some of the greatest wrestling of all time, and both men were in the middle of a gruelling tour a mere four months after putting on their best performance yet. You'd be a right cunt if you moaned about that.
Verdict: Four And A Half Stars
Following the G1, Okada would make a trip to DDT for a special non-title match with Kota Ibushi before defending his title against Satoshi Kojima.
Despite his weak start, Tanahashi would make it out of the block only to lose to Naito in the final. He'd then drop his CMLL Tag Titles (can't forget them) to Rey Bucanero and Tama Tonga thanks (in part) to interference from the rest of Bullet Club. That would prove the final straw (in my head, he really loved those belts) and Tana would put Devitt and his gang of jocks in the rear mirror by defeating him in a Lumberjack Deathmatch. Elated from that success, he challenged Okada once more, setting a date for King Of Pro Wrestling.
Match Seven: Kazuchika Okada (C) vs Hiroshi Tanahashi for the IWGP Heavyweight Title at King Of Pro Wrestling (14/10/13)
After the nervy start to their G1 encounter, King Of Pro-Wrestling could not have been more different. Tanahashi charged across the ring, missing a Dropkick and initiating a frantic few seconds. It almost appeared like he'd caught both of them off-guard, as they skidded to a stop when Okada scrambled free from an attempted Cloverleaf. After going face to face they seemed to come to an agreement, backing up and starting again.
And then, the whole match changed. Tanahashi was perched on the top rope and, as he'd done many times before, Okada tried to Dropkick him to the floor. Tana knew that trick by now and kicked Okada away before leaping over him. Except, when he came down, he jarred his knee, badly. Or so Okada thought. After a few seconds grace, Kazu moved in, scenting blood as Red Shoes checked on The Ace. It was to be Okada whose trousers were pulled down, though, as Tana rolled him up before springing to his feet and hitting a Dropkick to the knee in response. While it took the fans a second to realise what he'd done, Tanahashi's gleeful air guitar while stretching out that leg helped it settle in, and boos rang around Ryogoku. Tana might have been their hero, but on this day, he was willing to do anything to win.
And here's a secret for you, as much as I adore fighting hero Tanahashi, my favourite Tana is the prick heel version. He was fantastic here, all preening arrogance and aggression. Tanahashi wrestled not like an Ace, but like a man with nothing to lose. He was relentless, stomping, beating and even headbutting Okada's arm in an attempt to regain the title he believed belonged to him.
It also gave us Okada as a sparkly-eyed babyface for the first time. There was no arrogance left in him as Tanahashi ripped on his arm, leaving him screaming. In an attempt to turn the tide, he did what he always does, and attacked Tanahashi's neck. Still, he needed something, and that lead to him again hitting a Rainmaker out of nowhere only for the pain it caused to his arm making it impossible for him to take advantage.
It won't surprise anyone to know the final act was incredible. You can almost smell Tanahashi's desperation as he sensed Okada was coming back into the action. He hit one High Fly Flow, only for The Rainmaker to roll to the outside. That's not the way to escape Tana, and he followed him from the top with the same move. His risk-taking was almost his downfall, though, as Okada acted on instinct when Tanahashi pulled him to his feet, dropping him on his head with a Tombstone on the outside for the first time since New Beginning.
That was the move which finally evened the playing field. Okada's arm and Tanahashi's neck were both fucked as they once again found themselves swinging for the fences. Tanahashi hit a Rainmaker, getting a fantastic near fall before following up with a Styles Clash and a High Fly Flow. Somehow, though, Okada got his knees up on the second. He's the rare human being with an instinct for these things. The Kazu Tingles tell him exactly when he has to raise those knees, and they are rarely wrong. A battle over the Tombstone ended with Okada successful, and while Tanahashi ducked the first two Rainmaker attempts, the third shuddered home.
Wow, I had never seen this match before, and I think it might be my favourite of the feud so far. From Tanahashi heeling it up to Okada's incredible battle from underneath, it is a near perfect showing. How do they keep getting better?
Verdict: Five Stars
Following his defeat to Okada, Tanahashi vowed to never challenge for the IWGP Heavyweight Title again. Instead, he went after Shinsuke Nakamura and the IWGP Intercontinental Title. It was a move with far-reaching consequences as the popularity of those men saw them main event Wrestle Kingdom 8 over Okada vs Naito, a decision that slightly pissed off the then Stardust Genius and sent him off to Mexico to figure out what to do next.
In many ways, the next year was the best bit of booking New Japan did with Tanahashi and Okada. After facing each other six times in just under two years, they didn't have a single one on one encounter for nearly fourteen months. In that time, Okada would defend against Naito and Goto, beating both (again) before losing his title to AJ Styles. He'd then go on to win the G1, before beating Karl Anderson and Naito (again) in briefcase defences.
Tanahashi, meanwhile, kept to his vow for a while. He defeated Nakamura at the Dome, winning the IC Title before defending it against Nakamura once and then losing it in their third match after Shinsuke won the New Japan Cup. That would inspire him to start a tag team with Togi Makabe to chase the Titles for a while before he finally announced his intention to re-enter the IWGP Heavyweight Title picture. At King Of Pro Wrestling, a year on from his defeat to Okada, he defeated AJ Styles and regained his belt a record-breaking seventh time.
Suddenly, The Ace had the Heavyweight gold and Okada the G1 Briefcase. They were headed back to Wrestle Kingdom and with it the chance for Captain Kazu to heal an old wound.
Match Eight: Hiroshi Tanahashi vs Kazuchika Okada for the IWGP Heavyweight Title at Wrestle Kingdom 9 (4/1/15)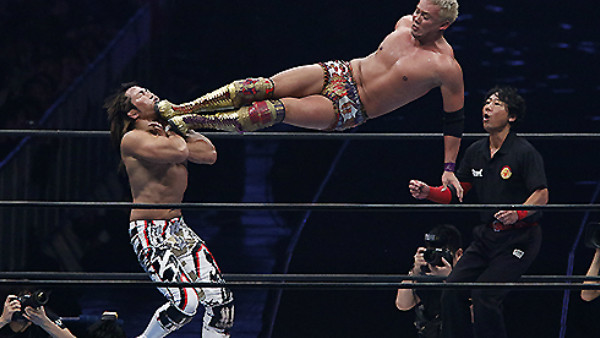 Coming into Wrestle Kingdom 9, the story felt like it was set in stone. It was Okada vs Tanahashi VIII (VII if we don't count the Young Lion match) and they were back at the Dome. Everyone thought that this was The Ace's last stand and that he would lose the title on January 4th to firmly establish his old rival as his successor. As Naito fans will tell you, things are rarely that simple in New Japan.
And while all of Tana and Okada's matches are physical, this felt like a step-up from the past. They did a lot more standing and trading blows while Okada pulled out the Shotgun Dropkick into the corner for the first time. There was a feeling that both men knew they would have to go big to win and didn't have a problem doing so. As Tanahashi headbutted Okada off the top rope in an attempt to set up the High Fly Flow, you bought that they wanted to hurt each other.
It also pushed them to up the stakes. Tanahashi not only hit his High Fly Flow to the floor, but he did it to Okada while he was standing on the other side of the barricade, flying through the air like the glorious eagle he is. At that point, it felt like when not if, Okada was already barely able to stand after Tanahashi worked over his leg and when Kazu threw all his energy into rolling through a High Fly Flow, only to have Tana fight out of the Tombstone and hit one of his own, you wondered if that was it. When The Ace hit a pair of HFFs straight after, one to the back and one to the front, you were ready to slap your star rating on this and go home.
Except, Okada kicked out. He kicked out of the double, and at that moment, if I'd been watching live, I would have put everything I owned on Okada winning this match. People kick out of one High Fly Flow all the time, but no-one kicks out of two. It felt like the icing on the cake of Okada's inevitable victory.
Seconds later he ducked a Tanahashi's Rainmaker and connected with one of his own only for The Ace to return the favour and kick out at two. These men had battled back and forth so many times, but neither had survived such clean connections on the other's finisher and, at that moment, it was clear that this match was going to the next level.
It all brought us, once again, to an incredible closing stretch. You had Tanahashi slapping Okada so hard across the face that I felt it over four years later followed by both men hitting picture perfect Suplexes, dropping their opponent on his neck. Then, somehow, even half an hour deep into one of the toughest matches of his career, Okada got up for that perfect Dropkick, how does he do it?
Tanahashi escaped the next Rainmaker and dragged Okada's leg to the rope hitting a Dragon Screw across it. Then, with Okada's leg still trapped, he hit a High Fly Flow, followed by another Dragon Screw, followed by a High Fly Flow to a sitting Okada and finally one while he was lying on his back. He unleashed both barrels and all that money I would have bet fluttered away like Okada Dollars in the wind.
Guess what? This was a fucking awesome match. I don't even know how to rate it at this point. I think it's slightly below the previous two? But not by much. These two were wrestling at a level that defied star ratings, and I'm not quite sure if it's possible to rate them next to normal people. They're really good, let's leave it there for now.
Verdict: Four And Three Quarter Stars
The In-Between Four
Dome to Dome. That's how long there was between match eight and match nine in the Okada vs Tanahashi saga. A lot can happen in a year, so we'll stick to the main points.
For Tanahashi, his Dome success was short-lived. He lost the title back to AJ Styles at New Beginning before being eliminated from the New Japan Cup by Toru Yano, reigniting that feud. Once he was done with that, he'd win the G1, defeating Shinsuke Nakamura in the final before defending his title shot against Bad Luck Fale and Tetsuya Naito.
Okada, meanwhile, was carried out of the Tokyo Dome in tears, broken by once again failing to beat his forever rival on the biggest stage. He followed that up by eating several pin falls to Bad Luck Fale, including a defeat in the New Japan Cup. It wouldn't be until April that he shook off his malaise, beating Fale and attacking Styles to set him up as the IWGP Title challenger for Dominion. There, he'd regain his belt and (after a strong G1) defend it against AJ at King Of Pro Wrestling. He then received the honour of facing Tenyru in his final match, something that is worth watching to see Okada carry the ageing legend through the action. (I can't for the life of me find it on New Japan World? Have they taken it down for some reason?) He was on fire, and there was only one hurdle left to leap.
Match Nine: Kazuchika Okada (C) vs Hiroshi Tanahashi for the IWGP Heavyweight Title at Wrestle Kingdom 10 (4/1/16)
Here's a (not at all) interesting fact for you, Wrestle Kingdom 10 was the first New Japan show that I watched. Yet, I have little to no memory of this match. I was there for AJ Styles, so while I remember being incredibly impressed by the wrestling, it was brilliance without context. I had no emotional connection to what was happening. Things have a habit of changing, don't they?
Now, it's impossible to view it without considering the history that rested on its shoulders. It's Okada vs Tanahashi IX and their seventh fight for the title. Overall, their record was 4-3-1 to Tanahashi, but with the belt on the line, it was 3-3. Okada came in knowing that he had to win and that if he couldn't beat Tanahashi at the Dome in 2016, he would never beat him there. He might have been champion, but all of the pressure was on the Rainmaker's shoulders.
All of which raises the question, has there ever been a match with a better build than this? The Japanese fans had seen Okada vs Tanahashi a lot, yet as they stood face to face, the atmosphere in that baseball stadium was electric. New Japan had told the perfect story which meant that they didn't care how often they'd watched it, they wanted more. Christ, I've sat down to all these matches in the space of a few days, and I'm still loving it, so who can blame them?
Of course, it helped that they had two of the greatest in-ring workers of all time. At the previous year's show, Tanahashi had beaten the young pretender, and at the start of this match, he was all set to do so again. He attacked the leg, looking to again leave Okada clutching at his knee and unable to walk.
That forced Okada to push himself from the start. For the first time, we saw him leap over the barrier (which feels like a reference to Tanahashi's High Fly Flow of a similar nature from the previous year), but he wasn't content to wait in the ring for a count out. For one thing, he knew Tanahashi would make it back, so why not continue the attack? He went to get The Ace, starting his work on the neck of Tanahashi in the ring.
What became clear as the action went on, though, was that neither of those plans was working. Yes, Tana damaged Okada's leg, even hitting a Dragon Screw through the turnbuckle, and yes, Okada fucked up Tana's neck. However, what body part was hurting was irrelevant by this point in the feud. Neither Tanahashi or Okada were going to give up just because they're leg or neck was sore. To win this match, you were going to have to fight through more pain than you had ever faced, and dish out twice that at the same time. It was no longer about tactics and body parts, it was about heart and soul.
It was a set-up that lead to another breathtaking finish. Okada hit a Rainmaker, clean in the centre of the ring and even raised his arm in celebration as the ref made his count yet Tanahashi kicked out at 2.99. He then climbed to the top and hit his own High Fly Flow, only for Tana to kick out again before returning the favour with a Rainmaker. As these two stole each other's finishers, it was not just the fans going insane, but the Japanese commentators too, they were screaming with joy at what was happening in front of their eyes.
The final minutes were desperation personified as both men threw everything they have at each other. Tanahashi hit a pair of High Fly Flows, but it was Okada's turn to kick out, and when he went up for the third The Rainmaker was ready. He came down into a Kazu Dropkick as the Tokyo Dome exploded. They could sense it, Okada's time was here, and while Tanahashi refused to die, slapping a Rainmaker away, Okada held onto his wrist. Two in a row connected before he picked Tanahashi up for the third. Kazuchika Okada finally beat Hiroshi Tanahashi at the Dome, and an era came to an end. He had proven himself an Ace.
What can be said? I am past hyperbole and into whatever you call that. Okada vs Tanahashi is wrestling perfection, and this was incredible. Imagine not thinking this is the greatest feud of all time?
Verdict: Five Stars
The In-Between Five
Okada would follow his victory at The Dome by beating Goto (again) before losing his title to Naito at Invasion Attack (wow!) thanks to interference from Sanada. As we all know, Naito's time at the top was short, and after beating Sanada, Okada regained his gold at Dominion ending Naito's title reign before it had really begun. It meant he went into the 2016 G1 as champion where a familiar name was awaiting in his block.
As Okada did that, Tanahashi was feuding with The Elite, losing to Kenny Omega in a match for the Intercontinental Title and trading the NEVER Six Man Titles (of all things) with him and The Bucks. He was set to challenge Omega for the IC belt in a ladder match at Dominion, but a shoulder injury meant he had to pull out leaving the G1 as the next big date on his calender.
Match Ten: Kazuchika Okada vs Hiroshi Tanahashi in the G1 Climax 26 (12/8/16)
Okada and Tanahashi in the 26th G1 Climax feels like a slight anomaly in the context of their feud. Every other match they'd had was building to something, but at this point, the war was over. Okada had won and Tanahashi getting a draw didn't build to the next, in fact, this was to be their last face-off for nearly two years. If I was to guess, New Japan must have have seen it as an easy way to sell tickets. They no longer needed to protect the match, so why not give it away in an attempt to get people into Ryogoku?
Anyway, onto the match. Coming into Okada vs Tanahashi X, the winner was guaranteed a spot in the final, while in the 'unlikely' situation that they drew, Goto would be heading there. That brought a pace to the opening minutes that we're not used to from these two. Tanahashi slapped Okada after a break and Kazu unleashed on him in return, just minutes into the action he was striking the Rainmaker pose only for Tana to reverse into a cradle and steal a near fall of his own. It might be an anomaly, but they still ripped up their formula to do something new.
Well, partly something new. After that frantic start, the match did settle down, and Tanahashi moved onto old reliable, going after the legs of Okada. He was the one leading the action, perhaps desperate to prove he could still hang with his old foe. A Dragon Screw Leg Whip over the barricade was particularly vicious as The Ace battled for the opportunity to face the man he was wrestling.
Not to dismiss that early work, but like a lot of Tana and Okada's G1 matches, this was all about the final stretch. There was a moment where the light turned on, and from there, these two were at a level that no-one else can touch. Tanahashi's assault on the leg is central to that, setting him up for a Cloverleaf that leaves Okada scrambling to reach the ropes. Getting there was no respite, though. Tanahashi was soon leaping to the top, going for the High Fly Flow as Ryogoku cheered him on. He hit one to the back, but Okada (again) got his knees up on the second. That old instinct proving ever handy.
Tanahashi refused to let that be the end, though. He needed that win, so he went back to work, reversing a Tombstone to hit one of his own before hitting a Neckbreaker version of the Slingblade and pulling himself onto the ropes. That time Okada reversed with a Dropkick before going for The Rainmaker, as these two entered a dance that is impossible to capture in words. There were callbacks to nine matches worth of wrestling as Tanahashi came out on top once again, going for High Fly Flow connecting and climbing up to come crashing down with the second. He was too slow, though, as Red Shoes raised his arm for three, the bell rang. Not that it mattered, because as the bell rang, Okada kicked out. The bastard refused to give Tanahashi even that.
Two-thirds of this match is great but is a lesser Tanahashi vs Okada. The final third is up with their best. It's a breathtaking final scramble that, even as someone who knew the result, had me on the edge of my seat, desperately following the action. How did they keep doing it? Fuck knows.
Verdict: Four And Three Quarter Stars
We're now entering a period of New Japan that I know very well. In fact, if you want a more in-depth exploration of it, spend some time on this website. I wrote about it all in real-time.
It also featured our longest gap between Tanahashi and Okada matches yet, as they went nineteen months without facing off. Not that either was slacking. Their draw in the G1 sent Goto to the Final where he lost to Kenny Omega setting up a rather famous encounter between him and Okada at the Dome. That genius would be part of a title reign that can be put up as one of the greatest of all time. For in those nineteen months, Okada would not drop the belt, defending it eleven times, equalling Tanahashi's record and overtaking his records for the longest single title reign and longest combined reigns at the same time. In that period, he'd defeat Marufuji, Omega (twice), Suzuki, Shibata, Bad Luck Fale, Cody, EVIL, Naito (again), Sanada and Zack Sabre Jr. Then, when he was all set to break the defence record, you'll never guess who popped up.
Because Tanahashi had been busy too. The years were beginning to weigh on The Ace, and he spent some time away from the limelight, challenging for the NEVER Six-Man Titles. Thankfully, that wasn't a permanent thing, and it eventually transitioned to him and Naito passed the IC title between them before Tanahashi won it definitively, defending it against the likes of Zack Sabre Jr and Jay White. Unfortunately, that title would then bring him face to face with an angry MiSu who made sure that Tanahashi's reign ended with him screaming in pain.
That beating would leave The Ace in need of a break, but when he returned, he appeared rejuvenated, making it to the finals of the New Japan Cup only to fall to Zack Sabre Jr. That wouldn't deter him. When Okada defeated Zack, it was Tanahashi who was first through the curtain. If anyone had earned the right to defend the record for total defences, it was surely the man who had set it. Okada vs Tanahashi XI was all set.
Match Eleven: Kazuchika Okada (C) vs Hiroshi Tanahashi for the IWGP Heavyweight Title at Wrestling Dontaku (4/5/18)
By 2018 the Okada and Tanahashi story had gone through several arcs. I don't have to repeat them, do I? If you've made it this far, you've probably picked up on them.
That did a raise a question, though, what was left? Both men had had their moments, so where did they go now? Well, it turned out to was time for The Ace to rise once more. This match was almost the inverse of their first title clash. Back then, Tanahashi had just broken Yuji Nagata's record for defences while in 2018, Okada had equalled Tanahashi's record. Like Tana in 2012, The Rainmaker in 2018 had a strut to him, an arrogance that suggested no-one could beat him. The Ace was now the underdog, and he hoped history could repeat itself.
And Okada's arrogance almost gave him a patronising air in the early going of this match. Fukuoka was firmly in The Ace's corner, but Kazu didn't care. He broke an early hold in the ropes, but there was no need for him to go on the offensive, he merely patted Tanahashi on the chest and walked away. A few minutes later, he went for his first Rainmaker attempt as if he wanted this over and done with already. You can only imagine the smirk on his face if he'd beaten the people's hero within five minutes, but it wasn't to be.
From there, we hit the familiar beats. Tanahashi started to work on the leg, Okada responded with a Hangman DDT on the floor. The difference was that as they went through the first act, Okada seemed almost relaxed. He'd put Tanahashi in the rear mirror, and while the fan's refusal to accept him as their Ace the way they did Tanahashi might sting, he was still confident in his ability to get the win. He even offered up his chin to Tana, momentarily shocked by a flurry of blows, but quickly able to regain control, wrenching on his neck.
The Ace refused to die, though. When Okada struck The Rainmaker pose, he reached deep down inside, and he rose to his feet to stare him in the eye. Seconds later, he was flying from the top to the floor, connecting with the High Fly Flow, and proving that there was still fight in this old dog. Yet, as Okada bounced back and Tombstoned him on the floor, you couldn't help feeling that maybe there shouldn't be. Maybe it was better for The Ace to go quietly into that night.
You wouldn't dare tell him that, though, and the final act of this match was based around Tanahashi's defiance. He battled on valiantly, throwing everything he had at Okada as he desperately tried to prove he still had it in him. The smug look was gone from Kazu's face as he realised he was in a fight. He was forced to roll away from the first High Fly Flow, but he ate another to the back only for Tana's insistence on hitting the brace to bite him once again. As the thirty-minute call was made, Okada's knees come up, as he once again proved an almost psychic ability to know exactly when the Ace is taking flight. It was a talent he put to use once more by cutting off Tanahashi's next leap with a Dropkick out of mid-air.
The final seconds are, as usual, exquisite. Tana ducks a Rainmaker and hits one of his own only for Okada to kick out at one. Tanahashi's anger is put into a series of slaps, each harder than the last. Okada tried to hit a Rainmaker in response, but Tana breaks the wrist control with even more slaps. Then, when Kazu slumps to his knees, Tanahashi looks to take off across the ring only for Okada's hand to reach out and grasp his trousers. He drags him back in, grabs the wrist and spins him out. One Rainmaker was all it took.
I don't think this is up with the best of Tanahashi vs Okada, but the storytelling is incredible. It truly felt like The Ace's last ride. He went out and threw everything he had at Okada, but it wasn't enough. In the end, Okada was better than him. When push came to shove, The Rainmaker's star was shining brighter than The Ace's.
Verdict: Four And Three Quarter Stars
The In-Between Six
Not for long, though. After defeated The Ace and breaking the record, Okada would challenge Omega, frustrated by his inability to put him away definitively. That frustration would be well-founded as at Dominion, Omega defeated him in a two out of three falls match, ending his title reign at twelve defences. It was a defeat that would break Okada even more than his second loss to Tanahashi at the Dome. He dyed his hair red, remixed his theme and began whacking Rocky Romero with balloons. Okada would end up going into the G1 with the world unsure what was next for Captain Kazu.
Tanahashi, meanwhile, slunk into the background, working a reduced schedule and generally propping up the undercard. While Dominion saw Okada crash and burn in a match considered by many as the greatest of all time, Tanahashi wrestled alongside Jushin Liger and Rey Mysterio in a match with a Bullet Club B-team. It felt like The Ace was finally stepping into his position as a New Japan Dad.
Match Twelve: Hiroshi Tanahashi vs Kazuchika Okada at the G1 Climax 28 (10/8/18)
Coming into the final day of Block A in the 28th G1, Tanahashi was 7-1. Those who had written him off were suddenly watching wide-eyed as he found his second, third, fourth wind? Fuck knows how many it was by this point. Whatever number you put on it, Tanahashi was walking like a God again, while Okada's had dyed his hair red and had tried to replace the agony of losing his title with a smile and a joke. The rivalry that had looked over was rekindled once more in the G1.
And there were a couple of interesting tweaks to the formula for this one. Firstly, while Tanahashi stuck to his usual ploy of attacking the leg, we saw Okada ditch the neck and return the favour. Tanahashi's knee injuries had been a key part of his year, so when he slipped out of a Tombstone, Okada took advantage and went with a Dragon Screw Leg Whip instead. He was using The Ace's plan against him.
Outside of that, this followed quite closely to their previous G1 encounters. The wrestling was good throughout, (great even, it was these two), but they weren't re-writing the wheel. They were on course to deliver another great Okada vs Tanahashi match, but not one that would rival their best.
Then we hit that final act, and you know the story by now. However, this one was given a bit of extra spice because Tanahashi didn't need to win this match (a draw would send him to the final), but he wanted to win this match. While Okada was being open to the world about how his defeat to Omega had affected him, this was the first time that we saw how stung Tanahashi was when he lost so decisively at Dontaku. For better or worse, he and Okada are linked, and when it looked like Kazu left him behind, it hurt The Ace more than he was willing to admit.
So, as they entered that final stretch, it wasn't just Okada who was throwing everything at the match to get the win, Tanahashi was doing it too. At a time when he could have sat back, gone on the defensive and eked out the clock, it was Tana who was coming forward, battling for control of the Tombstone alongside Kazu. For the final ten minutes of this match, he was like a man possessed. At Dontaku, Tanahashi looked like someone who had all the heart but not enough of the skill, in Bodukan Hall he looked like The Ace of old.
For the final two minutes, Tanahashi was untouchable. He danced past every attempt at a Rainmaker as the crowds screamed his name, urging him onwards towards victory. As the clock counted down, he could have just stopped, there was a minute left, and if he had rolled out of the ring, it would have been over, but he refused. He slapped his way out of Okada's final Rainmaker attempt with thirty seconds left and rather than staying down he climbed to the top, crashing down on Okada's back. But no, Kazu kicked out. There were three seconds left, and still, Tanahashi pulled himself towards the ropes, desperate to climb up and prove that he could still beat Kazuchika Okada.
Okada and Tanahashi's feud has always been a two-person affair. Neither side has ever had to carry the other, and each match is a masterpiece of working together. However, this is Hiroshi Tanahashi's match. It was about The Ace proving that he was far from dead. You probably know that he was about to go on and prove that definitively.
Verdict: Five Stars
The In-Between Seven
Tanahashi would beat Kota Ibushi in the final of the G1, earning himself a title shot at Wrestle Kingdom. However, as is the norm, he would defend that spot before the big show. There was no need for Okada to make the challenge, Tanahashi wanted it. If The Ace was going to go after the title once more, he was going to beat Kazuchika Okada before he did so.
Match Thirteen: Hiroshi Tanahashi vs Kazuchika Okada for the G1 Briefcase at Destruction in Kobe (23/9/18)
We made it, the final match (until Saturday) in the Tanahashi vs Okada story took place in Kobe and was a battle for the right to main event Wrestle Kingdom. At this point, Tanahashi hadn't defeated Okada in four years, and he was desperate to prove he could still do it. In Tanahashi's heart, he was still The Ace, but he needed to beat Okada to prove it to everyone else.
After all these years, the old enemies started tentatively. Then Okada threw an elbow off a break and away they went, fighting it out in the centre of the ring. Much like the G1 match, both men focused their attack on the other's legs, looking to cut them out from under their opponent and leave them unable to walk. If you can't walk, you can't fight.
It would be Tanahashi who first faced that plight. A tope over the top rope connected, but as he came down his knee collided with the ground. As he roared in pain, Okada had time to recover and, unlike King Of Pro Wrestling, The Ace wasn't bating Okada in. It was now Okada who drew the boos of the crowd as he leapt on the injury and went to work.
If there is one thing everyone should have learned about Tanahashi by this point, though, it's that he doesn't give up. Every move was drawing a wince, but he never stopped fighting. He brought the battle to Okada, attacking his leg in return and roaring himself on. Both of these men were at a stage in their career where they were desperate. The question was which one was more desperate? Who craved that Tokyo Dome main event more?
The answer was Tanahashi. It had to be Tanahashi. Once again, the story had twisted round to him. At Dontaku, much like at New Beginning all those years before, Tanahashi hit rock bottom. Unlike New Beginning, there was no longer a guarantee that he'd make it back. There is only so much pain the human body can take. Except, that's where we all made a mistake, we forgot that Hiroshi Tanahashi is no human.
Okada destroyed his knee in this match. At one point, Tanahashi is left dangling from the Turnbuckle with his leg bent across it so horribly that Red Shoes calls the Young Lions over to help him. After that, he was forced to sit in a Figure Four, twisted around and screaming in pain. It would have been so easy for him to tap, to give up and accept that his day was gone. It would have been easy, but it wouldn't have been Tanahashi.
And in this match, Tanahashi is at peak Tana. He hit a Tombstone on the outside, and with the count approaching twenty, all he needed to do was stay in the ring and let it happen. That's not how he wanted to win, though. It wouldn't have been the redemption he craved. He stopped Red Shoes and climbed to the top before leaping to the floor, bad leg and all, to connect with the High Fly Flow. Tanahashi was going to do this properly.
They had already hit genius levels, but the final stretch is once again the thing that tips it over to that next level. All those old touches are there, the battle over the Tombstone, Tanahashi's need to hit more than one High Fly Flow and Okada's incredible ability to avoid them, but they were delivered with a desperation that matches this feud at its best. It was two broken men, desperate to fix themselves and go to the Tokyo Dome to find their redemption.
In the closing seconds, they battled on the top rope, Okada attempting to hit an Avalanche Tombstone and Tanahashi trying to survive. Then, The Ace threw everything he has into a slap, sending Okada backwards, as The Rainmaker fell to the floor, Tanahashi leapt after him, connecting with a High Fly Flow. When that hit, adrenaline powered into Tana's veins and nothing was going to stop him. Twice more he went to the top, twice more he connected. The Ace lived, The Ace lived.
Verdict: Five Stars
Overall Feud
What more needs to be said? I've watched thirteen matches and written over 10,000 words on this feud and I'm not even close to being bored of it. In fact, it's made me all the more excited to watch these two do this once more in Dallas on Saturday. It's the greatest wrestling feud of all time, and I don't care who you bring to the table, I will continue to argue that point. For thirteen matches they have kept this incredible thing fresh and exciting, always finding a new wrinkle and a new story to tell. I love them both and if you've not watched these matches before, take the time to do so, they will repay you tenfold.
Watch New Japan: https://njpwworld.com/
If you enjoyed this review, please consider contributing to my Ko-fi, even the smallest amount is appreciated.