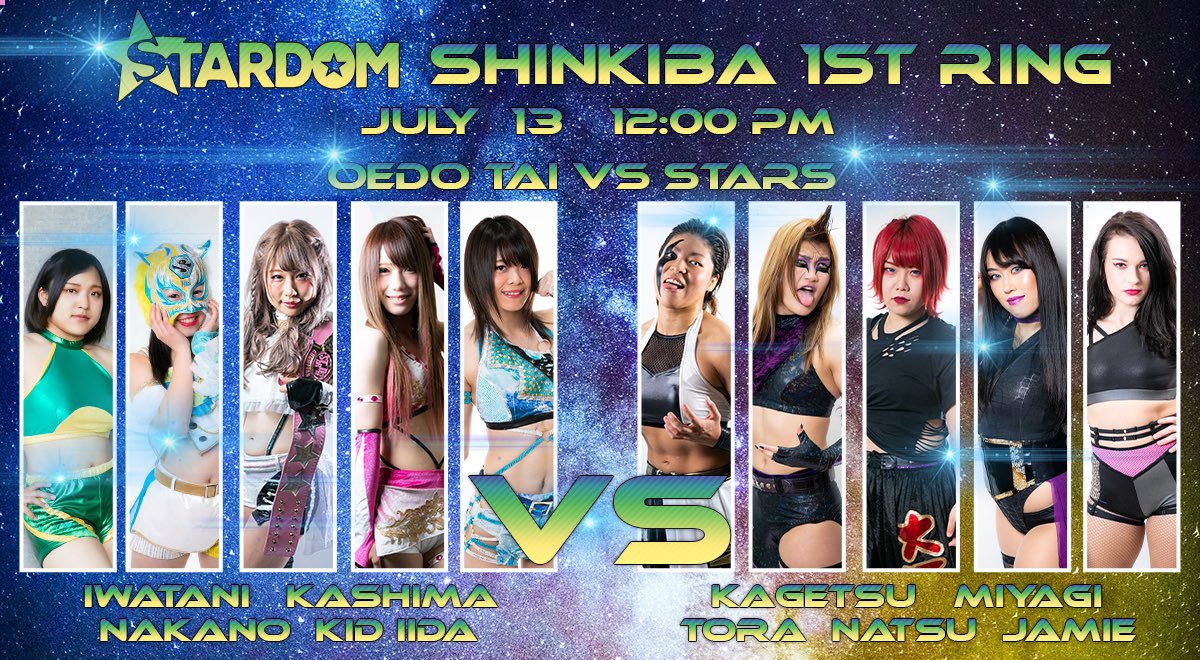 Stardom was in Shinkiba for a show that was more about setting up stories than providing conclusions to them. However, any Stardom show is a good Stardom show, so let's get into it.
Ruaka defeated Hina
She might be early in her career, but Ruaka already knows how to outpower her peers. She and Hina have a combined age of 26, so you can't expect them to go out and steal the show, but what they gave us was decent with no fuck-ups, even if the wrestling wasn't pristine. It was a fun opener from two talented kids.
Verdict: Two Stars
Jungle Kyona defeated Leo Onozaki and Bobbi Tyler in a Three Way Battle
Jungle left her sporting nature behind and declared this a handicap match in her and Bobbi's promo. She wasn't blustering either, they worked this entirely as a team.
And while that might not have produced the best wrestling, it did work from a character perspective. While the other units are usually happy to wrestle each other, TCS are a gang who have each other's backs. It also produced some fire from Onozaki, as she was forced to battle against the odds. It was a fire that Jungle stoked by drawing her into trading strikes, bringing something out of her former cub that we don't often see.
Handicap matches never produce stunning wrestling. However, this worked to push all these characters in the right direction, and while it wasn't an earth-shattering change for any of them, it did what it intended to.
Verdict: Two And A Half Stars
Arisa Hoshiki, Hazuki and Konami fought to a time-limit draw in a Three Way Battle
We're building to Hoshiki vs Hazuki as their hatred for each other shows no sign of abating. Before we got there, though, there was a Konami sized obstruction who was refusing to be the B-narrative in the larger story and controlled large parts of the action, lashing out with kick and Suplexes before twisting up her opponents. It was a fantastic performance keeping her relevant in a match that wasn't about her.
It was also the perfect time for Stardom to use their willingness to go to a draw. I've been critical of their over-reliance on them in the past (and you could still argue that if they didn't want anyone to win this match, they shouldn't have booked it) but this made all three women look incredible. It felt like a battle of the company's top stars, which considering none of them would have pegged as such at the start of the year, suggests that I am perhaps a bit too harsh on Stardom's booking.
The final seconds finally saw Hoshiki and Hazuki face-off one on one, and it even looked like Arisa was about to get the win, connecting desperately with a Brazilian Kick. Before she could make the cover, the time ran out, and Hazuki lived to fight another day.
Verdict: Three And Three Quarter Stars
Tokyo Cyber Squad (Hana Kimura, Death Yama-san and Zoe Lucas) defeated Queen's Quest (Momo Watanabe, Utami Hayashishita and AZM)
I continue to be uninspired by Zoe Lucas. In a match packed with talented wrestlers, she looked a clear step behind the rest, even as she picked up the win. There was a moment where she was exchanging forearms with Utami, and it looked more like she was trying to swat a fly away from her opponent's ear.
Still, there was a lot to enjoy. AZM was brilliant, and I love the sight of her and Death working through fast-paced, complex sequences of moves. She also seems to have introduced a couple of new tricks, including a walk up the turnbuckle into a Head Scissors thing (that's the technical name).
All things said this was another entertaining Stardom multi-women tag. There is not much to drill into, but you'll watch it and have fun.
Verdict: Three And A Quarter Stars
Oedo Tai (Kagetsu, Andras Miyagi, Natsuko Tora, Jamie Hayter and Natsu Sumire)
Jamie is back and has brought the Eve International Title with her having won it from Utami at Wrestle Queendom. It was also, according to STARS, Saya Iida's first main event, so congrats to her. She spent a lot of it getting beat up.
What is there to say? It was another STARS vs Oedo Tai show closer, it was great, but they always are. Whether it's STARS vs Oedo Tai, Queen's Quest vs STARS, Tokyo Cyber Squad vs Oedo Tai or any combination of the above, these matches deliver because Stardom has loads of fantastic wrestlers.
I never tire of them. They're like a comfort blanket that I can wrap myself up in for thirty minutes and feel happy. Whether it's Tora and Nakano beating on each other, Kid flipping around the ring or Oedo Tai taking the piss, I am having fun, and it's hard to get bored of that.
Verdict: Three And A Half Stars
After the bell, Kagetsu, Andras and Natsu faced-off with the Artist champs, teasing that match. Hayter, who got the pin, then cut a promo explaining that she's back for six months and that winning the title proves she's getting better. Finally, Kagetsu closed out the show while Natsuko and Sumire abused P-sama who they've somehow got their hands on. That's the kind of horror I do not enjoy.
Overall Show
If you're picking one match off this show make it Hazuki vs Hoshiki vs Konami as it's the one that comes closest to greatness. However, while it's certainly not a necessary watch, the whole thing is very easy to sit through, so if you're looking for some background fodder in-between G1 insanity it's pretty much perfect. Turn it on and enjoy.
Watch Stardom: http://www.stardom-world.com/
If you enjoyed this review, please consider contributing to my Ko-fi, even the smallest amount is appreciated.