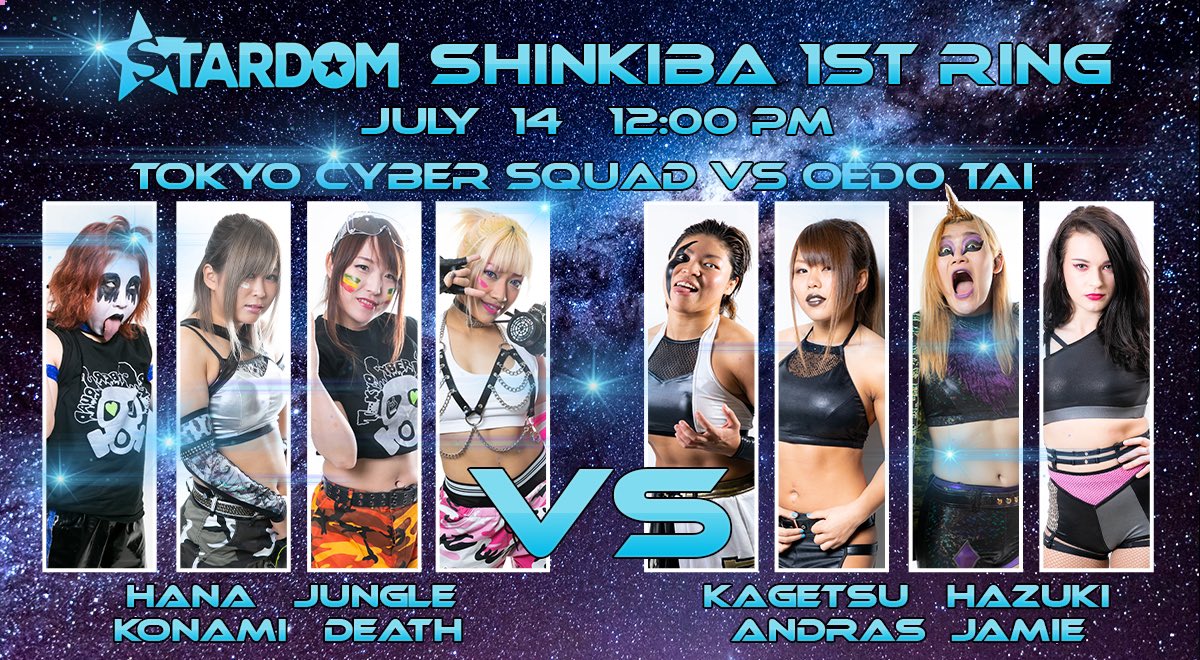 Stardom's summer run continued in Shinkiba with another solid card built around tag matches. Let's find out what fun there was to be had.
Tokyo Cyber Squad (Bobbi Tyler and Ruaka) defeated Queen's Quest (Leo Onozaki and Hina)
Bobbi Tyler kicked things off with the rookies, and for most of it, sat back and watched them do their thing before coming in and cleaning up at the end. Like most Stardom openers, this was a solid five minutes of action with the kids all getting a chance to play. Nothing they did will stick in the mind, but it's more ring time under their boots, and everyone looked solid.
Verdict: Two And A Half Stars
Zoe Lucas defeated Saya Iida
Iida was looking for revenge after Zoe Lucas betrayed STARS back at Korakuen. I was looking for Lucas to impress me after I've been underwhelmed by her performances so far.
Sadly, neither of us got what we wanted. Lucas is fine, but even in there with someone like Iida, who made her debut in January, she looked like the weaker half of the match. I felt sorry for Saya who saw her forearms no-sold before having to flop around from one weak kick from Zoe. She is young and working in Stardom will certainly help her improve as a wrestler, but this became the Saya Iida show. Even in defeat, I came out a lot more impressed with her than I did the RevPro Champion.
Verdict: Two And A Quarter Stars
STARS (Tam Nakano and Saki Kashima) defeated Oedo Tai (Natsuko Tora and Natsu Sumire)
Tam and Saki are fighting to get P-sama back from Natsu who stole him at the end of the last show. That's despite Saki being averse to going anywhere near Sumire and her constant mocking. Some times you need to put yourself in harm's way to save your friend's Panda pal. Especially with the way Oedo Tai are treating him, they are not nice people.
That element pushed this match towards comedy as Tam tried desperately to save her friend while Oedo Tai played keep away and even used him as a distraction. When you throw in Natsu's long-term tormenting of Saki, it was never going to be the most serious affair.
Still, there was some solid action in there, particularly between Tora and Nakano. They hossed it out in the middle of the ring while Natsuko seemed to have made it her mission to choke Tam at every opportunity. We also got a surprisingly fun closing stretch, the match continuing even though I thought it must be done on more than one occasion. They were given time to play with and did an impressive job of filling it.
Eventually, Saki caught Natsu in a flash pin, stealing away with the three. The real prize, however, was saved for another day as Natsu not only kept hold of P-sama but used him as a weapon. They cut brief promos after, hyping up the Artist match before Tam and Saki chased Oedo Tai to the back, desperate to save their wee friend.
Verdict: Three And A Quarter Stars
Queen's Quest (Momo Watanabe, Utami Hayashishita and AZM) defeated STARS (Arisa Hoshiki, Mayu Iwatani and Starlight Kid)
AZM and Starlight Kid should never stop wrestling each other. I'm sure I've made that point before, but I hope twenty years from now (when they'll both still only be in their thirties) matches are kicking off with those two flying across the ring at each other. Who knows if they plan on going for that long, but I sure hope so.
How good was the line-up for this match, by the way? Not a single weak link or even a proper rookie to be seen. Just four of the companies best having a tangle. That means you should be thoroughly unsurprised when I say that it was a cracking display.
The highlights included the aforementioned flurry between AZM and Kid before Momo and Arisa started kicking it out. Finally, there was a fantastic closing stretch with both teams taking it in turns to gang up on their opponent's youngest member, throwing who was going to win up in the air until the two of them sorted it out between themselves, AZM managing to trap Kid's arm and tap her out. This wasn't complicated, but it didn't need to be.
Verdict: Three And A Half Stars
Oedo Tai (Kagetsu, Andras Miyagi, Hazuki and Jamie Hayter) defeated Tokyo Cyber Squad (Hana Kimura, Jungle Kyona, Konami and Death Yama-san)
Tokyo Cyber Squad's approach to interviews is teaching me that Jungle is often late. Today she turned up holding some 'deep cleansing oil' which she's going to use on Andras apparently while Hana was sporting some silly glasses. I wish we were best friends.
Both Oedo Tai and TCS love a sneak attack and brawl on the outside, but it was Oedo Tai who struck first. Not that they kept control for long as things soon broke down and we discovered that Jungle must have been serious about the oil thing since she had brought it to ringside.
Sadly, there was no aggressive moisturising (wait, that sounds wrong), but there was some great wrestling. These teams have good chemistry, with a load of fun pairings. Andras and Jungle are putting together an intense mini-feud, beating on each other at every chance they get while Kagetsu vs Hana will always deliver. I also thought Jamie Hayter looked fantastic whenever she got in the ring, despite me needing a second to figure out who she was with her new look.
In the end, Miyagi would win this battle, an assist from the Oedo Tai board setting her up for a Tombstone on Jungle. Still, I suspect that isn't the last we'll see from those two and on this evidence, I will happily watch a lot more.
Verdict: Three And A Half Stars
Despite losing, Hana demanded an Artist Title match in Nagoya for her, Zoe and Bobbi. Kagetsu did point out how ridiculous that was, but I think Hana doing a silly dance convinced Rossy to agree? Who knows, I suspect that's some booking that shouldn't be questioned too deeply. Oedo Tai did eventually close out the show.
Overall Show
Another entertaining if thoroughly unspectacular show. There is nothing here that you need to see, but also nothing that should be avoided. Even Zoe vs Saya wasn't bad, it just won't blow your mind. Stardom trundle on, delivering good matches and building to those that will be even better.
Watch Stardom: http://www.stardom-world.com/
If you enjoyed this review, please consider contributing to my Ko-fi, even the smallest amount is appreciated.