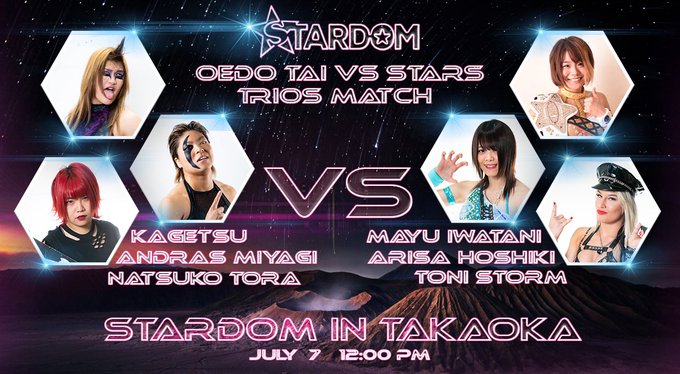 G1 madness is going to make keeping up with Stardom hard over the next few weeks, but I'm going to try goddammit. As this incredibly late review will testify, that attempt has not started great.
Konami defeated Saya Iida
Iida did some good selling in this match as Konami took her to school by working over her lower back. Unfortunately, she also nearly dropped Konami on her head as she fell to her knees while hitting a slam. It was a close-run thing.
Outside of that, the action was fine, as Konami got a comfortable win after taking the standard combination of Dropkicks and flash pins from Saya. It was exactly what you'd expect a Stardom opener to be.
Verdict: Two And A Quarter Stars
Jungle Kyona defeated Starlight Kid and Hazuki in a Three-Way-Battle
Our Jungle has gone through a bit of a revamp and described herself as 'the new Jungle Kyona'. She's got fresh entrance music and attire that fits better with her TCS persona.
Despite the new look, the early portion of the match saw Jungle take a backseat, leaving Hazuki and Kid to do their High Speed thing. The pairing seemed weirdly sloppy, as a few moves missed or didn't look quite right and it felt like they were struggling to get on the same page. That's a rarity from those two, so I reckon we can just put it down to a bad day.
Eventually, Kyona re-entered the fray and brought her power game to the party, picking up and dominating both women. It would prove too much for the smaller wrestlers and a Splash to Kid meant she followed up her tag team partner's victory with one of her own.
Verdict: Two And Three Quarter Stars
STARS (Saki Kashima and Xia Brookside) defeated Queen's Quest (Utami Hayashishita and Leo Onozaki)
We've new looks aplenty as Saki also seemed to be sporting new gear. Either that or I have not been paying attention. Maybe it was to celebrate Xia's last match of her tour.
Brookside's goodbye came in the form of a fun tag match. There wasn't anything hugely exciting or innovative about it, but from start to finish they worked a fast pace packed with enjoyable wrestling. Plus, Saki got the win, so we got to hear her banging theme tune twice. I have exactly zero complaints.
Verdict: Three Stars
Tokyo Cyber Squad (Hana Kimura, Bobbi Tyler and Zoe Lucas) defeated Queen's Quest (Momo Watanabe, Bea Priestley and AZM)
Lucas's kicked her day of badly by making the mistake of patronising AZM. That didn't end well. Zoe's character work is still annoying me. I know they say wrestling should be your personality turned up to ten, but she seems to have hit twenty and could use toning it down a bit. Bobbi, on the other hand, had one of her more impressive performances of this run. She had fun interactions with Priestley and AZM, working well with both and looking crisper than she has.
Momo and Hana took central billing in this match, though, as they have a exciting feud building up. If Watanabe is going to take the belt from Priestley (as I expect her to), Kimura would be a perfect first opponent. Although, I would quite like Hana to win it, so maybe hold off on it. Give her whichever match Watanabe is losing, please.
It all built to a frantic closing stretch that got a little bit awkward at times as people's timings were slightly off, but it was nothing major. Hana and Bobbi would then hit AZM with a Double Stalling Suplex before Kimura tapped her out with the Kamagatame. All things said, it was a very enjoyable match.
Verdict: Three And A Half Stars
STARS (Arisa Hoshiki, Mayu Iwatani and Toni Storm) defeated Oedo Tai (Kagetsu, Andras Miyagi and Natsuko Tora)
Toni is Tam-san for the day as she's finishing off her latest tour (with a hint that it might be her last tour full stop). She didn't have a panda, so she wasn't that committed to the bit.
Some adorable children gave both teams flowers before the match. STARS were very gentle with their child, Kagetsu gave Oedo Tai's a bearhug. Both responses made me smile a lot.
The cuteness didn't continue into the action as Oedo Tai charged across the ring to attack before introducing STARS to some of the ringside seating. Poor Mayu then ended up taking a bit of a beating which included a rare botch from Kagetsu when she undershot a Double Stomp as Tora had Iwatani draped over the ropes. She made up for it by having a fantastic interaction with Iwatani later on.
Honestly, I could go into more detail on this match, but it was an Oedo Tai vs STARS main event, you know it was good. They're always good. These teams have perfected putting on these wild sprint tags that feature a bit of everything and send everyone home happy. Did anything earth-shattering happen? Nope. It was, however, a lot of fun. It's just what they do.
Storm got the win, surviving Tora's Spinning Side Slam after being bonked on the head with Oedo Tai's wooden board. If that was her last match, it's a shame to see her go out with a victory rather than by putting someone over, but one suspects the pricks in America have something to do with that. Still, great match.
Verdict: Three And Three Quarter Stars
Mayu gave Toni the mic after the match where she proclaimed her love for Stardom before Arisa closed the show with the entire roster in the ring. Well, the roster that was at the show, they didn't drag people there just to stand in the ring. That would be unnecessary.
Overall Show
This was a typical Stardom house show style event that you can happily skip as the only thing of note was a couple of the foreigners finishing off their tours. It's not a bad watch (or a particularly difficult one), but nothing about it is essential.
Watch Stardom: http://www.stardom-world.com/
If you enjoyed this review, please consider contributing to my Ko-fi, even the smallest amount is appreciated.