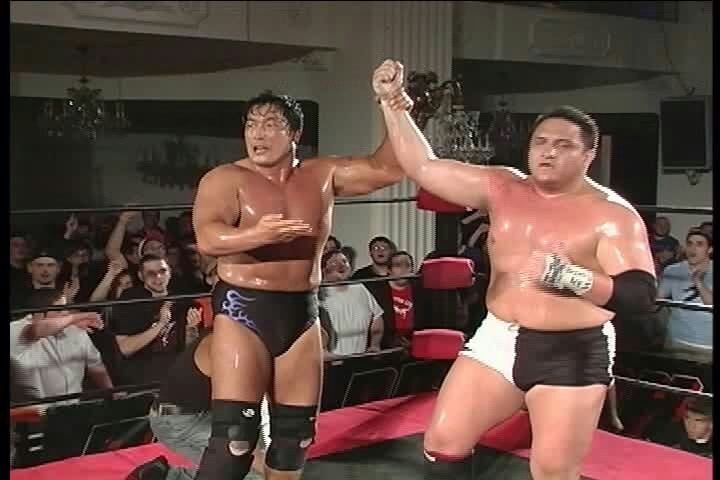 It's 2005 and Ring of Honor is the hottest independent wrestling company in America. One of the jewels in their crown is Samoa Joe, a man in the prime of his career who had spent 21 months with their title in 2003-04. Meanwhile, over in Japan, NOAH is in a similar spot, and the legendary Kenta Kobashi had just finished up a two-year-title-reign which cemented his already hefty legacy. When Kobashi signed up to do some dates with ROH, the chance to face him off with Samoa Joe must have been the easiest booking decision they ever made.
Those circumstances mean that before the match even starts, you are swept up in the feeling that this is a once in a lifetime event. ROH's crowd at that point was one of the smartest around, so they know exactly what these two facing-off means, and they are ravenous for both men. Legend says that Kenta came in expecting to be treated like an old-school foreign heel, but he gets a hero's welcome. The love for Joe and Kobashi is such that if they had stood in the centre of the ring staring each other down for twenty minutes, the fans would have hung on every second.
That means that when they start doing things, people are wetting themselves with excitement. It's not often you hear a 'this is awesome' chant during a test of strength, but Joe and Kobashi get it, the exchanging of stinging slaps beforehand raising the tension enough that one of wrestling's dullest spots seems like a massive deal. By the time Joe hits a Tope Suicida, I'm not sure it's piss that's coming out of the mainly male audience's genitals. And they're still only a handful of minutes into the action!
Joe and Kobashi never lose that crowd either. The way they build this match is masterful, from the opening minutes where they stick to strikes (Joe even throws in some Kawada kicks) to the final act where it's become a full-blown war, suplex after suplex vicious strike after vicious strike. By that point, this feels like a fight, two men who are happy to give and take, beating the shit out of each other in a battle to prove who is the best. Even the grainy ROH footage can't hide the clouds of sweat flying off their bodies as the blows come flying it. It certainly can't hide the handprint on Joe's chest as Kenta Machine Gun Chops the fuck out of him, the whip-like sound reverberating around the building.
By the time Joe kicks out of the Sleeper Suplex and unleashes a final defiant flurry of slaps I'm not sure how there is air left in the New Yorker Hotel. It's his last stand, some bone-breaking Discus Chops followed by a massive Lariat and the Japanese legend put Joe down for good. Samoa Joe had earned his respect, though, and after the bell Kenta helps him up, offering his hand and raising Samoa Joe's arm which you've got to assume meant the world to him.
Samoa Joe vs Kenta Kobashi is an awesome wrestling match in any company in the world at any time (apart from WWE, they'd ruin it). However, 2005 ROH might have been the perfect place for it. In a quiet building, this would be great, but in front of a rabid fanbase who are hanging from every move, screaming their appreciation at these two legends it is a classic, and even sitting at my desk in 2019 I got caught up in that. If you haven't seen this match, then you have a lovely evening ahead of you that will be all sorts of fun.
If you enjoyed my ramblings, then please consider contributing to my Ko-fi, even the smallest amount is appreciated.