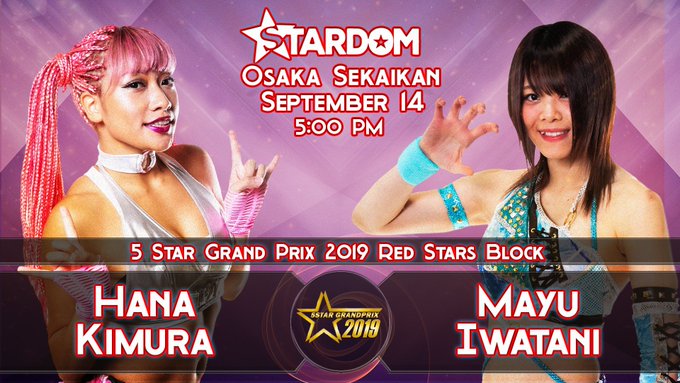 With the 5STAR drawing ever nearer to the end, Stardom's second show from Osaka on the 14th was getting serious. We're getting to the point where people are going to start being eliminated although, sadly, this show would see someone have that happen for all the wrong reasons.
Natsuko Tora defeated Saya Kamitani
Kamitani's opportunities to impress keep coming as she got the pleasure of sharing the ring with Natsuko Tora. Actually, I don't think you can call it a pleasure. If Momo and Mayu didn't take it easy on the rookie, Natsuko certainly wasn't going to, as she set out to bludgeon her way through the inexperienced wrestler.
To give Kamitani credit, she took that beating like a champ. I continue to be incredibly impressed with her as Tora wore her down, hammering into her repeatedly. Saya showed great fire to stage some desperate hope spots, going for submissions in an attempt to stop Natsuko hitting her.
And, of course, she lost, but this kid is as green as they come, and she's already putting on confident and assured performances. Long may it continue.
Verdict: Three And A Quarter Stars
Tokyo Cyber Squad (Konami and Avary) defeated STARS (Arisa Hoshiki and Saya Iida)
There might be a new Saya on the scene who dances, but it is worth remembering that Saya Iida is in the midst of an impressive rookie year, and she had a strong showing in this match. In fact, Arisa took a back seat, letting Iida work the bulk of the action as she only got involved for a few key spots.
And it made for some solid entertainment. While you don't need me to tell you that Konami and Arisa are great, Avary has got stronger as the tour goes on and is starting to look at home in a Stardom ring. There is nothing about this that you need to see, but if you watch it, you should have a nice time.
Verdict: Three Stars
Red Stars: AZM (4-3) defeated Saki Kashima (2-3)
With Kashima gaining a reputation for grabbing quick wins, both women came into this one wanting to end it as quickly as possible. That inspired AZM to fly across the ring during Saki's introduction and kick off a series of flash pins that was great fun. Stardom has done a fantastic job establishing that these moves do win matches, so every single one feels like it could be the finish.
On this occasion, none of them did the job, and this extended out into a fun sprint. Saki and AZM didn't stop flying at each other for five minutes, and you couldn't take your eyes off the screen in case you missed something.
In the end, they returned to the flash pins that kicked things off as AZM managed to bundle Saki up for the three. As I've made very clear throughout this tournament, maths is not my strong point, but I think that all but eliminates Kashima from contention and certainly makes it very hard for her to win.
Verdict: Three And A Quarter Stars
Red Stars: Tam Nakano (4-2) defeated Natsu Sumire (1-5)
Natsu might be a serious wrestler now, but that hasn't prevented her holding P-sama hostage. Tam went into this match determined to bring her furry friend home and put an end to the summer (which is a translation of Natsu, some Japanese that I actually know).
After a tournament of Natsu wrestling straight, this was classic Sumire as she tortured poor Tam by first using P as a human shield and then threatening him with some kind of spray. If you were worried that she'd forgotten how to play dirty, then you'll be relieved to learn she hasn't lost a step.
Eventually, these two did do some wrestling, and it was a decent back and forth with Natsu trying to survive Tam's onslaught. She wouldn't end up lasting long, though, as Tam used P as a distraction, booted her in the head and then picked her up for a German to bring her friend home.
You'll know whether a match that is partly a fight over a fluffy toy is for you or not already. I enjoyed it. Even if the wrestling wasn't incredible, it was the right amount of silly.
Verdict: Three Stars
Oedo Tai (Kagetsu, Hazuki and Andras Miyagi) defeated Queen's Quest (Momo Watanabe, Bea Priestley and Leo Onozaki)
Oedo Tai and Queen's Quest had a fun little match that there is no need for you to watch. It followed the formula to a tee with Onozaki being worked over, Momo and Bea turning the tide and then Leo tagging back in to take the fall. They all looked decent, and you won't regret spending time with it, but you can also skip it without worrying that you're missing anything.
Verdict: Two And Three Quarter Stars
Blue Stars: Jamie Hayter (5-2) defeated Jungle Kyona (3–3)
Devastatingly, this will be the last Jungle Kyona match we cover in this year's 5STAR as she picked up an injury that has forced her to drop out. Losing Utami and Jungle is horrible luck while anything that robs us of a couple of Jungle matches is a crime, fingers crossed she comes back better than ever.
Sadly, the injury also curtailed what was becoming a great match. You can see the exact moment it happens as Jungle comes down hard off a Hayter Uranage following the Backbreaker across the knee. She is instantly reaching towards her shoulder, and it doesn't take long for Daichi to click that something is wrong, openly having a chat with Kyona while Jamie holds her in a Crab. When it becomes clear she can't continue, he calls for the bell, much to Jamie's obvious surprise.
I'm not going to rate this because the injury clearly changed things, but it is worth saying that I reckon Jungle and Jamie could have a fantastic match together. They were planting the seeds for one here, and I hope that when Jungle is healthy, we see this again.
Verdict: NA
Red Stars: Mayu Iwatani (4-3) defeated Hana Kimura (3-3)
Mayu has seen enough Hana matches to know how she plays. Iwatani kept one eye on Kimura while making her entrance and then dodged out of the way when Hana struck during Mayu's introduction. Not that it prevented things from breaking down as they made their way to the floor where Iwatani crashed and burned with a huge leap off the top as Hana stepped out the way (STARS were there to catch her, so it wasn't quite as death-defying as that makes it sound).
Even with Mayu being caught, Hana was able to take control, and she quickly zeroed in on that poor banged-up knee. That set these women up in the roles they're made to play: Kimura as the dominant villain and Iwatani as the defiant babyface. Hana alternated between working over that injury and booting Mayu in the head while every comeback of Iwatani's that was cut off just brought the fans that little bit deeper into the action.
It built to a fantastic closing sequence as these two went all out on each other. Mayu hit a Moonsault from the second rope only for Hana to get her knees up on the one from the top before Iwatani was forced to desperately escape Hydrangea, preventing Kimura from locking it on tight. Even as someone who came in spoilt, I found myself leaning forward, forgetting that I knew who won.
Of course, in the end, Iwatani had too much, hitting one of those beautiful Dragon Suplexes to get her second victory of the day and keep herself in contention.
Verdict: Four Stars
Overall Show
If Jungle and Jamie's match hadn't been curtailed by injury, I suspect this would have gone down as a fantastic show. As it is, it's merely good with a strong undercard, an unfortunate semi-main and a great closer. We're onto our last three shows (two of which have already happened so I won't bother going into the scores), and this tournament is heating up. Who is going to win? Well, we'll have to wait and see… that's how this shit works.
Top Three 5STAR Grand Prix Matches So Far
Jungle Kyona vs Utami Hayashishita (17/8/19) – Four And A Quarter Stars
Arisa Hoshiki vs Utami Hayashishita (18/8/19) – Four And A Quarter Stars
Tam Nakano vs Mayu Iwatani (7/9/19) – Four And A Quarter Stars
Watch Stardom: http://www.stardom-world.com/
If you enjoyed this review, please consider contributing to my Ko-fi, even the smallest amount is appreciated.