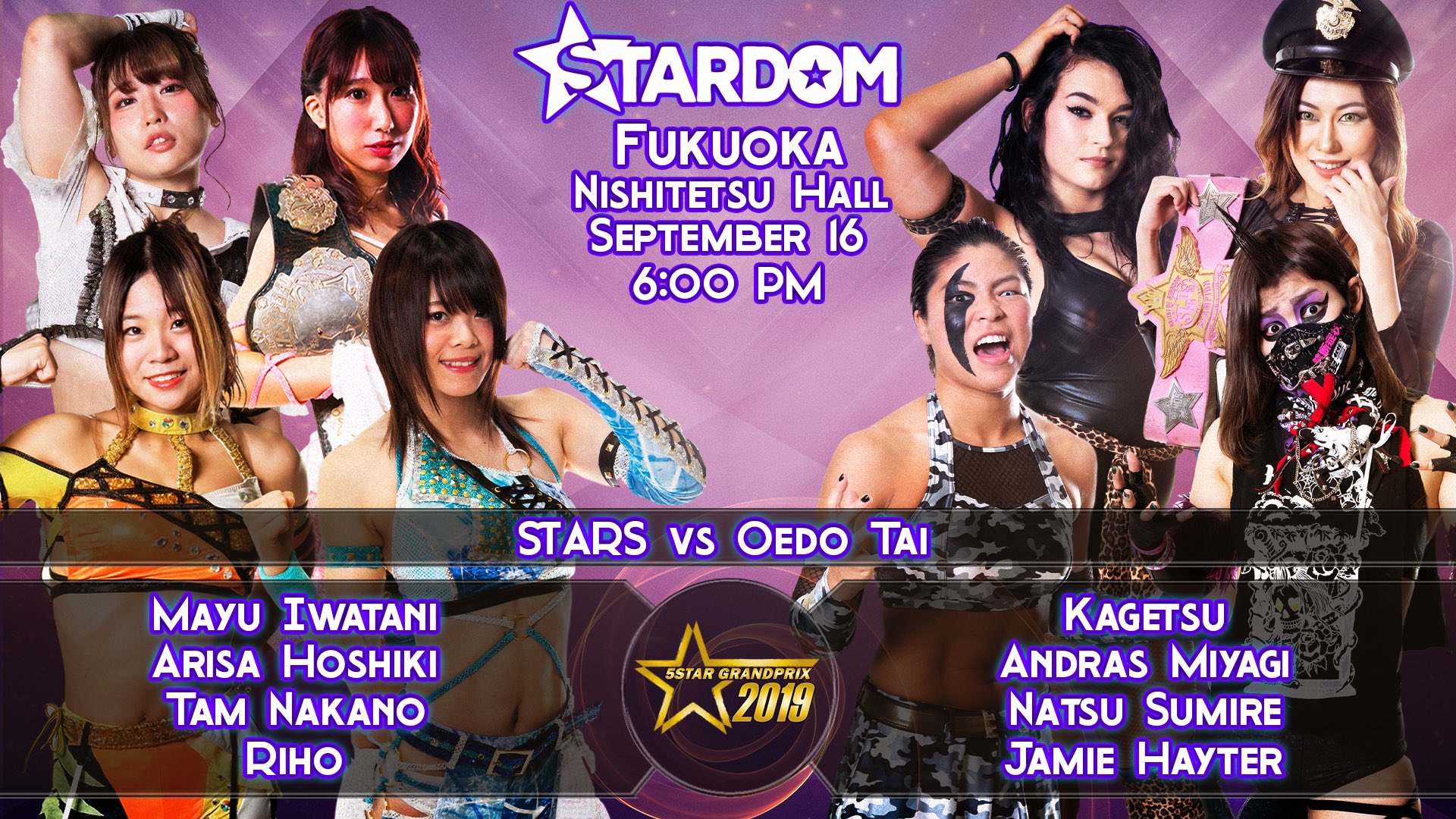 Stardom's second outing from the 16th is the show where everything will finally add up and put us in position for the final night of the 5STAR blocks. We're going to come out the other side of this with a much clearer idea of who has a shot at winning this thing, and that's rather exciting.
Bea Priestley defeated Starlight Kid and Saya Iida in a Three Way Battle
A fairly standard opener as Starlight and Saya tried to take Priestley down only for the World Champion to have too much for them. There were some nice three-person spots, and they wrestled at a fair old pace, but like most of the non-tournament matches on this tour, it's far from essential.
Verdict: Two And A Half Stars
Red Stars: Avary (3-4) defeated AZM (4-4)
Avary describing AZM as a sixteen-year-old ninja in her promo and then spending the opening of the match unable to get her hands on her was a pretty perfect start to this match.
And, once again, Avary impressed. She's wrestling great talent, so it perhaps shouldn't be surprising, but it's been a real pleasure to see her settle into Stardom. At no point in this did she look out of place going back and forth with AZM, and I'm not sure that would have been the case a month ago.
Towards the end AZM went into flash pin overload, desperately trying to get the win, but ending up being planted on her head with a DDT for which she took an awesome bump. That was a damn good match.
Verdict: Three And A Half Stars
Queen's Quest (Momo Watanabe and Leo Onozaki) defeated Hana Kimura and Saya Kamitani
Hana didn't bother turning up for her pre-match promo with Kamitani which is a very her move. One got the impression she wasn't too impressed with her new partner, booting her off the apron as she held the ropes open.
That set-up a nice little story in this match as Kamitani fought to gain her partner's respect. It started with Hana applauding her yelling to be allowed to start the match, before progressing to them working well together against Momo which earned the rookie a kick to the stomach and being dumped to the outside. I didn't say it was a successful fight.
Poor Kamitani wasn't being treated well by anyone as Momo eventually saw her off with a vicious kick and the B-Driver (which was originally botched when Watanabe lost her balance, but they recovered). That flub at the end aside, this was a solid match, and Hana even made her way to the back with her rookie, em, pal, so some progress was made.
Verdict: Two And Three Quarter Stars
Blue Stars: Konami (5-2-1) defeated Natsuko Tora (1-6)
Poor Tora's only points in the tournament so far came from Utami forfeiting their match due to injury. That setback seems to have given her a burn the fuckers down attitude, and she had no intention of playing fair. Right from the start, she dragged this to the outside, slamming Konami into the ring post and bashing her with an umbrella.
It was an attitude that led to her downfall. Having resisted all of Konami's attempts to get back into the action, Tora hit a brace of Splashes. However, when she went for the third, she decided to add a bit of spice. Pushing Daichi out the way, she grabbed the Oedo Tai board and placed it on Konami. It was a move that took a smidge too long and by the time she came down, Konami had recovered, rolling out the way. A Triangle Lancer later, and this was done.
That was a solid match, well worked with a clear storyline. It also wraps things up for Konami (she was scheduled to fight Jungle on the final day) who has had a fantastic tournament. Her odds of winning are slim, but she is the champion of many hearts, and is that not the most important thing?
Verdict: Three And A Quarter Stars
Red Stars: Saki Kashima (3-4) defeated Hazuki (4-3)
If you've missed Hazuki's lightning-fast High Speed title defences, then do we have a treat for you. The only time this match slowed down was when they were booting each other in the head as Kashima and Hazuki went out and worked a frantic sprint.
Unsurprisingly, it was a fun one, because they always are. I had my issues with Hazuki's title reign (mainly that I think she's brilliant and wanted to see her do more), but that doesn't change the fact she is excellent at these. The matches fly past in a blink of an eye, and that's a problem because if you blink, there's a good chance you've missed something.
Kashima would get the win with Revival, a small step towards making up for Natsu's appropriation of the move and a big win for her as she heads towards the end of her tournament.
Verdict: Three Stars
STARS (Mayu Iwatani, Arisa Hoshiki and Tam Nakano) and Riho defeated Oedo Tai (Kagetsu, Andras Miyagi, Jamie Hayter and Natsu Sumire)
Oedo Tai were accompanied by Michiko Omukai and two children (who I assume belonged to her). A quick Google tells me that there is some backstory there, but rather than copy it from elsewhere I'll assume you either know about it or are capable of using Google too.
Whether it was her presence or something else, everyone had their working boots on in this one. I was expecting a pretty straightforward main event, but all eight women went out there and wrestled their arses off as the only time it slowed down was when Natsu's hair got stuck in part of Mayu's gear, leaving Daichi to disconnect them.
Oedo Tai were the perfect gang in this match constantly swarming STARS and disrupting their rhythm. Omukai on the outside only added to that, providing assists with her cane when needed. It was a fantastic display of tag-team wrestling as they consistently managed to isolate members of STARS, working them over one by one.
Eventually, though, STARS did find themselves in the ring together, and that was when they turned the tide. A selection of Superkicks followed by four tandem leaps to the outside left Mayu alone with Natsu. The Moonsault was probably enough, but she hit the Dragon Suplex too, just to make sure.
That was a shitload of fun and while the wild nature of it meant a few spots were a bit sloppy (there was a Super Hurricanrana from Mayu that went wrong, but ended up looking pretty cool anyway) that almost added to the action. It was a frantic and exciting match, so make sure to give it a watch.
Verdict: Four And A Quarter Stars
STARS spent their post-match promo shouting enthusiastically at the crowd as they all got excited. Tam also sneakily recruited Riho into STARS forcing her to point out that hadn't quite happened, but that wrestling with STARS was the first time she'd truly felt what Stardom was. Mayu then let Arisa close out the show before Tam decided she wasn't a fan of that and stole the mic to do it herself, she's always working that Tam Nakano.
Overall Show
Right, it's time to do some tournament maths. Let's start with the simpler Blue Stars, where it comes down to one of two situations. If Jamie Hayter beats Bea Priestley, she's going to the final. If she doesn't, Konami has booked her place. Everyone else is more than two points behind Konami and is out of contention.
Red Stars is more complex as we have six people on eight points. We can eliminate Natsu (who has four) and also take Avary and Kashima out of the equation, as while they can draw level, there are matches involving two people on eight points, so someone is going up to at least nine. The same can be said for AZM, who is on eight points but has wrestled all her matches. That leaves us with Tam, Momo, Mayu, Hana and Hazuki, with two of those pairings (Momo vs Mayu and Hana vs Hazuki) set to face off. All five of them can win, meaning that the real intrigue on our final night comes from the Red Stars.
Top Three 5STAR Grand Prix Matches So Far
Jungle Kyona vs Utami Hayashishita (17/8/19) – Four And A Quarter Stars
Arisa Hoshiki vs Utami Hayashishita (18/8/19) – Four And A Quarter Stars
Tam Nakano vs Mayu Iwatani (7/9/19) – Four And A Quarter Stars
Watch Stardom: http://www.stardom-world.com/
If you enjoyed this review, please consider contributing to my Ko-fi, even the smallest amount is appreciated.