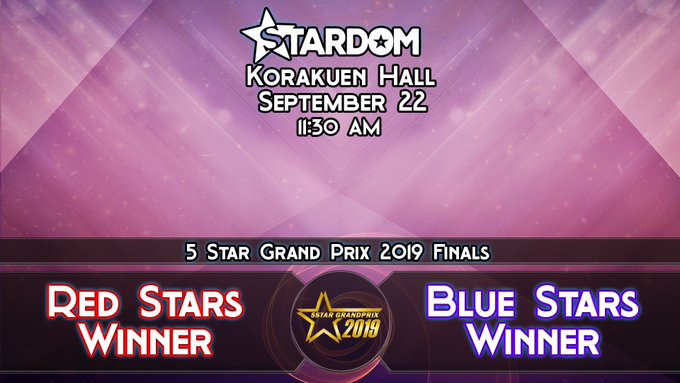 All good things must come to an end, and the 5STAR Grand Prix is definitely a good thing. The last show will see both blocks come to a conclusion and give us the final too, so strap in for a packed night of wrestling. Who is going to take home the crown? And will it be either of my picks (Hana from the heart, Watanabe from the head)? Let's find out.
STARS (Riho, Starlight Kid and Saya Iida) defeated Queen's Quest (AZM, Leo Onozaki and Hina) and Tokyo Cyber Squad (Konami, Rina and Saya Kamitani) in a Three Way Trios Elimination
The opener had a distinct whiff of getting everyone on the card. However, with it being an Elimination match, they were given more time than usual, slipping over the six-minute mark. There was also a chance it wouldn't be Konami's last match of the day as she was still in line to make the final.
With so many people involved, this was always going to be a bit of a clusterfuck, but they used that to their advantage. At one point, TCS managed to stack all six of their opponents in the corner, although by the sixth they're not really in the corner any more. Throw in a bit of AZM vs Kid and this was a solid opener.
Verdict: Two And A Half Stars
Red Stars: Avary (4-4) defeated Natsu Sumire (2-6)
Avary described Natsu as a cheeky fucker and I kind of loved it. Sumire was also removing the gloves, declaring that it had been a long tournament (these two are both out of contention) and she was 'going out to play'.
Which probably explains the period of the match where Natsu and Avary ditched wrestling to lick each other. It turns out these two are a natural fit, they're both as weird as each other.
Despite that, we did get a bit of serious wrestling, as they traded a fair number of suplexes. Then, towards the end, Natsu doubled down on her newfound love of move stealing. She hit a Tam Style Spin Kick (it looked amusingly awful), Momo's Somato, wrapped Avary up in a Hazukistral and finally went back to Revival. Sadly, none of them worked, and she'd be planted on her head for a DDT. That was an easy watch and provided a few chuckles.
Verdict: Three Stars
Red Stars: Tam Nakano (5-3) defeated Saki Kashima (2-5)
We might be at the end of a long old tour for Stardom, but Tam is still bursting with enthusiasm, climbing onto a bench and leaping off it to end her pre-match promo. How can you not love, Tam Nakano?
These two flew across the ring at each other with Saki getting the upper hand and going after Tam's leg. That would turn out to be a near-perfect plan as it put Nakano on the backfoot for the rest of the match, constantly struggling to battle through that injury.
It was also a match with a shitload of flash pins, as a tournament where they've proved deadly paid off in every near fall. Tam kicked out at the last possible second on a Revival and was forced to battle back with a brace of knees followed by a Tiger Suplex for the win. That was a strong end to the tournament from both women as they put on a gripping sprint.
That also means that at this point in the show, Tam was going to the final.
Verdict: Three And A Half Stars
Red Stars: Hana Kimura (5-3) defeated Hazuki (4-4)
Hana and Hazuki are both vicious wrestlers, happy to grab an opponent by the hair or scrape their boot across their face. It gave this match a real sting in its tail right from the word go, as these two do shit that is just going to hurt no matter how you present it.
We also saw Hana heel it up, taking control early on and even spitting in Daichi's face when he did a five-count she didn't like. Not that Hazuki can go down as a paragon of virtue, dragging Hana around Korakuen to introduce her to both the East and West stand while fans scattered out of their way.
It added up to a match where it felt like both women were determined to win, no matter what rules they had to bend to do so. Boots to the face and twisting of limbs were the orders of the day, and it gave this a big fight feel. You believed Hana and Hazuki were hurting each other in their desperation to get to the final.
In the end, Hana's Tiger Lily combination was the game changer (with the Package Piledriver part looking particularly awesome), and she leapt onto the ropes in celebration. As things stood, her victories over Momo and Tam meant that the only thing that would stop her reaching the final was a Mayu win.
Verdict: Three And Three Quarter Stars
Red Stars: Momo Watanabe (5-3) defeated Mayu Iwatani (4-4)
Mayu vs Momo is one of Stardom's biggies. Coming in, Iwatani held a 3-1-1 record over Watanabe, but it should be noted two of those victories were in 2015 when Momo was both young in years (well, she still is, but you know what I mean) and experience while the third was 2016 when she wasn't much further on. Since 2018 they've drawn one and Watanabe has won the other, so the tide is turning.
Perhaps Mayu senses that too, as she tried to flatten Momo as quickly as possible, hitting a German in the opening seconds before following with a Frog Splash. It was a sound tactic, but when Momo kicked out, and she tried to finish things with a Moonsault, Watanabe was ready, rolling out the way and flying into Iwatani with a knee.
The match that followed was everything you'd want it to be as these two worked a frantic and stiff sprint where they beat the shit out of each other. Mayu had the speed advantage, and when she was able to create distance, she took control, flying around the ring. You can't argue with Momo's power, though, and every time one of those incredible kicks came thudding in, you could feel it in your bones. She was a machine here, wrestling like a total fucking badass.
The final act was incredible, Mayu slipping out of an attempt at an Avalanche B-Driver to hit a Powerbomb only for Momo to catch her on the top rope going for the Moonsault, lifting her off in position for a high-angle Peach Sunrise. That wouldn't be enough for Watanabe, though. Rather than go straight into the bridge, she picked her up again and hit a second, making this as definitive a victory as you will see.
What a match from two of the best in the world as even with the confines of the 5STAR time limit, they shone. In fact, I'd argue the time limit aided them, allowing this to be a wild sprint without a second to stop and take a breath. It may have sent Hana to the final, but she's going to have to do something special to better this.
Verdict: Four And A Half Stars
Blue Stars: Natsuko Tora (2-6) defeated Andras Miyagi (3-3-1)
Natsuko and Miyagi are wrestling for pride, but Tora could use a bit of that, with her only points coming because Utami had to forfeit their match. In there with her Oedo Tai teammate, she'll have been desperate to prove that she can pick up the wins.
And as has been the case all tournament, the Oedo Tai members showed no love towards each other. This was a match of stiff strikes, wooden boards and steel chairs. At one point Miyagi delivered a slap that made me flinch, so who knows how poor Tora felt. Perhaps as bad as Natsu, who found herself on the end of Miyagi's wrath, being chased off when she tried to provide water and then roped into sliding the Oedo Tai board into the ring.
Natsu would get her revenge, popping up on the apron to distract Daichi and allowing Tora to use the same board to her advantage. A couple of bops with that, a Splash and her Spin-Out Side Slam were enough to make sure she finished the tournament with some well-earned points, although one wonders how Natsu and Andras's friendship will be affected.
Verdict: Three And A Quarter Stars
Blue Stars: Arisa Hoshiki (4-3-1) and Kagetsu (4-3-1) fought to a time limit draw
Kagetsu shook Arisa's hand at the start, and I wondered whether we were about to see her play fair. A few minutes later, she was dragging Hoshiki around the ring by her hair, having targeted her knee and spat water in her face. So, yea, I was wrong.
She also dominated a lot of this match, focusing in on that injured knee and displaying her usual combo of brash arrogance and brilliant wrestling. As long as Arisa has those kicks, though, you can never rule her out, and there was always a flurry nearby to remind you of that.
It all built to a fantastic final stretch where these two threw everything at each other as they desperately sought to win, Hoshiki even shoving Daichi out of the way at one point, so determined was she to drive her knee into Kagetsu's head. Arisa survived an Oedo Coaster, Kagetsu a Brazilian Kick and it was becoming apparent that neither one of them was willing to die. As the seconds ticked away, they both threw a kick at the same moment, catching each other perfectly and collapsing to the mat together as the bell rang, a fitting end to an even war.
Verdict: Four And A Quarter Stars
Post-match, Arisa complained that the draw was frustrating, but she wants to defend her title against Kagetsu. Sadly for her, Kagetsu doesn't play games properly (and also might have hurt her neck? I did notice Daichi throw up an x at one point and Kagetsu was moving gingerly post-match), so she passed the mic over to Avary who made a challenge, much to Arisa's confusion. She accepted anyway, making it clear that she still wants Kagetsu eventually.
Blue Stars: Bea Priestley (5-3) defeated Jamie Hayter (5-3)
I'm running out of ways to praise Jamie Hayter, who came into this knowing a win would send her to the final while a Priestley victory would seal Konami's spot. She's such an incredible hoss, hoisting Bea into the air as if she's nothing as she continues to wrestle like a fucking badass.
And this felt like her match. She was the one dictating the tempo and, as previously mentioned, Priestley is much better when someone else is dealing with that stuff (although she did muck up a Springboard and ended up basically falling onto Hayter's back). It was Jamie who brought the crowd to life, and while I am very much Team TCS, I would have been more than happy to see her make her way to the final two.
Sadly, it wasn't to be, as Bea hit a Bicycle Knee into the corner followed by Queen's Landing for the win. It was a deflating and sudden change in momentum but that didn't stop this being a good match.
Verdict: Three And A Quarter Stars
We weren't finished there, as Priestley grabbed the mic and suggested Jamie could be the number two gaijin. She then, very randomly, asked Hayter to be her partner during Tag League, something that Jamie agreed to. Em, why? I'm not sure how I feel about that one.
Hana Kimura defeated Konami to win the 2019 5STAR Grand Prix
After a long old tournament, it all came down to this. Tokyo Cyber Squad vs Tokyo Cyber Squad as Hana and Konami battled to take the 5STAR crown.
Konami was in no mood to piss about either, pulling a play out of Kimura's book and attacking her as she entered the ring. What followed was Konami trying to rip her faction leader's leg off. Kick after kick, submission after submission. I don't know if there is tension in TCS towers, but Konami was letting it all out there if there is.
That meant we saw a very different Hana Kimura. This wasn't the brash and cocky character that we usually get, but someone screaming in agony as they desperately hobbled across the ring doing everything in their power to survive. Kimura's popularity has never been in doubt but watching this match I could imagine her as a battling babyface for the first time.
In the end, Konami slipped up for one second, letting Kimura force her to the ground and tie her up. All that work crumbled around her as she realised there was no escape, and after going for it all match, it was Konami who was forced to tap.
The normal view of Hana Kimura is that she is over as hell, a great character and an okay in-ring talent. However, her run in this tournament has been outstanding, and the final four matches stood out as someone finding their feet as a singles wrestler. Judging by this, she'll be just fine if Stardom follows through and pushes her to the next level.
Verdict: Four Stars
During the celebrations, we got an award ceremony with Hayter being given the Fighting Spirit trophy, Tam Outstanding Performance, AZM Best Technical Skills and Jungle vs Kagetsu Best Bout (Kagetsu received her trophy, suggesting any injury isn't too serious). They then posed with Hana and Konami for photos before we got down to the serious stuff of Hana having her say.
She cut a great promo, starting by saying that she knew she'd face a member of TCS in the final and while Jungle didn't make it they'll battle one day. Hana then told Konami that she'd killed her leg and suggested they go to the hospital together. With all that out the way, she called Bea out with a 'come on baby', before saying (in English) that she was going to kick her ass. Also, this being Hana, she renamed her Bitch Priestley. Bea very aggressively accepted the challenge, leaving even Kimura looking a bit shocked.
Overall Show
That was a fantastic end to a tournament that I enjoyed a shitload. If you read my Stardom reviews, you're probably aware that I love this company and I know fine well I rate it higher than most, but this has been a pleasure to watch from start to finish, and has delivered some fantastic matches along the way. If you give it some of your time, I can promise that you won't leave disappointed.
Top Three 5STAR Grand Prix Matches So Far
Momo Watanabe vs Mayu Iwatani (22/9/19) – Four And A Half Stars
Jungle Kyona vs Utami Hayashishita (17/8/19) – Four And A Quarter Stars
Arisa Hoshiki vs Utami Hayashishita (18/8/19) – Four And A Quarter Stars
Watch Stardom: http://www.stardom-world.com/
If you enjoyed this review, please consider contributing to my Ko-fi, even the smallest amount is appreciated.