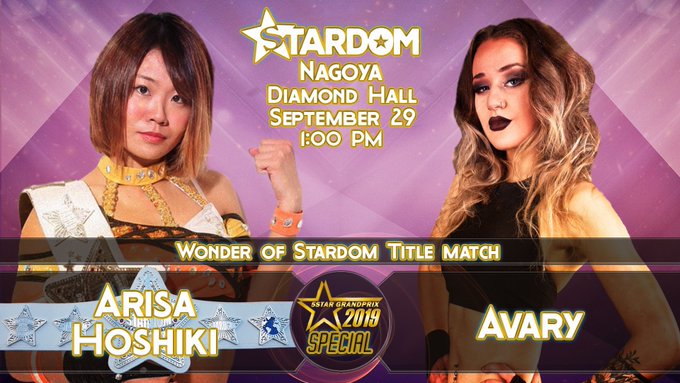 The 5STAR might be over, but Stardom wasn't going to let it go without saying goodbye. Not only do we have another Arisa title defence, but the High Speed belt is on the line too, as Death Yama-san gets her chance to regain her gold. Ready? You better be.
Saki Kashima defeated Saya Kamitani
Stardom have announced that the two Sayas (Kamitani and Iida) will be teaming for Tag League, so we can all bow down to our new leaders. Although now I think about it, I've declared roughly twenty people to that role this year alone. Oh well, it's probably still preferable to the UK's current political situation.
Wow, that was a lot of rambling for an opening match. In the ring, we got a strong showing. Kashima went after Saya's arm, giving the rookie a chance to show off her selling of which she did a decent job before tapping out. She continues to impress as you would be silly to call her the finished article, but she made her debut less than two months ago and is already having good matches that go over five minutes. What more can you ask for?
Verdict: Three Stars
Tokyo Cyber Squad (Hana Kimura and Konami) defeated STARS (Starlight Kid and Saya Iida)
Pre-match Konami and Hana were having a bicker about Kimura being late for their promos. Thankfully, it didn't last long, as they eventually came together to decide the camera guy was a weirdo and wander off. It's safe to say no grudges are being held post-5STAR final.
It probably won't be a shock to hear that this was your pretty standard Stardom fare, following the lower card tag formula to a tee. Still, it was four talented wrestlers, so it was fun, and they certainly weren't phoning it in within that structure. You can rely on Iida and Kid to never give their more experienced opponents an easy day.
Verdict: Three Stars
STARS (Mayu Iwatani and Tam Nakano) defeated Oedo Tai (Natsuko Tora and Natsu Sumire)
Natsu was still getting dressed at the start of her promo while Mayu and Tam informed us that iron and calcium are important. I swear these things are getting more random.
Speaking of Natsu, having spent most of the 5STAR establishing herself as a serious wrestler, she was back on her bullshit here. She was on the wind-up with Tam, goading her all match while we have to give full credit to Mayu for her facial expression when Sumire gave Nakano her Bronco Buster. This is worth watching for that alone.
Plus, it was a solid little tag which survived a couple of awkward moments (chief of which was Mayu slipping on the ropes while going for a double lucha arm drag) to keep me entertained. Tam and Natsuko battling it out was the highlight as they traded stiff forearms before Tam escaped with a Backdrop.
The finish saw Natsu and Tam left alone with Sumire continuing her move-stealing antics by hitting her hilariously awful version of Tam's Spin Kick. Nakano would end up showing her how it was done, hitting a brace of them herself before connecting with a Tiger Suplex for the win
Verdict: Three Stars
Oedo Tai (Kagetsu, Hazuki, Jamie Hayter and Andras Miyagi) defeated Queen's Quest (Momo Watanabe, AZM, Bea Priestley and Leo Onozaki)
Jamie and Bea cautiously slapped hands pre-match, looking a bit embarrassed to be doing so after agreeing to be partners. I am still very sceptical about that decision, and I'm going to need something good to come out of it.
Hazuki would then get a chance to take some of her long-held frustration at AZM out by booting her in the head. Not that Kagetsu, whose obsession with AZM causes a lot of that frustration, took it easy on the subject of her affection. Spitting water in her face and having Hazuki drape her in the ropes for a Stomp. It's an unusual kind of love.
After a stiff-kick off, Momo and Kagetsu would have a great back and forth before Leo was left alone with Hayter and took the fall. This was a quick and enjoyable tag match that did everything it needed to do.
Verdict: Three And A Quarter Stars
Riho defeated Death Yama-San to retain the High Speed Title
Riho beat Death for the title in a three-way without pinning her, so this was her chance to get the belt back. As I write, Riho has also won the AEW Women's Title, so I'm very intrigued to see what that does to her booking in Stardom.
Anyway, that was after this so is completely irrelevant to what was an entertaining High Speed match. I've decided to quit complaining about the time they get and just enjoy them. These two went all out, floating around the ring, but hitting some painful-looking moves as well as Death connected with a German Suplex that looked awesome.
Riho would eventually retain, a Somato proving the difference in a short, but fun, encounter. As usual, it was hella easy to watch, and I have no real complaints.
Verdict: Three And A Half Stars
Starlight Kid came out to both challenge Riho and ask to be her partner for World Tag League. That's another interesting move with her being AEW champ, as she'll presumably have to miss some TV dates to work those shows.
Arisa Hoshiki defeated Avary to retain the Wonder of Stardom Title
Avary was never going to win the White Belt, so you could go into this knowing it a placeholder defence for Arisa. However, there was intrigue in the form of Avary's performance. I thought she improved throughout the 5STAR and won me over with her self-deprecating sense of humour, so I was rooting for her to deliver.
And I thought she did a solid job. She was scared going in about getting her head kicked off, so she did the obvious thing and focused her attack on Arisa's legs, trying to ground her with submissions. For a while, it worked, but then it didn't, and the future she feared came to pass. After a Somato on the apron followed by one on the floor, Avary ate a couple of knees before a Brazilian Kick left her down and out.
I don't think this ever felt like more than a filler title defence as it wasn't even the longest match on the show, coming in at seven minutes twenty-eight seconds which was less than all three tags. That made it hard to believe Avary had even the tiniest chance of winning, but I still think she did alright, and she should have done more than enough to earn herself an invite back to Japan.
Verdict: Three And A Quarter Stars
Afterwards, Kagetsu came out and granted Arisa her wish from the final day of the 5STAR by challenging her to a title match (despite claiming she's not that interested in the belt). They set that for Korakuen before Kagetsu refused to shake Hoshiki's hand and made her way to the back.
Arisa then went looking for Tam which brought out a very grumpy looking Nakano enquiring 'what do you want?' Hoshiki brought up that Tam had said she would be then one to beat her for her belt, and asked if she had anything to say now. Nakano told Hoshiki that she really doesn't like her and is determined to take the belt from her (a fact Arisa seemed quite happy about), but until then she wants her by her side.
That was all an adorably long-winded way of setting them up as tag partners for Tag League which will be all the fun. When Tam finally admitted that was the case, she followed Kagetsu's lead by refusing a handshake and STARS closed out the show.
Overall Show
That was an enjoyable watch with a load of matches hovering in the low to mid-three-star range. There's nothing here you have to see, but if you want some wrestling to stick on in the background or to help you pass a quiet couple of hours, it will definitely do the job.
Watch Stardom: http://www.stardom-world.com/
If you enjoyed this review, please consider contributing to my Ko-fi, even the smallest amount is appreciated.