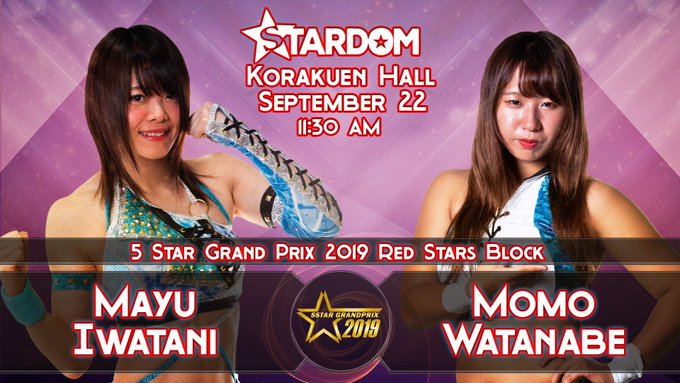 For once, my round-up of the last month's best matches isn't actually that late. I mean, it's a little bit late, but by my standards, that's pretty good. Sadly, my wrestling watching from September was restricted to the promotions I never miss, so it's a pretty predictable list. However, they're all gems, and you may well have missed something! Plus, it means that if anyone knows of some great matches, you can tell me in the comments. I'm always happy to check out something new.
10. KENTA vs Kota Ibushi, Destruction in Kagoshima (16/9/19), NJPW
I'm getting to the stage where I'm going to have to start dismissing people that slate New Japan KENTA. He was brilliant against Ibushi, soaking up the boos of the crowd and playing the bastard to perfection as they slowly built this match. It was also another stunning babyface showing from Ibushi, as these two combined to create a slice of magic despite some Bullet Club interference.
9. DAMNATION vs All Out, Who's Gonne Top? (29/9/19), DDT
Yuki Ino wrestled this match like a fucking tank. At one point, charging onwards despite having had three steel chairs broken over his head and left hanging around his neck like a garish metal necklace. As a new DDT watcher, I'm not sure if you can count this as his breakout match, but it was certainly a performance that got me on Ino's side.
8. Hana Kimura vs Momo Watanabe, 5STAR Grand Prix (16/9/19), Stardom
Hana Kimura has long held herself like a star but never quite matched that ability in the ring. Well, September was the month where she proved that theory bullshit. Her final three matches in the 5STAR were fantastic, but this was the best of them as Hana and Momo kicked the shit out of each other. Kimura's time is now, and judging by this, she's ready for it.
7. ASUKA vs Konosuke Takeshita, Who's Gonna Top? (29/9/19), DDT
ASUKA is something special, and she proved it by taking Takeshita to his limit. These two had a limb match, with ASUKA going after the back and Takeshita the leg, but it was a lot more than that as they beat the crap out of each other. If this is what she's doing at twenty, imagine how good she'll be in five years?
6. STARS vs Oedo Tai, 5STAR Grand Prix (16/9/19), Stardom
It's easy to take Stardom's tag matches for granted, but they are nearly always good and when they hit they hit hard. This was a frantic and exciting sprint with a load of wrestlers who probably should have been taking it easy going all out. If you're looking for something fun and thrilling, then this one is perfect.
5. Kagetsu vs Arisa Hoshiki, 5STAR Grand Prix (22/9/19), Stardom
Kagetsu and Arisa threw everything at each other in this fifteen-minute draw, desperately trying to prove the better wrestler. Ultimately, nothing could separate them, and as they both collapsed to the mat at the final bell, having connected with simultaneous kicks, it felt like the right result. Plus, it means we're getting it again at Stardom's next Korakuen, and who the hell is going to complain about that?
4. Mayu Iwatani vs Tam Nakano, 5STAR Grand Prix (7/9/19), Stardom
Nakano and Iwatani took a fifteen-minute time limit and managed to craft an epic match. It was two people who know each other inside out, going at it to find out who was the best. The post-match hug was almost as good as the match (alright, not quite, but it was a nice moment) and this was brilliant wrestling.
3. Hirooki Goto vs Shingo Takagi, Destruction in Kobe (22/9/19), NJPW
The big boys went out and hit each other really hard. Do I need to say anything else? It's Shingo and Goto! You know what you're getting.
2. Tetsuya Naito vs Jay White, Destruction in Kobe (22/9/19), NJPW
Two master bellends went head to head over New Japan's Intercontinental Title. It's clear that the fates of White and Naito are going to be entangled up until Dome season, and if they're going to deliver on this level of sexual tension and story-driven wrestling, I'm okay with that.
1. Mayu Iwatani vs Momo Watanabe, 5STAR Grand Prix (22/9/19), Stardom
Two of Stardom's best went face to face on the final night of the 5STAR, and they did not disappoint. Mayu and Momo went out and gave the perfect exhibit as to why not every major match needs to be a marathon, working a frantic sprint as Momo's kicks took on Mayu's speed. Neither women made the final, but they bowed out with one hell of a showing.
If you enjoyed my ramblings, then please consider contributing to my Ko-fi, even the smallest amount is appreciated.