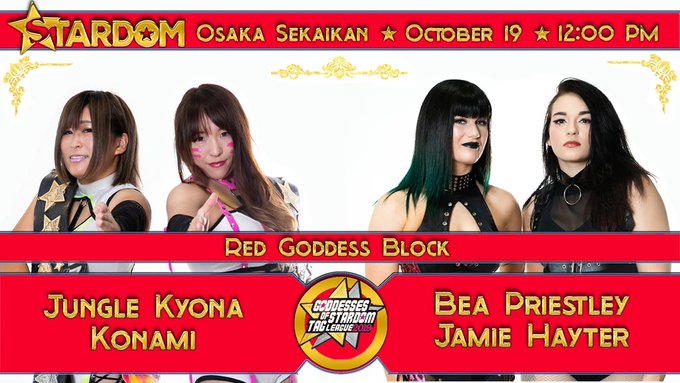 Tag League kicked off in earnest with Stardom running two shows on one day in Osaka. It's a nice quirk of fate that they are running a Tag League at the same time as New Japan just after the Bushiroad purchase. The companies might not be working closely together, but it's still going to be fun to see which one is better. My money is on Stardom.
The show started with Arisa Hoshiki, Tam Nakano, Starlight Kid and Saya Iida performing 'The World Belongs To You And Us' which is off an album that Stardom has recently released. Unsurprisingly, the audio capture wasn't up to studio standard, so it didn't sound incredible, but they all looked like they were having fun and you could certainly tell Arisa and Tam were used to singing in front of people.
Saki Kashima defeated Leo Onozaki and Andras Miyagi in a Three Way Battle
I'm tempted to give this match five stars for the look of bemusement on Andras's face when the crowd was chanting for Saki. It was later followed by a wee smile of joy when Kashima convinced them to switch to Miyagi so she wouldn't leave. For whatever reason, I enjoyed that a lot.
Anyway, by the time all the chanting was out of the way, we got about two minutes of action, the bulk of which was the three of them trading forearms. It was, however, subtly hilarious, as the facial expressions of all three made me laugh repeatedly. Saki and Andras are underrated comedy wrestlers while Leo did a great job playing the bemused rookie who didn't have a clue what was going on.
You'd be insane to call this a great match, but I had a lot of fun watching it.
Verdict: Two And A Half Stars
Tokyo Cyber Squad (Hana Kimura and Death Yama-san) defeated Queen's Quest (Momo Watanabe and AZM)
Hana has donned the corpse paint to rock out with Death, and I'm into it. Both teams are in the tournament, but in separate blocks, so there weren't any points on the line. There was, however, much screaming of DEATH!
That led to an opening which was, perhaps, not entirely serious. Hana and Death were having fun, and who can blame them for that? The problem is that Momo Watanabe tends to kick her way through laughter, and when she came in, the action picked up. Momo and Hana have unfinished business, and even with Kimura in facepaint, that was evident.
Death and AZM got a brief opportunity to show off their High Speed credentials until Death rolled through an Armbar into a flash pin concluding an enjoyable match. It might not have been in tournament, but that's still the second defeat in a row for Momo and AZM, and I feel sorry for the head of the person that Watanabe is kicking next.
Verdict: Three Stars
STARS (Arisa Hoshiki, Mayu Iwatani and Tam Nakano) defeated Oedo Tai (Kagetsu, Natsu Sumire and Session Moth Martina)
Natsu was doing her make-up and wearing odd shoes during Oedo Tai's pre-match promo. Meanwhile, Tam spent STARS' time praying to a shooting star to keep teaming with Mayu. One suspects that wish came a bit late for Tag League.
In the ring, Kagetsu and Arisa got face to face before they started, displaying some lingering tension from their title match. Although Kagetsu then decided to throw Natsu to the wolves, so she wasn't too desperate to get in the ring with Arisa. Unsurprisingly, Sumire's attempt to kick it out with Hoshiki didn't go too well for her, even when she resorted to biting. It was funny, though.
What followed was an action-packed romp that was a shitload of fun. We got some great action between Kagetsu and Mayu, a touch of flawless teamwork from STARS and even some of Natsu and Martina's antics to add a cherry on top. It was as easy a watch as you'll find, and while you probably don't have to seek it out, you won't regret it if you do.
Verdict: Three And A Half Stars
Blue Goddess: Tokyo Cyber Squad (Bobbi Tyler and Zoe Lucas) (1-1) defeated 3838 Tag (Saya Iida and Saya Kamitani) (0-1)
The two Sayas are my new favourite tag team as they cut a brilliantly awkward pre-match promo. I'm even willing to forgive them for making it impossible for me to refer to either one by their first name. I guess they can be Big Saya and Little Saya.
Bobbi and Zoe may have been facing a pairing with a combined experience of under a year, but that didn't stop them bending the rules to get an advantage. They attacked before the bell and Zoe then took the tag rope for a walk, assuming that would allow her to enter the match in any corner. It didn't, but it proved enough of a distraction to help Bobbi get the jump on Kamitani.
The rest of the match danced around 3838 Tag's attempt to hang with their more experienced opponents, and they did a decent job of it. Both Sayas arguably already wrestle with a more natural flow than Lucas, and they certainly never looked out of place even if the action lingered around the decent level. They'll only get better with a whole tour worth of tags, as I suspect we will look back on this tournament as a pivotal moment for both of them.
Verdict: Two And Three Quarter Stars
Red Goddess: STARS (Riho and Starlight Kid) (1-0) defeated Oedo Tai (Hazuki and Natsuko Tora) (0-1)
Riho and Starlight Kid make all the sense in the world as a team. It might have been their first outing together, but it already felt like they'd been doing this forever. Fingers crossed it becomes a more permanent thing.
The layout of this match meant we got bursts of High Speed before Natsuko came bulldozing in to chuck people around. I don't know about you, but that's a formula I am always going to enjoy. Riho, Kid and Hazuki can run at each other forever while Tora is brilliant in that bullying role, mercilessly beating the shit out of anyone who gets in her way.
Pace won the day, though. Tora ate a lot of abuse, surviving a Top Rope Stomp from Riho followed by a couple of knees, but the third one proved decisive, and the AEW Women's Champion kicked off her Tag League with a victory.
Verdict: Three And A Half Stars
Red Goddess: Jamie Hayter and Bea Priestley (1-0) defeated Tokyo Cyber Squad (Konami and Jungle Kyona) (0-1)
Having Jamie cut promos with Bea is a great way to highlight just how bad at them Priestley is. That's not what's important here, though, because, JUNGLE'S BACK! I know she hasn't been away long, but any time without Jungle Kyona is a sad time.
The weird mishmash team came out to Priestley's music with Bea carrying a QQ flag and Jamie the Oedo Tai board. I've still no idea where this is going to go, but I'm attempting to not moan about it until we get an idea. I will say that Jamie seemed to be enticing some personality out of Priestley that wasn't saying fuck, so that's no bad thing.
There was also a match, which was, for the most part, pretty good. Tokyo Cyber Squad controlled a lot of the action, attacking Jamie's arm and cutting off Bea before she could get going. The wrestling was fast, and we got some cool spots like Konami and Jungle hitting a Powerbomb and Missile Dropkick combo.
Unfortunately, there were also a few sloppy moments, with Jungle, in particular, looking like she was working off the ring rust. Throw in a finish that seemed a bit rushed, and it never broke above good. They worked well together, but with that much talent in the ring, I'd have liked to see a bit more.
Verdict: Three And A Quarter Stars
Kagetsu spotted an opportunity in the post-match, coming to the ring dragging AZM behind her as she presumably sees this weird alliance as a chance to get her hands on her favourite young wrestler. They then closed out the show with both Oedo Tai and Queen's Quest in the ring.
Overall Show
That was an enjoyable start to Tag League with a load of easy to watch matches that flew by. If the whole tournament is going to be like that, then I will come out the other end more than happy with what I got.
Watch Stardom: http://www.stardom-world.com/
If you enjoyed this review, please consider contributing to my Ko-fi, even the smallest amount is appreciated.