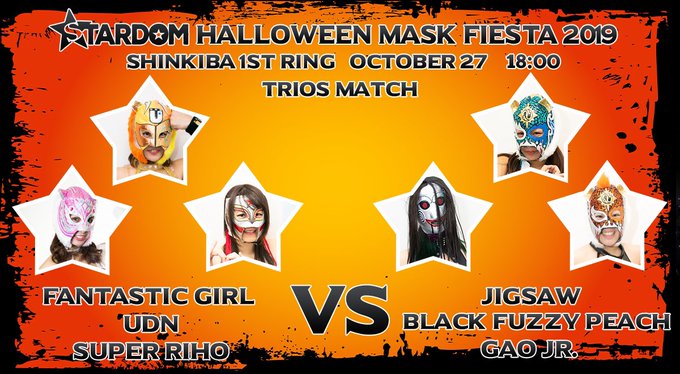 The Mask Fiesta is Stardom's annual Halloween show where all the wrestlers, and I'm going to shock you here, compete under masks. It's a non-canon event which promises to be a lot of fun, so let's get into it.
Trainee Miyagi defeated Cyber Cat and Masu Pinya
In a nice touch, the usual intro video on Stardom World had creepy music and blood dripping down it.
What was less nice was sending Trainee Miyagi out for a handicap match on her debut! What kind of bullshit is that? The mistreatment continued, as she was forced to collect streamers (including her own) despite being in the match. What a cruel company Stardom is (also, the ref is wearing a striped mask which made me laugh a lot).
The actual match made good use of Andras's, I mean, em, Trainee Miyagi's comedy chops, as she kept getting distracted by her rookie duties (she spent a lot of time wiping down the ring) and bowing to the crowd. Despite that, she'd survive the attacks of these two grizzled vets (who looked a bit like Hina and Rina, but obviously weren't them) and rolled them both up at the same time for the shock win.
For a match that can't have gone more than three minutes, I got a lot of entertainment out of that.
Verdict: Two And Three Quarter Stars
TAMCHIKA and La Gatita defeated Green SayaSaya and Muneka Ponite
Green SayaSaya made the unusual decision to wrestle alongside her favourite doll, Muneka Ponite, carrying her to the ring. Meanwhile, TAMCHIKA proved herself fluent in multiple languages speaking, em, 'Spanish' and then saying thank you in Russian. Finally, P-chan's Halloween costume was ridiculously cute. Although why he'd ditched Tam to hang out with TAMCHIKA, I don't know.
I also don't have a clue where to start with this nonsense. Ponite was not only dressed as a doll but remained remarkably faithful to that character all match, which left her opponents somewhat unsure of how to proceed with her lifeless form. Throw in SayaSaya and TAMCHIKA having a dance-off, and it's safe to say they were all having fun, and it was hard not to have it with them.
Verdict: Two And Three Quarter Stars
MINI IOTICA and Black Starlight Kid fought to a time limit draw
In theory, Starlight Kid doesn't have to change her gimmick because she already wears a mask. However, she came out to a Halloween themed song (which had its own choreography) and declared pre-match that she was Black Starlight Kid today before proceeding to go all Suzuki-gun on MINI IOTICA's ass. It was brilliant.
The change in dynamic was also a nice way to freshen up a pairing we've seen a lot (not to ruin the fun too much, but IOTICA is AZM), as they worked a more brawl orientated style. I was genuinely impressed at Kid embracing her inner heel, going after IOTICA's mask and throwing her into chairs. They even ended up fighting under the ring post-match and somehow came out wearing each other's masks because, you know, wrestling.
It was also the first match on the show that put the focus back on the in-ring, and while we've seen better from these two, it was still very good.
Verdict: Three And A Quarter Stars
Masked Gas Mask, El Bobo Wazowski, Monster Z. Sullivan, Death Pumpkin, Sexy Fairy Jungle and Masked Pretty Wan-Chan defeated Trainee Ishino, Trainee Hirata, Trainee Matuyama, Trainee Hayama, Trainee Urabe and Trainee Tora
Look, I have no idea how to review this thing. It started with the 'trainees' getting a series of three-minute trial matches against the veteran minds of Masked Gas Mask and co before morphing into something completely different after a genuinely hilarious moment. I don't want to spoil that moment, though, so writing about it is hard. Just watch this beautiful lunacy, alright? It's for the best.
Verdict: I don't have a fucking clue
Fantastic Girl, Super Riho and UDN defeated Fuzzy Peach, Jigsaw and Gao Jr
Jigsaw supposedly wrestled in this match except it wasn't Jigsaw, it was Jigsaw's puppet. Yes, I am Frankenstein Monstering the Saw films. She was also doing a weird creepy walk which I don't think was a Jigsaw trait. Anyway, I'm mainly going on about all this so I can plug the article I wrote about every single Saw film. Go read that, and then read this year's one where I did the same with Hellraiser.
While we're talking about the outfits, Fantastic Girl doesn't exactly look like a scrub during the day job, but her mask and ring gear were awesome. She was rocking that look.
I will eventually get around to talking about the match, which saw Jigsaw's team heel it up. I guess that shouldn't be surprising seeing as she is a murderer. When you put it like that, the hammer she used was quite tame. Fuzzy Peach took things a bit further, though, using a bat to gain an advantage. With such a lovely name you think she'd be a nice person.
Anyway, this was as close to a straight wrestling match as we got on this show, and it was good. They delivered a fun little sprint which finished when Fantastic Girl hit a Moonsault followed by UDN connecting with a Twisting Splash.
Verdict: Three And A Half Stars
Overall Show
Not to get all woe is me, but writing about this show was fucking hard. I can review shit stuff, I can review amazing stuff, and I can review alright stuff, but lunacy is hard which is daft because it was a ridiculously easy watch. Fingers crossed I've managed to put something together that will convince you to watch the show without spoiling your enjoyment of it (jokes aren't as funny when someone has badly explained the punchline already).
Watch Stardom: http://www.stardom-world.com/
If you enjoyed this review, please consider contributing to my Ko-fi, even the smallest amount is appreciated.