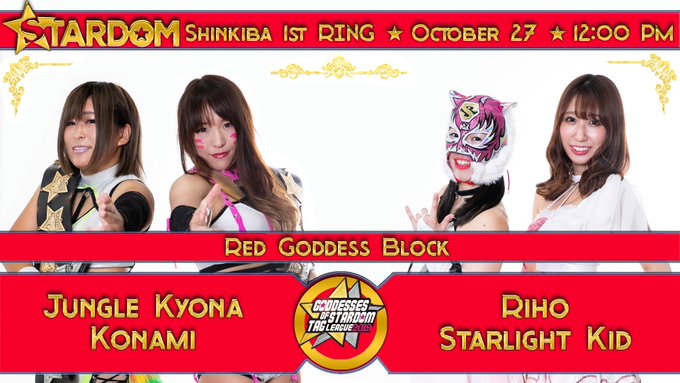 With all that New Japan nonsense out of the way, our focus can shift back to the more important Tag League as Stardom's continued in Shinkiba.
AZM defeated Rina and Hina in a Three Way Battle
Rina has no interest in going out there and trying to pin her sister, she wanted AZM, and that's the kind of confidence that will get you far. I mean, it didn't work, but she tried, and I respect that.
It was also an incredibly enjoyable opener. AZM seemed to be having all the fun manipulating the twins, at various times getting both of them to team up with her only to betray them at the first possible chance. That led to things getting a bit heated as Rina unleashed some fire.
It did, at times, feel a bit overly choreographed, but considering Rina and Hina's experience levels (and age), I don't think that's a problem. They put together a short burst of joyful wrestling, and that's impressive no matter how they did it.
Verdict: Three Stars
Drunk Queens (Natsu Sumire and Session Moth Martina) defeated Queen's Quest (Momo Watanabe and Leo Onozaki)
Natsu and Martina are still drunk as Moth opined that she might die. I hate to think how much alcohol that would take. The thing is, I'm not even sure they're joking, as from what I know about both, there is a genuine chance they have been drinking since Martina arrived.
Pissed or not, they were still smart enough to attack Queen's Quest while they were making their entrance. That built to a hilarious spot where Martina was set to spit beer in Momo's face only for Natsuko to point out to Natsu that she was underage and they'd get in trouble. Sumire then desperately dived across the ring, stopping Moth at the last second. Of course, that didn't stop them hitting duel Bronco Busters to their opponents seconds later before doubling up on Watanabe.
It led to a strange juxtaposition, as they veered from nonsense to Momo kicking the shit out of people, both sides of which had their pleasures. It did overlap at one point, as Martina had a nice back and forth with Watanabe, and while it's easy to dismiss her, she has come on a long way. Not that it stopped her assisting the win by spitting beer in Leo's face (she's 25, so it's perfectly legal) to let Natsu sneak a pin for the win.
Verdict: Three Stars
STARS (Mayu Iwatani and Saki Kashima) defeated Tokyo Cyber Squad (Bobbi Tyler and Zoe Lucas)
Zoe Lucas does a Spinning Kick into the corner that usually looks like she's lightly lying her leg across the chest of her opponent. In this match, she finally fucking leaned into that thing, clattering into Mayu with a bit of bite. I was so happy that I almost popped out of my chair, and when you combined it with her arrogantly stamping on Saki's head, this was the first time I felt like she was becoming the wrestler I want to see.
Of course, it helps when you're in the ring with Saki and Mayu who might be the most reliable team in this tournament. They're great, and they play the underdogs who get the shit kicked out of them brilliantly. The majority of this match was the two of them selling, with Saki eventually slipping into Revival to steal away with the victory, and few do it better.
It wasn't given long enough to be anything truly special, but it was Bobbi and Zoe's best performance of the tour, which was great to see.
Verdict: Three And A Quarter Stars
Blue Goddess: DREAMSHiNE (Arisa Hoshiki and Tam Nakano) (2-0) defeated Tag 3838 (Saya Iida and Saya Kamitani) (0-2)
Tam, who spends most of our time complaining about Arisa's attempts to be her friend, was sulking pre-match because Hoshiki had spent the week in Taiwan for work. Adorably, Tam claimed to have been waiting for her at the Dojo, which brings to mind a poor lost Tam, sadly waiting for her friend. Everyone thinks Arisa is lovely, but she's really very cruel.
If I was booking Stardom Tam and Arisa bickering and the two Sayas would be heavily featured on every card, so this was pretty much perfect. Team DREAMSHiNE's argument about who would start the match gave the rookies a chance too, as they grabbed the opportunity to charge across the ring and take control. They then did a good job of cutting off the ring and working over Tam, taking it in turns to remove Arisa from the apron.
The bickering would then almost lose DREAMSHiNE the match after Tam went for her usual friendly fire attacks. Unfortunately, the Sayas countered and sent Nakano flying onto Arisa only for Arisa to get her knees up. You could have maybe put that down to instinct, but she then followed up by stamping on Tam before dumping her out of the ring, so I suspect not.
Of course, the more experienced team did eventually get their act together, leading to Hoshiki removing Iida's head with a Brazilian Kick. The way they built this match was all the fun, though, giving the rookies plenty of chance to shine and giving me lots of laughs, I loved it.
Verdict: Three And Three Quarter Stars (Five Stars In My Heart)
Blue Goddess: Tokyo Cyber Squad (Hana Kimura and Death Yama-san) (2-0) defeated Oedo Tai (Kagetsu and Andras Miyagi) (1-1)
Hana and Death might be living the goth life at the moment, but Andras is the goth life, and while they caught her off-guard at the start of this match, she quickly restored the natural balance of things.
Kagetsu, meanwhile, appears to be in no mood for nonsense. She's been stony-faced all tournament and is wrestling with a vicious streak. Although she did take some time to dribble water on Yama-san's face, so she's still happy to wind people up when the occasion calls for it.
Plus, when you have Hana and Kagetsu in the ring together, things are always going to get heated sooner rather than later. Those two only had a brief run together, but it was intense as the elbows were flying. It was then left to Death and Miyagi to see us home, with a Hana boot providing the assist to Yama-san's roll-up. While that all added up to a fun match, I don't think it's anything you need to see.
Interestingly, the second the bell went Kagetsu was out of there, heading straight-up the ramp. I wonder what's up with her.
Verdict: Three Stars
Red Goddess: Bea Priestley and Jamie Hayter (4-0) defeated Oedo Tai (Hazuki and Natsuko Tora) (0-2)
Bea and Jamie keep quoting Peep Show in their pre-match promos, and while I'm sure it's making them laugh, it will make anyone who doesn't know what they're doing think they're talking absolute nonsense. Not that I want to ruin their fun.
Sadly, fun is not a word I'd use to describe this match. For whatever reason, the bulk of this was fucking boring as Oedo Tai slowly worked over Bea. Maybe it was just me, but it never clicked, despite having a few elements that I should have loved. Natsuko and Jamie hossing it out is a bit of me, but there was something off about their interactions, a weird looking Rainmaker from Hayter summing it up.
I don't think it helped that I was struggling to buy Bea and Hayter as the babyfaces being worked over before making a heroic comeback. They've been too dominant for that to ring true, and when they turned the tide, I didn't go with them.
Still, it wasn't an awful match, and I have a feeling I might be being a grump, so there is every chance others will enjoy it a lot more than me.
Verdict: Two And Three Quarter Stars
Red Goddess: Tokyo Cyber Squad (Konami and Jungle Kyona) (1-1-1) fought STARS (Starlight Kid and Riho) (2-1-1) to a time limit draw
Jungle and Konami's pre-match promo consisted of Kyona singing 'We Are The Champions'. She has a pretty good voice.
I'm in danger of repeating myself, but this match was brilliant for all the reasons Konami and Jungle vs Mayu and Saki was brilliant. You have two of the best workers in the company going up against two lightweight, fast-paced wrestlers who can bump around for them and happen to be pretty damn good too. It was only ever going to create magic.
And it was brilliant the whole way through, a constant flurry of action as TCS went after Kid's arm and never stopped for a breath. However, it kicked into a higher gear in the final minutes when Riho and Jungle were left to do their thing. Those two went at each other, throwing stiff elbows and hitting massive moves as they traded agonisingly close near falls. It was edge of your seat action to the extent that I didn't even notice the time limit was coming up and was caught off-guard when the bell rang. The best part? That means there is a chance we're going to see it again.
Verdict: Four Stars
After Kid made it clear they would want a shot at the titles in the future, Mayu and Arisa came out to hype their upcoming Korakuen matches. In classic Mayu fashion, she managed to accidentally beat Hoshiki around the face with the microphone when they hugged and declared AMA were going to hold both belts. STARS then closed out the show after Jungle vowed to finish their Tag League with two victories.
Overall Show
Stardom's Tag League continues to be a whole load of fun as even the worst match on this card wasn't actually bad. The entire show was an incredibly easy watch with even something as simple as the opener delivering a great time. Have I ever mentioned that I love this company? Because I really do.
Watch Stardom: http://www.stardom-world.com/
If you enjoyed this review, please consider contributing to my Ko-fi, even the smallest amount is appreciated.