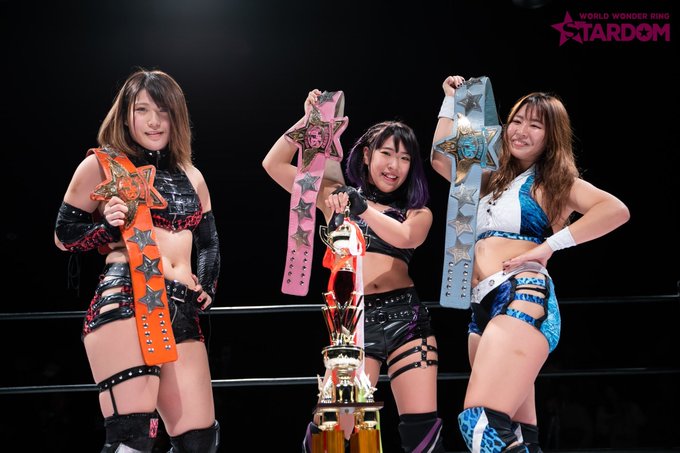 Tag League is done and dusted, but Stardom's year is far from over. They were back in Shin-Kiba for a show headlined by Andras and Kagetsu defending their Artists Titles for the first time since things went, well, let's go with sour. How did it go down? The picture is a bit of a spoiler, but read on to find out.
Tag 3838 (Saya Iida and Saya Kamitani) defeated Tokyo Cyber Squad (Rina and Ruaka)
I wish to put it on record that I am delighted that the two Sayas are continuing to team. Ruaka is also back for the first time in a while. Was she injured? I think I missed the memo about where she's been for the past three months.
Anyway, this was your usual entertaining rookie sprint with Ruaka looking decent upon her return. It's mental that these four, two of whom are teenagers while the other two have been wrestling properly for less than a year, can have a better match than a lot of 'experienced' talent. I know I say it a lot, but I do think it's worth reminding people that they're great, and not just for their age.
Verdict: Two And A Half Stars
Jungle Kyona defeated Itsuki Hoshino
Talking of inexperienced wrestlers, this was Hoshino's debut as she was placed in the reliable hands of one Jungle Kyona. Kyona referred to her as a 'cute little kitten' in her pre-match promo, which made me smile. If I ever make my wrestling debut, I hope it's against Jungle.
In a nice touch, they had the camera on Hoshino backstage, and she looked terrified (who wouldn't be?). Thankfully, as the match went on those nerves seemed to drift away. Jungle did not go easy on this particular kitten, laying into every strike, but Hoshino would prove to have claws, as she kept getting up and coming forward, defiantly trying to prove herself.
By the end, the fans were firmly in Hoshino's corner, booing Jungle and screaming her on as she tried desperately to escape a Crab. While she wouldn't quite make it and ended up tapping, as debuts go, that one was damn impressive. Whatever Kagetsu is doing in that Dojo, it's working.
Verdict: Three And A Quarter Stars
STARS (Starlight Kid and Saki Kashima) defeated Queen's Quest (Bea Priestley and Leo Onozaki) and Tokyo Cyber Squad (Konami and Zoe Lucas) in a Three Way Tag Battle
This falls into the classic Stardom multi-women sprint that was a load of fun category. Starlight Kid is brilliant in these matches. There aren't many people on the roster that she can't have a good showing with, and I hope Stardom appreciate just how great she is.
Towards the end, Bea looked like she killed Konami with a Double Stomp that folded her up in a way that seemed very unpleasant. Chaos then broke out (although, to be honest, the whole thing was chaotic) and Saki slipped Leo into a Revival for a three. From an emotional point of view, they had a tough match to follow, but they blasted through it.
Verdict: Three And A Quarter Stars
STARS (Mayu Iwatani, Arisa Hoshiki and Tam Nakano) defeated Oedo Tai (Jamie Hayter, Natsuko Tora and Session Moth Martina)
Poor Natsuko spent part of this match playing the role of STARS' kick bag. With who was on the STARS' team, that can't have been fun.
Much like the previous match, this was a fun sprint without much storyline progression, but plenty of good action. Arisa and Tam got the victory ahead of their Goddesses title shot, combining to take out Martina, and keeping them hot before they faced off with Jungle and Konami the next day.
Post-match, Tam got on the mic and complained that she wanted to get the three before telling Arisa that she hated her, so the bickering isn't over even if they've made peace. We then got a bit of back and forth between DREAMSHiNE and Jungle (Konami made it halfway down the ramp before deciding she couldn't be arsed) to add a smidge more excitement to their match.
I've spent more of that review speaking about the aftermath than the action, but it was good! Well worth a watch.
Verdict: Three And A Half Stars
Riho defeated Hazuki and Hana Kimura in a Three Way Battle
I'm going to cover the Hazuki news on my review of the show where she announced it, but I am, like most people, sad.
Anyway, this was a happier time before we knew about that as we had three twenty-two-year-old wrestlers who have a combined experience of twenty-one years. You could probably make that even longer too since Hana was holding titles at the age of eight, but we won't count that.
They took that experience and used it to put together a match which was bursting with joy. Whether it was Hana enticing Riho into an alliance only to betray her seconds later or Riho pinning Kimura while she had Hazuki in a Romero Special, it was packed with enjoyable little moments that will linger in your mind.
The finish saw Riho and Hazuki laying into each other with a fantastic back and forth before Riho reversed the Hazukistral into a flash pin of our own for the three. If I'd watched this live that would have caught me off-guard as I would have assumed they was setting Hazuki up to challenge again, but with the benefit of hindsight, it makes a lot of sense.
Verdict: Three And Three Quarter Stars
Queen's Quest (Momo Watanabe, Utami Hayashishita and AZM) defeated Oedo Tai (Kagetsu, Natsu Sumire and Andras Miyagi) to win the Artist of Stardom Titles
Poor, Natsu. She was so proud of that title, and she was left to cut the pre-match promo by herself as Kagetsu and Andras are not on the best of terms after Miyagi tried to bash the boss on the head with a wooden sign during their final Tag League match.
They did at least make their entrance together, flanked by the rest of Oedo Tai, before Sumire led the charge across the ring, getting the sneak attack in quickly. For a bit, everything looked like it might be okay as Andras went to work on Utami, but as the match went on, it became more and more obvious that they weren't on the same page.
In the end, they weren't so much not on the same page, but different continents as Andras slipped into the ring, smacked both her partners on the head with the wooden board and turned the tide. After that, chaos broke out with AZM eventually locking on an Armbar on Sumire for the submission.
It did make this more of an angle than a match, but I want to give Natsu her credit because she was fantastic here. She wrestled like someone who knew something was wrong but was desperate for it not to be. By the end, she was pure defiance, fighting on almost single-handedly and desperately trying to keep hold of a belt that you get the impression didn't just mean a lot to her in kayfabe. While this story seems to be centred on Andras and Kagetsu, Natsu might be its first victim.
Verdict: Three And A Half Stars
Post-match, Kagetsu kicked Andras out of Oedo Tai and challenged her to a singles match. AZM then cut the post-match promo, challenging anyone in the back which brought out, well, no-one. I guess we'll have to wait for that. She then closed out the show, as it's worth noting she has picked up a lot of falls recently and seems to be getting bumped up the card.
Overall Show
Most of this show was entertaining, but lacking in consequence before the main event smashed it by bringing a big storyline development to the table. What this means for Oedo Tai, we'll have to wait and see, but when you throw in the Hazuki news, poor Kagetsu has some restructuring to do.
Watch Stardom: http://www.stardom-world.com/
If you enjoyed this review, please consider contributing to my Ko-fi, even the smallest amount is appreciated.