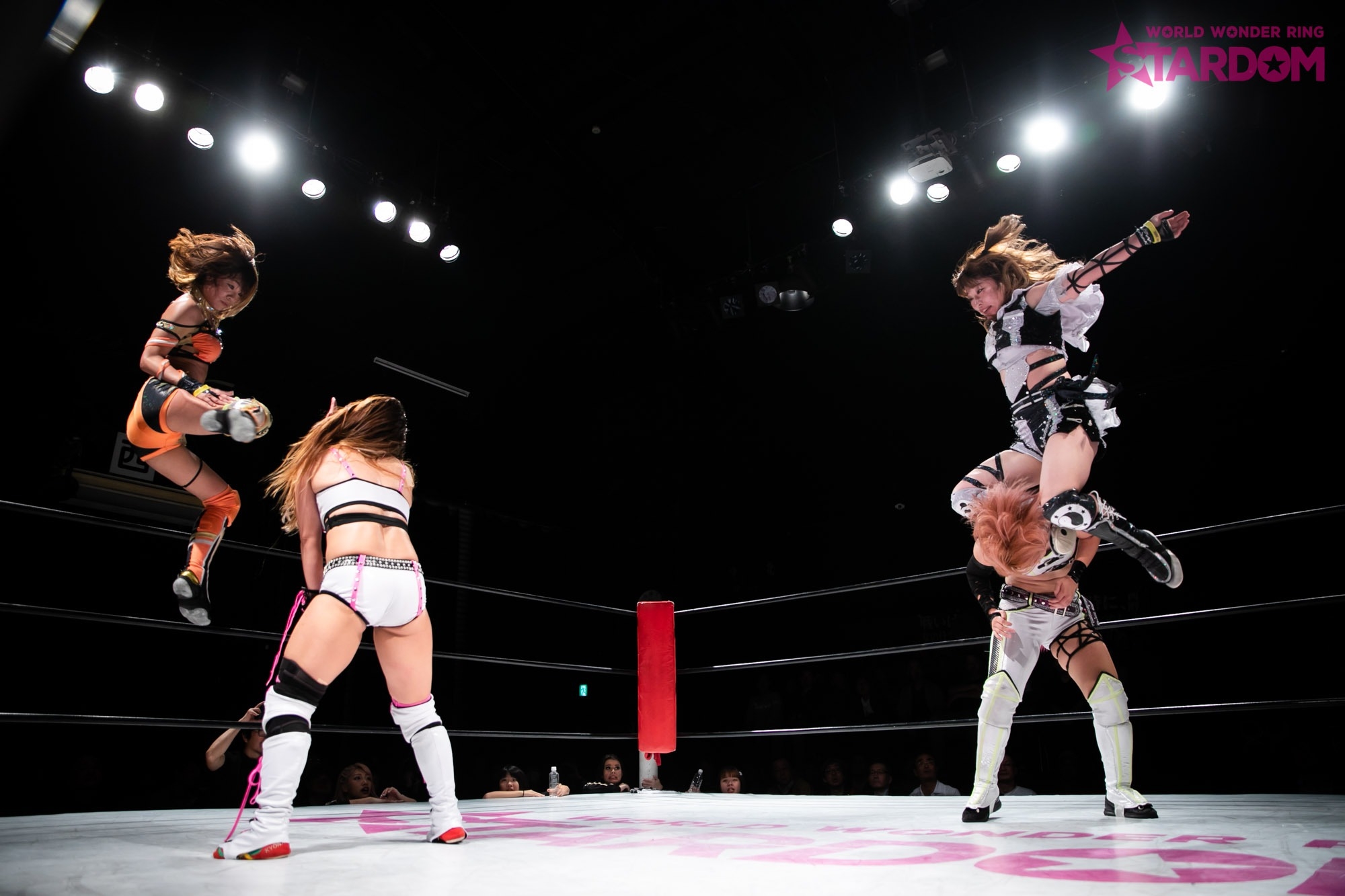 There is a chance this review could get emotional for reasons that I'm sure everyone is aware of. Still, it's Stardom, and that always makes me happy even if it is also going to make me sad.
Queen's Quest (AZM and Leo Onozaki) defeated Hina and Itsuki Hoshino
Poor Hoshino survived Jungle Kyona only to be handed to the grizzled old vet that is seventeen-year-old AZM. The rookie spent a lot of this match selling (and doing an excellent job at it), but there was also a beautiful Dropkick towards the end. I know you probably shouldn't get too excited about someone after two matches, but she looks to be another gem.
Outside of that, I wanted to do a quick shout-out to Hina, who has sneakily got pretty damn good. She and AZM had a back and forth that I enjoyed the crap out of, as she matched AZM's forearms and never looked out of place. Well done her.
As for the match as a whole, it was a decent Stardom opener. Nothing blow-away, but they had someone in there who had made their debut the day before, so the fact I'm happy to stick three stars on it says a lot.
Verdict: Three Stars
Bea Priestley defeated Andras Miyagi and Starlight Kid in a Three Way Battle
I have no idea what Stardom is doing with Miyagi. She was coming off being kicked out of Oedo Tai by Kagetsu which felt like a big moment for her, but then she took the fall to Bea? Not only did she take the fall, but she was shaking hands and doing light comedy at the start of the match? The only hint that said angle had even happened was that she refused to do a promo. What is the plan here?
Anyway, the match itself was quite fun, a wee sprint that only went five minutes. Sadly, I've been left so baffled by the booking that I don't know what else to say. Yea, it was fine.
Verdict: Two And Three Quarter Stars
Oedo Tai (Jamie Hayter, Natsuko Tora and Session Moth Martina) defeated Tokyo Cyber Squad (Hana Kimura, Zoe Lucas and Rina)
Having praised her sister, let's throw some nice words Rina's way too. Like Hina, she's taken a big jump forward recently, which was evident in her working a lot of this match. Stepping into the role of Mini-Hana seems to have let her personality blossom, and she's already a solid wee wrestler.
Outside of that, it was another enjoyable Stardom mid-card tag. Hana and Jamie had an exciting back and forth. As far as I can remember, they're not a singles pairing we've seen before, so let's get that sorted out.
Verdict: Three And A Quarter Stars
Queen's Quest (Momo Watanabe and Utami Hayashishita) defeated Tag 3838 (Saya Kamitani and Saya Iida)
How great were the two Sayas in this one? I realise they were in there with two of the best, but fucking hell, they've turned into one hell of a tag team. At one point, Iida just went off on Momo, chopping the shit out of her. More of that, please.
Of course, Momo and Utami aren't a bad pairing themselves and were as reliable as ever. They played the experienced heads, caught off-guard by the rookies, before rallying and coming back for the win. The finish was cool too, Utami holding Iida for the Stalling German only for her to make a desperate attempt to turn it into a flash pin. Sadly for wee Saya, Hayashishita was too strong and brought her crashing over for the three.
That match burst through my expectations, and I wasn't exactly expecting it to be shite.
Verdict: Three And Three Quarter Stars
Oedo Tai (Kagetsu, Hazuki and Natsu Sumire) defeated STARS (Mayu Iwatani, Riho and Saki Kashima)
Natsu was very excited to grind on Riho's face. I don't know if there is anything else I can say about that. At least not without making this weird. Let's move on.
We can't move too far because this match was the Natsu show. I could try and detail her antics, but quite frankly it would take a few thousand words as she was on top form. Needless to say, it was incredibly entertaining, not much fun for Saki and you should probably watch it.
There was also a smattering of good wrestling thrown in there, with Mayu and Kagetsu getting a chance to preview their upcoming match. Throw in Riho and Hazuki doing their stuff, and it was a riot of a time. Thumbs up all-round.
Verdict: Three And Three Quarter Stars
Sadly, the fun didn't continue into the post-match as Hazuki announced she'll retire on Christmas Eve. She's only 22, but this seems to have been an entirely personal choice, so I think I can only wish her all the best. I'm planning on putting together something about it before the 24th because, well, she's awesome and I want to say that in many more words.
Tokyo Cyber Squad (Jungle Kyona and Konami) defeated DREAMSHiNE (Arisa Hoshiki and Tam Nakano) to retain the Goddesses of Stardom Titles
The secret to Arisa is that despite being a happy and smiley person, she's evil. There was a moment in this match where after having had her arm receive a kicking Jungle delivered a weak forearm. Arisa then proceeded to look around, raising her shoulders in confusion at this pathetic attempt before continuing the kicking. It was mocking and cruel but delivered with a smile on her face, which makes it all the better.
And Jungle was fucking awesome in this match. She sold her ass off in the opening act as Tam and Arisa seemed unstoppable, cutting her off at every opportunity. Konami could not get in the ring, and it seemed like an inevitability that DREAMSHiNE were going to power home to victory.
Eventually, though, Konami did get that tag, and the match changed. It changed into a game of one-upmanship, with both teams throwing everything at each other. That came down to Tam and Konami, Nakano getting within millimetres of picking up the three only for a desperate Jungle to come flying in to save the day.
Then, in the foreground of the shot, you saw Kyona catch Arisa out of the air, slamming her into the apron. That was enough to create the distance she needed to slip into the ring and deliver a forearm a lot harder than the ones that Hoshiki mocked earlier in the match. In fact, it was hard enough to send Tam into position for the Triangle Lancer, and we know how that ends.
Verdict: Four And A Quarter Stars
Konami made sure to get her digs in at Hoshiki post-match, building to their title showdown on January 24th. She then went very Hiromu, licking the belt much to Arisa's horror. Jungle then said that she wants to defend these tag belts all over the world, which is presumably building to something.
Before we get that, though, Hana decided to slip into the ring and congratulate her teammates. She then told Rossy (or Grandpa) that she wasn't going to be in any multi-woman matches on December 24th and demanded he gives her something interesting. That has been used to set up a match with Giulia.
Overall Show
A fantastic title match closed out a show that was enjoyable despite one moment of daft booking and one moment of sadness. It feels like the company are still finding their feet in this new Bushiroad era, but if it's going to keep delivering wrestling like this, I'll have no complaints.
Watch Stardom: http://www.stardom-world.com/
If you enjoyed this review, please consider contributing to my Ko-fi, even the smallest amount is appreciated.