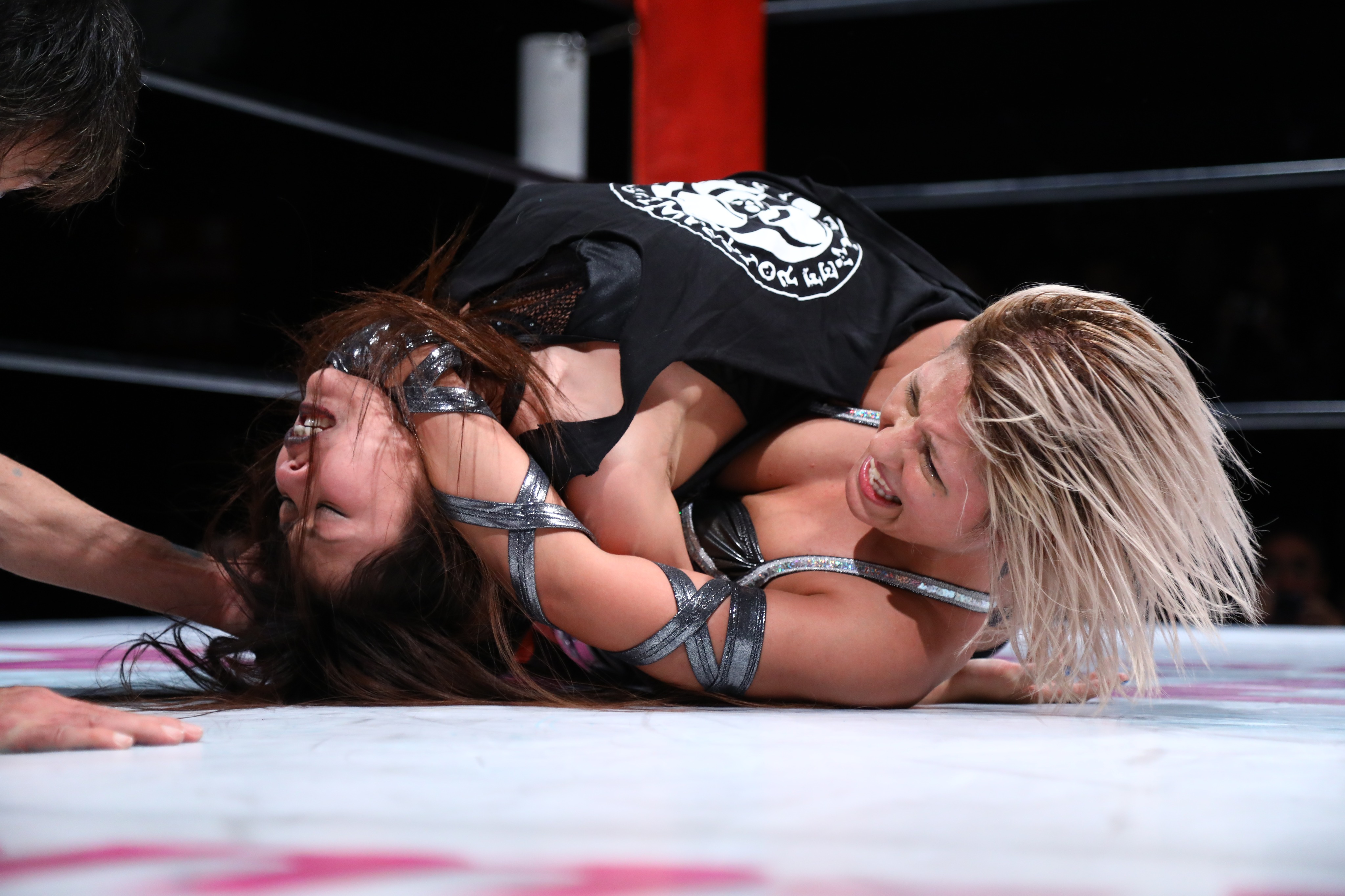 The build to Korakuen continues with Stardom not only putting Giulia's debut on this show but backing it up with a good old-fashioned rookie tournament. You know that's going to be great, right?
Tokyo Cyber Squad (Death Yama-san and Ruaka) defeated Hina and Rina
We open with a nice little throwback to Kaori Yoneyama corrupting the rookies except she's now presumably getting them to listen to death metal. It was also a weird group of wrestlers. Sure, Rina and Hina are sisters, but Rina is a member of Tokyo Cyber Squad, so why is she facing them with a member of Queen's Quest?
They did at least play into that during the match, Rina joining in when Ruaka and Death pulled off a TCS pose while standing on Hina. That, in turn, put a bit of sting behind Hina's next tag to her sister. For all my confusion, their continual bickering ended up adding to what would have otherwise been a pretty standard opener.
Verdict: Three Stars
Saya Iida defeated Leo Onozaki in the Rookie of Stardom Tournament 1st Round
Wow, I did not see that coming. The bell rang, and these two charged at each other, colliding in an intense as hell lock-up. It was an intensity they'd keep up for all five minutes of this match, as they leaned into every elbow in a vicious sprint. There wasn't a moment of downtime as Saya and Leo seemed determined to make use of every second they had.
Leo was particularly great, as she's often the forgotten woman of the Stardom rookies. Towards the end, she hit a trio of Running Ace Cutters, and when Iida came back with a flurry of Dropkicks, she pulled herself up after every single one, defiant as hell. That blasted Iidabashi would scupper her, but this was a hell of a match and will go down as one of the better singles performances of these two's young careers.
In the aftermath, there was a lovely moment between them as Leo pulled Saya in for a hug, whispering a few words into her ear.
Verdict: Three And A Half Stars
Saya Kamitani defeated Itsuki Hoshino in the Rookie of Stardom Tournament 1st Round
Damn, someone has fired these rookies the fuck up. Hoshino and Kamitani came through the Dojo together, despite debuting at different times. Itsuki was clearly desperate to prove that wasn't down to a lack of ability on her part, firing out of the blocks and relentlessly attacking Kamitani. She was raining down elbows and throwing Dropkicks for all she was worth.
However, wily old veteran Kamitani (27 matches to Hoshino's five) would prove to have too much. She was able to absorb the offence and eventually came back with a Missile Dropkick and a Running Shooting Star Press (which she nailed) for the win. These two didn't quite capture the intensity of Iida vs Onozaki, but they came a lot closer than I expected them to.
We got another nice post-match moment as they shared a tight hug, showing that the best of friends can get over any number of Dropkicks.
Verdict: Three And A Quarter Stars
Oedo Tai (Jamie Hayter, Natsuko Tora, Natsu Sumire and Session Moth Martina) defeated Tokyo Cyber Squad (Hana Kimura, Jungle Kyona, Konami and Zoe Lucas)
Oedo Tai's pre-match promo was them dancing around Natsuko while she brushed her teeth. They do have fun. Meanwhile, I don't think enough is made of the fact that TCS's entrance music descends into discordant noise at one point. I fucking love that shit.
In the ring, Jamie and Hana have been quietly developing some issues. Well, I say quietly, they've done it by hitting each other really hard, so it's not that quiet. The last few times they've come face to face we've seen Hayter out power Hana, knocking her down with one blow in response to Kimura's flurries. The same was true here, but Hana also managed to get her over for a Suplex, so she isn't without her advantages.
Outside of that, we got some of Natsu's beautiful nonsense (including an elaborate Bronco Buster spot that got everyone involved), a surprisingly great showing from Martina and JanKyo being, well, JanKyo. How can you not love that woman? It was a shitload of fun and as easy a watch as you will see.
Verdict: Three And A Half Stars
STARS (Arisa Hoshiki, Riho, Starlight Kid and Saki Kashima) defeated Queen's Quest (Momo Watanabe, Utami Hayashishita, AZM and Bea Priestley)
Starlight Kid seems to have gotten better, which is no mean feat, cause she was pretty great already. She's added an edge to her wrestling, trading forearms with AZM and standing over her after she got the win. In promos, she's still the same old Kid, but in the ring, she's got a nasty streak that is serving her well.
And Kid was very much the focus of this match, as she and AZM took up most of the final act. Outside of that, it was pretty decent. It felt like they were all taking it a little bit easy, but I don't blame them for that. Why bust a gut in a mid-card tag?
It did continue STARS' recent winning streak over QQ as they prepare to challenge for the Artist Titles. The fact they've won three in a row suggests to me that they won't be winning those, but that's pure guesswork.
Verdict: Three And A Quarter Stars
Saya Kamitani defeated Saya Iida to win the Rookie of Stardom Tournament
Saya Iida doing some Kojima-esque Machine Gun Chops in the corner is everything I need in life. I don't know what she had to eat before this show, but give it to her every week, I want badass Iida more often. Kamitani made the mistake of inviting a forearm at one point only to be sent flying across the ring when it came crashing in.
That assault brought the fire out of Kamitani too, as these two tag team partners showed no sign of holding back on each other. They did the duel Dropkick spot but just crashed into each other, which makes every sequence that's ended with two people Dropkicking thin air instantly redundant.
And this is from two wrestlers who have a combined experience of just over a year. Sure, it was a bit rough and ready at times, but the intensity and the passion they showed more than made up for that. Plus, when they did go into their finishing stretch, it was just fantastic, no clauses needed. The two Says aren't just good wrestlers for their experience levels. They're good wrestlers full stop.
Verdict: Four Stars
The Rookie of Stardom Trophy is about a tenth of the size of the other Stardom trophies which made me laugh. The Sayas also shook hands post-match before hugging each other tightly. I would die for those two.
Kagetsu defeated Andras Miyagi
Miyagi vs Kagetsu should have felt like a much bigger deal than it did. However, since Andras turned on Oedo Tai, her booking has been, em, erratic? One second she's betraying her pals, the next she's losing to Bea. It was all very strange, and what probably should have been a heated grudge match felt a bit like an afterthought.
Sadly, the match didn't do enough to make up for that lacklustre build because it was, well, even more lacklustre. For whatever reason, this never clicked. Andras is a solid mid-card act who works in tags, but as a general rule, her singles matches have never blown me away. They're too stilted, as she stops and starts, struggling to find a flow. I wanted to see her and Kagetsu unleash on each other, and they never did.
It didn't even work from a booking point of view. For a second, it looked like they were turning Andras into a killer, a pair of vicious Piledrivers looking like they might win the match. However, Kagetsu kicked out and with a small assist from Oedo Tai on the outside got the win with little to no fuss, ending the feud before it got started.
Verdict: Two And A Quarter Stars
Post-match Kagetsu tried to give Andras some advice, but she was uninterested, storming off in frustration. Kagetsu wasn't too worried, wishing her luck in her future endeavours as she went.
Giulia defeated Hazuki
As someone who hasn't seen any of Giulia's previous work, I came into this one highly intrigued. Stardom certainly gave her every opportunity to succeed on her debut, sending her out to be the latest stop on the Hazuki retirement tour.
However, while wrestling Hazuki might be conducive to a good match, it doesn't necessarily mean you're going to get an easy one. Giulia got the hard introduction to Stardom, being introduced to the ringside seating and repeatedly booted in the face. She didn't take it lying down, though, proving that she's just as happy to get evil. The first sign that she has an edge was her grabbing Hazuki's hair while in a Chin Lock, desperate to give a little bit back. That then escalated to her hanging Hazuki out of the ring an arm wrapped tightly around her neck before she followed up with a Curb Stomp on the floor. Giulia is mean.
And when you put two mean people in the ring together, you generally get something pretty damn good. This was a perfect introduction for Giulia as she went toe to toe with Hazuki, stood her ground and eventually forced her to pass out by bending her up like a pretzel. It made her look like a fucking badass, and while I think the match needed a minute or two more to be truly great, it is the first sign that she might have been worth all the fuss.
Verdict: Three And Three Quarter Stars
Post-match, Hazuki offered Giulia her hand, an invitation she wasn't willing to take (although Hazuki seemed to respect that). The new girl then got on the mic and promised to break Hana at Korakuen before calling her out. That ended about as well as you'd expect as they ended up brawling to the outside of the building – those two really don't like each other. Cool angle, though.
Amusingly, their animosity became Kamitani's opportunity as she jumped in the ring and brought the rookies out to close the show. That was a lovely moment and after their performance on this show, well deserved.
Overall Show
Any show that is stolen by the rookies is a good one in my book. Throw in a successful debut for Giulia that ended in a hot angle, and it's hard to complain. Stardom seems to be in good shape heading towards Christmas Eve, and I've no doubt they'll smash it out the park yet again.
Watch Stardom: http://www.stardom-world.com/
If you enjoyed this review, please consider contributing to my Ko-fi, even the smallest amount is appreciated.