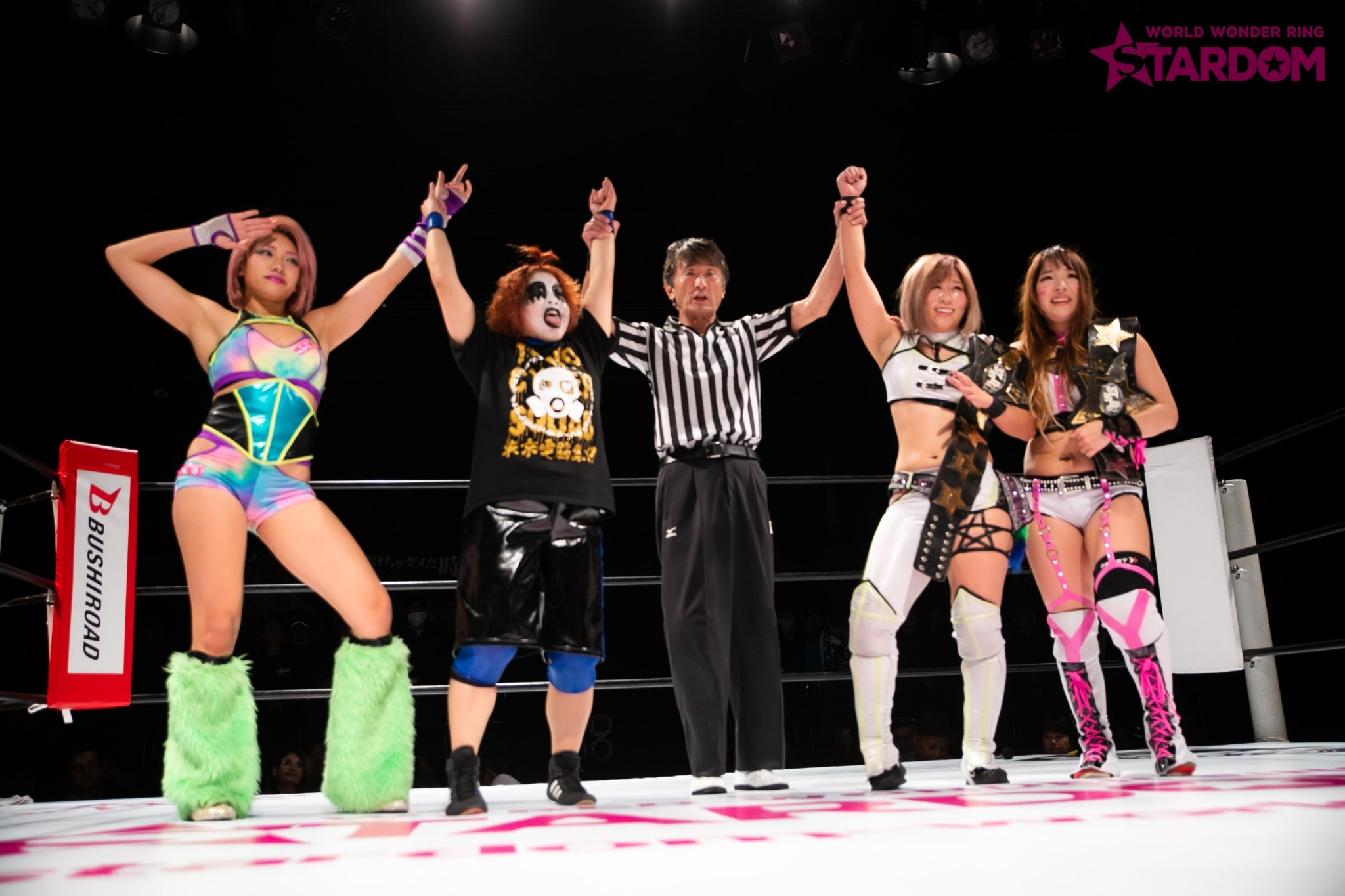 January the second was Stardom time! Wrestle Kingdom may have been the initial inspiration for this trip, but let's not beat around the bush, I was just as excited about watching Stardom. I've fallen in love with this company over the last year and having reviewed every show (I think, I certainly didn't miss many) of 2019, being at their first of 2020 was a no-brainer. I was sober and fully with it, so I'll be returning to the traditional structure. However, don't expect any great analysis of the matches themselves because I was not taking notes.
Queen's Quest (Leo Onozaki and Rina) defeated Tokyo Cyber Squad (Hina and Ruaka)
I've obviously always known that these girls weren't tall human beings (for one thing, half of them are children), but they are still larger than life when watched on the TV. Put them in front of you, and you suddenly remember that, oh yea, they are literally children. However, there are other details you pick up on too: Ruaka and Rina making each other laugh while Queen's Quest made their entrance and the fact that the two sisters have no qualms about beating the crap out of each other. The strikes are hard, but even stiffer are the judo throws, as what you can presume is years of grappling with each other is brought to the forefront.
Honestly, this was probably something I'd slap the 'standard Stardom opener' tag on 99% of the time and get on with my life, but it will always be the first Stardom match I saw live, and for that, it's earned a place in my heart.
Verdict: Three Stars
Leyla Hirsch defeated Saya Iida and Itsuki Hoshino
Hirsch is an American from the CZW school who was making her Stardom debut. I knew nothing about her going in, but she and Iida got in each other's faces almost straight away, and I liked that.
Seeing the two rookies live accentuated Iida's experience. Hoshino was good, but she doesn't carry herself like an established wrestler yet. Iida, on the other hand, looks like a natural and even when the wrestling isn't silky smooth, she is able to breeze past it. Her confidence has soared over the last twelve months, and that makes a huge difference
Hirsch would get the win, finishing Hoshino off with an impressive Moonsault after murdering my favourite Saya with a German. It was a strong debut from her, so it will be interesting to see what Stardom has planned.
Verdict: Three And A Quarter Stars
Queen's Quest (Momo Watanabe, Utami Hayashishita and Bea Priestley) defeated Oedo Tai (Natsu Sumire, Natsuko Tora and Zoey Skye)
I don't think you can watch this match and come away with any conclusion other than the one that proclaims Natsu Sumire as queen. She was brilliant from start to finish, making her entrance before wandering around the ring picking up towels and everything in reach to launch at QQ as they made theirs. At times, I found myself watching her rather than the match as she was constantly up to something, drawing laughs or concocting schemes.
It means I can probably review Natsu's performance better than the rest of the action, but there was plenty to enjoy from the others too. It was awesome to see Momo and Utami, and those two are superstars. There have been rumours that Bushi Road doesn't rate Watanabe as an Ace, and if they are watching her wrestle and not seeing what the whole world sees, then they're fucking idiots.
As for Skye, our second debutant and another American, she didn't really get the chance to stand out in the mid-card tag chaos, but what we did see looked good. She would end up on the losing team but didn't take the fall as Momo put Natsu away. I'll need to get a couple more looks to pass judgement, though
Verdict: Three And A Quarter Stars
Giulia and Andras Miyagi defeated Oedo Tai (Jamie Hayter and Session Moth Martina)
New Year had momentarily broken Hayter as she tried to convince Martina they'd done enough drinking. Thankfully (although maybe not for her liver), the Session Moth quickly got her back on the straight and narrow, kicking off the party.
Sadly, Giulia and Andras weren't in a party mood as they attacked the Oedo Tai team from behind to start the match. This seemed to be all about establishing them as a pairing, and Giulia cut a promo post-match that I didn't understand, but certainly seemed to be suggesting that was the plan going forward. She was the clear ringleader either way, so it's possible we're getting a new faction or maybe just an alliance.
Anyway, it was Giulia who stood out in this match, particularly in her interactions with Hayter. As I've said before, I love her viciousness, and she does a lot of shit that looks like it hurts. I know some people despise her for jumping ship to Stardom, and I get that puro jumps are frowned upon in Japan, but the idea that people owe their company things is capitalism in action, so I have no problem with it. She's clearly a brilliant wrestler, and while this match was perhaps the least memorable on the show, it was Giulia who stood out.
Verdict: Three Stars
Kagetsu and AZM defeated STARS (Mayu Iwatani and Starlight Kid)
One retirement tour ends, and another begins. Will we ever be done with sad things?
Thankfully, this was brilliant and at the end of the show had claimed first spot in my match of the decade list (it has since been overtaken). You had four wrestlers with insane chemistry who got every chance to show that off, so how could you not have a good time?
Before we got there, we had some laughs to savour. The brilliant thing about the Kagetsu AZM relationship is that Kagetsu is so infatuated and AZM such a badass that it's the youngster who is in charge. Her barking orders at one of her elders was laugh out loud funny, and she pulled out some classic Kagetsu spots to great effect. Meanwhile, Mayu is an underrated comic talent, wanting nothing to do with the water and elastic bands on display and at one point grabbing a chair to take a seat on the entrance ramp as poor Kid was tortured. The evil Mayu theory really is hard to get past at times.
Then, on the home stretch, they unleashed, going all out in a fantastic back and forth. All the combinations were explored, and all of them came up more than worthy of matching the core pairings of Mayu vs Kagetsu and AZM vs Kid. There was a Stomp from AZM that looked like it must have destroyed every single internal organ Kid possesses while Iwatani and Kagetsu have no qualms about smacking each other around. When all added up, I had the best time.
Verdict: Four And A Quarter Stars
Tokyo Cyber Squad (Hana Kimura, Jungle Kyona, Konami and Death Yama-san) defeated STARS (Arisa Hoshiki, Tam Nakano, Saki Kashima and Saya Kamitani)
I struggle to review these frantic muti-women tags when I watch them on-demand and have the benefit of a rewind, so you can imagine how this is going to go. As you'd expect, it was all over the place with barely a second to breathe. Once again, it was all the little moments that stood out, though. The sound of Arisa foot connecting with someone's skull, the way that Kamitani already looked at home in the main event or Hana holding the crowd in the palm of her hand. Christ, I didn't even mention Jungle! One of the best wrestlers on the planet was just there, in front of me and being brilliant.
If we remove my fanboying from proceedings, the main point of interest was Hana going after Arisa, taunting her as they exchanged forearms. If Hoshiki gets past Utami, which isn't a guarantee, then I'd bet money on it being Hana who beats her. She has got to drop that belt sooner rather than later, and one of those two seems the perfect candidate to take it from her.
Back to my enjoyment, and this was just all the fun. I was sat, in Shinkiba 1st Ring, watching my favourite wrestling promotion in the world put on a match with some of my favourite wrestlers. Was it a masterclass? Nah, probably not, but it was everything I needed it to be.
Verdict: Three And Three Quarter Stars
Overall Show
Ah, I have so much more I want to talk about. I don't think you appreciate how brilliant Stardom's rookies are at getting streamers out of the ring until you see them live and compare them with other shows. Talking of streamers, I also learnt that most of them seem to come from the same few people. There was a guy right in front of me who kept sneaking out of his seat and sitting on the steps, setting himself up to throw them for his favourites. He certainly showed more passion than Rossy, who was on his phone every time I glanced in his direction. I'm sure there was more. In fact, there definitely was. Oh well, I can't write all the words, can I? If you'll excuse a moment of me getting personal, I'd like to quickly say that I had a year in which my head was all over the place, and the place that I frequently retreated to when it got bad was watching Stardom. This promotion certainly has its flaws, but it means a lot to me, and seeing it live was the best. Thank you, Stardom.
Watch Stardom: http://www.stardom-world.com/
If you enjoyed this review, please consider contributing to my Ko-fi, even the smallest amount is appreciated.