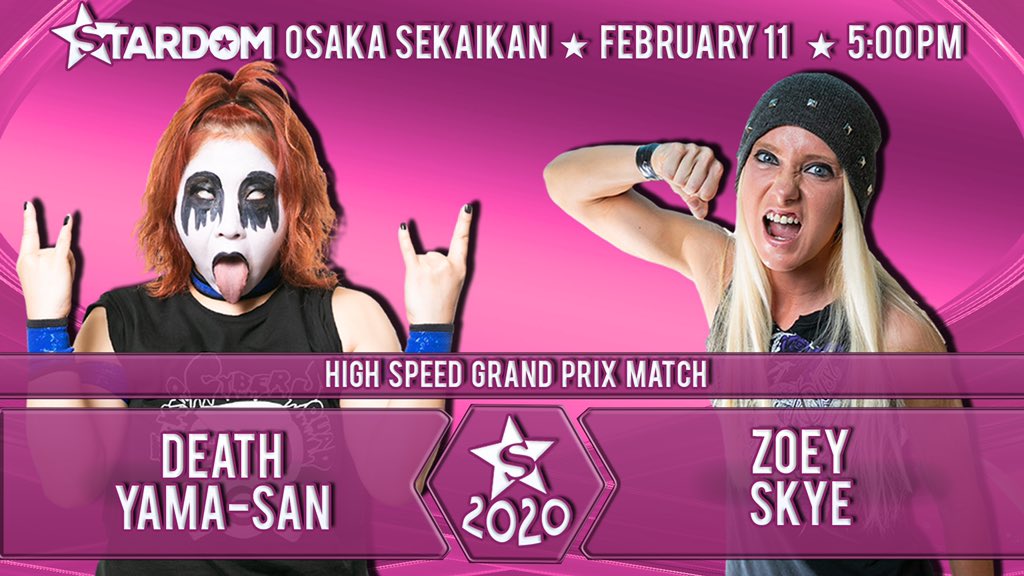 Stardom recently rocked up in Osaka for one of their two-show days which brought with it another trio of High Speed Grand Prix matches. While this tournament has almost trundled along in the background of Stardom's usual offering, it hasn't stopped me enjoying it, so let's see if the speedy goodness continued.
Death Yama-san (2-1) defeated Leyla Hirsch (2-1)
Death and Leyla kicked things off with a match that can't have gone much more than two minutes.
And those two minutes were played mainly for laughs with Death's antics coming to the fore. The central spot was her attempts to hit Hirsch with a move in the corner only to be met with a boot. She was undeterred, however, stepping back, doing her pose and running into the boot again.
Not that it stopped her getting the win, as Leyla went for that beautiful Moonsault too early, missed and was bundled up for the three. If you're a fan of Yama-san's antics (and I am), you might as well watch this match. It's not like it's going to take up much of your time.
Verdict: DEATH!
Starlight Kid (1-2) defeated Zoey Skye (0-1)
If anyone has the right to feel a bit aggrieved by this High Speed Grand Prix, it's Starlight Kid. She was all set to challenge her tag-team partner Riho when the whole shebang was announced, and now she finds herself 0-2 and desperate to stay in contention.
Skye wasn't going to make it easy for her to do so as it quickly became clear that she was quite capable of keeping up with Kid. On top of that, she was happy to kick her way to victory, delivering a few nicely placed boots to turn the match in her favour.
Unluckily for her, Starlight Kid is a dab hand at this style and just needed one opportunity to sneak out with the win. What a delightful opportunity it was too, as she bundled Skye up in an awesome flash pin that got the three and kept her tournament alive.
There were a couple of moments in this that didn't quite click, for example, Skye needing to stumble her way into position for the 619 when Kid's set-up was slightly misplaced. However, they were minimal, and overall it was a very enjoyable High Speed style match-up.
Verdict: Kid's On The Board
Zoey Skye (1-1) defeated Death Yama-san (2-2)
If my maths is correct (and it usually isn't), then this was Death Yama-san's final match, and her loss was essential in keeping the tournament interesting.
As you'd expect with Death in there, it was a frantic affair. What might be a bit more surprising was how naturally Zoey seemed to take it. Make no mistake about it this was a Yama-san match with that blend of high speed and comedy, but Skye looked like she'd been doing it her whole career.
And, in the end, she proved to know Death better than most, escaping the O'Connor Roll to hit a brace of Codebreakers (sandwiched either side of an Enziguri) and picking up a well-deserved win.
Verdict: Skye Arrives
Watch Stardom: http://www.stardom-world.com/
If you enjoyed this review, please consider contributing to my Ko-fi, even the smallest amount is appreciated.