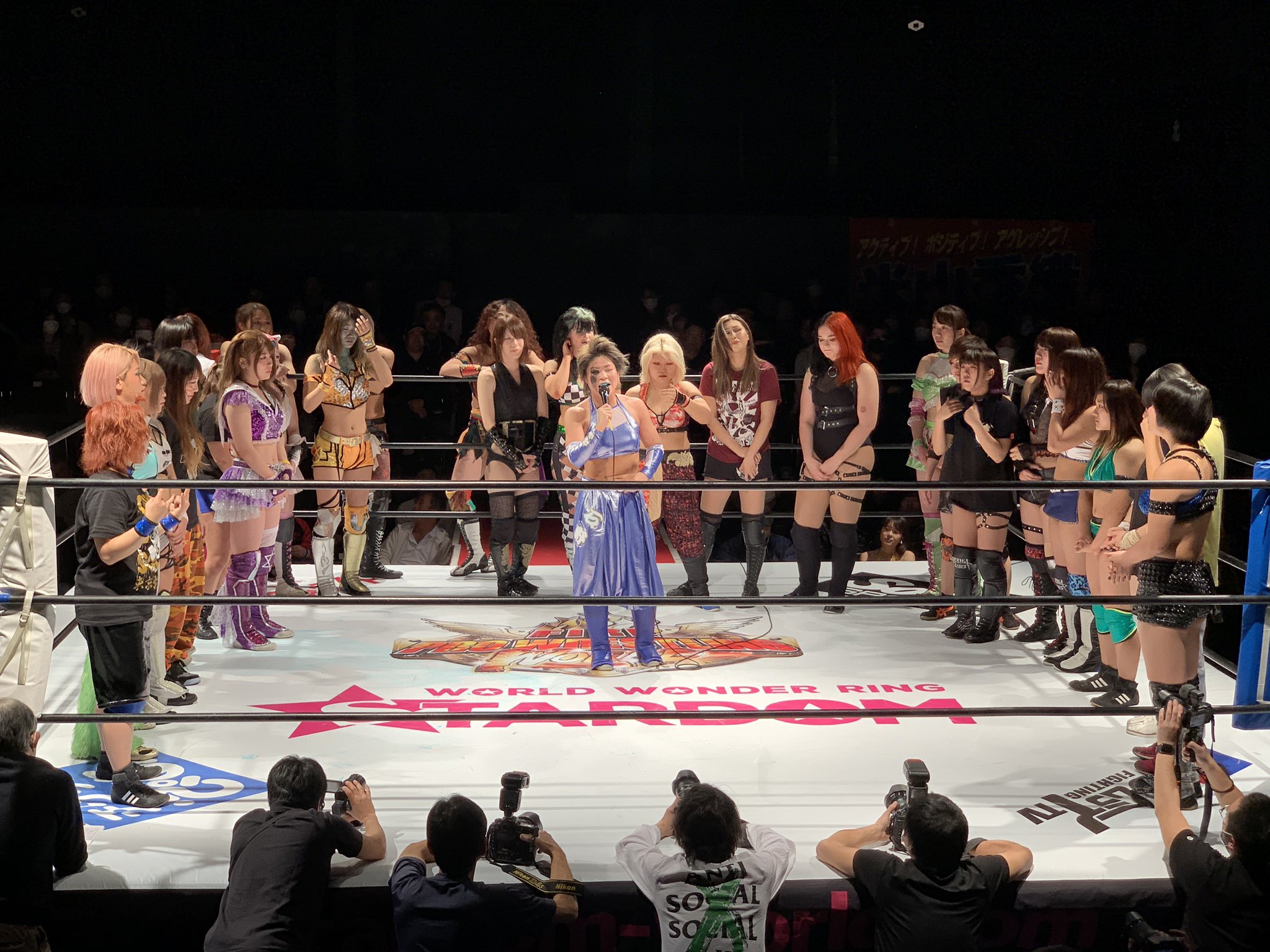 I thought I was safe from Stardom making me emotional, but they've only gone and pulled Kagetsu back for one last match. The traditional retirement gauntlet headlined this show, and I wasn't going to miss a chance to ramble about that.
Saya Kamitani and Itsuki Hoshino defeated Queen's Quest (Leo Onozaki and Hina)
Leo Onozaki has announced she'll be retiring due to recurring injuries, with her final match coming on the show after this one. Unsurprisingly, this has gone rather unremarked upon, coming so soon after Kagetsu and Hazuki, but I am going to miss her. Leo was never going to be a star or find herself at the top of the card, but she's one of these wrestlers that always makes me smile, and I enjoy her team with Hina. While I'll talk about it more in my review of her final match, I send only the best wishes in her direction.
Perhaps because her in-ring time is coming to an end, they got a bit longer than usual in this opening spot, and Leo made sure to do plenty with it. For the second show in a row, she'd get pinned by Hoshiki (which makes a lot more sense now) and seemed to be working extra hard to make her look good. In other words, even as someone with not a lot of rub to give, she made sure to pass on what she could.
All things said it's not a match that's going to stick in the head, but as they hugged afterwards, you hope it at least meant something to Leo.
Verdict: We'll Miss You, Leo
AZM (2-1) defeated Zoey Skye (1-2) in a High Speed Grand Prix match
I previously claimed this was Skye's first Stardom run, but I was talking bollocks. She had been over before (working under the name Dust) and beat AZM in her debut. And while it's probably a stretch to claim that one previous encounter was responsible for this being good, that doesn't change the fact it was.
They kicked into gear when everyone's favourite grizzled veteran made a rare mistake, stamping on Skye's foot after drawing her in for a test of strength. That seemed to piss off the American, and she took her frustration out on her opponent. There were stomps in the corner, a series of well-placed boots and a DDT onto the apron.
That forced AZM to fall back on her speed in an attempt to take the match back, and they had a frantic final sequence where she tried to wrap Skye up in the AZM Sushi. It did occasionally get a bit sloppy, the two of them not quite flowing, but that almost added to the feeling that they were desperately battling between flash pins, trying everything to get the three.
And, in the end, it was AZM who pulled it off, trapping Skye's shoulders to the floor. I said after Zoey's match with Death Yama-san that she'd arrived, but she's now topped even that.
Verdict: Skye Steps Up Again
Oedo Tai (Natsuko Tora, Saki Kashima and Natsu Sumire) defeated Tokyo Cyber Squad (Hana Kimura, Leyla Hirsch and Ruaka)
Saki Kashima is in a weird spot where her look, her promos and her actions have all turned heel, but the way she wrestles is still firmly in the babyface camp. She played the face in peril in the opening of this match, and even in the home stretch Ruaka got the majority of the offence, the tide only turning when Natsuko smashed the youngster over the head with whatever that thing Oedo Tai have started taking to the ring is.
And it's creating a slightly disjointed edge to this new look Oedo Tai. On the one hand, they seem to be heeling it up to the max, pushing away from the tweener role they'd taken under Kagetsu. However, it's hard to embrace that when the wrestling doesn't back it up. It made a little bit of sense at Korakuen as they were against an all-star TCS side, but when Ruaka is across the ring from them, it's harder to buy.
Still, even with that issue, the match was entertaining enough. Natsuko is, at the very least, fully embracing their new heel status and seems to be flourishing in the role. Now, if only she can pass some of that attitude onto her teammates.
Verdict: Are You Heel? Or Are You Face?
Donna del Mondo (Giulia, Syuri Kondo and Maika) defeated Riho and STARS (Tam Nakano and Saya Iida)
The Stardom roster being unable to pronounce/remember Donna del Mondo is becoming my favourite running joke. Combine that with Gori-chan running wild, and this match generated a lot of smiles.
It also continued to cement Donna del Mondo as a really great trio. Those three have clicked together seamlessly, working to their strengths and getting the best out of their opponents. We got a fun back and forth between Giulia and Tam while both Maika and Syuri gave a lot to Iida. That's before you even mention Riho, who was her usual exciting self, kicking the match off with a fun flurry against Giulia.
The final minutes were frantic with STARS coming close to getting the win only for del Mondo's teamwork to pay-off. That left Syuri alone with Iida and she bent back that arm until the wee gorilla had no choice but to tap.
Verdict: Donna del al dente
Queen's Quest (Momo Watanabe and Utami Hayashishita) defeated Oedo Tai (Jamie Hayter and Bea Priestley)
I feel like I occasionally take Momo and Utami's excellence for granted. The two of them are so consistently brilliant that you almost get used to it. In this one, they were out for revenge as Bea and Jamie have proven a thorn in their side since Priestley turned on Queen's Quest.
And they went for that revenge from the word go, attacking while Priestley and Hayter made their entrance. That was the set-up for an enjoyable, hard-hitting match where the tag champs also shone. It felt like four wrestlers who know each other well, working hard, but not throwing everything they can at it.
In the end, Utami and Momo were just that little bit smoother as a team. Bea and Jamie went for the combination V-Trigger/Lariat, but they missed, and an Utami German sent Priestley into position for Peach Sunrise and the three. Post-match, Momo declared they want a shot at the Goddesses belts, to which Priestley responded with a slap. They'll go again.
Verdict: Fun, Fun, Fun.
Tokyo Cyber Squad (Jungle Kyona, Konami and Death Yama-san) defeated STARS (Mayu Iwatani, Arisa Hoshiki and Starlight Kid)
In theory, this was building to Mayu vs Jungle. Unfortunately, the show that was supposed to happen on was cancelled in reaction to the coronavirus. Jungle's not even getting to lose title matches now.
Even with the cherry on top of this particular cake getting whisked away, there was still a lot to have fun to be had. Arisa was in a particularly mischievous mood, smiling away while she beat on Konami. Plus, rather unsurprisingly, Jungle and Mayu showed some magic in their brief flourishes. Mayu seemed to be in a cocky mood, kipping up from a Shoulder Block, a move she may have regretted when a Jungle Lariat turned her inside out a few seconds later. I can't imagine a world in which Jungle vs Mayu isn't brilliant, so fingers crossed they rearrange it.
Starlight Kid got some brief chances to shine in the home stretch, a Konami kick being the only thing that stopped her sneaking out with a win. However, Jungle eventually got her hands on her, and when she brought her up, she brought her down a lot harder for the three.
Verdict: Justice For Jungle
Kagetsu's Retirement Gauntlet
I'm not going to treat this like a typical match. There were twenty-five opponents, each of who got their moment to have a minute with Kagetsu and do something awesome. Every single one brought something a little bit different to the ring, and it was wonderful.
What I will talk about is Kagetsu, who was outrageously brilliant. She went out of her way to make people look good, bumping around for everyone from Giulia to Rina. Seriously, she did more to put the rookies and kids over in one-minute matches than some wrestlers will do in a career. Konami, Momo and Bea were the only people to get wins, but they weren't the only people to get the rub.
At times it was funny, at other times it was exciting, and there was emotion bursting from every second. I lost track of the wrestlers who after the bell rung, grabbed Kagetsu's hand or paid respect to her in some way, but there were a lot of them. If for some daft reason you still believe the report that Kagetsu was disliked by the locker room, then please watch this match. It should put any concerns to bed once and for all.
Verdict: We'll Miss You
The emotions weren't over, though. By the end, the entire roster surrounded the ring, and Kagetsu was, understandably, exhausted. However, she wasn't going to go without passing on some wisdom. First, she offered her jutte (the sword thing she carries to the ring with her) to Natsuko, passing the torch to her and I think answering any questions about whether she would be the one to lead Oedo Tai forward.
Then, with the roster in the ring, she took the time out to tell Hanan (who I assume is out injured? She wasn't involved in the match and hasn't wrestled in a while) that she'd used the Jumping Armbar today as a message to her, asking her to use it in the future which, I mean, come on. What an incredible thing to do. She took a moment of time set aside for her to give something to a fifteen-year-old kid that will mean the world to them. That's a touch of class.
Finally, she pledged herself once and for all to Stardom, declaring herself Stardom's Kagetsu before closing the show with everyone around her and being tossed into the air (this time they managed not to drop her). Christ, if she keeps having retirements, I'm going to be all dried out.
Overall Show
A strong showing from Stardom as Kagetsu's second send-off somehow managed to live up to the emotion of her first, while the undercard wasn't half bad either. This company is in a great spot right now, seemingly incapable of putting on a bad show, and it's a joy to watch.
Watch Stardom: http://www.stardom-world.com/
If you enjoyed this review, please consider contributing to my Ko-fi, even the smallest amount is appreciated.