Insert joke about Stardom drawing an awful crowd for their latest Korkauen here. For yes, with coronavirus still causing chaos, Stardom chose to hold their monthly trip to the Hall without any fans. It's not all bad news, though, as they also streamed it for free on YouTube, making it the rare Stardom show that can be watched straight away and has commentary, with a whole load of familiar faces (including Jushin Liger) popping up throughout the show. If we're lucky, it might even become a regular thing. Anyway, on with the wrestling!
Super Strong Starlight Machine won a Royal Rumble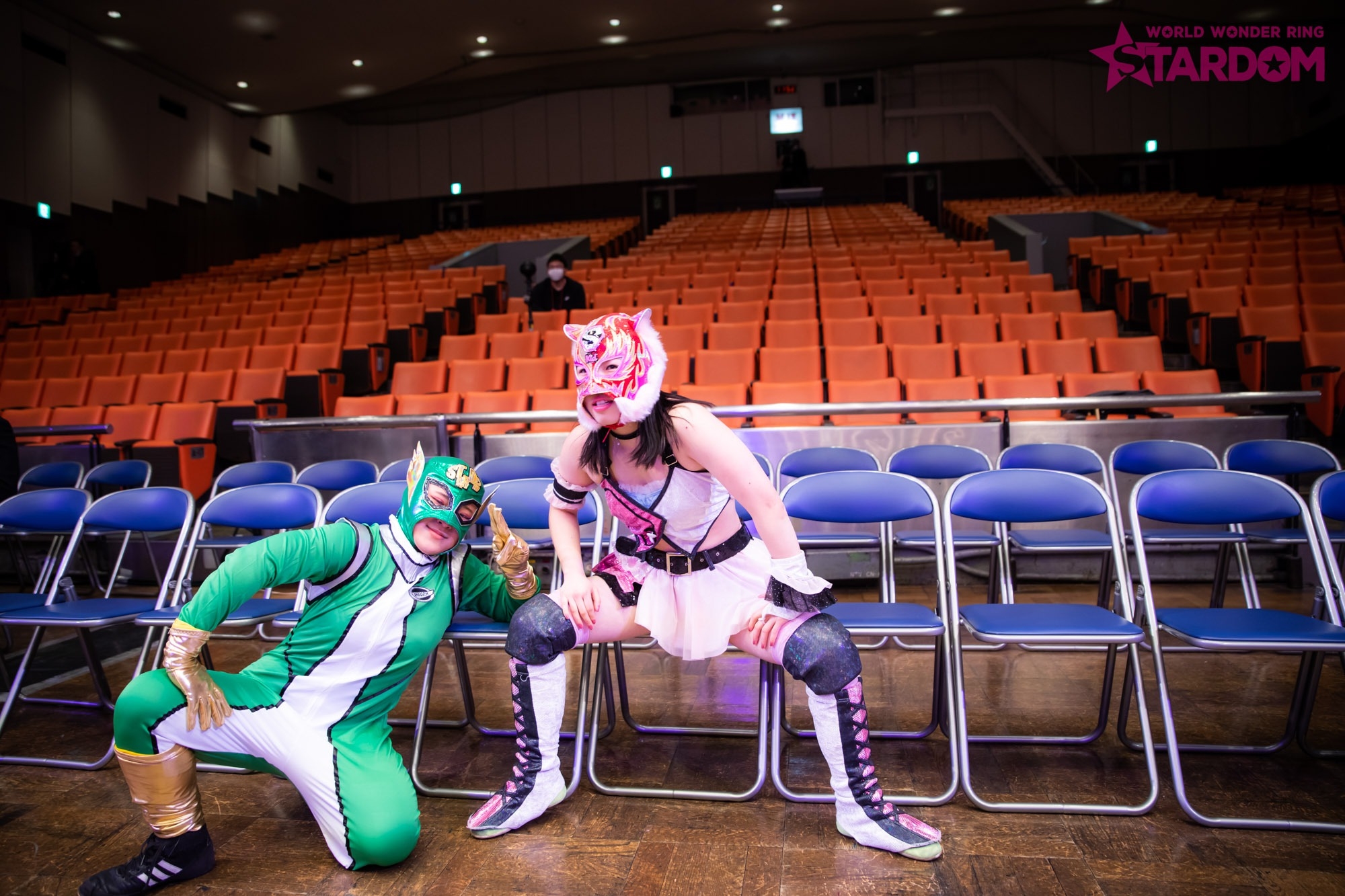 A lot of this match was utter nonsense, a statement that I mean entirely as a compliment. Particularly as a lot of that nonsense revolved around Saya Iida, instantly making it wonderful. She entered this match three times, first as herself, then as Captain Stardom and finally as Super Strong Starlight Machine, who would get the win. She also pinned Kamitani, getting a slither of revenge for her turning her back on Tag 3838.
Outside of that, we got a couple of surprises with Momoe Nakanishi (who I have to admit I know nothing about) turning up purely to be quite silly (and succeeding). There was also a Mima Shimoda appearance, as she came out with a steel chair and used it to great effect when eliminating Natsu.
It was all just a lot of fun. Yes, there were a bunch of sloppy moments, but they never hurt my enjoyment. Any match that has Natsu setting up for the Bronco Buster and being cheered on by Jushin Thunder Liger has to be good, right?
Verdict: Gori-chan Rules!
Natsuko Tora defeated Super Strong Starlight Machine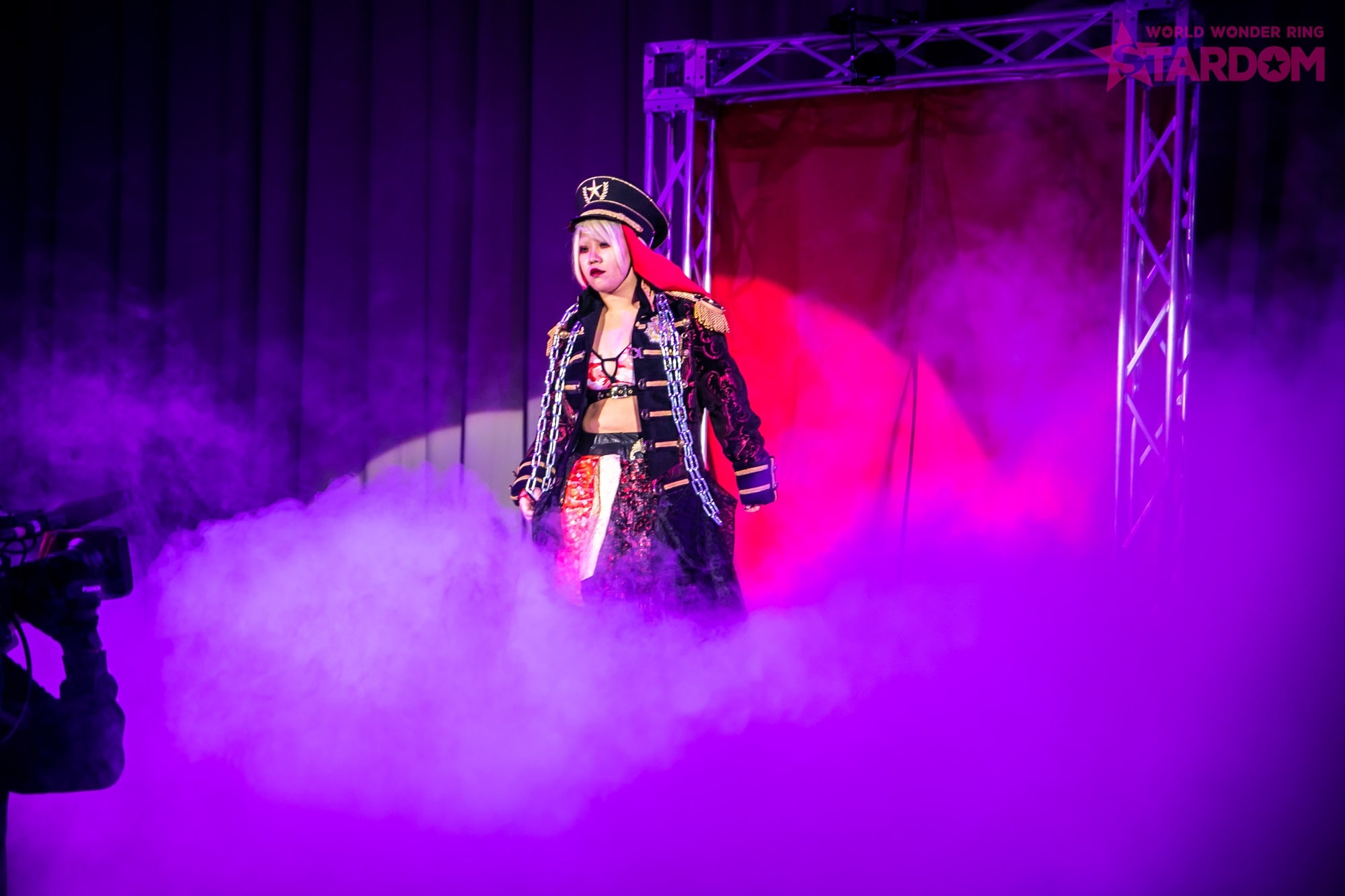 Arisa had to be pulled from the show at the last minute because of injury, so they had Super Strong Starlight Machine call out Tora post-victory.
It was a challenge Tora accepted, making her entrance into a smoke-filled Korakuen, which looked fucking awesome. What followed was basically a squash, Natsuko making short and violent work of her tired opponent.
In that sense, it did everything it needed to, with Tora looking strong and Iida/Super Strong Starlight Machine not losing anything in defeat. You'll hear no complaints from me.
Verdict: What It Needed To Be
Tokyo Cyber Squad (Hana Kimura and Jungle Kyona) defeated Donna del Mondo (Giulia and Maika)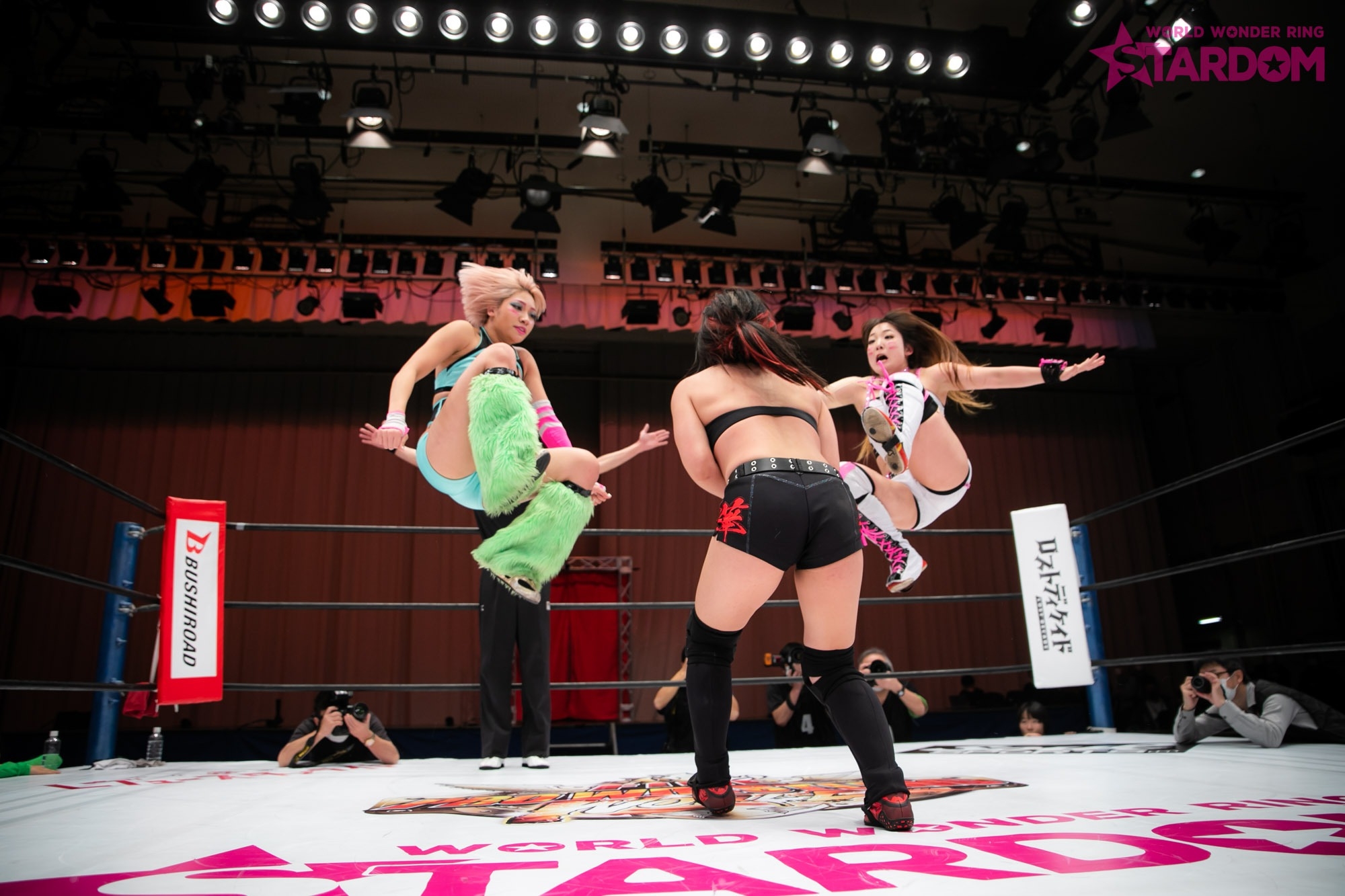 Hana and Giulia have done a fantastic job of building a feud where neither one of them has the advantage. Those two do not like each other, as every interaction brings with it a slither of hate, and yet they're proving inseparable. Their interaction in this match ended with them both crawling back to their corners, broken and needing to tag out at the same time.
Not that it was all the Hana and Giulia show, as Jungle and Maika were brilliant. Poor Jungle took a beating, being booted in the head, having one of her extensions ripped out and being tossed around by Maika's Judo Throws. She'd get her revenge, though, hoisting Maika up for a brutally beautiful Jungle Buster which sealed the three.
It all added up to a great match, which really shouldn't be a surprise. If you put four talented wrestlers in the ring together, the odds are that they'll produce something good and when one of them is Jungle Kyona, it becomes almost impossible for it to go any other way.
Verdict: Good Wrestlers Do Good Wrestling
Post-match Jungle challenged Giulia, saying that she had a lot of power built up after her title match was cancelled and comparing her to a lemon broth that she wants to taste. Giulia accepted, instructing her to learn how to say limoncello. You might not want to give them more homework, Giulia, they're all struggling with Donna del Mondo as it is.
Oedo Tai (Jamie Hayter and Bea Priestley) defeated Queen's Quest (Momo Watanabe and Utami Hayashishita) to retain the Goddesses of Stardom Tag Team Titles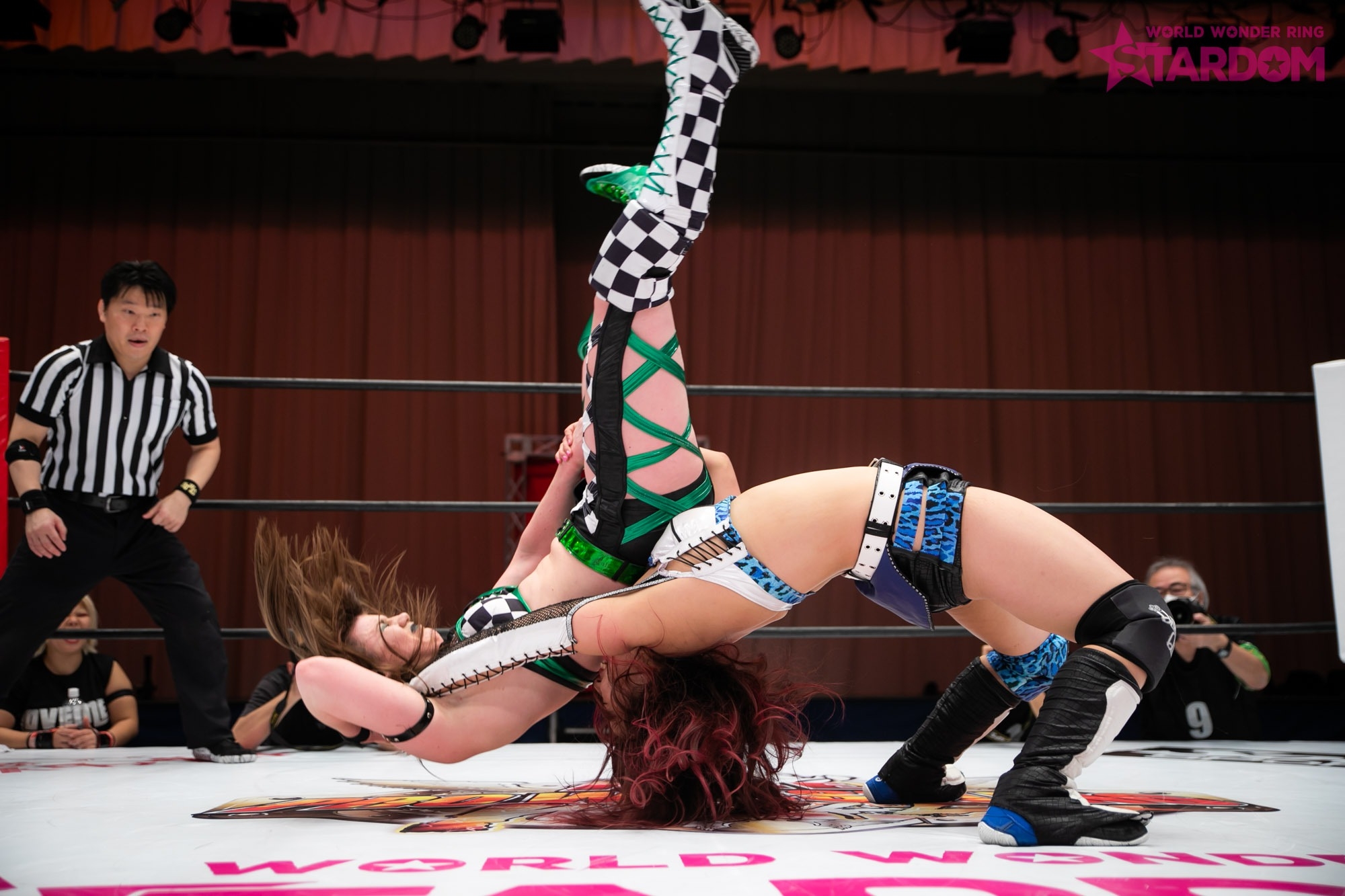 Bea Priestley and Jamie Hayter have become a thorn in the side of Momo Watanabe that she can't remove. They are everything Queen's Quest is not, their over the top, tryhard heel antics clashing with the focused aggression that QQ made their name with, and yet it's working. Ever since Bea kneed her in the head, it's been Momo who has struggled, not her.
And that very much became the theme of this match. It was Momo who took the long beat down, and it was Momo was Priestley pinned. At times, Utami was almost removed from the action, getting moments to shine, but spending a lot of her time on the apron, as Watanabe struggled not only to take control but to make a tag.
She would still have those moments that remind you why she's The Ace. Towards the end, she even connected with Peach Sunrise, dropping Bea with it, but Hayter was there, ready to break up the pin. Then, when she tried to follow that with a Kamigoye of her own, ending Priestley with the move she used to turn on her, Bea reversed it and brought a very good match home.
I am intrigued as to where this is going. Momo is on a very deliberate slump, and at some point, she's going to come out of it, but how low will she go before the turnaround kicks into gear?
Verdict: Momo Struggles, But The Match Was Good
As Bea and Jamie celebrated, big Saya appeared on the apron, asking to challenge them alongside Utami. If we're talking about Momo's descent, the sight of the partner she just lost a tag title shot with making another play for the belts straight after with someone else had to be a kick in the guts.
Mayu Iwatani defeated Saki Kashima in a Lumberjack Match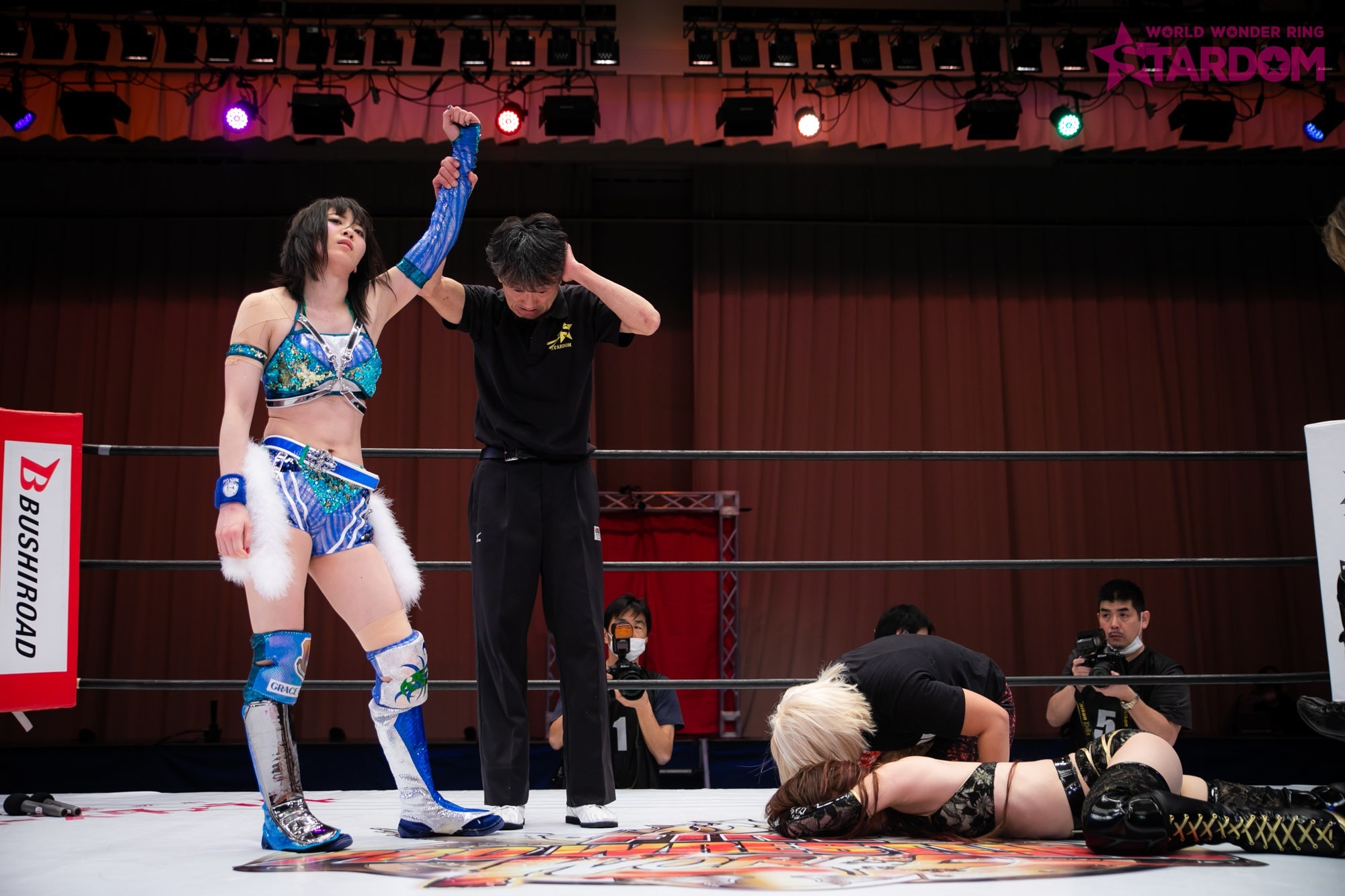 Since Saki Kashima smashed the Oedo Tai board over Mayu Iwatani's head and turned her back on her old friend, Mayu has been remarkably blasé about the whole situation. It's not the first time she's been betrayed, and she doesn't appear to be angry at Kashima or even care about her at all. The second she turned her back on STARS, she became an irrelevance, a fly that isn't even worth the effort of swatting. It's been an attitude that's driven Saki to distraction as she's fought tooth and nail to convince the woman she betrayed to get in the ring with her, even going as far as saying she didn't want a title shot.
It led to the opening part of this match being about Saki having to make Mayu care. She and Oedo Tai, unsurprisingly, adapted to the Lumberjack stipulation much quicker than STARS, dragging Iwatani to ringside and giving her a beating. It was a situation that would eventually culminate in her rolling backwards down two flights of Korakuen stairs and, in the most Mayu moment possible, crashing into a chair at the bottom.
It was when they returned to the ring that this match really took off, though. Daichi would take a bump, leading to more Oedo Tai interference, but STARS finally got their act together, taking them out and setting into motion the final sequence in which something inside Mayu clicked. Maybe it was the Revival that Saki slipped into, coming agonisingly close to getting the three or maybe she just decided it was time to swat the fly, but the last seconds of this match were cold-blooded. A brutal array of kicks set her up for a Tombstone, but Iwatani wasn't content with just hitting it. She held Saki in the air for an agonisingly long time, a smile spreading across her face before she dropped her old friend on her head. The Moonsault that followed was academic, Iwatani had made her point.
I loved that match. Iwatani has always had a vicious streak, but Saki drew it out of her in a way that few have. I also don't think Kashima loses a thing by taking the fall. Iwatani is Iwatani, and whether she admits it or not, Saki made her care. In some ways, that will be the victory.
Verdict: Murderous Mayu
I love that Jushin Thunder Liger seems to be a massive Mayu fan. He was delighted to catch her armband pre-match and was the only person to answer her good evening shout in the post-match promo. She heroically cut a full promo to an empty Korakuen, thanking the YouTube crowd and letting all of STARS have their say (the general theme being that it was lonely without fans and everyone watching should support Stardom).
Overall Show
For a show that took place in front of no-one, that was really good. The main event was the highlight, but both tag matches were great, and the Battle Royal was a shitload of fun. Plus, it's on YouTube for free! Why wouldn't you watch it?
Watch Stardom: http://www.stardom-world.com/
If you enjoyed this review, please consider contributing to my Ko-fi, even the smallest amount is appreciated.