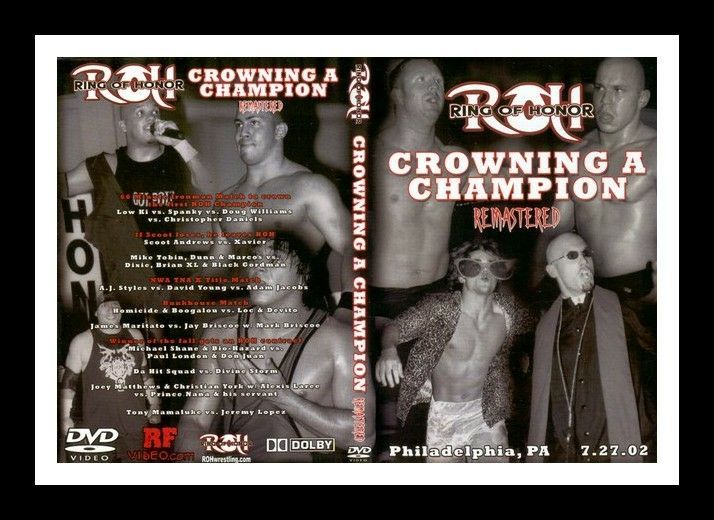 Alright, it's finally here. Being locked in my house broke me to the extent that I found the time to sit down and watch the Four-Way Iron Man match that was set-up to determine the first ROH champion. Will it be any good? It's an hour long, so probably not, but let's find out.
Low Ki opened the show detailing his journey in Ring of Honor so far to hype the main event. We then met up with Steve Corino and Simply Luscious who have started fucking. The main takeaway from this was that Steve's a bit horny, so fingers crossed he bones his way off of commentary.
We still weren't done as it was time for some Christopher Street Connection nonsense involving bananas and we set-up Natural Born Sinners vs the former FBI. These runs of backstage promos are always awful.
Tony Mamaluke defeated Jeremy Lopez
According to Cagematch Lopez wrestled until 2005, including doing some work with All Japan. His ROH career would be short, though, as this was the first of three matches he'd have with the company.
And if the rest of his wrestling was as uneventful as this, I can't say I blame them. This was the definition of fine, as most of the match was two guys working through the basics and not doing much with them. It got a bit more exciting towards the end as Lopez hit a Tiger Driver, but then seconds later Maritato connected with a Double Arm DDT before transitioning into a Guillotine Choke for the win.
I can't call this bad, but it kind of just happened. The one upside was that it didn't have any commentary, which is an improvement on the shite ROH usually dishes up.
Verdict: Fine
We got another Christopher Street Collection backstage skit as they freaked out Devine Storm because, you know, they're gay and that's scary.
Joey Matthews and Christian York defeated Prince Nana and Jacob Ladder
Cagematch tells me that Jacob Ladder, who is Nana's new lackey, wrestled sporadically until 2013 without doing anything of note. We also had a young Alexis Laree at ringside, who is now better known as Mickie James.
Sadly, the commentary was back with Steve Corino sounding like he was phoning in from elsewhere. Nana, meanwhile, got on the mic pre-match and said people couldn't hit him in the head because of Low Ki knocking him out on the previous show. He'd stick to that rule, as after a productive start he ate a single Enziguiri and headed to the back, unwilling to continue.
That left Ladder to eat a Leg Drop/Backbreaker combination for the three. No-one gained anything from this.
Verdict: Waste Of Time
The Street Connection made their entrance and got a decent reaction even if commentary acted like they were a walking coronavirus. They cut a promo on York and Matthews which because of sound issues was only partly understandable. I believe they were saying that they fancied one of them, with the twist being that it was Allison Danger who fancied Alexis Laree causing a brawl to break out that ended with Danger spanking Laree. Yup, that all happened.
We then went outside to see the TWA lads arrive and Michael Shane demanding Don Juan get his bags which pissed off Bio-Hazard.
Michael Shane and Bio-Hazard defeated Paul London and Don Juan in a TWA Challenge For A Contract
Don Juan is our newbie, and he'd have scattered appearances for ROH and the NWA over the years before seemingly hanging up the boots in 2013 (again, all according to Cagematch, so it's entirely possible these people did more work on a local level).
ROH had this same style of match-up on their first show, with the gimmick being that the person who makes the pin gets a contract. It's a dumb idea since there is no benefit to these teams working together, but let's not pretend Ring of Honor thinks these things through.
And while they seemed to be pushing Michael Shane as their guy (I'm sure his relation to a certain HBK had nothing to do with that), Paul London was so clearly the star of this match. He had a smoothness and a wow factor that none of the others could touch. They did at least do something to protect him, as he was pinning Bio-Hazard while Shane pinned Juan, which was treated like a controversy. Surely it's just down to who was the legal man?
Either way, this was another acceptable match. If I believed this was the end of London in ROH, I'd be more annoyed, but it was setting him up to come after the cocky Shane, so I'm not too bothered.
Verdict: The Wrong Man Won
In fact, Shane and London would start that feud straight away. Shane's post-match bragging leading to a brawl and both men missing their high-flying moves before Rudy Boy dragged them apart. I've made that sound shorter than it was as ROH has a habit of letting these segments run on a bit too long, killing their heat.
Da Hit Squad (Mafia and Monsta Mack) defeated Devine Storm (Quiet Storm and Chris Devine)
The ROH tag-team division got into a rammy on the last show over which team was the best and set-up this and a match later on the show.
Sadly for Divine Storm, they were convincingly eliminated from that conversation. Still, despite losing quickly, they did show something. It wasn't a one-sided squash, but more of a sprint with Chris Devine having his best performance yet. Quiet Storm, meanwhile, is starting to show more aggression as he carves out a personality.
Da Hit Squad's personality revolves around being big fuckers who beat people up. They're not pretty wrestlers or likely to wow you with their genius ideas, but they will hit a motherfucker damn hard, and that's all they need to do. Although they could probably have worked on their cardio a bit, this went less than five minutes, and they were visibly struggling by the end.
Despite that, it was a fun match that gave me what I wanted. If ROH sticks to a rule that no Hit Squad match ever goes over five minutes, then they'll be alright.
Verdict: Did What It Needed To Do
Jamies Maritato defeated Jay Briscoe
It was Briscoe vs Maritato in the ring, but the story ROH was interested in was Briscoe vs Briscoe. Mark was at ringside, eyeing his brother with disgust and grinning when Maritato went on the offensive. They're laying all the seeds so that they can unleash those two on each other the second Mark's old enough to step between the ropes.
As for the in-ring work , it was solid. Jay is not a grappler, and the early goings prove that. He looked out of place trying to exchange holds with Maritato, and it wasn't until they escalated to the big move style that he began to come into his own.
In the end, Jay weirdly decided to get distracted by Mark walking to the back, which allowed Maritato to attack him from behind and get the win. That was a very WWE finish, as Mark didn't do anything apart from wander away, so I'm not quite sure why Jay cared? Oh wait, I do know, it's because they're building to that match, so logic is irrelevant.
Verdict: It Wasn't About The Wrestling
Christopher Daniels cut a promo to the top of Simply Lucious's head. Not sure why, but it wasn't very good. He's going to rebuild ROH in his own image, so that's something I guess. After that was done, we took a trip to Doug Williams' kinky torture room where he was stretching someone while repeating his opponents' names.
The Natural Born Sinners (Homicide and Boogalou) defeated The Carnage Crew (DeVito and Loc)
Alongside the best tag team in ROH argument, this match also put HC Loc face to face with the Sinners after he disqualified them for beating someone with a rubber chicken on the first ROH show. That's surely the best way to build to a Bunkhouse Match (which, as far as I can tell, had nothing to distinguish it from any other Street Fight).
Silliness aside, it was an enjoyable mess. They had a bloody brawl, with blood even squirting onto a camera at one point. If you're a fan of hardcore wrestling, then you're going to have a good time as they kept things short and stabby.
My issues come with the fact that it happened at all. ROH has spent so much time telling us that this is the wrestling show that for them to be already dishing up plunder matches on show five feels wrong. That's not a fault of the wrestlers, but a fault of the company. At this point, they're so obsessed with telling everyone what they're not, that they've put themselves in a situation where every decision like this feels makes them look like they've gone back on their word.
Still, none of that takes away from the effort. I'm not sure it's the best way to use Homicide, but we got to see one of those insane dives of his, so I shan't complain too much.
Verdict: Good Fun, But They've Shot Themselves In The Foot
Afterwards, The Carnage Crew recovered remarkably quickly, putting a beating on the Sinners. That was an excuse for Da Hit Squad to make the save, presumably putting their issues with the Sinners behind them. Or that was the theory. Homicide didn't agree, angrily telling them that he didn't need their help.
Next, it was Spanky's turn to chat about the main event, cutting a long-winded and slightly generic promo about how he'd given his soul for wrestling. It was alright, but nothing special.
AJ Styles defeated Adam Jacobs and David Young in an Elimination Match to retain the NWA TNA X Division Title
Adam Jacobs seems to have retired in 2017. Before that, he had a pretty standard indie career, popping up in the NWA semi-regularly. David Young has info up till the end of 2019 on Cagematch, so he's presumably still going. Most of his stuff was in low-level indies, but he did do some more work for TNA and a couple of WWE job matches.
In the ring, this was a weird match. They were doing a lot of cool stuff and seemed to work well together, but it all felt incredibly rehearsed. It looked like a match that had been practised until its personality was gone. I've no idea if that was the case, but something tells me they'd all done this before.
I think that can be summed up by Styles getting busted open accidentally, and neither opponent acknowledging it. A more experienced wrestler would have focused in on the cut, maybe driving their punches towards it, but Phillips and Young just barrelled forward with the action, intent on getting to the next spot.
Of course, AJ was given the win and was highlighted as the star throughout. As much as I've laughed at how much of a super-serious dork he was at this time, seeing him in there with two less accomplished wrestlers, you can tell he's the man. TNA and ROH were putting their eggs in the right basket.
Verdict: Didn't Work
Rudy Boy Gonzales was in the ring threatening to kick Steve Corino's ass. Steve has spent all show sounding like he was literally phoning in his performance, and this confirmed he wasn't at ringside as Gonzales gave his promo to the camera. It was done to set-up Corino vs Dragon who will be deputising for Rudy Boy.
Dunn, Marcus and Mike Tobin defeated Black Gordman Jr, Dixie and Brian XL
For whatever reason ROH decided that we weren't getting to watch this match and we were treated to a highlight package instead. Then, afterwards, a big guy with dreadlocks came out and beat-up the victors. It's possible I should have recognised him, but I didn't.
Verdict: Didn't See It
The Carnage Crew challenged Da Hit Squad, saying that they'll bring the barb wire if Da Hit Squad bring their asses. Sounds kinky.
Scoot Andrews defeated Xavier
Xavier has twice got the better of Scoot Andrews, so Scoot demanded a third match and promised to leave ROH if he lost. ROH might not have been too bothered if he did leave because they only gave us a clipped down version of the action.
That was probably for the best, as the bits we did see did not look great. Scoot is a big boy who can throw people around, but he's not a good wrestler. He started the match by taking Xavier down for a flash pin and, well, it wasn't particularly flash. It looked like he was wrestling through treacle.
Xavier was more impressive, hitting some cool looking moves and being the second person on this show to get busted open. ROH's desire to push both these guys is a bit weird, but if you had to pick one, it would be him. Sadly, that wasn't the plan as Scoot hit the Force of Nature for the win.
Verdict: Meh
Low Ki (3) defeated Christopher Daniels (2), Spanky (-1) and Doug Williams (-1) in a Four-Way Iron Man Match to win the ROH Title
If you have read any of my Stardom Throwback reviews, you'll know that I've been dreading having to watch this match. As a general rule, I'm not a fan of multi-persons, and when you make them an hour-long, well, that doesn't sound like a good time. Still, I've finally forced myself to sit down and watch it.
That hour long time limit dictates the tempo of the action. There are bursts where they push to that next level, but for the vast bulk of it, this is worked at a slow, methodical pace, dribbling out its story as they work through it.
And the story is well told. Daniels spends the early part of the action ducking Low Ki, doing everything he can to avoid getting in the ring with him before striking at the right moment to get the first fall. Meanwhile, Spanky and Williams form an unofficial alliance, going after Daniels' arm and Low Ki's leg. They're both being chipped away at as they hold-off on giving the fans what they want, a battle between the two.
The problem with that is that it leaves Spanky and Doug feeling rather like spare parts. They're not there to be Spanky and Doug Williams. They're there to play into the narrative of Low Ki and Daniels. You've got two talented guys, so they do bring something to the action, but for the important stuff, you could have replaced them with two bean bags.
The other problem is that if you stripped away 80% of this match, I'm honestly not sure who would miss it. A lot of it is incredibly solid wrestling, but even the most devout fan doesn't need an hour of that. It doesn't feel like they unleash until the final ten minutes of the match where Low Ki takes the lead causing the rules to go out the window (it's supposed to be two men in the ring at a time, with people tagging in and out).
Now, for the positives, Low Ki is fantastic. Whether he's coming forward or taking a beating, that fucker can go. His first fall was particularly brilliant as he back-flipped out of a Chaos Theory into a Dragon Sleeper on Spanky. It was contrived as hell, but that doesn't bother me one bit because it looked fucking awesome.
Those final minutes are also pretty great. Low Ki takes the lead by pinning Doug meaning everyone is chasing him, trying to level things up. They've tweaked the normal Iron Man rules to make it two points for a fall and minus one point for the person who takes the fall, which comes into its own in this stretch. It means Daniels just needs someone to pin Low Ki to keep him alive and brings a frantic edge to proceedings as people throw themselves at Ki, desperate to put him down.
Of course, no-one manages, and he wins the title, but with the important caveat that he never pinned Daniels while Chris did pin him, keeping their feud alive. It's a clever finish to a match that is good, but not great. Honestly, if it had been half an hour, it might have hit that next level, but there is just too much of it. It does not need to be this long, and I suspect that's a sentence I'm going to write a lot as we go through this period of ROH.
Verdict: Why Was It An Hour?
Post-match Low Ki got the belt and shook hands with Williams and Spanky. Of course, Daniels refuses to join in, which makes everyone very angry. I haven't really talked about the fact that we're all supposed to care that Daniels not shaking peoples' hands, but you know what? I really don't. Ring of Honor gave us no reason to care about their daft little rules, so I don't.
Overall Show
ROH built this like a one-match show, and it felt it. The tags were fun, but outside of blood squirting on the camera in the Bunkhouse Match, I can't imagine any of it sticking with me. It was all about that main event, which many people consider a classic, but, well, it was an hour fucking long.
Top Three Matches In ROH History So Far
1. American Dragon vs Low Ki, Round Robin Challenge
2. Low Ki vs Amazing Red, Road To The Title
3. American Dragon vs Low Ki vs Christopher Daniels, Honor Begins
If you enjoyed this review, please consider contributing to my Ko-fi, even the smallest amount is appreciated.