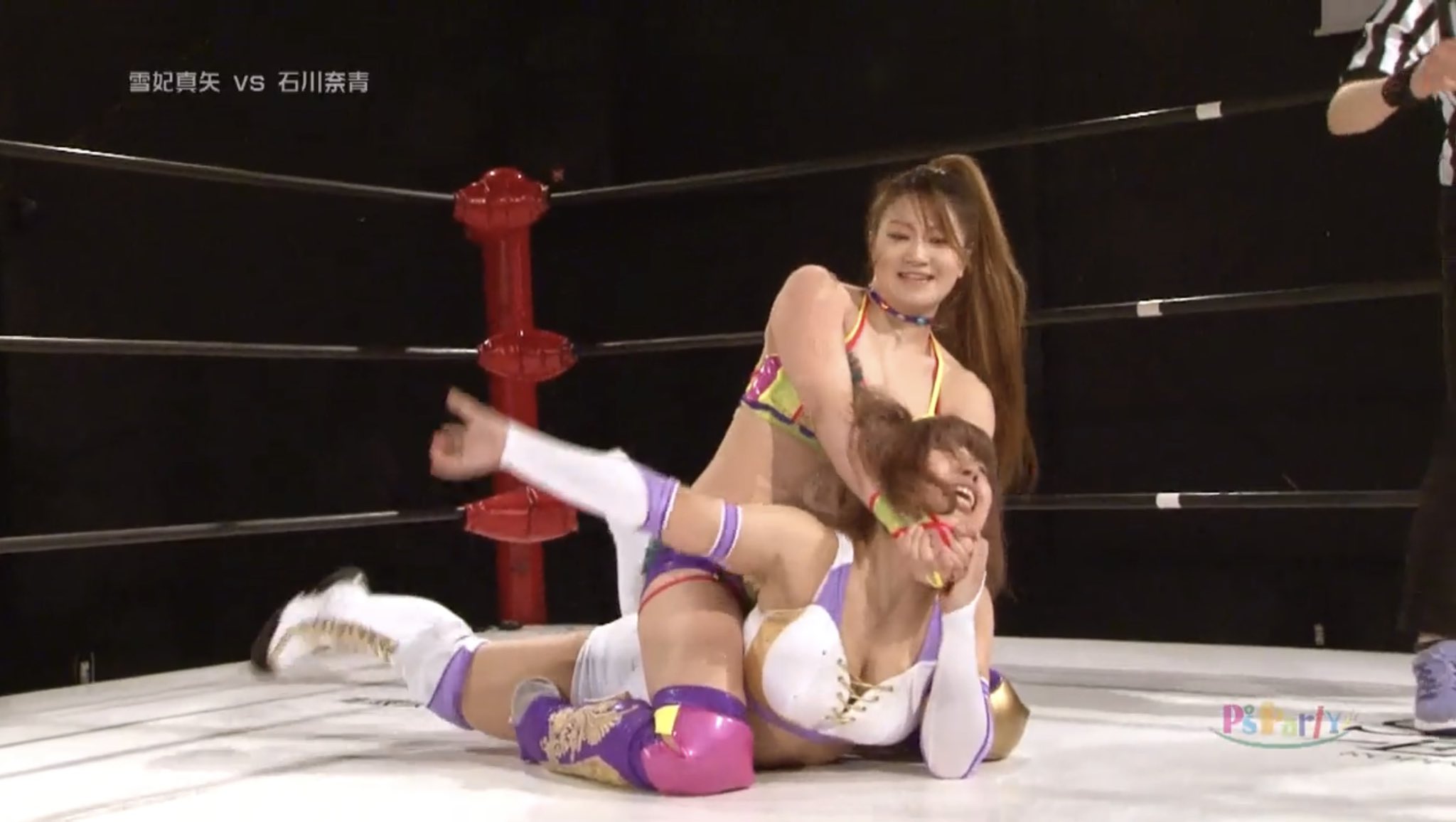 It's time to boogie on down with P. What's today's party favours? Well, let's find out.
Tsukushi defeated Ibuki Hoshi
If you kick things off with Tsukushi tormenting a youngster, then you've got my attention. That wee prick energy was on full display here as she attempted to make life very difficult for Ibuki. There was a Dropkick to a seated Hoshi in the corner that came closer to being a Double Stomp she came in so hard.
Ibuki did get her moment to shine, though, a well-placed kick to Tsukushi's leg paying off down the line when she missed a stomp and was left clutching it. That was a lovely subtle piece of storytelling, as what seemed like a failed hope spot paid off and led to the youngster unleashing with some hard chops.
It wouldn't be enough to get the win, but it was enough to convince me this was a good match. Then again, it had Tsukushi in it, and that makes it a guaranteed thumbs up from me.
Verdict: Rookie Torture
Maika Ozaki and Mochi Miyagi defeated Satsuki Totoro and Yappy
Joshi rarely gets a ring full of hosses, but it's a treat that I was going to enjoy. This match started with Yappy and Ozaki charging into each other, which set the tone for what was to come.
It led to a showdown full of big hits and power moves, which was a whole lot of fun. Particularly impressive was Ozaki and Hoshi simultaneously lifting their opponents into Torture Racks before sending them crashing to the ground.
It probably went a little bit long for a match without much in the way of stakes, but just as that thought entered my head, it ended, so it wasn't egregious. It's always nice to have something that feels a bit different, and that's what this gave us.
Verdict: Hoss Stuff!
Matsuya Uno and Thekla defeated Suzu Suzuki and Banny Oikawa
Uno is so good. There was a moment in this match where Banny was teeing off on her with kicks, and you could see her adjust her body, lying in wait to grab an ankle and start twisting.
It was one of the highlights of what was a pretty standard tag. Banny didn't have her best day, stumbling into a few awkward moments and looking a bit uncomfortable. Still, there was nothing atrocious, and it's definitely not something I'm going to hold against someone still young in their career.
Verdict: It Was Okay
Maya Yukihi defeated Nao Ishikawa
One of the unintended side effects of lockdown-era wrestling is that people like Nao Ishikawa are getting the chance to have matches they might not have had for years in a normal world. Her first handful of matches has been against some of the best, and that continued here.
She looked good for it too, as she once again put out a impressive showing. With Ice Ribbon wrestlers cheering her on around the ring, she got booted about by Maya, but showed some fire in her comebacks, bundling her up into multiple roll-ups and refusing to die without a fight. Sure, it was the rookie formula, but as I've said before, it's a formula I love.
We need to throw a shoutout to those wrestlers at ringside, who did a great job of bringing some atmosphere to proceedings. It gave it a big fight feel, adding some spice to Nao's multiple pin attempts after a Crossbody. That was to be her final act of defiance, and I'm not sure it would have had the same impact in a quiet room.
The kid looked good once again, and eventually, I'm going to have to stop acting as if that's a surprise.
Verdict: That Rookie Keeps Delivering
It was Nao's birthday, so even in defeat she got a birthday cake and got emotional at the display of affection from her peers. How lovely.
Overall Show
I worry I'm becoming repetitive, but this was another enjoyable show that whizzed by. The main event was the clear standout, with Nao proving to be an exciting prospect, but there is nothing you need to skip. It was a nice forty-five minutes of wrestling.
Watch Ice Ribbon on niconico: https://ch.nicovideo.jp/iceribbon
If you enjoyed this review, please consider contributing to my Ko-fi, even the smallest amount is appreciated.