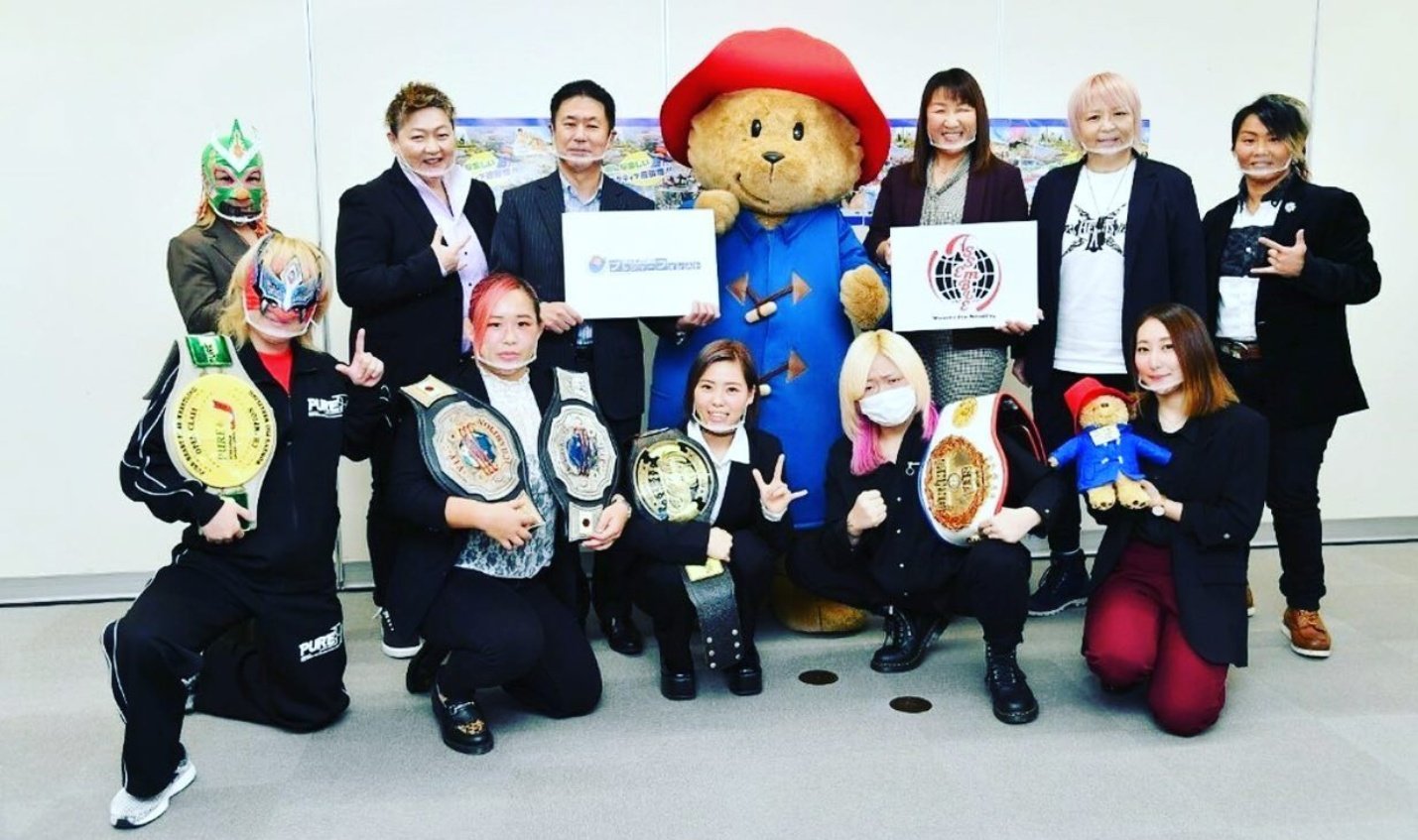 What better way to celebrate the anniversary of Big Egg than to get a load of joshi companies in a building to have a lovely old time. The first Assemble is still one of my shows of the year, so this one had big boots to step into. Let's see how they did.
After Nanae and Bolshoi's clapper lesson (Bolshoi beat AKARI this time) we got the draw for match order with Iroha standing in for Chigusa and Hashimoto for Meiko. It was kinda weird to see Rossy alongside all those brilliant women, but the sight of him and Nanae being friendly will keep those rumours that SEAd and Stardom are going to work together flowing.
Sendai Girls: DASH Chisako and Chihiro Hashimoto defeated Manami and Yurika Oka
Sendai switched up the formula for show number two as they moved to rookies vs veterans. It was a switch that removed any doubt as to who was winning but gave the kids a golden opportunity to impress.
An opportunity they embraced. They're Meiko trainees, so you don't need me to tell you they're good wrestlers. She might have softened a bit since the days of breaking jaws, but I can't imagine a world where she'd let a shoddy talent into one of her rings. What stood out, though, was the flashes of personality we saw from both of them. I sometimes find Sendai a tad dry, but Manami and Yurika showed real fire, proving a fun pairing as they hit the rookie special of a million dropkicks.
Putting over Hashimoto and DASH seems pointless as we all know they're brilliant. They played their veteran roles to perfection, giving the kids some rope before eventually tightening things up and putting them away. It made for a perfect opener, as this magical box is doing a great job of structuring these cards.
Verdict: Good Fun
Marvelous: Tomoko Watanabe, Hibiki and Maria defaeted Rin Kadokura, Mikoto Shindo and Masha Slamovich
I'm not sure what Hibiki's been up to, but everyone was in the mode for taking a bite out of here. Well, everyone that was in the other team. Thankfully, her teammates didn't join in. That would have been a bit harsh.
The centrepiece of the match was Rin vs Watanabe. A grumpy veteran trying to beat the snot out of some youngster is always a good story, and they nailed the delivery. They weren't the only ones, though. The Marvelous roster excels in this style of tag, so it was no surprise to see them expertly give everyone their moment.
In the end, Hibiki retook centre stage, an awesome back and forth with Shindo (with the occasional helping hand from everyone else) seeing the two of them rack up some nail-biting two counts. In the end, a rolling battle between covers, that seemed never-ending (poor Tommy was selling her arm after the match), saw Hibiki wear Mikoto out and get the three. That was a fun finish to a thrilling match.
Verdict: That Ruled
T-Hearts: Sareee and Saori Anou defeated ASUKA and Riko Kawahata
Hotta has got a cracking deal being able to slap the T-Hearts logo on these freelance matches. No-one has a clue what T-Hearts is, but she's making a good impression with this lot.
Even in a stacked match, it was ASUKA who stole the show. From the contemptuous way she refused to tag in early on, dismissing Riko, to the awesome showdown between her and Sareee, she's so clearly a star. 2020 is the year she's gone from raw potential to one of the best wrestlers around and if we could make sure those two have a match before Sareee goes off to join the devil I'd appreciate it.
Anou and Riko weren't innocent bystanders either. Poor Kawahata spent a lot of this being beaten up, but she stepped up to the role gamely and grabbed her opportunities well. Anou, meanwhile, was the supporting player in her team, but made sure to take some of that spotlight for herself, even refusing to shake Sareee's hand on the way out. Considering the line-up, you'd expect this to deliver, and I'm pleased to report that it did.
Verdict: Another Awesome Match
Chig and Hokuto weren't on disinfecting duties this time, but we did get another disinfect and dance number. Unfortunately, I have to admit that I don't know who the two people doing it were. While I almost certainly should have recognised them (and I'm sure I'll kick myself when it's pointed out), I'm drawing a blank. The fans were loving it, though.
Hall of Fame: Chigusa Nagayo, Jaguar Yokota and Kaoru Ito defeated Dump Matsumoto, Yumiko Hotta and KAORU
Holy shit, Chigusa made her entrance through the crowd, singing herself to the ring, and while I was going to love this match whatever happened, that made it a five-star classic.
And sure, not everyone involved is moving great, but who the fuck cares? Some of the greatest wrestlers of all time were in that ring, and if they'd decided to put the kettle on and have a wee chat, I'd have given them the standing ovation they deserve. Plus, Dump was more than happy to prove that it doesn't matter how old she is, she can still swing a weapon with the best of them.
Shout out to Jag and KAORU who apparently don't age. They did most of the heavy lifting, bumping around for their old friends and looking great while doing so. KAORU is pulling out shit people half her age can't do and, in a match built around nostalgia, they looked like the modern-day.
It's weird, my connection to that nostalgia isn't that old. The bulk of my experience with these women has come in the last year, but it still fucking worked. When Chig punched Dump's bin out of her hand before rocking her with a lariat, I was having the best time. The whole thing was summed up by Dump trying to attack Chigusa after the bell, unable to keep the smile from her face as she went after her old rival. These women are wrestling, and any chance we get to celebrate that should be grasped with glee.
Verdict: Loved It
Pure-J: Hanko Nakamori defeated KAZUKI
Pure-J is the promotion on this card I care the least about, but I do like Hanako Nakamori, so I expected this would grab me more than the tag from the last show did.
And I was right. As you'd expect from Pure-J, there were little to no thrills, but they went out and had a really strong, physical match-up. It was crisp and stiff, every move looking good before Hanako ultimately picked up the victory. I'm still not sure it ever managed to get me emotionally invested, but I think you'd struggle not to enjoy it.
It does somewhat sum-up my lack of connection to Pure-J, though. I always like the matches I've seen, but there has never been a hook to get me truly drawn in. Plenty of people do like it, so I'm sure it's there, and one day I shall go looking for it.
Verdict: Solid Match
Oz Academy: Beast Friend (Aja Kong and Kaori Yoneyama) defeated MISSION K4 (Kaho Kobayashi and Sonoko Kato)
How regular a pairing is Yoneyama and Aja Kong? Because if the answer to that is very, I am going to have to start watching Oz Academy. Aja Kong and Kaori Yoneyama! Amazing.
They didn't over complicate things here, but they didn't have to. You have a team where Yone gets beaten up before Aja comes in and murders everyone. How can there be anything wrong with that? The fact that Yone is an inherently ridiculous human being only added to my enjoyment, her antics making the build to Aja unleashing all the better.
Which isn't to dismiss MISSION K4, from what I've seen of them they're a really fun team. It's just hard not to become secondary figures when you've got that much charisma across the ring from you. They played their roles brilliantly, letting these joshi legends do their thing and showing flashes of magic themselves. Aja even blessed them with the honour of her climbing to the top rope for the winning elbow drop, making sure to complete the murder properly.
Verdict: Kong And Yone, Brilliant!
Stardom: Queen's Quest (Saya Kamitani and AZM) defeated STARS (Starlight Kid and Saya Iida)
Stardom has, quite rightly in some respects, been framed as the big bad of joshi recently. However, I am glad they're on these shows. If Assemble reaches its logical conclusion and has inter-promotional matches, getting the likes of these four in the ring with other companies is the best thing that could happen to them. They're all brilliant, so being bumped out of their comfort zone can only lead to good things.
There will be time for that, though. On their first showing, it was a chance for them to go out and show what they can do. Unsurprisingly, they looked great. Whether it's Kid vs AZM or Giant Saya standing up to Tall Saya, this lot can go. It was wrestled at a ridiculous pace that eschewed any attempt to tell a story in favour of delivering some fun.
And perhaps it's my bias coming in, but Gori-chan was the standout. She anchored the match, slowing it down but bringing with it that physical fire she does so well. I wasn't the only one impressed either, Rossy posting on Twitter that Akira Hokuto had praised her which ain't a bad vote of confidence to get. It was Tall Saya who got the big finish, though, nailing that Phoenix Splash to an audible reaction from the fans. It does look pretty.
Verdict: As Good As You'd Expect
Chigusa and Hokuto weren't going to let us finish the show without getting their ghostbusting garb on once more. They then teased us all by pretending to leave before coming back to bless us with the dance number we're all here for. If that had been the main event, I'd have gone home happy.
SEAdLINNNG: Yoshiko and Hiroyo Matsumoto defeated Arisa Nakajima and Honori Hana
When your active roster is four people, it's kind of hard to mix it up when putting together a tag. Thankfully, SEAd were able to get Matsumoto in so that they could at least tweak what they put out the first time around.
And it was another fantastic SEAd main event. At this point, I doubt anyone reading this needs me to tell you that watching Yoshiko, Arisa and Matsumoto beat on each other is good. They're three of the best, particularly when put together to work this style. Throw in the fact that Yoshiko and Hiroyo are an established team, used to working together, and you've got a recipe for success.
I do want to praise Hana too. It would be very easy to fade into the background as the rookie in this match. Thankfully, she's someone who is unwilling to do so. Yea, she got beat up, but she did it well, drawing a grin from Matsumoto as she refused to go down. Not many people at this show will be new to the other three, but a fair few will have come out impressed by her.
Verdict: SEAd Do It Again
Yoshiko cut the show-closing promo, giving Honori (whose nose was busted open in the home stretch) a chance to say something before getting the rest of the SEAd roster into the ring to wrap things up.
They then played the hype video for Assemble 3, which will take place January 31st and is working with a smaller group of companies and still no Ice Ribbon. Oh well, I'm sure they'll turn up eventually.
Overall Show
I love these shows. This didn't quite have the surprise factor that the first did, but it was still an absolute joy from start to finish. With number three already announced, they look to be in no hurry to stop, and I hope they never do.
Check out Assemble's merch here.
If you enjoyed my ramblings, then please consider contributing to my Ko-fi, even the smallest amount is appreciated.