For months now we've been building up to New Japan invading America. For one weekend, the wrestling in Long Beach got a little bit puro, and I don't think it's a stretch to call it an unqualified success. We got some brilliant wrestling, a little bit of storytelling and a new champion crowned. So here are ten things we observed when New Japan came to Long Beach.
Old JR Is Struggling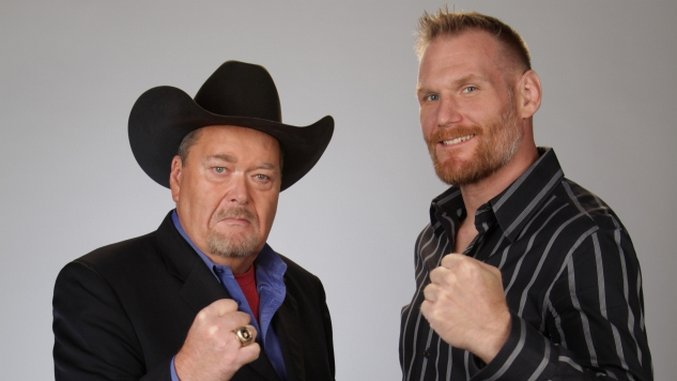 The voice of JR is synonymous with a lot of wrestling's greatest moment. Fans the world over adore the man and with him having had a tough year it gives me no pleasure to say this but he is no longer suited to live broadcasts. For the first time, JR took away from my enjoyment of a show rather than adding to it. I don't need him to call every move perfectly, but when you're getting the names of wrestlers wrong (regularly) and missing finishers, there's a problem. When Josh Barnett took control of the broadcast, it improved, but it wasn't enough to hide the fact that JR's best days are behind him.
Cody Might Be Alright
I'm still not entirely convinced that Cody fits New Japan. However, credit where it's due, for the second New Japan show in a row he went out and had the best match of his career. You could argue that those matches were against Mike Elgin and Kazuchika Okada who could probably get decent matches out of me but it takes two to tango and Cody tangoed with Okada on the first night. I'm still delighted that he didn't win the title, though.
The Crowd Behave
I was a bit worried about the crowd coming into these shows. I heard that Naito was treated to 'What?' chants at one of the press conferences and I thought we were going to get an obnoxious group. However, I needn't have worried. While it was obviously a Bullet Club loving audience, and some of them were a bit twatish, they seemed to decide that for the most part, they were going to behave like a Japanese crowd. They were hot but not intent on putting themselves over. It was also great to see the likes of KUSHIDA and Jushin Liger treated like heroes and YOSHITATSU treated like a fool.
No ROH Needed
If New Japan learnt anything from this weekend, hopefully, it was that their fans don't want Ring of Honor shows. Jay Lethal vs. Adam Page was the worst singles match of the weekend, and it was clear that the crowd wanted New Japan guys, not American ones. If New Japan goes ahead with a US territory then it's important they provide an alternative rather than more of the same.
Dickhead Zack
A lot of people were disappointed at how many Japanese wrestlers were left at home this weekend, but something we can all be happy at is the lack of Suzuki-gun. It was a move that led to us getting to see Zack Sabre Jr. do his thing solo for the first time and damn did he step up to the plate. No one works the arrogant dick quite like Zack, and his matches with Juice and Ishii were fantastic. This is the ZSJ we want to see in Japan.
Jay White Comes Back
Jay White has been making waves on excursion. His match with Will Ospreay at War of the Worlds would be a Match Of The Year contender in any other year, and the guy is undeniably good. Thankfully, if this weekend was anything to go by, New Japan knows it. Getting a win over YOSHITATSU might not be the biggest deal in the world (although with KUSHIDA and Tanahashi on White's team it definitely was a deal) but pinning Bushi certainly is. It will be interesting to see how long it is before we see White back in a New Japan ring.
Roppongi Vice Bow Out
Outside of The Revival and DIY/American Alpha, there aren't two tag teams on the planet with better chemistry than The Bucks and Roppongi Vice. Every time they go out there, they put on a great match, and while they've established a formula with the Bucks isolating a member of RPG Vice, it's a formula that works. This might have been their best match yet as they were given the time to truly shine and it was fitting that it would end with the splitting up of Roppongi. Trent is having one hell of a year, and he fully deserves a shot in the Heavyweight division. Let's hope he smashes it.
War Machine Smash
I am very pleased to see the belts go back on War Machine. They are a fantastic big man team, and it suggests that their future (at least for the moment) is in a New Japan ring. There's a lack of credible contenders around them in the Heavyweight Tag Division, but as long as those two are on one side of the ring, it's probably going to be okay.
Gunn Drags Down The Ace
After night one I was really worried about this match. Billy Gunn was getting heat from the crowd, but in him and Tanahashi's quick interactions he looked bad. Sadly, those worries were well founded. Let's be honest, this was boring. Gunn was working a pace that made slow look speedy, and the ass related humour stopped being funny in 1999. Things got better when Tanahashi was on offence, but there was only so much the Ace could do. Learn from this New Japan.
US Title Tournament Wows
This was a brilliant tournament. Page Lethal aside, every match delivered with Naito vs. Ishii, Omega vs. Elgin and Ishii vs. Sabre all going even further than that. It was the final which stole the show, though. This is the third great match we've had from Ishii and Omega this year, and I'd happily see them do it another three times. In fact, can we not just have them go every week? Ishii's offence is fantastic, but he's also one of the best sellers in the game, and he made everyone he faced look like a champion. Him holding onto the top rope with his teeth is already iconic. The closing stretch was wonderful pro-wrestling and Omega makes perfect sense as a champ. I wasn't sure if they'd put it on Omega due to having other plans with him, but he's without a doubt their biggest draw in North America and well deserving of the gold.