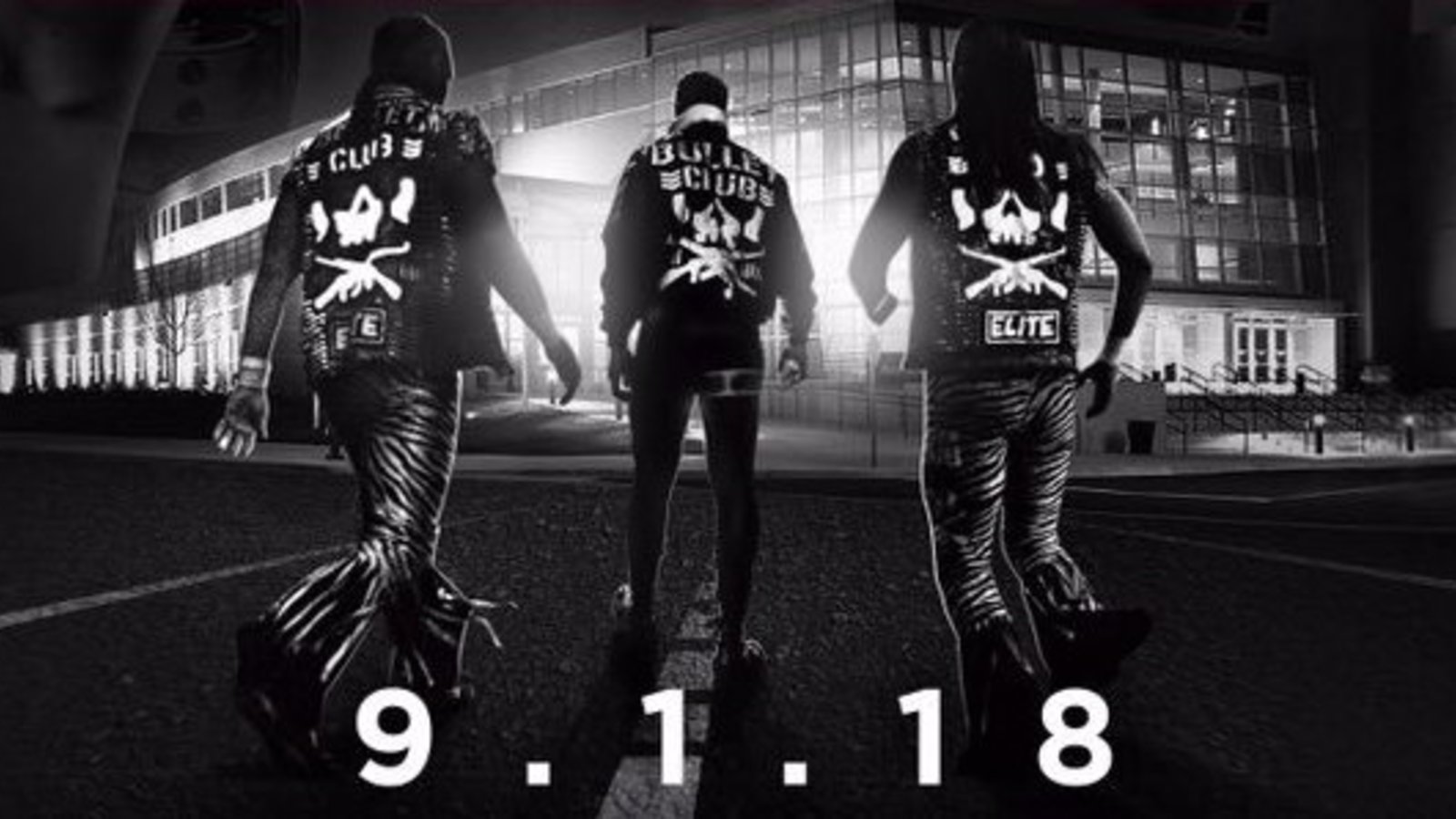 It's here. What started as a throwaway comment from Dave Meltzer (dick) on Twitter, somehow ended up being one of the biggest indie shows of all time. 10,000 people, all making their way to Chicago because they trust Cody Rhodes and The Young Bucks. They've proven they can sell the tickets, create the WrestleMania atmosphere and put a star-studded card together. The only question left was whether they could put on a show worthy of the hype. I guess we should find out.
So Cal Uncensored (Kazarian and Scorpio Sky) defeated two horrible men (Zero Hour)

Jay Briscoe is a horrible human being so I won't be reviewing this. He's previously shown himself to be a homophobic bellend and, in my opinion, has shown no genuine remorse for it. If you want proof, look back at their actions during this year's Dream Tag Team Invitational. They're not worthy of anyone's time.
Verdict: NA
Flip Gordon wins the Over Budget Battle Royal (Zero Hour)

Do you know what tends to be really shit? Battle Royals. They usually involve a load of wrestlers standing in the corner of the ring pretending to do stuff. Then, every few minutes, a couple will go into the middle, throw a few moves together and eliminate someone before returning to the safety of their corners.
This wasn't that. What this was, was twenty odd minutes of everyone getting their shit in. From Marko Stunt to Jordynne Grace (who were two of the highlights), people went out there with the intention of getting over. Something they all seemed to succeed in. I'm not saying it was great wrestling, but it was a hell of a lot of fun.
Then, right at the end, it turned out young Flip was under a mask, and the crowd exploded. I've been pretty open about the fact that I think Flip is far from a finished product, which makes it all the more incredible that Cody and The Bucks have got him over as effectively as they have. These fans adore him, and while he's not for me, you can't argue with that.
Verdict: Three And A Half Stars

Matt Cross defeated MJF
Here is something I didn't expect to see, All In opened with a classic wrestling bout. Babyface vs heel with the heel picking a limb and working away at it. This was an excellent showcase for Cross and MJF, and they both took the opportunity well.
In the case of Matt Cross, that should be no surprise. The guy is great, and he always has been. More surprising, was the fact this was perhaps the most complete performance I've seen from MJF. We know he's an incredible heel (and he certainly got under the skin of the crowd), but I was of the opinion that his in-ring work needed a bit of work. On this evidence, he's a lot further ahead than I thought. He went after that arm like an old pro and told his story well.
Matt Cross would eventually fight out from underneath and get the win with the Shooting Star Press. However, by that time, MJF's job was already done. He'd introduced himself to easily the biggest crowd he's ever wrestled in front of, and he impressed while doing so.
Verdict: Three And A Quarter Stars

Christopher Daniels defeated Stephen Amell
If I had to get in a wrestling ring tomorrow, I'd want to wrestle Christopher Daniels. The guy is the definition of a pro, and I'm pretty sure he could drag me to a decent bout.
So, it's not surprising that he got something out of someone in as good a shape as Stephen Amell. Was it perfect? No, of course not. There were times when it got sloppy, and by the end, Amell was visibly blown up. Those are minor quibbles, as for a guy who was having his third match (the other two being tags), this was impressive.
What's surprised me about this show so far (if you can't tell, I'm writing the review as I go through it) is how straight down the line it's been. Sure, we had Jerry Lynn throwing off his referee top and getting in Daniels' face, but that aside this was shenanigan free. They told the story you'd expect them to tell with Amell catching Daniels off-guard before the years of experience finally paid their due and allowed him to get the win. In doing so, Christopher Daniels proved he's as good as we all know he is and All In made sure that several major news sites will be showing video footage of the guy from Arrow going through a table on their show. That's a good day's work.
Verdict: Three Stars

Tessa Blanchard defeated Chelsea Green, Britt Baker and Madison Rayne
It's a shame that All In decided to stick to the outdated indie formula of having one match for the women. It feels weird to proclaim yourself a celebration of wrestling and not to give them an equal footing to show off their talent.
Still, these four decided they were going to use their one chance to go out and show everything off. The psychology of the opening two contests was ditched, and in its place, we got what was basically a spotfest. They threw move after move at each other until they could throw moves no longer.
And, of course, it suffered from the same issues that most four-ways do. There were moments where things didn't quite come together. People were occasionally a step away from where they needed to be, and because of it, others had to hesitate for a second longer than seemed natural. Thankfully, it was never heinous enough to take away from the fun. Maybe at the next All In they'll bless us with a few more women's matches.
Verdict: Three And Three Quarter Stars

Cody (w/Brandi Rhodes) defeated Nick Aldis to win the NWA Title
Christ, they wanted this to feel like a big deal didn't they? They even got Pharoah involved and, to the surprise of no-one, Jeff Jarrett found his way onto the show by being in Aldis's corner. You couldn't have kept him out if you'd tried.
The hype was never going to be the problem here. These guys can do that. Their issue was that while they both look good in suits, they are ultimately quite dull wrestlers. Would they be able to rise above that and deliver something decent? Well, yes, actually.
Aldis and Cody achieved that by acknowledging that they couldn't have an indie style match-up. They didn't go out and try and have an epic war. Instead, we got a classic wrestling bout built around the evil heel beating down the plucky babyface. We saw Cody take Aldis's all, before sneaking out with the victory after sitting down on a Sunset Flip. While Cody was always going to be a huge babyface in that building, they went all out to make sure the crowd was behind him. Combine that with the bells and whistles (Daivari and DDP's moment was probably unnecessary, but the fans loved seeing the Diamond Cutter while Brandi taking the elbow drop for Cody was more fitting with the story), and it dragged these men to the best they could deliver.
The most intriguing part of this is that Cody is now the NWA Champion. If they want that belt to mean something again (much like it did when his father held it), then they couldn't have picked a better person to wear it. Cody is not the greatest wrestler. However, he is a star, and that belt is going to have a lot of eyes on it now. Let's see if they can capitalise on that.
Verdict: Three And A Quarter Stars

Hangman Page defeated Joey Janela (w/Penelope Ford) in a Chicago Street Fight
The moment that they made this a Street Fight was the moment that it became interesting. In Page and Janela you have two wrestlers that are willing to murder themselves to get that pop, which is precisely what they did.
There were some insane spots in this one. I thought the Burning Hammer onto the ladder was terrible, but the Powerbomb off the stage through the table beat it. Janela seemed to come up slightly short, only going through one table and it's a small miracle he wasn't seriously hurt on that one. Penelope Ford also deserves a shout out for her cameos which she knocked out the park. Janela and her are nailing their act at the moment.
There was some silliness, the Cracker Barrel was a particularly heinous place of product placement, while the phone and boots shenanigans were only entertaining to those who watch Being The Elite. On the whole, though, this was a hell of a lot of fun with the Rite of Passage from the ladder being an incredible finish. You can't watch two men put themselves through that shit and not have anything except respect for them.
Verdict: Four Stars
Joey Ryan Rises From The Dead
One surprising thing about Page and Janela was the complete lack of penis shtick. Well, that's because they were keeping it for the post-match. I'm not going to sit here and tell you that a load of men dressed up as dicks was high art. This was aimed at people who adore Being The Elite – from which this show was born – so you can't complain about it. I chuckled a few times.
Jay Lethal (w/Lanny Poffo) defeated Flip Gordon (w/Brandi Rhodes)
We're going heavy on The Being The Elite shtick in this portion of the show. Jay Lethal got slapped on the shoulder before coming to the ring, so he thought he was Macho Man Randy Savage. I'm not even going to bother trying to explain that one. If you want to know, watch the show. Still, it was nice to see Lanny Poffo get a moment in the sun.
Those antics dominated the story of the action. Jay seemed to believe Brandi was Elizabeth and in classic Macho Man style became very controlling of her. That joke might have been a bit close to the bone. We also got Flip kicking out of three consecutive Macho Man Elbows before turning into an old racist prick with the finger point and all.
Honestly, that stuff is what it is. It doesn't do much for me, and as a general rule I'd probably want to avoid referencing abusive relationships and racists in my ROH Title fights, but what do I know? They had some good action around all that stuff. It wasn't great, though. To be honest, I'd struggle to remember any of it. While Jay Lethal's a good wrestler, he was in there with Flip, and I always leave his matches feeling like stuff just happened.
It sounded like this went down well in the building, so I guess it's just me. Afterwards, Bully Ray came down and took out both men before Colt Cabana made the save to get that sweet hometown pop. They then hit The Shield Powerbomb through a table to, thankfully, remove Bully from the equation for the rest of the night.
Verdict: Two And Three Quarter Stars
Kenny Omega defeated Penta El Zero M
This was one hell of an intriguing competition. Kenny Omega = good. Penta El Zero M = good. Could they be good together, though? Because they are very different kinds of wrestlers. Omega wrestles epics and Penta ditches wrestling in favour of fights. Could they bring those things together to create magic?
I was stupid ever to question it. In a smart move, they started out in Penta's world. Taking things to the floor as they exchanged stiff strikes and had an all-out brawl. It's a style of wrestling that can bore, but the man generally known as Pentagon Jr is fantastic at it. Every strike he throws looks like it hurts and he quickly has you on the edge of your seat.
The really exciting part was the way that it evolved as it went on. Slowly, Kenny's style began to come to the fore. That brawl turned into these two going all out and hitting each other with everything they have. Penta even joined Ishii in pushing through the V-Trigger as he stared into Kenny's eyes before declaring Cero Miedo.
They got me so caught up in the action that for a second I thought Penta had it won. The arm breaker into the Package Piledriver had me on my feet. Of course, that was never going to happen. The IWGP Heavyweight Champion isn't taking the pinfall, and in the end, a One-Winged Angel took flight. Thankfully, before that, these two managed to overcome their stylistic differences and put on a fantastic match.
After the bell, the lights went out and when they came on Penta El Zero M had changed shape (although not as much as he would have done ten years ago). A Codebreaker later and it became clear that Chris Jericho's business with Kenny Omega isn't done. This was set-up for the Jericho Cruise. However, it's more notable because it's the first time Y2J has appeared on a non-WWE show in the US. That opens the door to him doing the same for NJPW.
Verdict: Four Stars
Kazuchika Okada defeated Marty Scurll
I've no idea where All In sits in NJPW canon, but Okada came out in his Rainmaker jacket. There were no balloons, although he's not returned to his classic theme and the hair is still red. Is he rocking up at a halfway house? Or was The Rainmaker gear just for this show?
The story here was that Marty wanted to prove he could compete with a heavyweight. His lack of bulk would prove decisive for large portions of this as Okada was able to take a lot more damage than Scurll, while also dishing out a fair bit of his own.
That meant that Marty needed to find a KO blow. He thought he had it when he hit the Brainbuster until Okada kicked out. Later, he managed a vicious Powerbomb where he stacked Okada up and yet, once again, Little Kazu kicked out. Finally, a ref bump brought out the umbrella which was introduced to Okada's face. Marty followed up with a Rainmaker of his own, and the crowd exploded even as the real Rainmaker kicked out.
That would prove to be Scurll's last throw of the dice. Not long after, Okada would hit his Rainmaker and get the win in a match that was kind of just there. I didn't hate it. I also didn't love it. It went on for a long time and at no point did I find myself getting wrapped up in its story. We're getting to the point where Scurll isn't worth watching unless it's against Ospreay which is sad because the guy could go once upon a time. If you can't do it with Okada, when can you do it?
Verdict: Two And A Half Stars
The Golden Elite (Matt Jackson, Nick Jackson and Kota Ibushi) defeated Rey Mysterio, Bandido and Rey Fenix
The rumour doing the rounds is that Scurll vs Okada overran with the main event taking the hit because of that. That's a real shame because going in, this was the bout that had the chance to blow everyone away. Plus, The Young Bucks are arguably more responsible for all of this than anyone, and they were the ones restricted by timing.
It blatantly affected the layout of the match too. This was almost dangerous in its pacing as they were sprinting from spot to spot. You could have doubled the time, and you wouldn't have had to add any more action to it. Funnily, it became the kind of performance that people are always accusing The Young Bucks of giving.
Luckily, if you had to put together six men to have a spotfest sprint, you would probably pick at least five of these guys (and twenty years ago Mysterio would have been your top choice too). It was insane. There were dives built on top of dives and you could GIF every five seconds of it and find something amazing in what you had. At one point, Fenix rope walked to Superkick Kota Ibushi which barely got a mention on the commentary because there was already something else happening.
So yea, its faults were not the faults of the competitors. Even with those, I still had a hell of a lot of fun. It's difficult to imagine how you could watch it and not enjoy yourself. I'm sure some will find a way.
Verdict: Three And Three Quarter Stars

Overall Show
You are going to see a lot of people being sniffy about this show. To be honest, you probably already have. People don't like these guys, and it's going to cloud their judgement. However, if you're a fan of Being The Elite and the men involved, I can't imagine not loving this. They paid off every storyline they had going from Hangman's murdering ways to Lethal's Savage impersonation. Cody and the Bucks put on a 10,000 person show and played it to the crowd they make laugh with their YouTube channel. That's incredible. Was it a show of the year? Nah, of course not. Was it good? Hell yea.