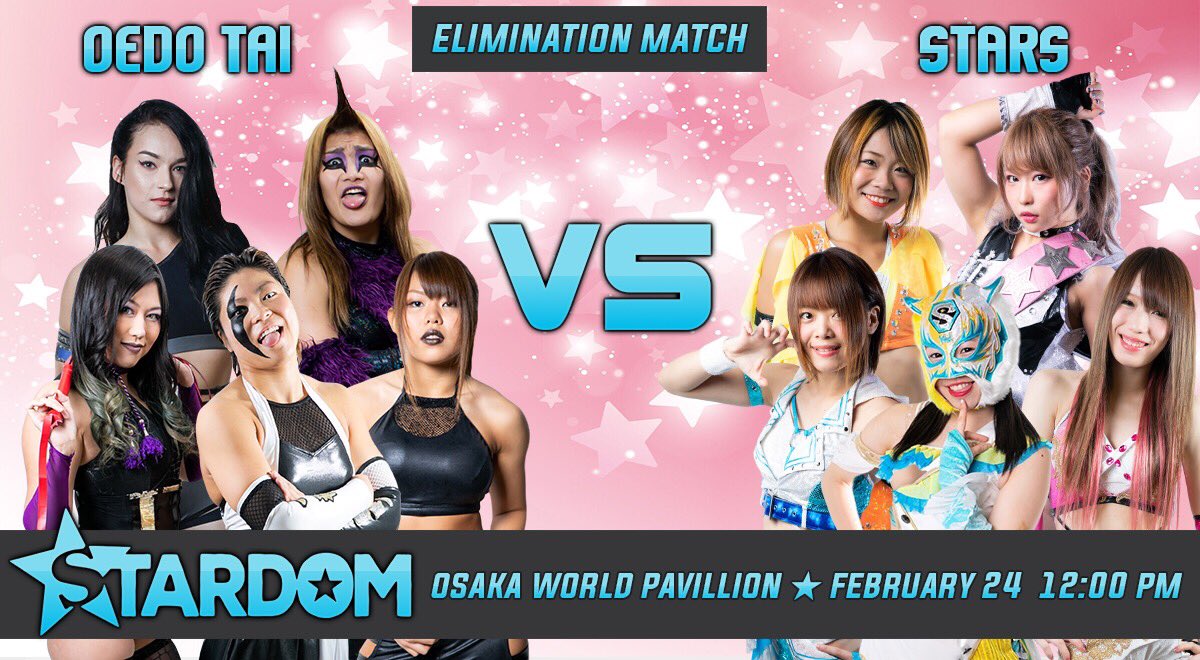 Towards the end of February, the Stardom roster made their way to Osaka where they were doing one of their two show days. This was the first one, so if they had all decided to take it easy, well, to be honest, I wouldn't have blamed them. History suggested that wasn't likely, though.
The show was opened up by the Stardom Idols, and they are far removed from the kind of music I listen to. I'm not even going to try and review it because I wouldn't know where to start.
Hana Kimura defeated Natsuko Tora, Alex Gracia and Leo Onozaki
This was about what you'd expect from an opener featuring two rookies. It started with Hana managing to piss the other three off, causing them to gang up on her. That's what happens when you're mean. Although she'd go on to pick up the victory, so perhaps this isn't the match to use when educating children.
Sadly, the finish was a bit of a mess. Gracia hit an awkward looking Backcracker on Tora before stumbling into a Kimura roll-up. I've been harsh on Gracia this tour, and I do think she's improved, but it's moments like that which show that Alex has a way to go. Still, it was recently the first anniversary of her debut, so she's not doing badly, is she? There's every chance that she'll get there.
Verdict: Two Stars
Sumie Sakai defeated AZM
Sumie Sakai is not a Stardom regular and, according to Cagematch, has only appeared a couple of times before. My only prior experience of her is the rather uninspiring run she had with the Women Of Honour belt, so I came into this one intrigued to see what she could do with AZM.
Unfortunately, what I saw didn't impress. Coming off her lose to Hazuki, AZM was fired-up and came flying out the traps, throwing Sakai across the ring. It was a nice change in the youngster's approach, but it didn't seem to inspire any passion in Sakai. Rather than fighting back, she went on the run, turning what looked set to be a heated match into farce. Then, when Sakai did bother to wrestle, she had all the fire of an igloo. It was a total waste of a hot start.
It was made all the more frustrating when Sakai won. AZM was trying to sneak into a pin when Sumie sat down for the quick cover, all without even taking her t-shirt off. Well, at least half of the match delivered.
Verdict: Two Stars
Queen's Quest (Momo Watanabe and Konami) defeated JAN (Jungle Kyona and Saya Iida)
This was the first step on the road to Momo vs Jungle, so all eyes were on those two.
Which is why they held off on it by having Iida start the match. I think I've said it before, but it's worth reiterating how good Saya Iida is for someone that early in their career. She's not perfect, of course, but she's already a reliable wrestler who is slotting into matches like this with no issues. If she can keep developing, she has the potential to be exciting.
Talking of things being exciting, it will be no surprise to hear that Jungle and Momo's interactions were a lovely teaser. Their match has already happened by this poin, and while I won't spoil it, it's safe to say that they lived up to these early expectations.
After Momo and Kyona took each other out of the action, Konami and Iida finished things off with Saya getting a series of near falls from flash pins. She's got a cool bridging Schoolboy thing she does, I'm a fan of that. Ultimately, though, she would fall into the trap of the Triangle Lancer, and we all know how that ends.
This was a ramping up of the quality after the first two matches and saw Konami extend her winning streak ahead of her Women Of Honor title shot on the later show. Meanwhile, Kyona and Watanabe fighting to a stalemate served as a perfect tease for their match. It was by no means a classic, but it was successful in its goals.
Verdict: Three And A Quarter Stars
Utami Hayashishita defeated Bobbi Tyler to retain the SWA World Championship
I've lost track of all the belts Utami has, and I actually had to look up which one the SWA Title was. The theory behind it reminds me of what EVOLVE's WWN Title was supposed to be as it is defended among all the brands that Stardom partners with.
Anyway, belt aside, this was a big match for Tyler. She was going up against one of the company's rising stars and even if victory seemed unlikely it was a chance for her to impress. How did she do?
Bobbi did great. She got the chance to play the aggressor for the bulk of the action, attacking Utami's knee and yelling at the ref. There was a great moment where it looked like she was going to stand and trade strikes with Hayashishita only for her choose the easier route of kicking the champ's already injured leg out from under her. It's not a performance that's about to trouble match of year lists, but it was an exceptionally solid heel showing that will do her no harm.
I've focused on Bobbi, but it's worth saying that Utami was, as usual, outstanding. It's almost becoming the norm for me to brush over her performances because they are so reliably good. She sold that knee like a champ, giving Tyler a lot to work with before finally managing to hoist her up into the Torture Rack and transitioning into a German for the win. I love that move.
They didn't get enough time for this to be anything special, but with what they were given, both women can come out of it proud of their efforts.
Verdict: Three And A Half Stars
Oedo Tai (Kagetsu, Hazuki, Andras Miyagi, Jamie Hayter and Natsu Sumire) defeated STARS (Mayu Iwatani, Tam Nakano, Arisa Hoshiki, Saki Kashima and Starlight Kid)
Stardom gave Miyagi unique gothic writing for her subtitles which is very Terry Pratchett. I approve. Also, Natsu had a trip to Spain and has come back speaking Spanish. I understand that slightly better than the Japanese although not well enough that I have a clue what she said.
This started on a downer as it looked like Kashima picked up an injury. The two teams brawled into the crowd, and when she returned to the ring, she was holding her shoulder before being rolled up by Miyagi for a quick elimination. Saki then lay on the apron for a bit grasping the same shoulder before being helped out. All the best to her and fingers crossed it's nothing too serious.

That aside, this was a consistently entertaining match with some standout moments. Mayu had a fun sequence with Hazuki before going on to steal the show with Kagetsu before they eliminated each other. Hazuki and Hoshiki would follow that up by kicking each other really hard as they explored their mutual love of booting people in the face. It would end when Hoshiki put Hazuki over the top rope before deciding she wasn't done with that fight and eliminating herself by jumping right after the High Speed champion. One suspects there is a title match in their future.
That left us with Tam and Miyagi who saw us out in style with a thrilling back and forth. There were a couple of sloppy moments (Miyagi struggled to get Tam up for her Tombstone), but it was nothing egregious, and Nakano spent a lot of time in the ring, so was probably knackered. In the end, the new girl continued her impressive start by getting the win.
Afterwards, Kagetsu introduced Miyagi who breathed heavily into the mic, Jamie said goodbye (this was the last day of her tour), Natsu tried some more Spanish (which Hazuki translated as 'where's the bathroom?'), and Oedo Tai closed out the show.
Verdict: Four Stars
Overall Show
They started slowly, but by the final three matches, Stardom had found their groove. There is not much else to say, it was a solid show! Enjoy.
Watch Stardom: http://www.stardom-world.com/
If you enjoyed this review, please consider contributing to my Ko-fi, even the smallest amount is appreciated.