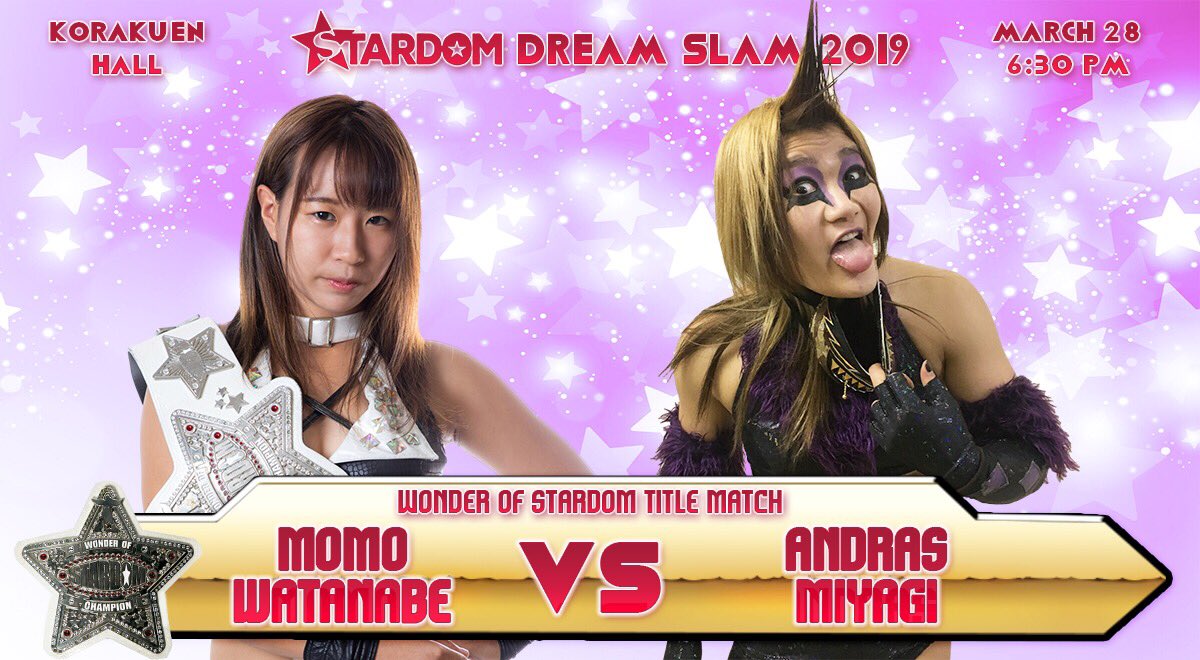 Stardom's March trip to Korakuen saw them pack the show with title matches. All the big belts are on the line, including Iwatani's WOH Title. With that in mind, let's stop blabbing, and get down to it.
Saya Iida defeated Natsu Sumire, Jungle Kyona, Leo Onozaki, Hanan, Hina and Rina in a Battle Royal
In Nao Yamaguchi's final show as Oedo Tai manager, so she celebrated by getting involved at every opportunity. She'd prove pivotal to Jungle Kyona's elimination, providing an assist as Natsu put over the top rope. Sadly, that would be somewhat overshadowed by the Lariat she caught Sumire with to set Iida up for her first victory. Even in a managerial role, she's putting someone over on the way out.
The match was about what you'd expect with five inexperienced heads involved. There weren't any fuck-ups, but it didn't always flow nicely. Iida was the standout among the rookies and her teaching Onozaki how to get Jungle out of a Camel Clutch without causing more damage was funny.
Even with that in mind, I never expected her to win. Although, with the benefit of hindsight, it's a great decision. Iida has improved at a remarkable rate and while losing to a rookie is never ideal, Natsu's character can swallow the loss. Nicely done.
Verdict: Two And A Half Stars
Queen's Quest (Konami, AZM, Viper and Bea Priestley) defeated STARS (Tam Nakano, Saki Kashima, Arisa Hoshiki and Starlight Kid)
Poor Starlight Kid did not want to start against Viper. Unfortunately, neither did her partners, so she was left in there.
That set Viper up in the big bad role that she plays so well as for STARS to have a chance in this match, they had to take her out. Unfortunately, that's easier said than done, and even with the four of them working together they were struggling to keep Scotland's own down.
It proved not to be STARS' only problem as Nakano and Hoshiki's struggle to co-exist produced some of their unique team offence. Not that you can really call it team offence. It's more beating each other up in a way that hurts their opponent too.
Viper would, as expected, prove decisive as a Cannonball on to all four members of STARS' took three of them off the board. That left AZM and Kid to see us out which will always be a good thing.
Verdict: Three And A Quarter Stars
Up next was Shiki Shibusawa's retirement ceremony. Her last match was in November, so I'd never seen her wrestle meaning the emotion of this was wasted on me. However, it was a classy ceremony with each stable taking it in turns to come out and present her with presents, cards, hugs and everything in between. Shiki then gave a speech during which she admitted to not being a great wrestler before tearing up as she talked about people supporting her and helping her to get better. It all ended with the ring getting flooded with streamers and that was a lovely way to say goodbye to someone.
Utami Hayashishita defeated Rebel Kel to retain the SWA Title
I was sceptical about Rebel Kel getting an Artists of Stardom title shot, but her defeat in that match earning her a shot at the SWA Title is even weirder. Unless I missed it, they didn't build to this, so it all feels a bit tacked on.
It did serve as a good chance for us to see what Kel can do and it proved to be a mixed bag. She's a solid worker, who isn't fucking up, but she showed hardly a spark of fire. Her offence looked weak because there was no snap behind it, and despite dominating the action, I never bought the idea she'd win. It's one thing to do the moves, but it's another to make them look like they hurt.
After selling for the bulk of the match, Utami managed to turn things around with a choke, incapacitating Rebel enough to get her up for the Torture Rack Bomb. Heroic comebacks are becoming a theme of her title defences, and while it's not necessarily a negative, she could use mixing it up a bit.
I feel like I have been harsh on this. Kel and Utami had a fine match. It just felt like they weren't far away from doing more than that. With a bit of work, these two could do better.
Verdict: Three Stars
Hazuki defeated Xia Brookside to retain the High Speed Title
We're now on the second bout in a run of five singles title matches, so strap yourself in and get ready for all kinds of fun.
Hazuki's title reign has been defined by frantic sprints which might not get much time, but deliver on the entertainment. Unsurprisingly, I'm about to tell you that we got the same here. While these two only had around five minutes bell to bell, those five minutes were overflowing with enjoyable wrestling.
It was a perfect example of how less can sometimes be more. I was never once bored and even with the short runtime the final few seconds where they were slipping from pin to pin had me on the edge of my seat. Was it a masterpiece? Nah, but for what it was, it was great.
Verdict: Three And A Quarter Stars
Mayu Iwatani defeated Natsuko Tora to retain the Women Of Honor Title
Not only was this match for the WOH Title, but it would also guarantee the winner an opportunity to wrestle at Madison Square Garden. That's an honour the Japanese wrestlers seem to take very seriously.
With that in mind, Tora came into this with a plan, and it did not take long for her to put it into effect. The second the bell went she attacked Iwatani's knee and started violently working it over, even dragging Mayu to the outside to get a chair involved.
It was a move which made it clear that we were witnessing a different Tora. She was more violent that we are used to, delivering crushing blows and even coming off the top rope with a Leg Drop onto Iwatani's knee. You bought into the idea that this shot was a tremendous opportunity for her, and she was giving her all to come out on top.
In turn, that forced Mayu to up her game, fighting Natsuko's offence with a violent flurry of kicks. Some of the blows she hit here looked incredible, with the stinging sound of foot hitting flesh ringing around Korakuen. Even as her knee gave way underneath her, she was chipping away at her opponent.
And, in the end, those kicks would prove the difference. A knockout blow to the side of Natsuko's head was enough to set the champ up for a Moonsault which she followed up with a Dragon Suplex for the three. Lovely stuff.
Verdict: Three And Three Quarter Stars
Kagetsu defeated Goya Kong to retain the World of Stardom Title
Kagetsu lacked her usual confidence in her pre-match promo. She was doing a fantastic job of selling the idea that Goya had her a bit shook which added an extra layer of intrigue to the action.
And her fears looked to be coming true as Kong dominated the early parts of this match. Nothing Kagetsu could do seemed to be having any effect as Goya shrugged off an initial flurry of kicks as if they were tickles. Even Kagetsu's bag of tricks didn't work, as a misting only slowed the monster down rather than stopping her.
It got to the point where I began to thing Kong might be taking that belt to Mexico. She even hit the Sit Out Cradle DDT that had previously got her the victory over Kagetsu with the champ only just managing to raise her shoulder this time around.
However, Kagetsu is never out of tricks. With Kong climbing to the top rope, mist number two did the job, allowing Kagetsu to bring her down with a humongous Death Valley Driver. Then, in a fit of fiery fury, she delivered three 450 Splashes to get the three.
I loved this. It was a simple match with a story as old as wrestling, but Kagetsu and Goya Kong nailed it. Both women played their roles perfectly, and I bought into every moment. It was damn good pro-wrestling, and you can't argue with that.
Post-match, Kagetsu got on the mic and challenged Kong to do this again, next time in Mexico. A handshake between the two of them seemed to seal the deal. She then called Yamaguchi into the ring and, in the second lovely moment of the night, Oedo Tai said goodbye to their emotional manager. I got a bit teary-eyed at that one.
Verdict: Four Stars
Momo Watanabe defeated Andras Miyagi to retain the Wonder of Stardom Title
Miyagi's first singles match in Stardom, and it was for the Wonder of Stardom Title. That ain't too shabby.
It might also explain the opening where it felt like Miyagi and Watanabe were failing to click. It wasn't that they were doing anything wrong. Miyagi was telling the logical story of attacking Momo's already injured neck to set-up for her Piledriver. However, the whole thing lacked bite. It felt a bit like they were going through the motions and it was surprisingly dull.
Thankfully, the action did pick up a bit, as an epic slap off between the two seemed to wake them up. From there, it looked like Miyagi was going to take home the belt as she turned the tide with a steel chair shot. That was followed by a Swanton and a Piledriver both of which Momo kicked out of at the last millisecond. It was a battling display from the champ, but truthfully, it might have been a bit too much. That Piledriver looks brutal and protecting it for future re-matches would have been a smart move.
That wasn't to be, though. Watanabe survived being spiked on her head before reversing a Tombstone and hitting Peach Sunrise for the three. The ending saved this from total mediocrity, but it was still merely a decent match. One suspects they both have better in them.
Momo Watanabe's post-match promo saw her call out her stablemate Utami Hayashishita because, you know, she doesn't have enough titles. A phrase about eggs and baskets springs to mind, but we shall see.
Verdict: Three And A Half Stars
Overall Show
A stunning main event would have put this down as a fantastic show, but it will have to survive with being merely a great one. If you swapped the last two matches around, I'd have probably felt more optimistic about it which goes to show how much match order can alter one's perceptions. Either way, all the title matches are at least worth a watch, so get on it.
Watch Stardom: http://www.stardom-world.com/
If you enjoyed this review, please consider contributing to my Ko-fi, even the smallest amount is appreciated.